Europe is a continent of many different cultures, languages, and landscapes.  Europe, generally speaking, is a very walkable content to visit, too.  That is one reason so many love visiting.
A walk around Europe will be an unforgettable experience in itself — but there are some tips and notes you should remember to make the most out of your journey.
Tips for walking in Europe
When you're walking in Europe, perhaps the most important tip to remember is to wear comfortable shoes. Make sure you've broken into your shoes and that they're comfortable to wear all day long. Depending on where you go, you'll want shoes that'll can handle any terrain comfortably. Wearing comfortable clothing will also help you to enjoy your walk around Europe.
The best shoes are the type that can handle hard, concrete floors (like museums) as well as light hikes with ease.  We gravitate to light and breathable hiking-style shoes, like the Keen Austin or North Face hiking shoes.
Next, prepare your rest days. Of course, you want to have fun and have spontaneous adventures while exploring Europe. However, you need to make plans for where you'll rest. Choose places that have great accommodations, food, and other necessities so you can rest your weary feet.
Another essential tip is to always keep a map handy with you at all times. You should also invest some time to develop a sense of direction of where you are. This way, if you get lost or want to find a place of interest that's not on your map, you'll know how to navigate around. You might also want to invest in a guidebook. This is especially helpful if you are traveling with others who don't speak the same language.  If you are relying on your phone for the map, be sure it is charged or that you are carrying a travel charger.
The last tip is to interact with the people of Europe. This is a great way to learn about the local culture and history. Plus, having conversations with locals will help you figure out where some of your favorite hangouts spots may be.  What's the point of going to another country and not interacting with the locals?  There's so much you can learn while traveling in Europe, so get out there and meet some people!
What to carry with you while touring Europe by foot
As you're going on walking tours around Europe, you should always bring along a camera to capture beautiful scenery and special moments. You'll never regret snapping a photo of your favorite landmark or the perfect sunset in Europe. You can also take memorable pictures of you and your loved ones that you'll treasure forever.
Secondly, you should bring some water and snacks to keep your energy levels up. Staying hydrated and providing yourself with some essential nutrients is extremely important when you're exploring great Europe.  Keeping in mind that Europeans don't seem to be as focused on having water around every corner like Americans tend to be.  You will want to have a water bottle full of water so you can avoid needing to search for it when out.
Just remember not to pack too much because you'll end up wearing yourself down. Everyone who's going on walking tours with you should supply themselves with enough food and water to last the day.
In addition to bringing water and snacks, you'll want to carry along essentials such as sunscreen, medicine, and bug spray. If it's a bright and sunny day, consider wearing a hat to shield your eyes from the sun. For anyone with a medical condition, ensure you have everything you need to help you manage it.
It's also a good idea to bring some money with you to purchase items or services that only accept cash. Don't bring along too much cash as you could lose it during your tours.
Finally, if you are bringing a few items, it is a good idea of have a backpack or a fanny pack.  While a backpack might seem like the logical choice, in many ways fanny packs are more convenient and easier to bring in to museums and other sites.
European walking gear considerations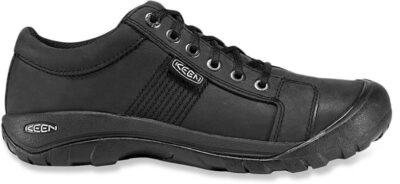 When it comes to the type of gear to wear while walking in Europe, there are many options to consider. The first is a waterproof jacket. This is essential for the more rainy months of the year. You'll want a waterproof jacket that's lightweight, breathable, and durable to withstand all elements. Being able to fold and store away the jacket tightly would also be a great bonus.
You can consider bringing a water-resistant windbreaker instead of a waterproof jacket. A windbreaker's great for when the weather's unpredictable. It may seem nice and clear at the moment, but who knows how windy it may be in an hour. Plus, it's always good to have an extra layer of protection in case of rain.
Next, you'll want to bring along a backpack that's lightweight but very practical. This means wearing a backpack with a ton of storage space with secured compartments. It should be comfortable to wear for long walks, with nothing poking or digging into your back or scraping your skin. If a backpack is too much for your type of walk, consider wearing a more compact travel bag instead.  If you think your trip might include a tougher hike, like some of the great Switzerland hikes, err on the side of a good, durable rucksack.
When it comes to clothing, it's all about layers. The weather can change quickly, so it's good to have a few options at your disposal in case you need them. Don't bring along bulky clothing that takes up a lot of space. Instead, pack a few lightweight items that you can change into or wear on top of other clothing if needed. Always go for clothing with high functionality over looks. Prioritize high comfortability and warmth, small size, and light in weight.
The right socks are also extremely important. A good pair of socks can make or break your feet. Avoid cotton and wool, as they're not breathable and retain moisture which causes blisters. Instead, try wool blends or synthetic socks. Bring along an extra pair of socks while you're out, so you can change into them in case they get wet.
A portable charger can be a lifesaver, so bringing one along with you may be wise. However, if you plan on bringing along electronics, try to bring as few as possible. Electronic equipment can be heavy to carry, which can make your adventures exhausting. Don't ruin your experience by bringing along electronics that you can leave at home.
Best walking cities and areas in Europe
Europe is known to have some of the best walking cities in the world. Many large cities offer a rich culture of things to do for tourists and gorgeous architecture. Here are some of our favorite walking cities and areas in Europe: Florence, Paris, Prague, Venice, Rome, and Lisbon.
Florence
Florence is a beautiful city in Italy with plenty of greenery, and the main sights are in a pretty compact radius, so it's perfect for walking and biking.  The town's layout begins with town center and radiates out neatly from there.
You can walk to all the major attractions such as the Piazzale Michelangelo and Basilica di San Lorenzo. Florence has plenty of parks and gardens to explore, as well. Walking in Florence is simply a must for any traveler. One of the most iconic sights in Florence is undoubtedly the Duomo, a stunning example of Italian Gothic architecture. The scenery is spectacular, as you can explore large hills and beautiful rivers. If you're up for a challenge, you can climb the Piazzale Michelangelo, which offers beautiful views.
Paris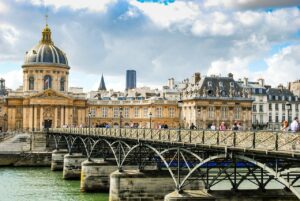 For those who love to walk around in Europe, there's no better city than Paris.  A combination of a relatively clean layout along the River Seine and an efficient Metro train that gets you from point to point in a hurry makes Paris a favorite for walkers and backpackers.
The City of Lights has a great variety of attractions to explore, including the Louvre Museum and Notre Dame Cathedral. You can walk along the Seine or explore the numerous bridges spanning it. There are also plenty of parks and green spaces to walk through, such as Tuileries Garden and Luxembourg Gardens.
Prague
Prague is another great city for exploring on foot because there's so much culture to take in during your journey!  The largest city in the Czech Republic — and its capital — is a great place for exploring by foot.  It has also been increasingly popular over the past 20 years because many find it more affordable than Paris, London, Rome, and other European cities.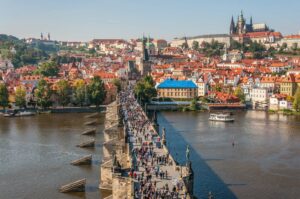 You can walk through the city's historic center, experiencing a mixture of Gothic and Renaissance architecture. There are also plenty of museums to visit for culture lovers!
Venice
Many visitors come to Venice for the romantic canals and bridges that adorn the city. If you're walking in Venice, it's important to keep an eye out for the many bridges–some of them are only wide enough to fit one person at a time. Venice is also famous for its colorful markets, where you can find anything from fresh seafood to handmade jewelry.
Navigating around Venice can be a bit of a maze.  It is not huge in size, but the many canals create routing that is often piecemeal and zig-zagging, in order to get from one place to another.
Venice is one of the most photogenic places you will ever see.  Bring the camera, and if you are a semi-pro photographer you might even want to have a 3-point slinger along so you can carry a higher-end camera.  You never know around which corner will be the shot of a lifetime here.
Rome
There are a variety of sights in Rome to see on foot, from the Colosseum and Roman Forum to the Trevi Fountain. One of the most popular sights in Rome is simply walking down Via dei Condotti, where you'll find some of Europe's top fashion brands. There are also plenty of parks within close proximity to explore on foot for those who like more outdoor activities.
Lisbon
In Lisbon, you'll find that there are many things to see and do, whether you're looking for something relaxing or more demanding. One way to get your fill of Lisbon's beautiful and vibrant culture is by visiting one of the many scattered markets throughout the city. There are two major markets you'll want to explore, the Ribeira and Madragoa.
London
You can't leave London off the list of great cities to walk in Europe.  Sure, England can be a little cooler and rainier than other parts of Europe, but if you are spending lots of time walking, that can be a good thing.  Just have a light windbreaker or raincoat, and perhaps a waterproof backpack to carry your more valuable belongings and electronics.
The area including Westminster Abbey, the Tower of London and nearby Tower Bridge, Piccadilly Circus, Soho, and Parliament and Big Ben are all doable on a long walk if you have the time, or perhaps you want to split them up into separate days.
Nearby, if you prefer mid-sized cities, villages like Bath, Henley-on-Thames, and Oxford can all be fun to visit and walk as well.