North Face was founded in 1966 and has strived to become one of the leading retailers for outdoor performance equipment, and their hiking shoes are no exception.  North face might be known more for their outerwear, ski clothing, and outdoors gear (their 4-person tent is one of our favorites) but they know how to make some great footwear too.
If you're looking for a reliable pair of hiking shoes that are comfortable, offer excellent grip, and keep your feet protected, North Face has you covered.  We think some of the more underrated outdoors products on the market right now are the North Face hiking shoes.  We particularly like North Face Hiking Shoes for summer hikes, and consider them some of the best warm weather hiking boots on the market.
Let's take a closer look at the better hiking shoe models coming out of North Face at the moment.
NORTH FACE HIKING SHOES LINEUP
Ultra Trail Running Shoes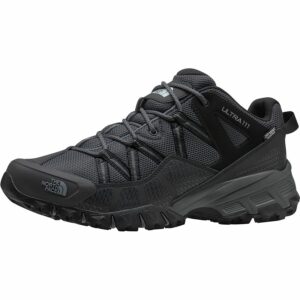 North Face's Ultra Trail running shoes are uniquely designed for running and hiking. They're waterproof and provide excellent traction and balance on any terrain, including uneven ones. Regardless of whether you're moving on or off trails, you won't feel off-balanced. We particularly like this most about the shoes because, as hikers, we want to feel stable at all times. It gets pretty troublesome to hike and feel like we're about to fall, or even worse, sprain our ankles from a rocky path.
In terms of protection, the shoes prevent the impact of hiking on rugged terrains against your foot. This makes it easier and more comfortable for you to travel long distances. We love this about the Ultra Trail shoes because it helps reduce that pain that can come with those long distances. The less our feet hurt, the more enjoyable time we can have!
The Ultra Trail shoes are also breathable and wick away moisture. Combined with being waterproof, these keep your feet feeling fresh and dry, even when you step on puddles. This is priceless for hikers as good hygiene is a must on the trail. It's also a key feature that helps reduce the risk of getting blisters.
The shoes themselves are incredibly light, making it easier for you to hike long distances. It'll almost feels like there's nothing on your feet at all.
The only thing we didn't like about this shoe is that it may start to show signs of wear after a few months of regular use. In regards to durability, the shoes could use some improvement. But in terms of on-trail performance, the shoes are exceptional, and the waterproofing is top-notch.
Ultra Fastpack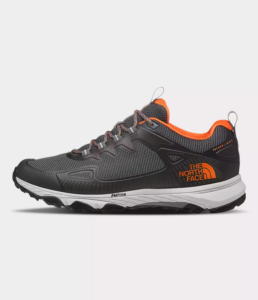 North Face's Ultra Fastpack shoes are particularly designed for hiking. We love this pair because it can be hard to find reliable hiking shoes that offer great movement and stability at the same time. You want to ensure you're always stable when hiking, especially if you're straying off the main path. The Ultra Fastpack offers incredible grip, and that's thanks to the Vibram Megagrip outsole and dual-density FastFoam midsole. North Face makes a bold statement claiming that even the toughest terrain is no match for this pair!
Of course, the shoes are waterproof and breathable, so don't worry about stepping in a small puddle. Your feet won't get soaked, which is a great bonus for any shoe. We find the Ultra Fastpack to be extremely comfy and lightweight, even after hours of hiking! You can hike uphills and over rocky terrain for hours, and you'll find that your feet don't hurt like they do with other shoes.  The shoes might actually increase how far you can hike in a day because of their comfort and light weight.
In terms of durability, the Ultra Fastpack holds up very well. Since these are hiking shoes, they're designed to withstand any terrain, including hard and rocky ones. The shoes are slightly more expensive, but it's worth the investment since you won't need to replace them anytime soon. We'd like to also mention that it took little to no time breaking them in!
Overall, the shoes are versatile and can be used for more than just hiking. They're great to wear for camping trips, cycling, walking, running, or any other form of exercise. I'd compare them to the Altra Lone Peak or Hoka Speedgoat. Be sure to walk around in the shoes before purchasing them, or buy from a retailer with an easy return policy. We find that the construction may be a little narrow, so you may need to size up just a tad.
We prefer the low-rise version, here on Amazon.
Vectiv Exploris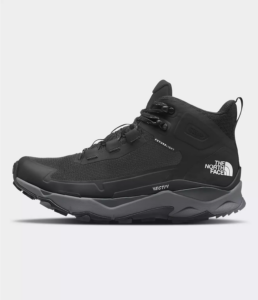 The Vectiv Exploris is another great pick for hiking shoes. It focuses on maximizing stability and performance, allowing you to hike for hours on end. We weren't quite used to the way the front of the shoe curves upward – we didn't dislike it; it was just different. If you've never worn shoes like this before, it may feel concerning at first because your entire foot doesn't feel completely planted, even though it is. This is designed to encourage you to keep moving forward. You'll get used to it quickly, but you may want to walk around the shoes for a bit before starting your hiking journey.
Once you're used to the feeling, you'll find that you have complete control of your balance regardless of the terrain you're on. These shoes provide superior grip on hard, wet, and muddy surfaces. Without a doubt, we're rating the Vectiv Exploris as one of the best hiking shoes for its grip. We had no trouble standing on anything, whether it be muddy roots, wet rocks, or sandy riverbeds.
Even though the shoe focuses on maximizing stability and performance, it minimizes fatigue as well. The Vectiv Exploris is extremely lightweight, but not so much to the point where it feels like it won't support your body. With these shoes, you'll feel protected, well-supported, and comfortable all day long. In terms of durability, we found no wear or tear after regular use of wearing the shoes, even after dozens of hikes.
The only downside I experienced was that the shoes aren't entirely waterproof. I'd say that they're on the weather-resistant side. This might be because of how breathable the material is. We also found that your feet remain comfortable and dry, even when hiking in humid and sticky environments.  Overall, a great shoe to have for a wide variety of hikes, regardless of your hiking skill level.
Hedgehog Futurelight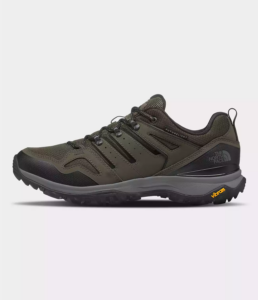 The last shoe we'll be reviewing is the Hedgehog Futurelight hiking shoes. These shoes use a FutureLight membrane that offers a balance of breathability and support. We like how the shoes are built very sturdy and provide great stability on uneven terrains. North Face used a Cradle heel which helps stabilize your feet, while the sticky rubber grips onto any surface.You're able to push forward through anything: the mud, wet rocks, and uneven paths. When it comes to performance, the Hedgehog is definitely one of the best.
There's great arch and sole support, too. In fact, for a low-riser that looks like a walking shoe, the Futurelight has great sole support.
These make the shoes feel comfortable to wear right outside the box. But, like any other, you'll want to break them in before you start hiking. The shoes are also lightweight, even more than what you'd expect from looking at them. We've given the Hedgehogs an A+ rating for being one of the most comfortable hiking shoes.
The Hedgehog Futurelight is also waterproof. You can hike through a rainy forest with no problem. Combined with being breathable, your feet will stay nice and dry, regardless of the environment you're in. For durability, we find that these will last you longer than other hiking shoes. The build is certainly strong, but it's still comfortable as ever.
Our Recommendation
This is a two part recommendation.  Do we recommend North Facing hiking shoes?  Yes, big time.  They provide the functionality you will want on trails, and are built to be lightweight and multi-purpose.  These are not hiking shoes that will go in the closet between outdoorsy trips — you can use them for daily activities too. And I can't think of a better all-purpose shoe for taking on a vacation where you need to be ready for anything, but don't want bulky boots taking up space in your bag.
The shoe we recommend, based on our assessment, is the Vectiv Exploris.  It provides just a bit more stability and weather resistance for those situations where you might find yourself in challenging conditions, enabling you a better chance of avoiding a common hiking injury.  While we would endorse all four of these shoes, we would take the Vectiv Exploris if we could only choose one.  With that said, The Ultra model is a great trail running shoe and very waterproof, if you want something with a lower profile.
If hiking with lightweight footwear is a priority, also consider hiking sandals.  We did a piece on the best womens hiking sandals.  There are some good brands making quality footwear in sandal form these days.