A good windbreaker jacket can be worth its weight in gold.  We went on a quest to find the best one.
Many windbreakers are cheap and flimsy, and despite their name don't protect you well from the elements.  We wanted to find the best windbreaker jackets that held up to nature's surprises and some normal wear and tear.
After giving several windbreaker jackets a field test, here are our favorites, and some situations they excel in.
Not a good fit for all builds


Not a good fit for all builds


Orvis Weatherbreaker Jacket


Great for spring and fall

Arcteryx Squamish Windshell


Perfect for a number of outdoor activities

May be too light for some


Needs layers for colder weather


LuluLemon Fast and Free Windbreaker

Not a good fit for all builds

Best Windbreaker Jackets
Barbour Dillon Jacket
Best Style
The Dillon Jacket from Barbour might be our favorite windbreaker jacket on the market right now.  It is essential the hooded version of the Unbridge, which saves you a few bucks if you don't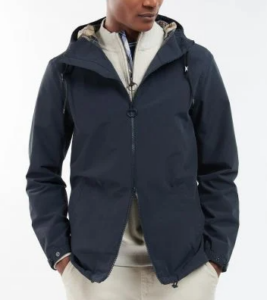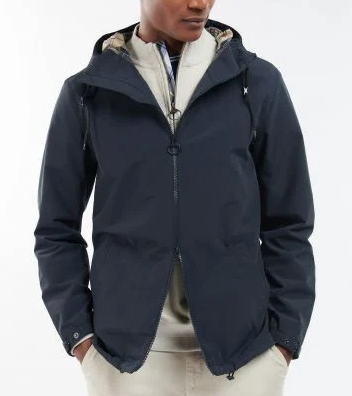 feel a hood is important.  We tried the Dillon Jacket and it did not take long to feel the legendary Barbour quality.  Super comfortable lining inside, a nice fit for people of normal or slender builds, and excellent seams throughout.
It is stylish enough to be able to wear out to a nice dinner, or with business casual clothing to the office.
The Dillon Jacket is waterproof, so it could definitely fall in the raincoat category.  We like to call it a windbreaker because it has enough style to be something that you might throw on for a night on the town.  When you first feel the outer materials on the Dillon, you might assume it is not waterproof but we found that it performs well when wet.
While Barbour's signature jacket is the super cool-looking Wax jacket, that one is probably a bit overkill for the windbreaker category.
The Dillon Jacket is not cheap, but Barbours never are.  Like we said, if you need to save a few dollars you can always go with the unhooded Unbridge.
Pros:
 Good-looking jacket; stylish
Performs well in rain and drizzle
Comfortable to wear
Cons:
Expensive
Perhaps not a good fit for thicker, stockier builds
Patagonia Houdini Jacket
Best for Running
We like how Patagonia operates:  Make a really good product, and then leave it alone for a long time.  That is what they have done with the Houdini jacket, one of our favorite windbreaker jackets on the market today.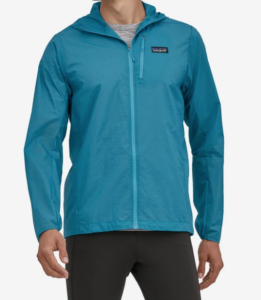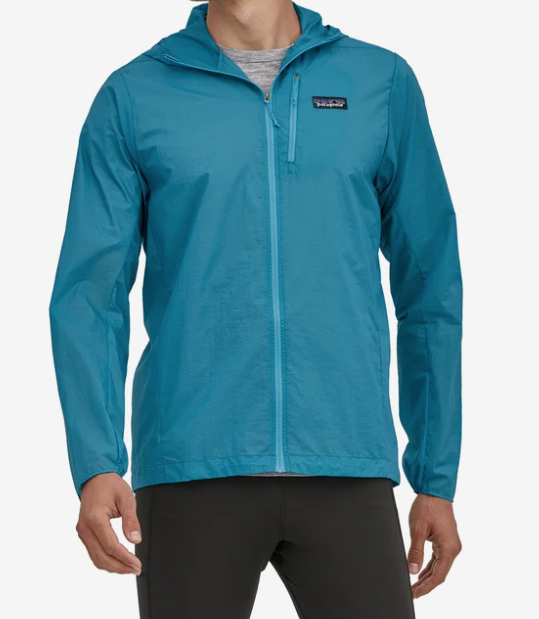 We don't know why they named it the Houdini, but perhaps it is because it is nearly invisible to the feel when you are wearing it.  When we had the Houdini on in warmer temps (high 70s) and needed to keep a strong wind and slight drizzle off, not only did the jacket perform well, but we almost forgot we were wearing it.  It is a really lightweight jacket, and we give kudos to the team who designed it.
We love that the jacket doesn't require much maintenance, something Patagonia tends to excel at.  You can roll this jacket up and stick it in a suitcase or backpack, and it won't be any worse for the wear when you need it. I've had one of these for years that goes on almost every trip I take – and it takes up about 5 cubic inches in my suitcase, max.
The jacket's length is also nice — it hangs down a bit below the waist, especially in back.  This is a great feature if you happen to wear the jacket on a bike or while running.
Pros:
Very lightweight
Nice length
5 colors to choose from
Good value
Cons:
Can be a bit tight in the chest and shoulders for pear-shaped builds. Maybe want to size it up.
Orvis Weatherbreaker Jacket
Best For Classic Casual Design
Orvis makes some of our favorite gear, from hats to fly fishing waders, but an area they have always excelled is in their all-purpose jackets.  We've used the Weatherbreaker jacket in many situations, and it strikes a great combination of being simple-to-own and easy to have around, while performing well in moderately nasty weather.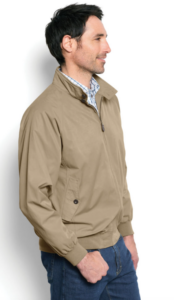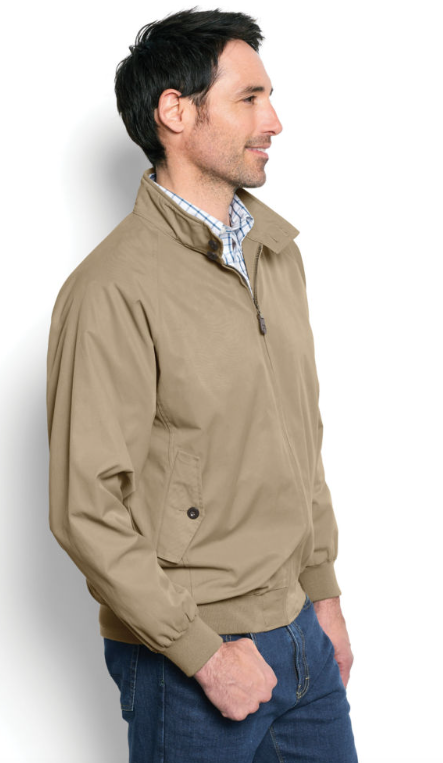 The Weatherbreaker is kind of a throwback.  Like Barbour, Orvis makes it clothes more in tune with what people have known Orvis to produce than perhaps the trendy style of the day.  We liked the Weatherbreaker in lots of casual situations.  It was create for strolling around a city, having some cover while doing light chores outside, and it worked when when hiking too.  It's not a jacket you would wear on a run or bike ride — it is a little "dressy" for that.
It does not have a hood, or any option to add one.  It also has a decidedly male look, so may not be a good option for females.
The jacket runs a little heavier than other windbreakers, making it great for spring and fall but a little warm if you were going to use it in midsummer.
Pros:
Timeless style
A little heavier, good for spring and fall
Water-repellent
Looks good with dressier clothing
Cons:
A little too heavy for summer windbreaker use
Not ideal for highly-active pursuits
No hood option
More of a male-oriented design
Find the Orvis Weatherbreaker Here
Arcteryx Squamish Windshell
Best for a super lightweight stowaway
The Arcteryx name has become synonymous with quality.  Sometimes the only issue with their products is that they last so long, you get tired of them way before they wear out!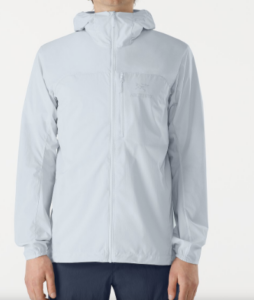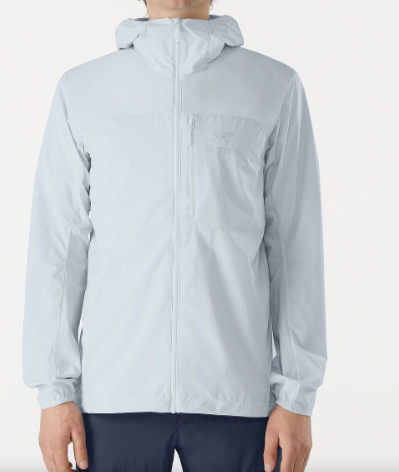 The Squamish windbreaker jacket lives up to the Arcteryx reputation for quality.  We gave it a try, and really likes the performance.  Like the Patagonia, this windbreaker definitely falls into the active lifestyle category, and we would have no problem using it on a run or bike ride.  The Squamish is also available in 4 colors.
It travels well. Because it has no lining, this is the type of jacket we just rolled-up tight and stuck in a backpack.  But because it has no lining, it is not going to provide warmth — just windbreaking and a little protection from drizzle.
This is the thinnest material of any jacket we listed here, which will be a positive for some and a negative for others.
Pros:
Lightweight
Travels well
Good for running, cycling, trail running
Cons:
So light it is kind of transparent; might be too light for some
Need layers underneath in cooler temps
LuluLemon Fast and Free Windbreaker
Best Design for Women
While the Orvis and Barbour options above might be a better fit for the guys, the Lululemon Fast and Free was first designed for the females, and it is designed well.  (It has since been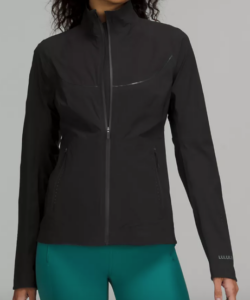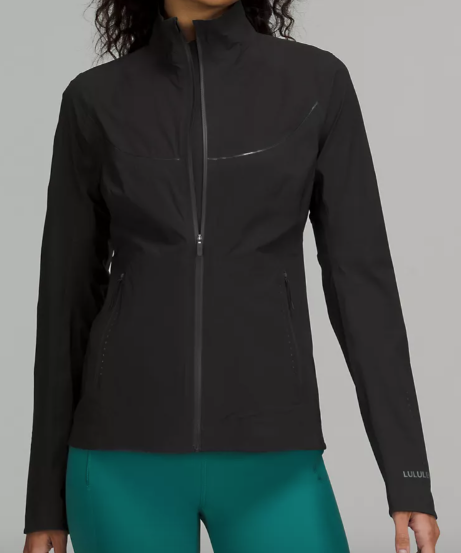 introduced in a men's version as well.)  We gave this windbreaker a whirl and almost did not want to take it off — comfort is an A+. That is not a surprise given Lulu's reputation for making great products.
The windbreaker is designed for running, making it a legitimately top-notch running jacket.  However, if you are anything like us, you will find that it gets used for a lot more than running.  This was a great windbreaker for hiking, trips around town, yardwork, and hanging out on a breezy beach evening.
We found that it fits on the tight side, but that is no surprise given its market positioning.  Like the Arcteryx and the Patagonia products we profiled above, it hands down past the waist which we really grew to like as we did our testing.
While we highly recommend this for women, we equally endorse the men's version.
Pros:
So comfortable
Great for running
Provides some warmth
Cons:
Spendy
Runs a little snug, by design
What to Look for in a Windbreaker Jacket
Windbreakers come in many shapes, sizes, weights, and styles.  As with so many gear choices, it comes down as much to the tradeoffs you are up for making as it does some set list of criteria.
As we tested the windbreakers, generally for lighter use, there were a few things that jumped-out at us as key criteria, but also key decisions to make.
Build Quality (non-negotiable)
You obviously want a product that is made of high quality, and that part should not be optional.  The reason we did not list any of the $20 or $30 windbreakers that you might find in an online search is because their build quality is suspect.  The materials used may not be comfortable, the seam quality might be an issue, and the garment may not hold up after a few washings.  Buy quality and it will last longer, saving you money in the long run.
Use and Style
Some windbreaker jackets are made for casual use.  Others are made for running.  We aren't going to tell you which one you need, just don't by the wrong type for your intended use.  Think about if you will be using the windbreaker for running, cycling, golf, or hiking, or more for yardwork or errands around town.  When in doubt, we like the idea of getting a more actively-suited windbreaker because it can double as a casual jacket.  The casual ones don't do well vice-versa.
Weight
It is very important to know what weight jacket you are getting.  Some are paper-thin so you can wear them without building up any additional body heat.  Others include a layer of light insulation, making them more of a spring or fall windbreaker.  Of the jackets we profiled above, the Patagonia and Arcteryx models are much lighter.  The Barbour and Orvis are a little heavier.  The Lululemon is somewhere in between.
Waterproof
There is no reason to ever get a windbreaker that is not waterproof.  In fact, we think that waterproof gear is always a no-brainer. It doesn't have to be a perfect raincoat, but it should be able to keep you dry in a drizzle.  All of the jackets we profiled above are waterproof to some extent.  The goal of a windbreaker should be to keep the elements off of you, and that means some level of moisture in addition to, obviously, the wind.