Stand Up Paddleboarding (SUP) is a popular and growing sport that's really matured over the last few years, and it is expected to grow at about an 8-10% clip to become even more and more popular.  Based on the paddling statistics we monitor, it is the fastest-growing paddling category. Relatively quickly, paddleboards are a main part of the paddling scene.
Paddle board designs have also evolved to accommodate different paddling styles, rider sizes, and niche uses. There are dozens of paddle boards on the market today, with many choices at each price point. While this kind of wide selection may seem challenging to wade into, it doesn't have to be complicated. In this article, we're going to simplify things and help you choose the right board for you from out of the broad SUP range.
What to Look for in a Stand-up Paddleboard (SUP)
When acquiring an SUP, you want to be sure it is one that you will make good use of. Suit the board to your interests and skill level. Be sure that you can transport it, so you will actually use it and not just waste your time, energy, and money. Most paddle boards come with a SUP paddle, but also be sure that the paddle fits your body and style of riding.
Much like with kayaks and canoes, paddleboards have various designs intended for different situations. Do you want something maneuverable?  Fast?  Kid-friendly?  The answers might dictate a different style of board.
To help narrow down your choices, it's best to decide what you want to do with your paddle board. There are several categories of SUP boards and each serves a different area of activity:
Surf style boards (or all-rounder surfboards) are very stable and they can also be used as entry-level boards. They're wide and their nose splashes over the surface's top, so it helps you to maintain your stability. They're ideal for flat water use but they also excel in the surf zone for surfing ocean waves.
All-around flat water boards are often called hybrid models because they have some of the features of the surf-style models with some features of the touring models. They're really stable and amazing for flat water paddling, for use with your family, for fitness, yoga, and fishing as well as recreational fun. If maximum stability and a dry ride are what you're looking for, then this is the right type for you.
Displacement boards are called this because they displace the water differently than the others. Instead of slapping over the top of the water, like the surf-style board does, the displacement board has a nice pointed nose that picks up the front of the water and displaces it. It has awesome glide; like diving in a pool and keeping your arms in front of you. Thanks to its sleek lines, you'll enjoy great paddle placement, so it keeps you going straight, long, with strong pulls. Displacement boards can be touring boards or racing boards. Both are created to go further, faster, quieter, and cut through the water as efficiently as possible. The skinnier ones are the race boards, and they tend to go a little bit faster than the touring boards.
Wave specific stand-up paddle boards are created for surfing ocean waves and typically sacrifice stability for wave surfing performance.
Inflatable boards look very much like displacement boards. They pick up the front end of the water, but they roll up into a little piece so you can take them anywhere. They're still stiff and lovely in the water, just like regular standard boards.  Inflatable SUPs have become quite popular and you will find lots of good ones on the market.
Stand Up Paddle Board Features to Consider
For effortlessly carrying your board around, look for models featuring carry handles for easy transport.
If you're looking to secure your gear, go for a board with attachment points. You will also need a waterproof backpack or other waterproof gear packs as it's sure to get wet!
When we're talking about deck pads, soft and grippy ones will ensure your paddling adventures are comfy, stable, and safe.
If you're a racer, you should look for a long, narrow race board in order to optimize speed by decreasing drag.
If you're a surfer, go for a surf-style board that has its nose and tail pinched up and pretty narrow. This will help you optimize surf ability, get a quicker response when doing maneuvers and enjoy fast rail-to-rail responsiveness.
Recreational paddlers will benefit from wider boards with fuller outlines in the nose and tails. These features offer stability and ease of use.
If you're a taller or heavier individual, choose a board that has more flotation and volume. If you're shorter or lighter, go for a smaller board, with lower volume, because you don't really need more flotation.
Best Stand-Up Paddleboards
iRocker Cruiser Inflatable Stand Up Paddle Board 10'6″
This inflatable beauty has a weight capacity of 400 lbs, thus it's great for heavier riders. If you're looking for a board suitable for anything from relaxed paddling to yoga, this is a high-quality and affordable choice. It's an ideal all-rounder family product that comes with a backpack, fiberglass paddle (adjustable), repair kit and hand pump. This board is very stable and durable, with a super wide tail and proper shape for a nice smooth tracking experience.
Pros
Inflatable
Configurable fins
Lightweight – good option for kids
Cons
Detachable pieces take some time to assemble correctly
Slow
Xterra Inflatable 10′ SUP
Another inflatable board, the Xterra 10′ SUP features a durable design that ensures it is able to perform in any kind of condition. It's perfect for medium and heavy riders up to 250 lbs and comes with a paddle that you can adjust to match your height. The bundle also contains a pump (double-action with pressure gauge), a repair kit, a center fin (removable), a GoPro mount, coiled leash (10′), a backpack and D-rings for securing your gear. It's lightweight, durable, easy to use, and you can inflate it in as little as 5 minutes. This baby is 6 inches thick, so it's as stable as a hard board; it'll be your trustworthy, all-around companion that won't sag and will offer you a balanced ride, high on the water.
Pros
High quality inflatable
Durable
Good value
Cons
Pump that comes with it is not strong
Pau Hana Oahu
The Pau Hana Oahu is an awesome hard board that flawlessly mixes function and art in a single package. Its full rails, spooned-out nose, and wide tail make it a superb all-around SUP board for exploring lakes, oceans, and rivers. The manufacturer recommends it both for beginner and intermediate paddlers who dream of a recreational board with a beautiful design and versatile functionality. The Pau Hana Oahu offers great stability and flexibility to match its setup in a variety of conditions and is a great choice for gradually increasing your skill level as you progress. It's easy to ride, lightweight and features a glossy, smooth finish.
Pros
Beautiful, attractive wood
Great option for confident paddleboarders
Cons
Doesn't come with many add-ons, like a net or fin options
Probably not for beginners or kids
Rave Sports Shoreline SUP 11'6″
Rave Sports introduced its Shoreline model, a slightly longer fiberglass board for those who don't need the portability or storage ease of an inflatable.  It is a very good composite board, and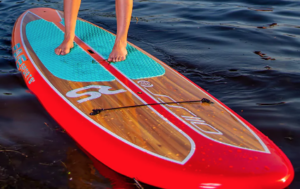 relatively all-purpose despite being a little longer.
If you have only used inflatable, using a hard board takes a bit of an adjustment but very soon provides a better paddling experience, in our opinion.  The Rave Shoreline lets you get in to the market for a pretty reasonable price point, considering what you are getting.
The Shoreline moves easily over the water, and can be quite fast if you are looking to cover some distance.  We like how it performs for larger riders, like full-grown taller adults.  It might be a little challenging for kids to maneuver, but overall it performs well across the board (no pun intended).
Pros
Fast
Great for adults and taller riders
Cons
Comes with no paddle
A little long for kids
What Length and Width Paddleboard to Choose?
Probably the most important thing when choosing an SUP board is getting one that's the right size for you. You'll need a board that's stable enough to be comfortable riding, that you can paddle and enjoy, but in the same time narrow enough so it's a tad challenging at first, thus your balance improves and you get a nice workout.
The first things you have to consider are your height and weight. Then, think of the conditions you'll be using the board in: are you planning to race, surf, or cruise? Maybe you want to take your dog, or kid on the board. Do you plan to travel with your SUP board? What is your skill level? How good are you at paddling and how long have you been doing this? These are some important concerns to think over when deciding what length and width are right for you.
Rule of thumb: Longer, slimmer boards are faster and better for long distances, but are less stable. Shorter, fatter paddleboards are more of a chore to paddle a long way, but are much more stable and less tippy.
Basically, the longer the board is, the more it's going to optimize the flow dynamics and the efficiency to cover long distances on the water; think of how a rocket is designed for maximum efficiency and velocity with a long, slender silhouette. On the other hand, the shorter the board is, the more stable and surfable (able to easily handle waves and wakes) it's going to be. Boards in the 9-foot range and smaller are more stability and surf-oriented, the ones in the 9 to 11-foot range are recreational length boards, and the 12 feet and longer are mainly the race-type or touring boards.
Width-wise, the average spectrum for SUP boards is somewhere between 28 to 36 inches. The 34-36 inches wide boards are extremely stable and highly recommended for newbies, balance-challenged individuals or those looking to tandem ride or get more people on their board. Boards that are 30 inches or narrower are less stable, but provide more speed or surf-ability for people who're into recreational paddling or racing. Wider boards have more surface area and create more drag, while narrower ones have less surface area, create less drag and offer more responsiveness.
When it comes to width, an added 6 inches of paddle board width can make the board seem 5x more stable, so it is a major thing to consider if you are worried about your balance.  Even with a wide, stable paddleboard, though, many will want to use a lifejacket when paddling.
Inflatable vs Composite SUPs
We've mentioned above that you can choose between several types of SUP boards; some are regular, hard boards, some are inflatable. But you might ask yourself, what is the difference? Why should you choose one or another?
The Case for Inflatable Paddle Boards
The essential advantage of inflatable paddle boards is that they are more portable, lightweight and thus great for traveling.  If you have limited storage space, inflatables are more compact when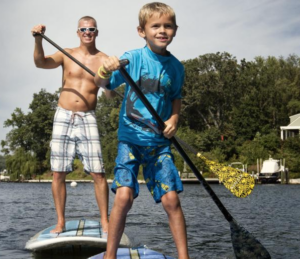 deflated and folded. If you don't have much room available to store a regular board, opt for a high-end inflatable one. Top-notch inflatables are as stiff as composite boards when inflates and they work just like them on the water.
We would have been a little skeptical of inflatable SUPs 5-7 years ago. Today, we would buy and use one without any hesitation.
For people who want to fold-up the paddleboard and throw it in their camper as they scout out a great paddling town, an inflatable can be an obvious choice.
The Case for Composite Paddle Boards
Composite boards, on the other hand, are classics. They awesome for taking on serious waves, exploring long distances, or enjoying an ideal speed performance. There is also no variability in the inflation level, so you have the same, stiff board every single time you go out. They have the advantage of delivering a bit more performance. They're also slightly more stable in rough conditions.
We have to admit that we also like the beauty of a good composite or wooden board.  They can look really cool.
Both inflatables and composites need to be taken care of during transport and storage. Inflatables can get punctured, although their skin is tougher than you would expect. Composites can be gouged or chipped, affecting their long-term performance.
Regardless of your paddling level, one thing's for sure: an SUP board is an investment.  Regardless of your budget, both inflatable and composite boards are sturdy, durable, and you can find a great one of either type for an affordable price.