Do you love kayaking, canoeing, and stand up paddleboarding (SUP)? Then this is the list for you! We've highlighted seven of the best paddling towns in the United States. And we didn't focus on one area either! This list contains some fantastic places in Great Lakes, the Northeast, the Northwest, and the South. Which of these will you be visiting first?
#1. Ely, MN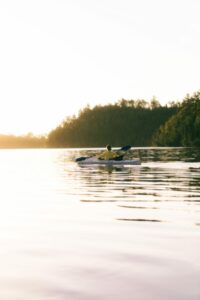 Ely in Minnesota is the Western gateway to the Boundary Waters Canoe Area (BWCA), a canoe-only national wilderness like none other.  Ely, located right on the Shagawa Lake, and within spitting distance of about 100 more lakes and waterways, giving you ample paddling both near town as well as inside the National Forest boundaries. And there are several options depending on your experience and preference! Some rivers are slow-moving while others are a bit more challenging.
Guides and outfitters are common in this area, and they love helping people either plan their route or even guiding them on a short excursion.
The Circle Route, for example, takes you through 10 lakes and 2 rivers including the Bass Lake, Sletten Lake, and Ranger River. Visitors can camp in the wilderness without the need for permits, fish, and see beautiful sights to be had including local wildlife and flora. If you love birding, you'll definitely want to take some binoculars on your canoe, too – there are about 155 species of birds in the area!
This area is a little more about the canoeing, although the canoeing vs. kayaking debate is a fun one to have. Canoes tend to be more popular because they are more conducive to portaging, which is common around Ely.
Visitors to the city can also visit Ely's main street to get outfitted and sit down for some delicious meals before and after their adventure. The area is also home to a number of informational centers and museums including the International Wolf Center and Ely-Winton History Museum.
#2. Grand Marais, MN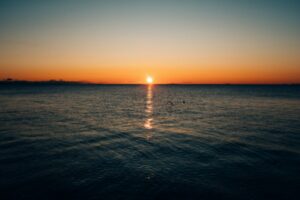 Another fantastic place for canoeing (and kayaking) in Minnesota is Grand Marais. Located on the North Shore of Lake Superior, the area is home to absolutely stunning, crystal clear inland lakes, amazing wildlife, and miles of canoeing routes. It's actually ranked one of the best areas of paddling!
In addition to being situated right on the rugged Superior shore, Grand Marais is also known as the Western gateway to the BWCA, mentioned above.  The Gunflint Trail, the 56-mile long road leading from Grand Marais to the Canada border, passes by several great BWCA outfitters and entry points.  You can rent a canoe, get a map from a guide, and explore for a day (or more if you want to pack a small tent and some camp food).
Visitors can paddle through boreal forests or on Lake Superior itself on the Lake Superior State Water Trail. Other options include the Grand Marais Harbor (great for beginners) and in the Tettagouche State Park. And don't worry – there are plenty of opportunities for some fishing! If you're fairly new to paddling, there are tour groups in the area that will help you learn the sport.
After you've spent a day on the water, Grand Marais has tons to offer. From rock climbing to fat tire biking, your visit to the Minnesota area will be a trip to remember.
#3. Bayfield, WI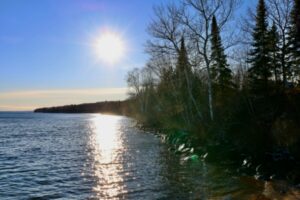 Bayfield, Wisconsin is home to some perfect places for kayaking. Also found on Lake Superior and next to the Apostle Islands National Lakeshore, paddlers have quite a few options when it comes to waterways!
Bayfield's inland lakes are great if you just want to have some fun on a paddleboard or practice your basic kayaking skills, but the real action for more experience kayakers is on Lake Superior.  For example, near Bayfield, there are plenty of sea caves you can explore. While some are more dangerous than others (you will need waves lower than 1.5 feet), they offer some stunning views and chances to explore. The Romans Point Sea Caves are one great option and they're less crowded than a number of others. Paddlers also have the opportunity to see a shipwreck, wildlife, ice caves, and sandstone cliffs in some waterways!
Campsites are available on a majority of the Apostle Islands. If you want to take a break from the water, Bayfield offers visitors delicious restaurants, a maritime museum, the Copper Crow Distillery, the Hauser's Superior View Orchard, and more.
Plus, Bayfield is just a cool town, worth checking out.
#4. Fryeburg, ME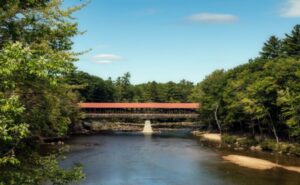 Moving away from the Great Lakes, we want to next recommend Fryeburg, Maine. The area is home to a number of lakes and ponds and is found just outside the White Mountain National Forest.
But if you want paddling adventures, the Saco River is where it's at. The slow river has a number of access points, too, so you can always stop and take a break to swim, eat, drink, and camp overnight. If you forgot your kayak, canoe, or other gear, don't worry – there are several touring groups in the area that will get you everything you need. Visitors can also opt for a relaxing tube ride. However, the river gets a little crowded on weekends, so it is recommended that you visit mid-week. Reservations for parking are also highly recommended.
Adventurers to Fryeburg, after they've finished paddling, can also take a trip to the White Mountain National Forest for some hiking, visit some local farms for some delicious baked and canned goods, and taste a selection of craft beers.
#5. Bay Harbor, ME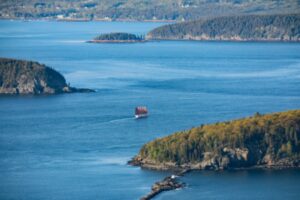 Bay Harbor in Maine is right on the Atlantic Ocean and is the entrance way into the Acadia National Park. Visitors to the area will find plenty of opportunities to kayak, canoe, and SUP.
Paddlers can visit one of the many beautiful lakes or opt for the Frenchman Bay, the Penobscot Bay, or the Castine Bay. Nighttime paddling is highly recommended, too, as the area is just perfect for stargazing – and you might even catch a glimpse of bioluminescent organisms in the water as you paddle! For day time visitors, however, there are plenty of other wildlife to keep an eye out for. Bay Harbor is home to bald eagles, seals, whales, puffins, and porpoises.
With the Acadia National Park in hand, there is no shortage of things to do after you're done paddling. There are opportunities to take a cruise, do some deep sea fishing, take nature tours, or visit lighthouses, museums, and informative centers in Bay Harbor.
#6. Friday Harbor, WA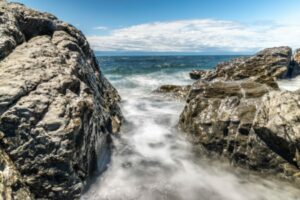 Heading over to the other side of the country we recommend Friday Harbor, Washington. Part of the San Juan Islands archipelago, it is just on the United States border to Canada. The area is fantastic for paddleboarding and kayaking.
The Salish Sea that surrounds the islands can be a little dangerous, so if you're new to kayaking or SUP, you definitely will want to take a safety course in the area. But the area has plenty of multi-day and day trips available to guests. Depending on the tour you take, you can also sign up for some gourmet meals! And don't underestimate the wildlife in this area – you might just see octopus, seals, sea lions, otters, and more. Of course, if you visit between May and September, you may even see some orcas!
After a day of paddling, visitors to Friday Harbor and the San Juan Islands can take a walk on the dotts, pick up some dinner, or visit one of the many museums and galleries.
Friday Harbor is not from from the Seattle – Tacoma – Everett area, which also offers some incredible inland hiking and exploring opportunities.  A couple of our favorites are Olympic National Park and the area around Lake 22.
#7. Ocala, FL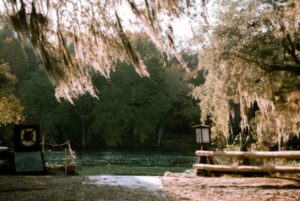 Ocala in Florida also offers some amazing opportunities for paddling! The Ocala National Forest is just next door, after all!
One of the most highly recommended places to canoe or kayak in Ocala is Juniper Run. This intermediate paddle trail is about 7 miles long one-way and takes 3.5 to 5 hours to finish. Note though that only kayaks and canoes are allowed and there are rapids (keep to the right if you hit them!). The forest on Juniper Run is dense – said to be like a jungle – and is home to wading birds, alligators, otters, eels, and more.
After your trip on Juniper Run, you can take a swim or a hike in the forest, too. Biking and boating are also welcome in some areas of the park. And the city of Ocala itself has zip lines, parks, trails, museums, restaurants, and more.
Do you have another favorite spot to kayak, SUP, or canoe in the United States that we didn't mention? Make sure to let us know your go-to in the comments below and let us know why it's your favorite!