Best Rucksack Backpack: Top Picks
Many active people prefer the rucksack-style bag over traditional backpacks, and due to their durability and rugged look, rucksacks have made a comeback in popularity in recent years.
Rucksack backpacks are a versatile and essential piece of gear for travelers, hikers, and adventurers alike. They provide ample storage, ergonomic support, and adaptability for various activities and climates. Rucksacks have evolved over time, with improvements in materials, design, and construction, offering a wide range of options for consumers seeking the perfect backpack. Whether you want something super rugged, more of a waterproof pack, or something with style, the ruckpack-style presents some great options.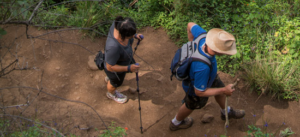 When selecting the best rucksack backpack, you will want to balance a few factors such as size, weight, durability, and comfort. The capacity of the backpack should accommodate your needs, whether for day hikes, weekend getaways, or extended treks. Moreover, the weight and comfort of the backpack are crucial for long hours of carrying, affecting overall ease of use and enjoyment of your outdoor experience.
Materials and construction quality play a significant role in a backpack's durability and weather resistance. Rucksacks and ruckpacks tend to be a bit more durable and rugged than their more refined backpack counterparts. It's always a good idea to look for options made from high-quality fabrics, with reinforced stitching and reliable zippers or fasteners. Other additional features, such as load adjustability, organization compartments, and hydration compatibility, can enhance the backpack's functionality.
With many options available in the market, we set out on a mission to find the best rucksack bags by thoroughly researching and testing various models. Our goal was to identify those that effectively balance capacity, comfort, durability, and additional features while remaining affordable and accessible for a wide range of outdoor enthusiasts.
Best Rucksack Backpacks
We have curated a list of the top rucksack backpacks available on Amazon, providing you with the ultimate options for outdoor adventures and urban commutes alike.
Best combination of functionality and price. For anyone seeking a durable and spacious rucksack backpack with a vintage look, the Gootium  is an excellent choice.
Pros
High-density canvas material
Ample storage with multiple pockets
Comfortable and adjustable straps
Looks better with wear
Cons
Minimal electronics (Laptop) protection
Heavy at 2.2 pounds
Might be larger than some need
I recently used the Gootium Rucksack and were impressed by its durability and classic design. The high-density canvas material provides a rugged feel, while the garment-washed finish offers a vintage appearance.
This rucksack backpack sports a roomy main compartment with plenty of space for a 17-inch laptop and more. The multiple pockets, including a front button pocket, an internal security zippered pocket, and two side button pockets, offer excellent organization for all your essentials. However, it's worth noting that there is no built-in laptop protection, so we recommend using a separate laptop sleeve.
The comfortable and adjustable straps on the Gootium ensure a pleasant carrying experience, even when the backpack is loaded with heavy items. Despite its 2.2-pound weight, the backpack did not feel too heavy on our shoulders, thanks to the well-padded straps and ergonomic design.
A nice feature of the Gootium rucksack, along with most rucksacks, is that you can just throw it in the wash when it needs a cleaning.  Let it air dry though, or all those straps and snaps might damage each other or your dryer. After a washing, you might find that the rucksack actually looks cooler and has more of a patina.
My take is that the Gootium Rucksack provides a practical and relatively good-looking solution for those in need of a spacious and durable backpack. With its high-density canvas material and roomy main compartment, it is perfect for everyday use or weekend getaways. Just remember to invest in a laptop sleeve if you plan to carry your computer with you.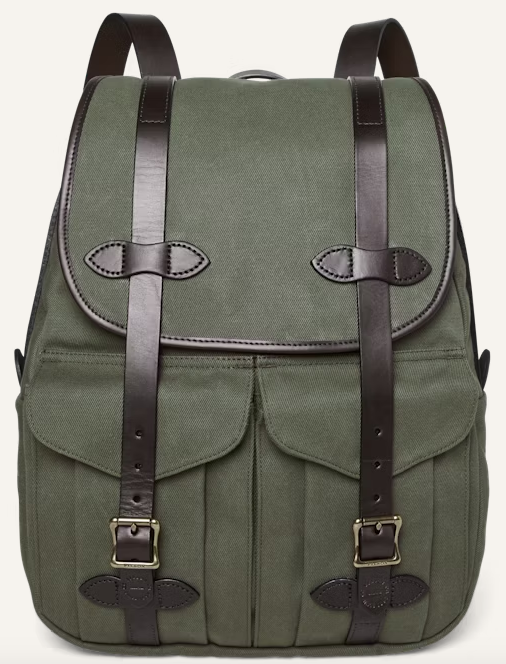 Best overall, if you have the budget. Filson's Rugged Twill Rucksack embodies everything Filson stands for – making tough products that can handle anything nature throws at you. I've been using this rucksack for years, and it's a beast.
Pros
Tough as nails. This bag will last forever.
Rugged look, because it is made from truly rugged materials.
Leather and brass touches create a distinctive look
Cons
Expensive. Filson stuff is always expensive.
Filson doesn't mess around when choosing the materials. Instead of regular canvas on this sack, they went with Rugged Twill for its insane abrasion resistance. This stuff comes from the oldest mills in Britain, and it's lightly waxed to keep your gear dry and safe from the elements.
The shoulder straps and reinforcements are made from Bridle Leather, something Filson likes to use. They're so strong, they could be used for horse tack. They've been vegetable-tanned for weeks, so they're not only tough but also supple and comfortable.  Bridal leather might sound uncomfortable, but the straps quickly mold to your frame and posture.
The zipper heavy-duty and rustproof. It runs all the way down the sides of the bag, making it a breeze to access your stuff. They even reinforced it with thick Bridle Leather and slapped a big storm flap on top to keep everything secure. And let's not forget those gusseted front pockets. They expand to hold more gear and snap shut to keep it all in place. The brass hardware is custom-made for Filson, adding a nice touch of class.
Every time I have ever owned something made by Filson, I have been disappointed. After many years, you might get some wear in the corners which can be patch. I have never had a leather strap or zipper from Filson fail.
The interior seams are bound with Tin Cloth to prevent fraying and wear. It's all about the little things that make this rucksack last.  If you're looking for a rucksack that can take a beating and still look great, this is it. It will look cooler with time, too.  If you can afford Filson gear, go for it because it will last forever.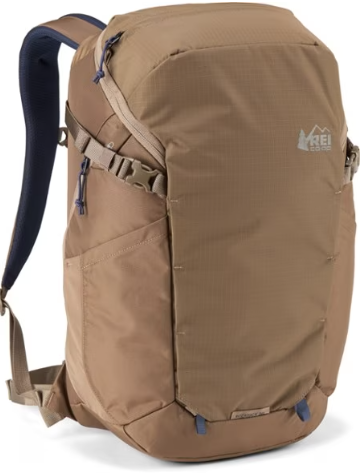 Best option from sustainable materials.  I have used the REI Co-op 40 Ruckpack, and think it is an excellent choice for those seeking a versatile and durable backpack for their adventures. Constructed with ripstop nylon, this rucksack can withstand the wear-and-tear of extended travel and outdoor activities.  With that said, it is probably more of an urban backpack, meant more for walking around Europe than hiking through the Himalayas.
Pros
Durable nylon construction
Comfortable
Easy access to the interior pockets
Nice minimalist design
Cons
Nylon can feel hot against the body on those warm-weather hikes
More of an urban pack design; might not be ideal for extended camping or paddling trips.
The 40L might feel big for many uses. If you really just want a daypack, go with the 28.
I am a big fan of the simple configuration of the Co-Op 40. The main compartment has a U-shaped zipper that allows for easy access to items, while various pockets on the front, sides, and top provide ample storage options. Additionally, the bag has external attachment points for gear such as ice axes or trekking poles, I like to use mine for a metal water bottle.
The REI Co-op 40 Ruckpack is comfortable for the wearer. With its padded back panel, adjustable shoulder straps, and sternum strap, hikers can achieve a tailored fit and even weight distribution. For those looking to carry more substantial loads, the rucksack also features a detachable hip belt, which improves stability and load transfer.
REI makes a smaller version of the pack, which is going to be a better option for people who simply need a pack to store a windbreaker and water or a couple of books.
In terms of sustainability, REI is committed to responsible sourcing and production methods. The rucksack utilizes REI's bluesign®-approved materials, ensuring that it meets high environmental and social standards.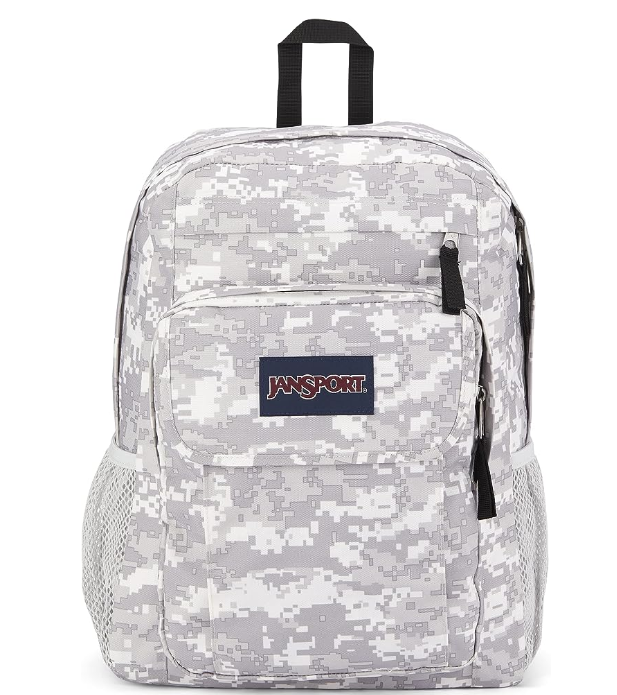 Best budget option, #1. The JanSport Cool Backpack is a stylish and functional choice for anyone in need of a spacious and reliable rucksack backpack, and one that does not break the bank.
Pros
Good space with 2 large compartments and dedicated laptop sleeve
Available in various colors, prints, and patterns
Not expensive
Cons
A bit generic-looking
Not build for heavy-duty outdoors use
Some may prefer more pockets for organization
I recently tried out the JanSport Cool Backpack, and was happy with it as a basic ruckpack.  I will admit that I went in to the test a bit skeptical, since a cheap Jansport bag is what I remember using in college, and there is no way I would have taken that bag on anything remotely rugged. I should have known, though, that Jansport has a lot of range in their products.
The backpack is good for carrying a variety of essentials, thanks to its two large compartments and a padded laptop sleeve. Its ergonomic S-curve shoulder straps and fully padded back panel made it comfortable to carry, even with heavier loads.
The availability of color choices allows users to express their unique style while enjoying the backpack's functionality. The synthetic leather bottom and trim details add an extra touch of elegance to these already attractive backpacks.
However, I found a few limitations with the rucksack. The laptop sleeve is designed for 15-inch laptops, so those with larger devices might need to look elsewhere. Additionally, while there are pockets incorporated into the design, some users may prefer more compartments for optimal organization.
Overall, the JanSport Cool Backpack is a solid and affordable for those seeking a spacious rucksack backpack. Its carefully crafted design, durability, and comfort make it an excellent choice for everyday use.
Best budget option, #2. The Amazon Basics Ultralight Pack is an affordable and practical option for lightweight travel and day-to-day use.
Pros
Ultra-lightweight design
35-liter capacity with multiple pockets
Very affordable
Cons
Material may feel thin to some users
Not ideal for heavy loads
Limited structure
The Amazon Basics Ultralight Pack is perfect for lightweight travel, as it features a deceivingly-large capacity. We found it easy to pack our essentials, such as a change of clothes, sunglasses, phone, cables, and a water bottle. The multiple pockets, including the roomy main compartment, front zipper pocket, internal zippered pocket, and two mesh side pockets, helped us keep everything organized.
This day pack is made from a lightweight nylon material, which may feel thin to some users. However, we found that it held up well in our casual day trips and sightseeing adventures. While it may not be the best option for heavy loads or carrying sharp or pointy items, it is perfect for everyday use and occasional travel. The pack can easily be stuffed into its own zippered pocket when not in use, making it an excellent space-saving option. I really liked this about the pack.
Overall, we the Amazon option is an affordable, lightweight, and packable backpack for day-to-day use or travel. While it may not have the structure or durability — or the rugged good looks — of higher-priced options, it offers great value for its price and can be a practical addition to your gear collection.
Buying Guide
There are a few things I was looking for in any of the ruckpack backpacks that I reviewed and tested.
Size and Capacity: Determine your needs by thinking about the type of activities you'll be participating in and the duration of your trips. For day trips, a smaller rucksack with a capacity of 20-30 liters is sufficient. Meanwhile, an extended trip may require a larger backpack with a capacity of 60-80 liters. Assessing your individual requirements will help narrow down your options.
Materials and Durability: Quality materials and construction are essential for a long-lasting backpack. Look for sturdy fabrics, such as nylon or polyester, that are both durable and lightweight. Water-resistant materials are also beneficial for protecting your gear in wet conditions. Pay attention to the stitching, zippers, and buckles to ensure they are of high-quality and can withstand regular use.
Comfort and Fit: Comfort is one of the most crucial aspects to consider when selecting a rucksack backpack. Look for features like padded shoulder straps and a hip belt for distributing weight evenly, alleviating pressure on your shoulders. Additionally, an adjustable suspension system can help customize the backpack's fit, while a ventilated back panel assists with airflow to prevent excessive sweating. Some brands make different men's packs and women's packs, to account for the typical differences in the male and female build.
Organization and Accessibility: Having a well-organized backpack will make your journey more enjoyable. Look for useful pockets, compartments, and external attachment points to easily access and store items. Some rucksacks have a front-loading design, which allows you to access your belongings more efficiently than a top-loading backpack.
Price and Value: Ultimately, it's essential to choose a backpack that fits within your budget while still providing the necessary features and quality. By considering these factors and weighing them against your specific needs, you can confidently select the best rucksack backpack for your adventures.
How is a rucksack different than a regular backpack?
When it comes to backpack design, there are various options available to cater to specific needs. Rucksacks, for example, stand out from regular backpacks in several ways. We will discuss the differences in design and usage, helping you to better understand when to opt for a rucksack or a regular backpack.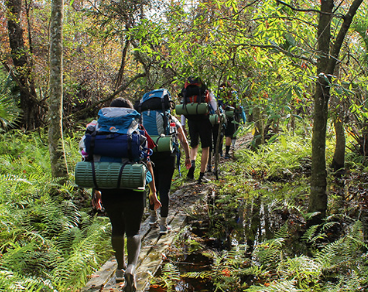 The design of a rucksack is typically more rugged and robust compared to a regular backpack. Rucksacks are often made from heavy-duty materials to withstand long-term outdoor use and harsh conditions, while regular backpacks prioritize lighter materials and casual use. One distinct feature of a rucksack is the large top opening, which is secured by a drawstring or roll-top closure. In contrast, regular backpacks usually come with zippered compartments for quick, easy access.
In terms of comfort, rucksacks generally have padded shoulder straps, a hip belt, and a sternum strap to help distribute the load evenly across your body. This distribution of weight ensures minimal strain on your shoulders and back during extended hikes or travels. On the other hand, regular backpacks may have less sophisticated straps or no hip belt, focusing more on everyday comfort rather than long-distance support.
It is important to note that generically, the term backpack tends to be more common in the USA and the term rucksack is more common in Europe. But there are actual differences too.
While rucksacks often prioritize functionality over organization, regular backpacks usually offer multiple compartments for smaller items like your phone, wallet, or keys. Rucksacks tend to have fewer pockets and compartments, which encourages users to pack light and efficiently.
When deciding between a more rugged and utilitarian rucksack or a regular backpack, consider your intended usage. If you're planning a long trek or adventure in the wilderness, where scrapes with rocks and snags on tree limbs could be a threat, a rucksack's durability and toughness make it a more suitable choice. However, for daily commutes, urban exploration, or casual outings, a regular backpack with its lighter design and convenient pocket layout and bag access would be the better option.
Is a Rucksack Considered a Carry-On or Small Cabin Bag?
Yes, a normal-sized rucksack, like the ones we profile here, can be used as a carry-on or your small cabin bag when flying. The key is how full you fill it, though. Keep in mind, that your small cabin carry-on needs to be able to fit underneath the seat in front of you….. and if it doesn't, well, it doesn't.
If you plan to stow the bag in the overhead bin, then all of these bags should fit even if they are full, and assuming you are not traveling on a tiny little plane.
Should I Waterproof a Rucksack?
I get asked if people should use waterproofing spray on a rucksack. You can, yes, especially if you plan to use the rucksack outdoors, but it depends on a few things that you will want to consider before starting to spray.  And as always, test a small part of the bag (like the underside) first to be sure there are no problems with how the spray adheres to or looks with your bag.
If the bag is canvas, see what type of canvas your rucksack is made of. Some are naturally more water-resistant than others.  Then, make sure the waterproofing spray is designed for canvas. Not all sprays work the same on different materials.
Some sprays can change how your canvas looks, either making it darker or giving it a sheen. That is why you want to test it first.