When you are active outdoors, carrying a fanny pack is one of the best ways to keep your hands free. There's just no need for a bulky backpack or messenger bag, especially if you're going out for a while. Carrying around a fanny pack is a convenient, safe, and practical way to store and easily access your belongings.  In recent years, men's fanny packs have gained particular acceptance.
We know that the look of a fanny pack — and even the name — are not all that manly. But we mean what we say when we suggest fanny packs are super useful, so we are choosing some fanny packs with a cool look and feel.
Why Wear a Fanny Pack?
If you go out often or are planning to travel, wearing a fanny pack is a smart option. There are many reasons why you might want to wear a fanny pack, so let's go over them.
Secure your belongings
Did you know that your wallet and phone are far less likely to be stolen if they're secured in a fanny pack compared to a pocket? The reason being is that fanny packs have zippered compartments, and you can face them forward so that they're in front of you. The only way someone's going to steal your valuables is if they steal your entire bag. This will be nearly impossible to do if you wear your fanny pack across your body or around your waist. We don't recommend wearing your fanny pack behind your back like a backpack as it makes it easier for thieves to steal.
With pockets on your pants, if you don't have zippered ones, anybody could pickpocket your valuables without you even knowing. Even with zippered pockets, someone may be able to unzip your pockets without you feeling a thing.  Security is key.
More convenient than backpacks
Fanny packs are used to carry your belongings, just like backpacks. However, fanny packs are far more convenient. Backpacks can be heavy, bulky, and uncomfortable to wear. Fanny packs, on the other hand, are usually light, comfortable, and compact. It's not true that fanny packs are so small that they only have enough space for your phone and wallet. You can find fanny packs that provide a lot of storage space! We'll go over four fanny packs that we recommend later on. Just know that fanny packs could have enough room to fit your phone, wallet, water bottle, camera, keys, coins and cash, chargers, and more!
Depending on where you choose to hike, the fact is a big backpack might be overkill for a shorter excursion.
Of course, backpacks will be able to carry a lot more than fanny packs, but they're not convenient to wear for long periods. It can get annoying to wear a backpack longer than 20 or so minutes. You start feeling it in your shoulders and even back, depending on how heavy your backpack is. Whereas with fanny packs, you'll forget you're wearing one at all! That's how comfortable they are.
The other nice thing about a fanny pack is that if it starts raining, you can just tuck the pack under your raincoat to keep things dry.  With a backpack, that is pretty much impossible, so you need a waterproof backpack if it is imperative you keep the contents dry.
Comfortable and practical
As we just mentioned, fanny packs are usually comfortable to the point where you forget you're wearing one. It just sits across your body or around your waist and works as the perfect outdoors bag. In addition to being comfortable, fanny packs are also extremely practical. You can securely hold your belongings and have easy access to them at any time. Simply unzip the compartments that are right in front of you, and pull out any item you need.
What to Look for in a Fanny Pack
Now that you know several reasons why you'd want to wear a fanny pack, let's talk about some key components to look for. Keep in mind that weight will usually never be an issue as fanny packs are very lightweight. The bag itself won't weigh you down.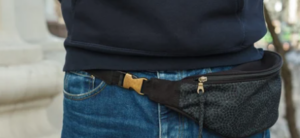 Number and size of compartments
If you're someone who likes to carry several things with you every time you go out, you'll want to look for a fanny pack that has multiple storage compartments. Having multiple compartments is handy if you want to separate your belongings. For example, valuables such as your phone and wallet could go in one compartment, while accessories such as lip balm, chargers, and eye drops could go in another.
Fanny packs could have as little as one storage compartment to upwards of more than four. The size of the compartments is another important factor to consider. Depending on the size of your belongings, you'll want to make sure they can fit in the compartments. If you're shopping online, take a look at the dimensions of each compartment and see if your items will fit. If you're shopping in person, try fitting your items in the bag.
Remember the trade-offs, too.  If you are getting a larger fanny pack so you can carry a higher-end camera, think about if it makes more sense to keep the fanny pack smaller and instead use a 3-point sling for the camera.
Comfortability
Although fanny packs are usually comfortable, it doesn't hurt to try one on first before making a purchase. Of course, you can only do this if you're shopping in person. Wear the fanny pack across your body and around your waist and see if anything feels uncomfortable. Pay attention to the strap and how the bag rests on your body. Make sure the bag isn't too tight, and it'd be great if you're able to tighten or loosen the strap to your liking.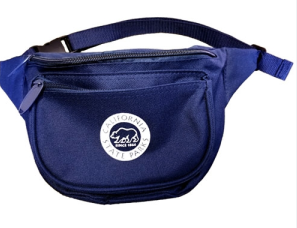 Quality
Even if you don't want to spend hundreds or even thousands of dollars on a designer fanny pack, you should still aim for one of high quality. It's always better to invest in a quality bag that will hold up for years than purchase three bags that will quickly tear and need to be replaced. When shopping for fanny packs, check out the materials and fabric used to manufacture the bag, and then research how they hold up over time.
Ideally, you want a fanny pack that's durable, sturdy, water-resistant, and still lightweight. The zippers should be easy to open, and they should do so smoothly. If it takes you a few tries to unzip one of the compartments, you should reevaluate the quality of the bag. Don't forget about the strap either! It should be one of the most sturdy and durable parts of the bag. Remember that once the strap breaks, you won't be able to wear your fanny pack.
The buckle or clasp also needs to be strong, made of very hard plastic or even metal.  If you are walking around Europe, a fanny pack is often what protects your passport from the thieves.  A good clasp will be a difference-maker.
Design
If you're someone who doesn't care about how your fanny pack looks, then you can focus on the other factors. However, if you do care about your image in public, even if it's just a little, then you'll want a fanny pack with a good design. Look for something that isn't too flashy. Ideally, you want something that you can wear with any outfit. The safest choice is going with dark and simple colors like black, gray, and navy blue.
Since attractiveness is subjective, it's up to you to decide whether a fanny pack looks good or not. Try wearing one and snap a photo to send to your friends and family and get their feedback. Avoid fanny packs with bright colors and flashy designs.
Best Fanny Packs for Men
With so many options available, it can be hard to find a fanny pack that's right for you. That's why we put together a list of four fanny packs that we highly recommend.
Pacsafe Fanny Pack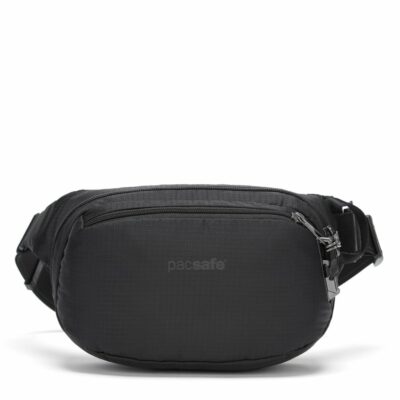 Are you extra keen on security? Then the Pacsafe fanny pack is a great option. This bag is designed with tough material that's slash-resistant. You heard it right! The bag is designed with eXomesh slashguard panels that are supposed to help protect against knives and blades. It even comes with smart zipper security, which makes it extremely difficult for someone to pickpocket your bag. When zipped, the zippers join together and are locked with a security clip, so any thief will have a hard time unzipping the bag without you noticing.
There's even an exterior hidden pocket at the back of the bag, which is a great place to secure your valuables. There are several large storage compartments, so you can easily pack many items in the bag. The strap uses an adjustable belt, so you can tighten or loosen the bag to your liking. Overall, this bag is great to deter away thieves. If you plan on traveling or going somewhere far from home, we highly recommend the Pacsafe fanny pack.
FREETOO Fanny Pack
If you're looking for an inexpensive fanny pack with a lot of storage space, then this bag from FREETOO is your pick. The bag only costs $20, but it provides a lot of value. There are five compartments, including one hidden pocket at the back. There's another secret pocket inside the main compartment. The secret pocket is where you should hide valuables such as your phone or passport. In terms of storage space, there's plenty of room to hold your belongings.
The main pocket is large enough to pack folded clothes into–it also easily fits a standard-sized 16oz water bottle. The other three pockets are also large enough to hold several other items. Even though there's a lot of space, the bag still has a slim profile, which won't draw attention from thieves. The bag looks small but carries a lot.
It's made of durable materials and is waterproof, making it a great pick for the outdoors. The strap is adjustable from 23.6-45.3 inches, so most people should be able to fit the bag. It comes in many solid dark colors like black, blue, gray, but you can also choose lighter shades. If you plan on going out for a while and need to bring many items with you, we highly recommend the FREETOO fanny pack.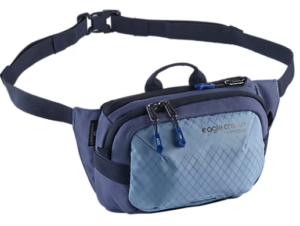 Eagle Creek Wayfinder Fanny Pack
Want an all-purpose fanny pack? Then the Eagle Creek Wayfinder is your best bet. This fanny pack is on the larger side, but it comes with great practicality. There's a dedicated electronic compartment that can easily fit your electronics, such as a tablet or large smartphone. The middle compartment is where you'll organize all your belongings. There are multiple slip pockets to separate your items, a key fob for your keys, and organizer pockets for pens and other small items.
The waistband adjusts up to 56 inches, so most people should be able to wear the fanny pack comfortably. There are strap keepers to prevent the strap from dangling, which is great for people of smaller frames. Amazingly, the fanny pack has two side pockets that stretch enough to hold bottles. So, you can hold up to two water bottles! There's even a reflective hit at the bottom of the bag, which you can attach a bike light to help people see you in the dark. The fanny pack's durable and wicks away moisture, perfect for biking and traveling outdoors!
WATERFLY Fanny Pack
Looking for a simple and small fanny pack that you can wear for a quick errand? Then check out the WATERFLY fanny pack that's designed for runners and hikers. This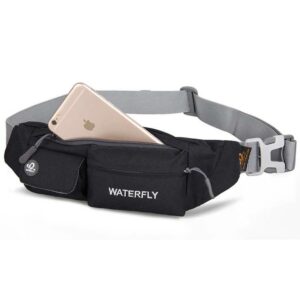 fanny pack is great for those who are just looking for something simple–a bag that will carry your belongings when you're going out. This fanny pack is extremely compact. To be more specific, it has a very slim profile and is lightweight. If you just want to carry your phone, keys, wallet, and some other small items, then this fanny pack is ideal.
It has a simple style that fits well with any outfit. And since it's so compact, you can wear it all day long, even when you're going for a run or hike in the woods. The bag's made of durable water-resistant and breathable material, and it's also sweat resistant. So, feel free to bring it to the gym. There are four average-sized compartments, including one hidden pocket for your valuables. The strap adjusts from 20 to 50 inches, which is suitable for most people. Overall, if you don't know which fanny pack to go for and you're looking for something simple, we recommend the WATERFLY fanny pack.