When out capturing the best scenes that nature has to offer, the last thing you want to worry about is your camera dropping into water or onto a bed of sharp rocks. Cameras and lenses are by no means inexpensive, and you don't want a perfect outskirt being ruined by a damaged camera.
One of the best ways to ensure a productive and carefree day with your camera is by using a 3 point strap (also called slingers) to secure your camera to your body. Though some cameras come with included neck straps, three-point straps are ideal for any amateur or professional photographer whose average day includes significant movement or time outside.
What is a 3 Point Slinger?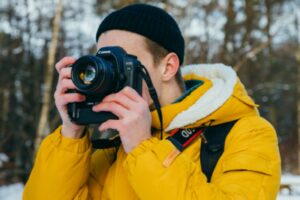 3 point slingers get their name from the iconic three-prong buckle that is used to secure them, as opposed to traditional straps that are secured with a buckle or strap fastener. They can be used on any camera that has attachment points for a strap, which are most commonly located on the sight or screen side of the camera. These points often manifest as small metal loops protruding from the upper right and left corners of the screen side of the camera, which allow for straps to be attached.
What Should You Look for in 3 Point Slingers?
Now that covered the idea of what three-point slingers are, let's take a look at three key features to look out for when thinking of purchasing one:
Padding
Seeking a well-padded three-point strap should not be too difficult, but it is always an excellent idea to be vigilant on the matter. Cheap rubber or plastic-woven straps will very quickly cause irritation to your skin, and using the strap will become a burden. Always look in the description or specs to see if they have high-thickness foam padding, neoprene memory foam padding, and/or a soft leather or neoprene shoulder pad. Ideally, the strap will feature both a soft leather pad and one of the two foam paddings.
Security
When we say "security," we are not referencing the securing of the strap. Instead, what we are getting at is the degree to which the strap ensures that the camera is secured to you. You should look for a slinger that not only features a strong over-the-shoulder strap, but also an under-the-arm strap that gives your camera two separate firm points of connection to your body. Some straps also sport a partial or full waist-secured strap. With this added security, you will be well-equipped for any outdoor activities ranging from trail walking to high-speed mountain biking.
Material
Camera straps made of decent material should be able to easily support up to 200 lbs, with the strongest traps having a tested limit of up to 550 lbs. The primary material in these will be a sturdy nylon webbing as opposed to cheaply-threaded plastic. Nylon-webbed/woven straps will provide two primary benefits to you as an outdoor photographer: First, they will have no problem compensating for any sudden movements you may make on your journey (strength). Second, they will be far more comfortable than any low-quality strap (comfort).
Best 3 Point Straps for Cameras
We have put together a list of our top three favorite 3 point slingers on the market today: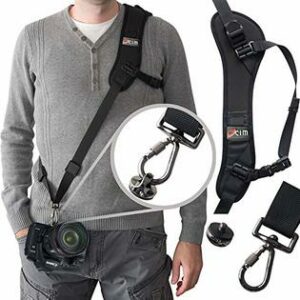 Ocim Camera Sling Strap
As affordable as it is convenient, this durable and comfortable camera strap will do well to cater to all of your outdoor photography needs. Featuring a well-cushioned shoulder strap with a durable-tested over-shoulder and under-arm sling, you can take your pictures without worry. Additionally, this strap is ergonomically designed to easily swap and fit between both shoulders, allowing for quick use of your camera.
Waka Camera Neck Strap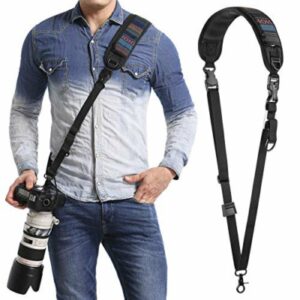 Featuring a special neoprene shoulder pad to maximize comfort out in the field, the Waka Camera Neck Strap has been designed for safety with a focus on long-term wearability. This slinger in particular features a zippered lens pocket on the outside of the shoulder pad, which is always extremely handy to have. These features combined with the slip-resistant rubber and metal security guards ensure that you'll be satisfied with this option for many years to come.
BlackRapid Sport X Coyote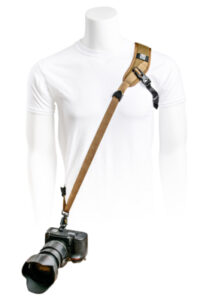 Sporting several special security and comfort features, this 3 point slinger is the perfect merriment of quality, comfort, and durability. Created with a signature base of nylon webbing, this strap is designed with enhanced flexibility and breathability while also including special springlocks to better secure your camera in one position while moving around outside. As is always important, this three-point strap also features an under-arm strap in conjunction with its primary over-the-shoulder strap.  One thing we like about this design is it displaces the pressure across the webbing, which is nice if you have other things around your neck, like binoculars.
Frequently Asked Questions about 3 Point Slingers
Q: Do 3 point camera straps fit all cameras?
A: Most of the time 3 point camera straps do fit all cameras, but you should absolutely double check before you purchase. This will often be listed clearly at the bottom of the slinger's main description.
Q: What is the best way to use a 3 point strap when cycling?
A: First off, if you are cycling, it is highly recommended to find a slinger that features both an over-shoulder and under-arm strap.  Safety is paramount, no matter what type of cycling you are into. Once you have secured these to the camera, secure them on yourself with the camera sitting on your back. This is the safest position.
Q: Is it worth it to buy a paracord camera strap?
A: That depends on what sort of conditions and environments you will be using your camera in! Paracord straps are both remarkably strong and quite comfortable, but their extreme durability is generally only worth the extra money if you know your camera may be in rough or jolt-prone environments.
Q: Are thick or thin camera straps better?
A: Thick camera straps, regardless of fastening mechanism, are always preferable over thin straps. Thick straps not only are almost always stronger, but they will be far more comfortable than any thin strap, as the weight of the camera is distributed over a larger area.