If you ever find yourself in Washington State (or live there), you may want to consider a special trip to Lake 22. This unique trail offers quite a bit to visitors and is quite a popular site for hikers. Here's everything you need to know about visiting and hiking Lake 22.
The Basics of Lake 22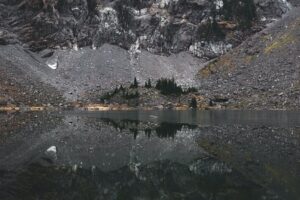 Lake 22, or Lake Twenty-Two, is located in North Cascades in Snohomish County, Washington State on the northern shoulder of Mount Pilchuck. Found near the Verlot Ranger Station and in Mt. Baker Snoqualmie National Forest, the closest city to the trail is Granite Falls which is about an hour northeast of Seattle by car. The exact address is Mountain Loop Hwy, Granite Falls, WA 98252.
The length of the hike depends on the weather and hiker's preference. When the lake and surrounding area is free of snow, hikers can walk around the lake in a loop. This total hike is 6.8 miles round trip. If there is snow or the hiker wishes to turn around at the lake, the walk is 5.4 miles round trip. The elevation gain is 1,350 ft. and the highest point is 2,400 ft.
Other things you need to know before you go:
Hikers need a Northwest Forest Pass to park which is $30 and can be used for a year.
There is no cellphone coverage on the trail, at the trailhead, or once you leave Granite Falls.
The hike is dog friendly, but all dogs must be leashed. Not all parts of the trail may be appropriate for dogs.
Hikers are welcome to fish for trout in the lake.
How Challenging is Lake 22?
Lake 22 is listed as a "moderate" trail. Although it isn't necessarily steep, there are rocks, steps, and roots, which can make it a tough trail for some. And it is always wet and muddy. Hikers will often have to cross creeks, too. There can also be conditions on the trail that make it more difficult. For example, as of this writing, there is a slide 1.7 miles in and visitors have to use a rope to continue on the steep trail.
It is advertised as a good trail for children by the Washington Trails Association (WTA). Other hikers, however, have said it isn't the best for kids due to the required water crossings and rocks.
It is highly recommended that hikers keep to the trail at all times. The WTA warns that there is a boulder field on the far side of the lake that can look inviting to climb, but is in fact very dangerous. Hikers have died attempting it.
Don't let that scare you, though.  Thousands of people do this hike every year.  Just be prepared, hike with someone, wear good hiking boots, and check the condition signage at the trailhead.
What Will You See on the Lake 22 Hike?
In addition to an alpine lake, there is plenty to see on the Lake 22 trail! Protected by the Research Natural Area (RNA) and in a mountain rainforest, hikers have the ability to see
Old growth trees

Including cedars and hemlock

Waterfalls
Wildlife
Wildflowers
Snow — in the winter
Meadows
Rivers
Cascade mountain views
Berries

Salmonberry and thumbleberry are two examples, depending on when you visit

and more
The trail is well-maintained and is made up of gravel, bridges, turnpikes, stone steps, and more in an effort to keep it safe even against the threat of weather and dampness.
There is no end to the amount of sights you will see that will warrant a rest and photographs. Stunning views begin almost as soon as you leave the trailhead.  Because it gets heavy usage during some parts of the year, it is essential that you stay on the trail and be sure not to leave anything behind. Even if you have biodegradable supplies, be sure to pack them out with you.
When is the Best Time of Year to Hike Lake 22?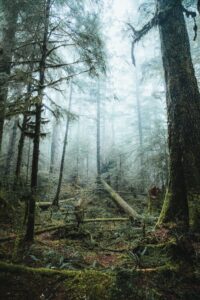 Lake 22 can be visited any time of the year, but it's important to note that it is an extremely busy trail, especially as you get into mid-summer. What you want to see and do may also affect the time of year you go.
Winter
While hikers absolutely visit the trail in winter, it can be dangerous. Hikers must be on top of the avalanche forest to avoid the dangers. And visitors should never go on the lake loop if there is snow. The far side of the lake experiences quite a few avalanches.
Snowshoeing is an excellent option if you visit during the winter.
Spring
Spring offers plenty of sights for cascading, full waterfalls, rivers, and streams due to the melting snow. However, there can still be snow on the ground around the lake, meaning you may not be able to do the loop. Late Spring is an excellent time to visit as most of the snow has melted by then.
Summer
Summer can also be perfect for the hike, but planning is needed to avoid the crowds. Parking is extremely hard to come by during this season, but, in most visits, you'd be able to do the entire hike around the lake.
It is important to note that it is not a guarantee the snow will be melted completely even in Summer. The snow often doesn't disappear from around or above the lake until mid-July. Even if it's mid-summer, do not attempt the lake loop if there is snow.
Because your summer trips might be on the long side, given the good terrain, comfy temps, and plenty of daylight, this is a good time to bring your ruckpack with some snacks and water and make an entire day of it.
Fall
Fall is another excellent time to visit Lake 22 as the temperatures are cooling. Less people visit, but the area can also go without snow for quite some time, meaning you have a good chance of doing the full loop. This season is generally wetter though, so the trail can be a muddier.
What Time Should You Visit Lake 22?
This hike is a day hike, so you can enjoy it at any point of the day. If you want to avoid crowds though, it's generally recommended that you get there very early. This could mean 8am or earlier. You can also opt for a later day hike when others are finishing up theirs, which could be around 3pm or later.
Weekdays, especially during the summer, can be an excellent option if you can make it as they are generally less crowded.
What Gear Should You Bring to this Hike?
It is highly recommended that you bring along a sturdy set of hiking boots or shoes for Lake 22. Waterproofed boots can be a great choice due to the creek crossings and general muddiness of the trail in spots.  You should also bring a hiking hat given the tendency of the weather to change.  There is a good chance your head will encounter some hot sun or some falling rain, depending on the day or hour.
And, if you visit in the Winter or early Spring, you'll definitely want snowshoes.
You may also want to bring
Water
Snacks, ideally something that won't leave behind any residue or wrappers
Fishing gear, if that is your thing
Swimsuit
Camera
Waterproof jacket or windbreaker
Backpack – ideally a waterproof backpack that can keep your gear dry if you get one of the common showers passing through
What Amenities Does the Trailhead Offer?
Before you head into the hike, you'll definitely want to know what the trailhead has to offer. There are plenty of parking spots, nearly 50, but, as stated before, even though there is a lot, it does fill up! The trailhead has two pit toilets near the parking lot.
Hikers should register before heading into Lake 22. This means leaving your name, party size, and time you expect to be back in the book provided. Registering should be a habit as it will help you stay safe on the trail.
Visitors will also see an information board located in the trailhead. This will detail any problems with the trail, wildlife you should be aware of, or other restrictions.
You'll start seeing the sights the hike has to offer very early on!
What is Near Lake 22? Where Can You Stay Overnight?
The closest city to Lake 22 is Granite Falls. Also nearby you can find:
Mountain Loop Highway
Big Four Ice Caves
Other trails

Heather Lake
Mount Pilchuck
Youth-On-Age Nature

Waterfalls at Granite Falls
Robe Canyon
Granite Falls Historical Museum
There are plenty of places to stay overnight near Lake 22, especially in Granite Falls and the nearby areas. Some examples include Paca Pride Guest Ranch (which features alpacas), Mt. Pilchuck River Cabin, and Rusty Bridge River Lodge. Hikers may also want to opt to stay in Seattle or in other cities nearby, including Everett and Lake Stevens.
How as Lake 22 Named?
One question hikers have when it comes to this hike – where on earth does the name come from? It definitely is a unique name, and the origin of it is not exactly clear!
One theory is that the railroad maps from the 19th century all listed creeks by number. There is a creek and lake named "22," so it's possible that's where it came from. A second theory states that the section of the forest was simply known as "22."
Can You Bring Dogs on the Lake 22 Hike?
The Lake 22 hike is dog-friendly, but your dog must be on a leash.  If you decide to bring your dog on the trail, please respect the rules and keep him or her leashed.  It makes life easier for everyone, including all the other dogs.  Follow the link for more tips on hiking with dogs.
Lake 22 in Washington State definitely has quite a bit of beauty to show hikers who visit. You're likely to see different things each time you visit, too! It's important to keep safety in mind though as certain parts of the trail can get very difficult, especially during the snowy months. When will you be planning a visit to Lake 22?