If you're in the market for small two-person tents, you're in luck! In this roundup, we'll review some of the best options on the market and give you a breakdown of what to look for when purchasing one. Whether you're an avid camper or just need a tent for occasional use, we've got you covered.
Meshing may let very small bugs in

Wears faster than other tents

Not as good in heavy rain

Can be flimsy in high winds

Had some trouble with rainfly
The Classic 2-Person Tent Setup
For many of us, the 2-person tent is a classic.  Small enough to be super lightweight, but large enough to squeeze two people in when needed.  While the 4-person tent might be the most all-purpose tent setup out there, we love a 2-person tent, especially when traveling solo or backpacking.  You might not have much room to maneuver inside, but it will give you shelter and will be easy to transport.
A 2-person tent is not one that is meant to store all of your stuff, a cooler, and a pet next to you while you sleep.  You won't have room.  The classic 2-person tent setup is basically just your sleeping bags and the campers, with all other gear being stored outside in secure places (which is often better anyway, because critters are less likely to want to get in to your tent if there isn't much in there).  Maybe you will have room for your water bottle, but that's about it.
What to Look for in a Small 2-Person Tent
When shopping for a small two-person tent, there are a few things you will want to keep in mind.
Size
First and foremost, you will want to consider the size of the tent. Even though the point is to keep the tent small and compact, make sure to choose one that is large enough for you and your camping partner, but not so large that it becomes cumbersome to carry. You also don't want it to be so small that you feel cramped and can't sleep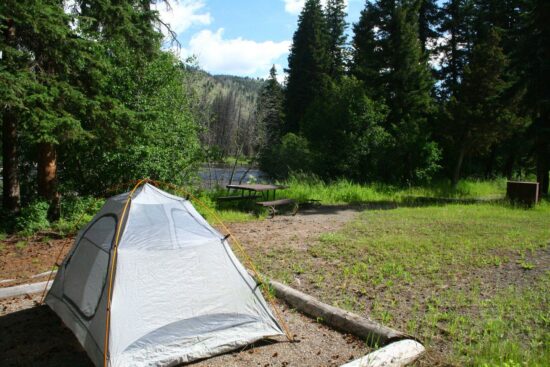 comfortably. The sweet spot will be where you can sleep with enough space to twist and turn around without touching your camping partner.
Note that a 2-person tent might be perfect for a solo camper, too, especially if you plan to keep some supplies inside the tent with you.
Weight
Consider the weight of the tent. If you plan on backpacking, then you'll want to choose a lighter model. However, if weight is not as big of a concern — perhaps you plan to be camping not far fro your vehicle — then you can opt for a heavier tent that offers more features, such as more storage space. Being able to easily and quickly set up your tent may be a priority for you, too, especially if you plan on moving campsites frequently. You can always refer to the setup manual that comes with your tent for more guidance.
Weather Resistance
Taking the weather into consideration is also crucial. If you anticipate camping in cold weather, then you'll want to make sure your tent is properly insulated. Many tents come with a rain fly, which is an essential piece of gear if you plan on camping in wet conditions. You need to keep seasonality in mind, and a 3-season or 4-reason tent is a well-rounded choice for most campers.
Ventillation
Next, always go for a 2-person tent with good ventilation. There's nothing worse than being trapped in a stuffy tent that doesn't get rid of condensation effectively. There should be plenty of airflow while you're sleeping without allowing unwanted critters or the cold to get inside.
Warranty
Lastly, if you can get a tent that comes with warranty, do so! Camping outside in harsh weather can lead to the unexpected, so having a warranty can save you a good chunk of money in case anything goes wrong.  Most good warranties cover basic defects or earlier-than-normal failure, but most do not cover accidents like burning the tent fabric or tearing it carelessly while in storage, for example.
Best Small 2-Person Tents
Now that we've gone over some of the things to look for in a two-person tent, let's take a look at some of the best small 2-person tents on the market!
Nemo Hornet 2 Tent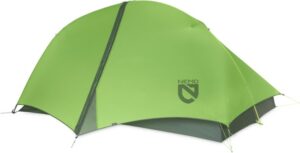 The NEMO Hornet is a great 3-season option for those who are looking for an ultra-lightweight tent. It weighs in at a measly one pound and 15 ounces and can be packed down very compactly. The Hornet is among the lightest of tents available. Despite its small size, the Hornet can comfortably sleep two people and has plenty of headroom thanks to the Flybar design.
There's great ventilation via the mesh panels on all sides of the tent. This allows you to keep the air circulating even on hot summer nights. The Hornet also comes with a cutaway rain fly for inclement weather to increase circulation that's made of waterproof and breathable fabric. And when it isn't in use, you can stow it away in the included stuff sack.
You can quickly set up the Hornet 2 as it has a simple semi-freestanding pole design. All you have to do is extend the poles and click them into place. The entire process can take less than a couple of minutes — even if you're doing it by yourself. Then once it's fully set up, you can enjoy your privacy as the white mesh and privacy panels will keep you hidden from the outside world. At the same time, you can enjoy views of the sky through the moonroof mesh. Overall, the Hornet's small and light, but simple and reliable.
Pros
Very lightweight
Great ventilation
Nice rain cover
Cons
Expensive
Mesh moonroof may be conducive to letting some ultra-small bugs in
Co-Op Half Dome SL 2+ Tent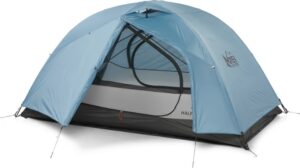 The Co-op Half Dome SL is another excellent choice for those who are looking for a reliable 3-season tent. Weighing only three pounds and 15 ounces, it's still considered a lightweight tent for its size. The Half Dome can comfortably sleep two people, and you might have just enough room for a furry companion. It's perfect for those who own a smaller pet and want a good amount of head and shoulder space.
With two rollable doors and spacious vestibules, you'll have easy access to your tent and plenty of space to store all of your gear. The mesh panels in the upper section are great for ventilation. They also offer you views of the surrounding area. Meanwhile, the lower ripstop panels provide you with privacy while preventing drafts, dust, and other debris from entering your tent.
The innovative freestanding fly design is versatile — you can roll the sides for more vision of the surrounding and ventilation. The rolls will automatically fall down if it starts to get too windy out. The waterproof and breathable fly also has two ceiling vents that can close in case it starts to rain. Thankfully, you won't have to worry about condensation building since the tent offers exceptional airflow.
Pros
Innovative design with double doors and roll-up ends
Very well-ventilated
Reasonably-priced
Cons
Might wear faster than other tents
Not as good in heavy rain
Big Agnes Copper Spur HV UL2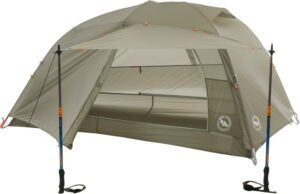 How do they make a tent so lightweight yet so strong?
If you're willing to spend a little extra for the perfect backpacking tent, then the Big Agnes Copper Spur HV UL2 is worth considering. It's another ultralight two-person tent on the market, weighing in at only two pounds and 11 ounces. Despite its smaller size, it's still incredibly spacious inside, giving you a little more room for an accessory or two, your camping pillow, and maybe a couple snacks. You'll have plenty of room to move around and store all of your gear for two people and even small- to medium-sized pets. There are also two mesh pockets, a bin pocket, and one oversized mesh pocket that can hold a decent amount of items.
One of the best features of the Copper Spur HV UL is how durable it the tent is. It has a freestanding construction that's made of ripstop nylon and polyester mesh that can withstand heavy winds and rain. The tent offers great ventilation with two large low-vent vestibule doors and mesh panels on all sides. This unique and clever design has a high fly vent that maximizes airflow while reducing condensation. You may find the zippers to be a bit finicky, but they shouldn't give you too much trouble as long as you're not pulling aggressively on them.
The Copper Spur is easy to set up, completely waterproof, and remarkably roomy. If you're looking for a sturdy 3-season backpacking tent, this one is an excellent option. Even though it's hard to believe that a just under 3 pound tent can be this good, it truly is a reliable option for those with a bigger budget.
Pros
Feels more spacious
Great waterproofing
Extremely lightweight – great for backpacking
Cons
Find the Big Agnes Copper Spur Here
Marmot Limelight 2P Tent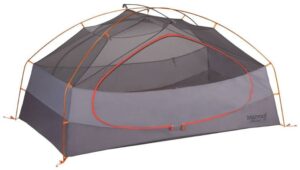 The last tent we'll be covering is this budget-friendly option from Marmot. The Limelight is a solid 3-season pick for those who are looking for a high-value tent that will comfortably sleep two people. It weighs about five pounds and two ounces, making it a slightly heavier option but still manageable. A footprint is included, which is a nice added bonus to protect the bottom of your tent. The doors are very big, and the D-shaped door at the rear provides you with two generous vestibules for storage.
There are multiple pockets for smaller items, but you'll mainly be using the interior space to store all of your gear. Unlike the other options, the Limelight has a three-pole design with vertical walls to give it more headroom and a freestanding structure. The canopy is made of breathable polyester, and the fly is waterproof and sturdy. It will have no problem withstanding harsher winds and heavy rainfall at elevated heights.
Luckily, the tent is durable, so you can rest assured knowing that it won't tear or break down easily. It also does a fantastic job of keeping you warm in colder temperatures and preventing condensation. With a good sleeping bag, you won't even realize that you're camping out during a colder night.
You'll find the Limelight to be intuitive even on the first setup. All the components including the zippers, clips, grommets, and poles are color-coded and well made. The only real drawback of the tent is the weight. Some may find it difficult to bring along as a backpacking tent. If so, you may want to consider one of the ultralight options we've reviewed, or use the Limelight to camp by the car.
Pros
Durable
Easy intuitive setup
Reasonable price
Cons
Design can be flimsy in high winds
Rainfly could be tighter
Find the Marmot Limelight Here
Conclusion: Our Picks for the best small 2-person tents
If we could only get one of these four great tents, we would probably go with the Big Agnes Copper (here).  It is really a flawlessly-design and well-made tent.  However, it is the most expensive on the list, too.
Of the less-expensive ones, the Nemo Hornet (here) is a great tent and one that we would highly recommend too.  But keep in mind, we evaluated a lot of tents to come up with these four.  Consider any of these four to be good, but we suggest the two above if the tent will get heavy, rugged use.
2-Person Tent FAQs
How large is a 2-person tent?
Most 2-person tents have floor space of approximately 7 to 7.5 feet long, by 4 to 4.5 feet wide.  That means that they can very snugly fit two people (it definitely helps if you like each other) or one person with a little space to move around.  Many solo travelers choose a 2-person tent because they like to have space to move, space for valuables, or a spot for a pet.
How heavy is a 2-person tent?
This is where budget plays a big role.  Some smaller tents will weight as much as 5-6 lbs.  Others that are more expensive will be half that, in the 2.5 to 3 lb range.  The materials that make a tent so light also tent to be more expensive, so if you want to have the lightest possible tent (say, for backcountry packing), you need to be ready to spend a little more.
What is the main difference between a 2-person and 3-person tent?
The biggest difference is going to be floor space width.  A 2-person tent will usually be just over 4 feet wide, while a 3-person tent usually approaches 6 feet in width.  The length of the tent is often the same, and surprisingly a larger 3-person tent only gives you an inch or two more of vertical headspace than a small 2-person tent, because of the design.
The other obvious difference is that a 3-person tent will always cost more than a comparable 2-person tent from the same brand, because more materials are used.
Is a 2-person tent really for 2 people?
Technically, yes.  But practically, you either need to be 2 pretty small people, or you need to really like each other.  You will be close!  Many hikers, backpackers, and campers buy a size up of what they truly need.  So a solo traveler may buy a 2-person tent, a group of 2 might by a 3-or-4-person tent, and so on.  It just gives you a little extra space to maneuver inside.