If you're looking for a new and reliable water bottle, then you've probably heard of Owala water bottles. They offer two high-end water bottles, the Flip and Twist, and they're taking the industry by storm! These bottles are the complete opposite of what you'd find at your local shopping center, hence the price tag. If you're wondering what all the fuss is about, you're in for a treat.
About Owala Water Bottles
To get to know the Owala brand a little better, you'll want to know a few things about them. The company promotes one saying: "Do more of what you love." They state that although there are countless water bottles out there, 3 out of 4 people are suffering from chronic dehydration.
We already took a look at the Yeti, Hydro Flask, and Cambelbak options, so we wanted to look at the Owala too.
Owala believes that everyone needs a dependable water bottle, one that's versatile enough for you to use during any activity. They worked hard for over three years to create what they call the finest water bottles in the world. Now, let's learn more about the Flip and Twist.
Owala Flip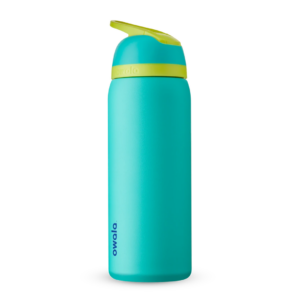 The Owala Flip is called Flip because there's a flip-up straw. This is an incredibly valuable feature, especially in today's world, because you can tuck the straw away whenever you're not using it. This feature also helps you fight against germs and bacteria. It's genuinely great that Owala thought about hygiene.
This bottle a loop that makes it easy to carry around. You can either hold it like a regular water bottle or by the loop. The Flip is completely leakproof and uses a lockable lid, so you don't have to worry about any spills as long as you close it properly. Feel free to keep it in your backpack, on hand, or beside your phone.
In terms of the design, the Flip is made of premium stainless steel or Tritan (your choice) and is vacuum insulated, designed to keep your drinks cold for 24 hours. The lid's opening is wide, so you can easily add ice to the bottle if needed. This is perfect for those who plan on going for long hiking trips. However, it's not designed to keep your drinks hot (that's the Twist).
We like the Flip because it works well for active endeavors, like hiking or paddling. Once we became accustomed to the bottle, we found it was easy to use with one hand — a nice feature.
For the Flip, you can choose between 19, 24, or 32 ounces and several colors. There's blue, white, pink, purple, black, and basil. The Flip is designed for all types of activities, whether you're a hiker, cyclist, jogger, or someone who enjoys just being active. It's also important to note that the Flip is BPA-free, phthalate-free, and odor-resistant. If you've owned a reusable water bottle that picks up bad odors before, then you'll love the Flip. If after a while something breaks or is off with the bottle, you can contact Owala for a replacement since you'll get a lifetime warranty.
Best For: Paddling, driving, horseback riding, or other activities where it is easier to use one hand for your drinking.
Owala Twist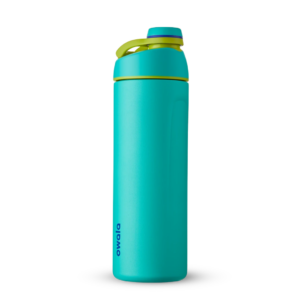 Just like the Flip, the Twist is called the Twist for a reason. For this bottle, you need to half-twist open the lid to get a drink or to close it – easily done with one hand or even a finger. This makes the bottle easy to access during any activity, whether you're biking, hiking, running, or relaxing.
Just like the Flip, there's a loop that makes it easy for you to carry the bottle around. Of course, the Twist is leakproof and uses water-tight seals to prevent a drop of liquid from spilling out. This combined with the half-twist lid makes the Twist a crowd favorite. What's better than having easy and fast access to a reliable, non-spilling water bottle?
You can choose between a stainless steel or Tritan body. The bottle is triple-layered vacuum insulated, which allows it to keep your drinks cold for 24 hours. What makes the Twist different from the Flip is that it's also designed to keep your hot drinks hot. So, if you prefer keeping hot tea on the go, or even soup for that matter, you'll want to go with Twist. The bottle's easy to clean – simply hand wash the cup and throw the lid in the dishwasher.
The Twist comes in the same sizes and colors as the Flip: 19, 24, or 32 ounces, and the colors include blue, white, pink, purple, black, and basil. The opening is pretty wide for you to add ice if you'd like to, and it's also easy to clean The Twist is BPA-free, phthalate-free, and odor-resistant, so you don't need to worry about it picking up nasty smells.
Best For: The Twist is perfect for hikers and outdoors people who appreciate a portable and versatile water bottle. And like the Flip, this bottle also comes with a lifetime warranty
Alternative Choices to Owala Water Bottles
If for whatever reason you're not fond of the Flip or Twist, you can consider getting one of these alternatives:
Hydro Flask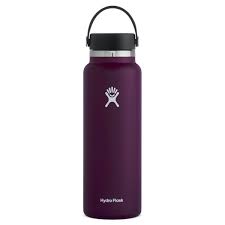 The Hydro Flask is a popular option. It's double-walled vacuum insulated and is made to keep hot drinks hot (12 hours) and cold drinks cold (24 hours). It's made of sustainable metal that's easy to hold, slip-free, dishwasher safe, and comes with a lifetime warranty. The collar is stainless steel, and the opening is wide for you to add ice.  We have found that the Hydro Flask works great for active pursuits.
It comes in various sizes ranging from 20 ounces to 64 ounces, as well as colors. Overall, the Hydro Flask is a solid alternative to Owala bottles as it's about the same price.
Yeti Rambler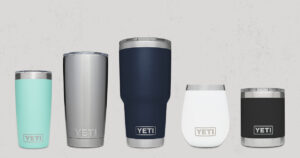 The Yeti Rambler is double-walled and vacuum insulated. The Yeti keeps your drinks cold for 24 hours but doesn't work for hot drinks. It's made of stainless steel that's shatter-resistant. You can open the cap with an easy half-twist, just like the Owala Twist. The Rambler comes in a variety of sizes and colors, ranging from 12 ounces to 64 ounces. It's dishwasher safe and BPA-free, but it's on the more expensive side.
Our experience is that the Rambler doesn't work as well for active pursuits like hiking or paddling, but it is great if your primary need is for a really good travel cup.
Is the Owala Water Bottle Dishwater Safe?
The Owala lid is top-rack dishwasher safe, and the straw is safe to wash in the dishwasher's flatware rack.  Owala says that the entire body of the bottle is top-rack dishwasher safe, but because of the limited size of top racks, and the ability of the finish to wear faster in a dishwasher, they recommend handwashing the bottle's body in the sink.
Is the Owala Bottle BPA Free?
Yes. The company proudly proclaims that all bottles are BPA free, and for that matter they are phthalate free as well. Generally speaking, the Owala bottle is manufactured using the safe materials and techniques that are standard on higher-end water bottles today.