When our kids were young, we would actively seek out tidal pools wherever we were. Tide pools were a safe and interesting way for the family to view sea life, without spending a bunch of money on snorkeling or excursions.
Tide pools can be some of the most exciting natural areas to find, and the good news is that many of them are very easily accessibly by foot.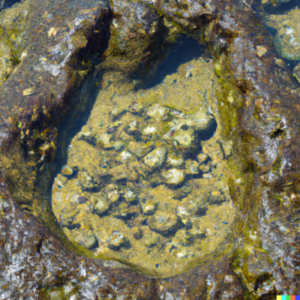 Tide pools are those shallow pools of seawater that you have probably seen many times when in a coastal area. They are typically found along the coast in rocky areas where the tide frequently comes in and out. They are located in what we call "intertidal zones", which are the areas between the high and low tide marks. Because the sea fills them up and then leaves them behind when the water recedes, you get a chance to get a glimpse into the ocean, all from a very safe, secure area.
There are few other ways where it is so easy to view marine life without any special equipment.  A good tide pool can be home to a variety of marine animals and creatures, including algae, barnacles, mussels, crabs, snails, starfish, and small fish. These animals have adapted to survive in the changing conditions of the tide pools, including fluctuating water levels and exposure to the air during low tide.
It can almost be like doing a scuba dive, but way easier and with much less equipment!
Besides being super interesting for beach combers, tide pools are an important part of the coastal ecosystem due to the habitat they provide. As you can imagine, for as long as there have been mammals and birds roaming the coastline, they have probably known tide pools to be a great place to look for a meal. They are also a popular destination for people who enjoy exploring the coast and observing the unique plants and animals that live in them.
How to Spot a Potential Tide Pool
Any coastal area with a non-sandy shoreline, especially one with rock ledges or a stone floor, can be home to a great tidal pool.  The odds of the rock or stone having depressions big enough for the tide to deposit sea life should be pretty high.  Sandy beaches are not as good.  Why?  The tide goes completely out to see, with no pool to catch the water and marine life on its way out.
In addition to wanting a decent tide and the rocky or stony coast, it is important that the tide pool be safe to access and that you have an easy escape route when (not if) the tide starts to rise.
Southern California Tide Pools
While much of Southern California has beautiful sandy beaches, there are some spots with impressive tidal pools.  These pools are often within easy access of commonly traveled areas, too.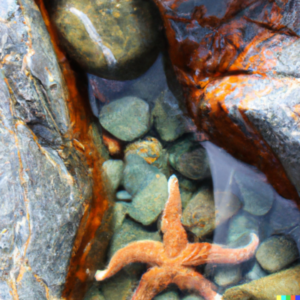 Crystal Cove State Park
This state park in Orange County, just south of Los Angeles, has over 3.5 miles of coastline with numerous tide pools to explore.  It is relatively close to the Top of the World hike, if you also want to get some exercise.
Point Dume State Beach
Up the road from L.A. in beautiful Malibu, the beach has a rocky coastline with many tide pools to explore, and is an easy drive from Santa Monica and other popular lodging areas.  Malibu is also on the iconic road trip, Highway 1 (the Pacific Coast Highway), so a great spot to stop if you are roadtripping.
Leo Carrillo State Park
Located in Los Angeles County not far from Point Dume, Leo Carrillo SP has over a mile of tide pools to explore due to its rocky coastline, as well as some sandy beaches and rocky cliffs.  Look just under the cliffs and low tide, and you will spot some tidal pools. Interesting fact, Leo Carrillo was an actor who was also a dedicated conservationist.
La Jolla Shores Beach
Further south in the San Diego area, this beach has a rocky coastline with numerous tide pools to explore, all within a short walk downtown La Jolla.  La Jolla is also one of the best Southern California destinations for dining, making it a great day out if you want to explore the area.  So easy to walk to, and the tide pools never disappoint.  Expect to see a starfish or two.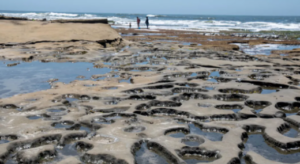 Cabrillo National Monument
The monument right near the San Diego airport near downtown, this park has a rocky coastline with several tide pools to explore, as well as a marine tide pool exhibit.  The area around the Monument is well-travelled with plenty of footpaths, so you don't need to trek over too much rough terrain to get there.  Still, it is not a bad idea to wear hiking sandals.
Northern California Tide Pools
Northern California has some ideal habitat for tidal pools due to its transition from sandy beach to more rocky terrain.
Fitzgerald Marine Reserve
Near Moss Beach, about 30 miles south of San Francisco (but due to the mountains and terrain it takes a while to get there.)  It is a reserve with a rocky coastline with numerous tide pools to explore, as well as a marine life exhibit.  The marine life is very diverse at Fitzgerald Marine Reserve, and depending on the time of year you go, you will find a number of different things, from crabs to sponges and lots of other stuff too.
Point Reyes National Seashore
Known for its great surfing, Point Reyes is in Marin County, about 30 miles northwest of San Francisco, and a great area for dining and hiking too. The park has over 50 miles of coastline with numerous tide pools to explore, and you will see plenty of sandy beach too if you want to relax a bit.  The best tide pools are going to be found around the Coast Camp area, in the 2,000-foot stretch from Sculptured Beach to Santa Maria beach. This area is even known for its whale watching.
Salt Point State Park
Located in Sonoma County, which is about 60 miles north of San Francisco and a gorgeous area, expect a rocky rugged and coastline with numerous tide pools scattered around the area.  There is great hiking in the area too, so bring your hiking boots.
Oregon Tide Pools
Oregon becomes even rockier than Northern California, and the tidal pools often have a bit more of a North Pacific feel in tidal pools.
Yaquina Head Outstanding Natural Area
Yaquina Head is in Newport, about a two-hour drive west of Salem. There are lots of rocky tidal pools that will give you a glimpse of the Oregon sea life.  You probably want to bring a windbreaker, as this area is known for cool ocean breezes and intermittent rain.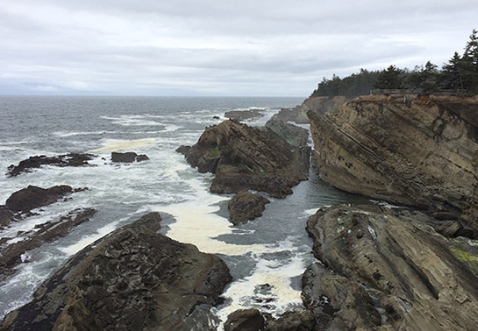 Cape Perpetua Scenic Area
Located in Yachats, which is about a two-hour drive west of Salem. Expect to find lots of species of crab, along with mussels and other sea creatures.
Shore Acres State Park
Shore Acres is in Coos Bay, about a four-hour drive southwest of Salem. You will find a typical rocky Oregon coastline with many tide pools. A great spot that is a bit off the beaten path, you likely will not encounter many others checking out these tide pools.
Washington Tide Pools
Washington tidal pools area great, and start to transition to the rugged British Columbia type of shoreline.  Expect tons of mussels among other great sea life.
Olympic National Park
A great national park, Olympic is very large and about a three-hour drive west of Seattle. The coastline has tidal pools tucked-in to the sandy beaches and rugged cliffs.   Olympic National Park offers so much more, in addition to the coastline.  It is a gem of a park, and a great place to bring a tent or your hiking boots if you have the time for some other activities.
Once at Olympic National Park, know that it is massive. The best tidepools will be found in two places, both on the ocean-facing side of the park (versus the sound-facing side).  One is Kalaloch Beach 4, just north of Kalaloch, and then a bit to the south of there from Hole-in-the-Wall to Rialto Beach.  All provide such good tidepool combing.
Deception Pass State Park
Located in Oak Harbor, about two hours north of Seattle. The tidal pools here are easy to locate and explore, as well as sandy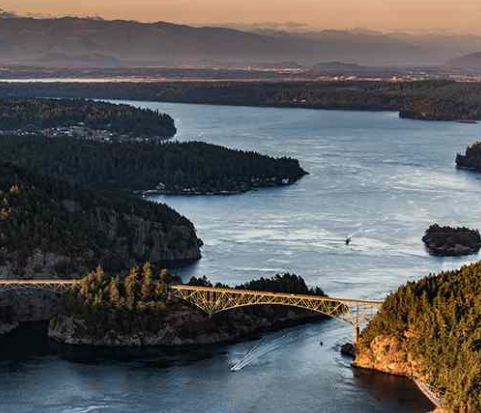 beaches and rugged cliffs. It is known for its scenic beauty and is a popular spot for hiking.  Keep in mind that this area can receive a lot of precip, so you may want to bring a waterproof backpack for your belongings and a light raincoat.
Fort Casey State Park
Fort Casey SP is in Coupeville, a couple hours west of Seattle. Fort Casey gets you into the incredible Pacific Crest coastline, one that is unique and definitely worth the stop.  If you are lucky, you might find an octopus or sea cucumber in the tidal pools here. It can be great stormwatching, too.
Maine Tide Pools
Pemaquid Point
Two hours north of Portland is Bristol, and Pemaquid Point.  The point has a lighthouse, and around it are some good tide pools.  The Eastern tide pools will have their own flair, compared to the West coast.  You might even find a lobster or two.
Reid State Park
Northeast of Portland near Georgetown, you will find some great tidal pools with crab and more, as well as sandy beaches and dunes.  Reid State Park is also an area where you can do some paddling, if that is your thing.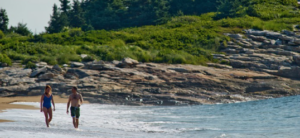 Fort Williams Park
Located in Cape Elizabeth, which is about a 20-minute drive south of Portland.  It is actually a historic fort as the name implies, and the tide pools are near the lighthouse.  You will find lots of very small critters, so consider bringing your magnifying glass.  It is know for its birdwatching in addition to being able to observe the ocean life.
Safety and Respecting Nature at Tide Pools
Because they attract so many curious people, it is important to respect and protect tide pools by not disturbing the marine life or damaging the habitat. It is also important to be mindful of tides and pay attention to safety when exploring tide pools.
Here are a few tips for being safe around a tide pool:
Pay attention to the tides: It is important to be aware of the tide schedule and to avoid getting caught in rising tides. Make sure to give yourself plenty of time to get back to safety before the tide comes in.
Wear appropriate footwear: Tide pools can be slippery, so it is a good idea to wear shoes with a good grip.  When in doubt, a good hiking sandal can be an excellent footwear choice.
Stay on designated trails: To protect the tide pool habitat and the marine life that lives there, it is important to stay on designated trails and avoid stepping on or disturbing the plants and animals.
Be mindful of your surroundings: Keep an eye out for waves, as they can be unpredictable and can sweep you off your feet. Be careful not to get too close to the edge of the tide pool, as the rocks can be slippery and unstable.
Stay away from unfamiliar or potentially dangerous animals: If you see an animal that you are not familiar with or that looks potentially dangerous, it is best to keep your distance and avoid disturbing it.