Paddling – canoeing, kayaking, and stand-up paddleboarding – is a great way to get outside and explore. Unlike cycling or hiking, paddling lets you get on the water, and see nature in a way you otherwise wouldn't.  The perspective from the water is often so different than the perspective from land.
Paddling has a huge advantage over boating, as well.  Boats are restricted on where they can navigate, due to fact that boats are not that maneuverable and can be badly damaged by rocks and sandbars under the water.  Canoes and kayaks, on the other hand, can go into tight and shallow areas.
Plus, being on the water with a human-powered vessel is tranquil – the opposite of buzzing around with a jet ski or a boat.
Types of Paddling
When it comes to paddling, there are a few main types that most people mean when they talk about paddling:
Canoeing
Canoeing is what many people grew up doing at summer camp, and probably the most universal type of paddling. Canoes can be made of aluminum or the more expensive and lighter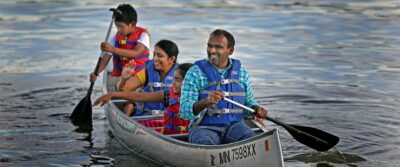 kevlar, and are typically associated with lakes. 
The canoes that you might rent at a state park, for putzing around near the shore, are probably aluminum canoes. They are more stable and durable, but much heavier. Kevlar canoes are lighter, but much more expensive and designed mainly for touring.
Canoeing is a skill. To be good at it, you need to understand how to distribute the weight in your canoe, where and when to paddle, and how to deal with wind, current, and waves. At the same time, most anyone can canoe on a calm pond, as long as they take it slow.  With a few canoeing tips, you can be proficient enough to do a lap around a smaller lake.
Canoes are superior when you plan to do other things while on the water, such as fishing.  The design is conducive to carrying backpacks, fishing rods, tackle bags, and even tents and camping gear, whereas it is more challenging with a kayak are SUP.
Note that some canoe trips can be quite involved, such as touring through a canoe wilderness like Minnesota's BWCA.  If you do one of these multi-day excursions, you want to be sure you have been outfitted well (by yourself or by an outfitter) and have good canoe footwear to handle the portages where you need to move your canoe between lakes, on land.
Canoeing Pros:  Generally family-friendly. Can haul multiple people and some packs or cargo. Aluminum canoes are pretty stable.  Conducive to longer tours, such as through designated canoe wilderness areas.
Canoeing Cons:  A little clumsier to navigate than the others. The lighter kevlar canoes can be tippy. Difficult to transport with a car.  Can be hard to control in high winds.  Intended for 2 people – can be harder to control with just 1.
Equipment Needed:  Canoe, paddles (called "oars"), life jacket. Canoe carrier if you plan to transport with a car.
Kayaking
Kayaking is probably the most popular form of paddling according to the paddling statistics we monitor. Kayaking, like canoeing, comes in a few different varieties.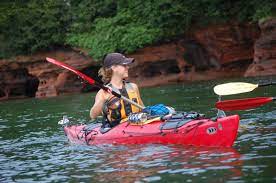 Sea kayaks are wider and shorter, and despite the name are very popular on lakes and rivers. Sea kayaks are quite stable, and most people who want a kayak purely for the recreational aspect of enjoying being on the water are using a sea kayak.  Kids kayaks are usually sea kayak-style because they are more stable on the water.
Touring kayaks are longer, narrower, and not as stable.  They can be excellent for serious kayakers who want to cover longer distances on the water, and want to move at a fast clip.  Generally-speaking, though, the longer and narrower the kayak, the less stable it is.  The shorter and wider (like a sea kayak), the more stable it is.
Creek boats or river runners are tough kayaks designed for whitewater rafting, although creek boats (or creekers) can also be effective on a lake or pond too.
Kayaking Pros: Very maneuverable, can be fast. Able to navigate whitewater and fast rivers. Better control for a single paddler than canoes.
Kayaking Cons:  Limited seating and cargo space. Need to match the type of kayak with the activity.  They can also be a bit bulky to store – if you buy, you will want a kayak storage system.
Equipment Needed:  Kayak, paddle (single, designed specifically for kayaking).  Pump if you choose an inflatable model. Carrier if you plan to transport with a car.  If you plan to fish from the kayak, you will want a fishing-specific kayak (like the Eddyline Caribbean).
Stand Up Paddleboards – or SUPs
Stand up paddleboards have become quite popular over the past decade. They are common at resorts and beaches, where they offer people an opportunity to explore the shoreline in a standing way, without having to crouch on to a canoe bench or inside a kayak.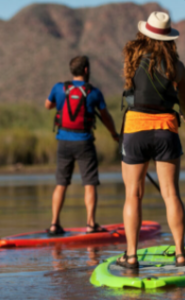 Paddleboarding is known for its workout benefits in addition to the outdoors and exploring qualities as well.  Stand up paddleboarding provides an excellent core workout. It requires balance, too. Many people take a while to get used to the balance required for a paddleboard, while others are quite adept and even do yoga while on them.
Like kayaks, longer and narrower SUPs are a bit tippier.  Shorter, stubbier SUPs tend to be a bit more forgiving.
SUP Pros:  Great core workout. No drag, meaning you can go through even the shallowest of water.
Sup Cons:  Balance takes some getting used to, especially for taller people. Difficult in windy or wavy water.
Equipment Needed:  Paddleboard.  Paddleboard-specific paddle.  Pump if you choose an inflatable model.
Other Paddling Options
There are other ways to paddle, too, but we think canoeing, kayaking, and paddleboarding are the "big 3".
Some people use paddleboats, which are powered by pedals inside the boat, while at resorts or beaches. We really dislike them, because they are slow and not very maneuverable.  The work-to-fun ratio doesn't feel right to us.  However, for a (very) slow trip in a small area, they can be a way to safely get young children on the water with you.
There is also the option of paddling a rowboat, but that is pretty old school.  A canoe or kayak is much more maneuverable and efficient than paddling a rowboat around. The nostalgic and romantic value might be what draws people to rowboats, but we just don't see them as being very practical if you actually want to explore.
Best Places to Paddle
"Where can I paddle?" is a common question directed our way, given our experience with paddle sports.  For a "best of" list, we did an entire piece on Great Paddling Towns.
There are really two answers to the question – which regions are best, and where specifically can you find good paddling within the regions.
When it comes to regions in the USA, our favorite paddling is generally in a few areas:
The North: Minnesota, Wisconsin, and Michigan.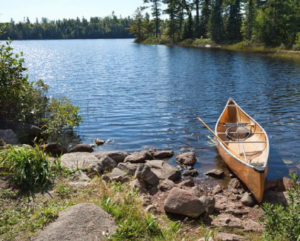 Outstanding paddling, regardless of if you are using a canoe, kayak, or paddleboard. Thousands of lakes, many well-protected and generally calm. The Boundary Waters Canoe Area of Minnesota is phenomenal for canoe touring, a one-of-a-kind place in the world.  Kayaking in the Apostle Islands area of Wisconsin (Lake Superior) is also world-class, but conditions can quickly get rough.  Or you can choose from thousands of smaller bodies of water.
The Northeast:  New York through Maine. 
Excellent water activities and paddling in Upstate New York (especially the Lake Placid area), through Vermont, New Hampshire, and inland Maine. Coastal Maine is also outstanding, but we cover that later.
Mountains (for whitewater)
Appalachia and the Rockies, especially Utah, Montana, Wyoming, and Colorado.  For whitewater rafting, you want fast-moving rivers. You will find that kind of water in the mountains where streams turn in to rivers and pick up speed as they flow downhill to lower altitudes. Among our favorites are the Flaming Gorge in Utah/Wyoming, and the Gallatin River in Montana.
The Coasts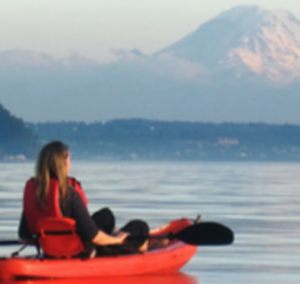 Great paddling in the Pacific Northwest and off the Maine coast.  It is a different kind of paddling, but coastal paddling (usually in a kayak) is a great experience because of the potential wildlife you will see. We especially like the Pacific Northwest, Puget Sound (Port Townsend is excellent) and the San Juan Islands.  In the other direction, you can't beat Maine and the Acadia National Park area, among many others.  Just be sure you are safe and watch the weather – ocean conditions are ever-changing.
Rivers vs. Lakes vs. Coasts for Paddling
Now that you have identified the possible regions for paddling, should you go for river, lake, or coastal paddling?  There are advantages and disadvantages of each.
Rivers
Floating a river can be fun, because the current helps you move and your main job becomes navigation, versus propulsion. You may encounter whitewater or rapids, but you don't have to. If you are looking for excitement and even a little danger, rivers are the best bet. However, there is a big flaw with river paddling – you typically have to go point-to-point and will need a transport back to where you started. In other words, it is a one way trip down the river.
Lakes
Lakes are perhaps the quintessential place to paddle, whether you are just exploring a small body of water, tooling around at a public beach area, or touring multiple lakes connected by portages.  Smaller lakes are often more calm and can be a great way to enjoy all three paddling modes – paddleboards, canoes, or kayaks.  Large bodies of water can require more technical skill.  Very large lakes – like the Great Lakes – are the big leagues, and you should only be on them if you are experienced or with a knowledgeable guide.
Coasts
Coastal areas can be great fun to paddle in, because the sea life and coast provide so much visual interest. If you paddle on the ocean, be sure you stay close to the shore and and be cognizant of currents. A rip tide can cause you to end up in a very different place than you intended.  Harbors and sounds can be great options for coastal paddling given how they are often more protected.  The canoeing vs. kayaking question is more easily answered when it comes to coastlines — kayaks are typically the preferred vessel as they are more maneuverable.
Buy or Rent your Canoe, Kayak, or SUP
Whether you should buy or rent your kayak, canoe, or paddleboard is a question that has no "one size fits all" answer. 
It comes down to a few factors, just like the decision on other recreation-related products and equipment. 
How often will you use it?  Probably the most important question to answer is how much use the gear will get.  If you plan to paddleboard each weekend, then by all means invest in a good, $1,000 board that you can call your own.  If you might use it more like once or twice a summer, then there is probably not a great reason to buy when you can easily rent at many resorts or marinas.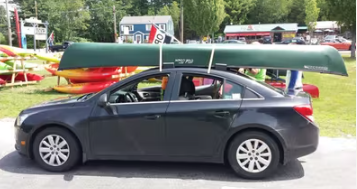 Can you transport it?  These pieces of gear are not small – especially canoes. If you are unable to transport it safely to wherever you plan to use it, then renting is probably a better option.  However, if you drive a Ford F-150 and can easily toss the paddleboard in the box, then you are more suited to transporting it.
Do you have the budget for it?  We don't want anyone spending money they don't have, or can't afford. A good paddlebaord, kayak, or canoe can cost anywhere from $750 to $3,000, depending on what features you need.  Consider that you can often rent for anywhere from $20 to $100 a day, and get good gear while you do it, you might want to go that route until you can comfortably invest in exactly what you want.
Paddling Safety
A final note on safety.  Anytime you are paddling, there is a risk of capsizing, falling off a board, or any number of unexpected accidents. We always recommend that any paddler use a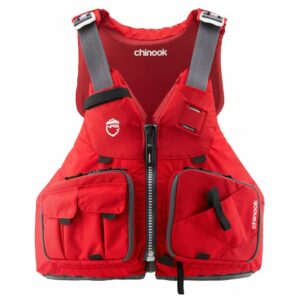 lifejacket at all times, even if it seems like you wouldn't need to.  There are special lifejackets made for paddling that offer more range of motion and are downright comfortable to wear.
You can always use that old boating lifejacket that is stored in your garage, but in our opinion the extra cost of a super-comfy paddling-specific lifejacket is well worth it.
Also, if you are brand new to the paddling sports, go out with a guide the first time and let them show you the ropes. It can be time and money well spent.