Whether you are a backcountry backpacker, a car camper, or someone looking to warm up a cup of coffee on the trail, a camping stove is a secret weapon for a great outdoors experience. Depending on what you want, whether it is to cook up a storm and embrace the best of 'glamping' or to simply roast some hotdogs, you can always find the right stove for you. Quality camping stoves can overhaul your entire outdoor experience.
Your camp kitchen setup will determine how well you can eat, whether in the backcountry or at a big, well-appointed campground. The stove is the centerpiece of that setup.
What to Look for in a Camping Stove
There are a few things to look out for when you are shopping for the perfect camping stove. To find the right one for you, consider these key features:
Durability and Design
It's more than likely that you are going to use the stove more than once. It is also very likely that you will have the stove in some less-than-gentle situations — banging around in a canoe or hitting the hard ground as you throw your backpack off. So you'll want something that will last for many summers to come. Always go for a camping stove that has solid construction and uses top-grade materials. It should also have a simple design as you don't want to take forever it setting up and storing it away. A good camping stove never goes out of style; you should be able to do everything you need with that one stove. Rule out anything that has reviews suggesting that the stove broke after relatively benign wear.
Lightweight
If you plan to travel light for activities like backpacking, canoeing, or other on-foot excursions, then you'll need to ensure that your stove is light enough to carry. The last thing you want is an amenity weighing you down and forcing you to take multiple trips back to your car.  This goes for everything from your stove to your sleeping bag to the camping saw.  The good news is that camping stove makers have excelled in the area of making lightweight options, and nowadays they will probably weigh less than the dishes you are carrying with you.
Speed
You want a stove that works quickly. Choose something that can heat quickly so that cooking your food doesn't take forever. This helps you save fuel over time as you're constantly cooking food or boiling water, and you will be more inclined to use the stove if you know you don't have to sit and wait for it.  Since much of what you use the stove for will likely be freeze-dried camping meals requiring boiling water, it is really all about how quickly you can get a pot of water to boil.  The faster to boil, the faster you will have a meal prepared.
Overall, you'll have more time to spend on your other outdoor activities. The good news is that today's camping stoves get hot in a hurry. You rarely have to wait more than a minute or two for the thing to be cranking major heat.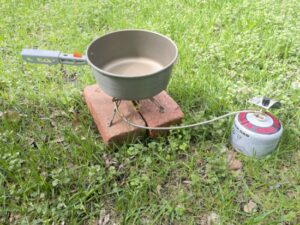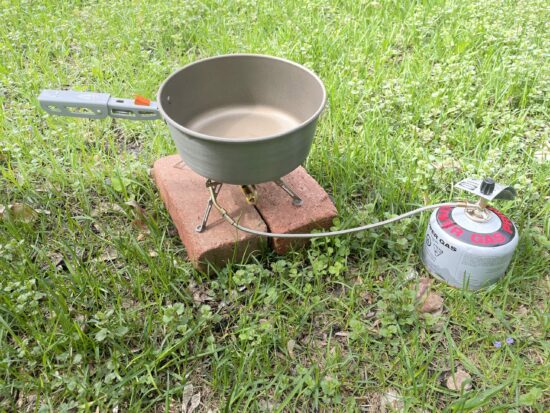 Cooking Surface Specs
Depending on the number of people you plan on adventuring with, you may need a large cooking area. If it's just you and a small group of people, feel free to to use a small cooking surface as they are usually lighter in weight. On the other hand, if you are cooking up a storm for a whole gang of people, are traveling with your spouse and kids for a long weekend, you'll want something large enough to cook up your dishes in one shot.
The cooking surface needs will go along with other factors for your camp kitchen, which are largely driven by the number of people you are with, and if you are driving-in or hiking or canoeing-in to your campsite.
With these in mind, we've broken down the most effective camping stoves for a variety of purposes. The best unit is the one that fits your individual needs. Check out these industry-leading options and discover the hidden gems in high-end camping.
Best Camping Stoves for Backpacking, Canoeing, Car Camping, and Families
Best All Around Camping Stove: The Primus Stove System 
Primus has been making some of our favorite stoves for years. Within die-hard camping ranks, Primus is a very recognizable name. They are a mainstay in the world of backpacking and canoe campers who need lightweight, functional stoves wherever they go.
This versatile option gives you all the advantages of diverse performance. Given its lightweight design and efficient performance, you can easily tow it in a backpack for long treks. The great part is that the unit cooks quickly while allowing you to choose the size of surface you cook on. Using a solid base, the legs join to a small top, where you can place any pan needed.
With a propane fuel system and sturdy materials, you can easily store, tow, and maintain this item. The separate propane container insulates the fuel, keeping it safe during long excursions. Provided you maintain the connection properly, the unit is very durable. It offers the advantage of a long-lasting, compact unit ideal for placing diverse surfaces for cooking.
An 8 ounce fuel canister can run continuously for about 3 hours, just to give you an idea of how much fuel to bring along with you. Our experience is that this unit heats up fast, so you won't waste a lot of time trying to get up to the desired cooking temp.
Regardless of whether you cook for two or ten, this unit has the fuel tank size and function needed to make light work of the task.  Find it here on Amazon.
Best Car Camping Stove
The major contender for the best car stove is the Coleman Cascade. Offering a large surface and significant fuel
supply, this design gives you as much as 22,000 BTUs to sizzle up your steaks. Ideal for tailgating and drive-in campsites alike, this heavy-duty unit enables you to cook for medium-large groups with ease. It is not the best choice, however, if you need to carry it more than a few yards.
This model has two burners, but there is one with three burners as well.
By employing a tight, heavy lid and a sleek surface, it minimizes the mess and offers you the advantages of evenly spread heat for quick cooking. Critical for wilderness camping, the unit cleans easily making it great for multi-night purposes. In between uses, it folds flat and takes up very little space, easily slipping in amongst all the other camping gear. With a friendly price point, this option is an ideal choice for car and truck travel.  Find it here.
Best Backpacking Camping Stove
It was a very close call between this and the Primus that we listed above, but we love the design of this stove. If you plan to travel on foot, you need a camping stove that is both highly compact and
very lightweight. The MSR PocketRocket is an ideal direction to take for these requirements. With this option, you don't have to worry about the weight holding you back. The quick-boil canister makes it easy and efficient to both cook and boil water. With this unit in tow, you can actually reduce the weight you bring along, since the quick boiling feature (less than 4 minutes for a liter of water!) makes it easier to find water on the go.
The stove apparatus itself weighs a mere 3 ounces — but you will also be carrying a fuel source and likely a cooking pan.
And it doesn't break the bank!  The MSR PocketRocket can usually be found for roughly $100 — not bad when you factor-in how much functionality is built-in to such a small, light unit.
Designed to accommodate a broad range of surfaces, you can also choose the size of pan you bring along. Either cook for the whole crew of travelers or just for yourself since you can place just about any pan size on the unit. Supporting sufficient fuel to easily accommodate a three night stay, the fuel tank is easy to change for longer excursions. With everything you need to embrace backpacking to the fullest extent, the MSR PocketRocket is an ideal companion. Find it here. 
Best Camping Stove for Families
Family cooking stoves and car camping stoves are not much different, so you might want to look at those two categories together when evaluating larger stoves.
Cooking for a whole crew provides a whole new set of requirements for a camping stove. If your family likes to explore the great outdoors, then you need a large enough surface, powerful enough
flame, and sufficient fuel storage on your camping stove. For these needs, the Cascade 3-in-1 is ideal. Offering up an entire 12,000 BTUs of heat per burner (24,000 total), it gives you a large grilling surface – easily enough to feed a family.
The design makes it both easy to start and clean up, especially with the added drip pan. A matchless ignition provides the spark to get you started quickly. Since it's compatible with a fuel tank holding over 16 ounces of propane, you can be sure the unit will last several meals. Simple to swap out the fuel cylinder, you can even extend the trip for several days. It works as both a grill and stove, so you can just as quickly boil water as you can grill up some burgers.  Find it here.
The Propane Tank
Be sure the propane tank that you choose fits your needs, just like the stove. If you are going all lightweight on the stove, then the last thing you want to do is carry a heavy, bulky fuel source.
Likewise, if you are driving a big camper, look at a larger, refillable propane tank made for RVs. No need to carry a little tank if you are on wheels.
Conclusion
Camping is about enjoying the outdoor wonders of the world, but depending on what type of camping you prefer to do, you might want to do it with some indoor amenities. We don't blame you — a couple creature comforts can make a huge difference on how much time you feel like spending in the great outdoors. A dry place to sleep, a comfy camping pillow, and, yes, good food cooked on a quality stove.
These high-performance camping stoves enable you to make the most of both aspects. Enjoy your time outdoors, whether backpacking or on a family trip, with these top-tier stove options. Cooking during outside treks gets a lot easier with the help of the right camping stove.