Hiking is possibly the simplest way you can enjoy the beauty of nature. Most hikers become more agile over time and love the challenge of a new hike, new sites, and new mountains to climb.
If you are in New York state, you have a wealth of hiking at your doorstep. Sure, many thing of The City when they think of New York, but the fact is New York has as diverse a topography as nearly anywhere. The hiking can be outstanding.
If you are willing to road trip, you can really find some great hiking trails throughout New York. From the Adirondacks to the Finger Lakes to the Catskills and Hudson Valley, we think New York is one of the more underrated states in the country for hiking and getting outside since it's largely for the big city. Whether you are just going for a midday hike or looking for a place you haul your tent and sleeping bag for a night outdoors, you have lots of great options in New York.
Gorge and Indian Trail, Watkins Glen State Park
Easy, Short. This is a short 2.4 mile trail that is packed with enough bridge crossings, waterfalls, and winding caves that you will feel as though you've found yourself in an adventure movie.
The Gorge and Indian Trail is situated in Watkins Glen State Park and is one of the most popular hiking trails in the Finger Lakes region of New York. The park was actually voted as the third best state park in the entire country on a 2015 USA Today reader survey. It is situated at the south end of Seneca Lake, one of the larger finger lakes.
Along this two mile stretch you will have the opportunity to see nineteen waterfalls. The pathway is easy to walk because it is a wide stone path allowing you more opportunities to enjoy the pools and the rock formations that enhance the trail. It gets plenty of use, so the trail is usually in good shape.
For those who want a more strenuous hike, you can modify the route and hook in to either the South Rim or Outer Rim trails, piecing together a nice loop more in the 4 to 8 mile range.
There are several charming local towns you can stay in that are within thirty miles of Watkins Glen. These include Elmira, Geneva, Corning, and Ithaca among others. There are also tent and trailer sites in the park that you can use for overnight stays.  Watkins Glen itself is a town of just under 2,000 people, and busy on summer weekends.  However, it doesn't take long before you are out of town and away from the crowds.
Overlook Mountain
Moderate, with an Incline. Overlook Mountain is a 4.8 mile trail that takes you to the remains of an old hotel that was once part of a resort getaway. There is also an old fire tower that you can climb on the route. When you reach the end of the trail ,you will be greeted by the most astounding view of the Catskill Mountains which will both figuratively and literally take your breath away.  Bring your binoculars if you want to scan the horizon for a bit before starting the trek back down. It will be worth it.
The Overlook Mountain trail is located in close proximity to Woodstock, which is situated in the northern portion of Ulster County. An interesting fact about Woodstock is that while it was the inspiration for the name of the famous 1969 Woodstock Festival, the actual festival was held about 70 miles away due to permitting issues. Woodstock and Overlook Mountain are in the Catskill region of New York.
On the-and-back hike, you will encounter moderate elevation, to the tune of about 1,400 feet assuming you go all the way to Overlook Mountain. The footing is generally fine but you will still want a good pair of hiking boots to avoid ankle twists.
The hike to Overlook Mountain might better be described as a walk, because there are electric power lines running the entire length of the old gravel road that makes up the trail. You will find that the trip down the trail to be pretty easy, but the experiences, the views, and the memories you'll make while on the trail will be one of a kind.
Woodstock is a great home base, a town of about 6,000 people.  If you time it right, you can do your hiking while coming back to town and enjoying the summer music series or the fall film festival.
Saranac Lake
Longer, Ranging from Easy to Difficult. Covering 31 miles, Saranac Lake is home to six mountains – the Baker, the St. Regis, the Scarface, the Ampersand, the Haystack, and the McKenzie. If you who climb all 6 of these mountains, you will become one of the fondly referred to 'Saranac Lake sixers' after you go to the Saranac Lake town square and ring the special chime set up to announce your accomplishment.
The "sixers" terminology is not to be confused with the elevation of the mountains which peaks between 3,000 and 4,000 vertical feet.  While not exactly a "14'er,", they are enough to induce some leg burn if you hike it fast.
Saranac Lake is located in the middle of Adirondack Park. It is close enough to Syracuse, Rochester, Albany, Burlington, and other urban areas to be considered an easy drive and getaway. It is about 5 hours from New York City, so a little further, but still very doable in a 3-day weekend.
Baker Mountain is the easiest to climb, and it is only a two mile stretch. Still, it provides plenty of challenge as it gives hikers a 900 foot climb. That climb is on good, relatively gradual footing.  Even though the incline is less than 1,000 feet, the view from the top is quite good.
If you want something more challenging, the Ampersand Mountain Trail is about 5 1/2 miles, and closer to 1,800 feet of incline.  The lake view from the top is stunning and serene at the same time.
It is possible to climb all six mountains in a twenty-four hour period, and if you accomplish that feat you will have the ultimate bragging rights as well as a member of elite group referred to as the 'Ultra 6ers'.
While on the hike, you can also slow down a little and enjoy the beautiful countryside. This part of New York State reminds us that beauty is all around and all we have to do is slow down and enjoy it. And don't forget that Saranac Lake is an excellent fishing lake with trout and landlocked salmon, so considering bringing your rod, reel, and tackle box and try to find some excellent fishing when the hiking is done.
The Saranac Lake Islands area is also one of the best places in NY to camp. If you are someone who enjoys packing a tent or traveling with your rooftop camper, consider staying for a day or two when you hike this area.
Mount Marcy
Nice, Long Hike. This Mount Marcy trail is a 14 mile trek from beginning to end. The tallest mountain in New York, there are four different trails you can use to hike to her summit. The shortest trail, Hoevenberg Trail at 7.4 mils long, is on the northwest portion near Heart Lake. The Johns Brook Trail is 9 miles and begins from the Garden parking that is on the north side of the mountain situated in Keene Valley. From the south, you can take the Upper Works Trail of the Elk Lake Trail if you would like to lengthen your hike.
Mount Marcy is located in the town of Keene in Essex County. This mountain is considered to be located at the very heart of what is known as the Adirondack High Peaks. This is a beautiful stretch of country to witness and there is a rich heritage associated with Theodore Roosevelt and this particular mountain. In fact, if you hike the trail from Long Lake to North Creek, you are on the Roosevelt-Marcy Trail.
When you reach the summit of this mountain, you will have a spectacular view of the Adirondacks and if you happen to be there on a clear day, you will be rewarded with an amazing sight of Montreal's Mount Royal.
It's a long enough hike so that you will want to carry a few things with you – like some food and water and perhaps some gear in case the weather shifts. You will want to have a rucksack or other pack along, and start early enough so you can be back before sunset.
Cascade and Porter Mountains
Strenuous but not Terribly Long. This is a 5.6 mile trail that is very popular among both hikers and skiers alike. The trail is located near Lake Placid, New York, in the High Peaks wilderness, is rated a moderately difficult trail but offers some easy rock scrambles on the way up.
The out-and-back trail gives you nearly 2,300 feet of incline, so your quads will feel like they did some work at the end of this hike.
The trail has a unique view of a waterfall that will encourage you to slow down and enjoy the scenic surroundings. It is a very popular trail for pet owners because Fido is welcome to hike along with you as long as you keep him on a leash.
Out of the forty six mountains that make up what we know as the Adirondacks these two mountains are among the easiest ones to hike up. Once you have reached the summit of Cascade Mountain, you only have another mile before you reach the summit of Porter Mountain. That is why it is so easy to climb both of these mountains in a single hiking trip.
The area is known as a world-class fly fishing region, so if that is your thing you may want to bring your fly fishing gear and make a day of it. Expect to find some trout in the Ausable River.  We named the Ausable to one of our top fly fishing destinations in the North.
This is a very popular hiking trail and you might find it a little crowded on the summit during certain times of the year. You also need to check the weather conditions before you head out because weather changes and intense cold conditions occur frequently in this area.  If you visit between October and April, be sure to have some thermal underwear and some warm clothes.
Finger Lakes Trail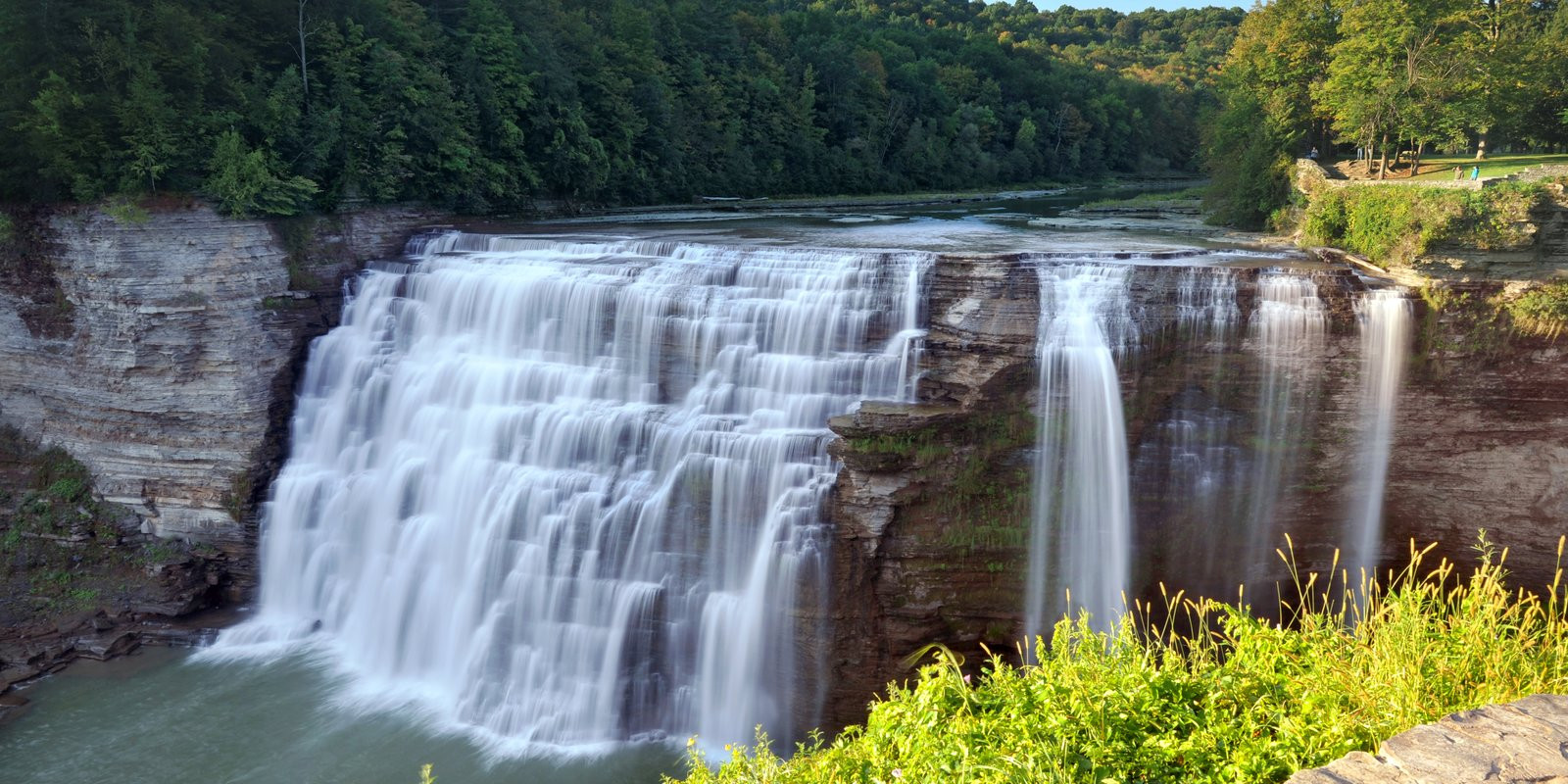 Longer, for Thru-Hikes. The beautiful Finger Lakes region is centered on a triangle that is roughly formed by the towns Syracuse, Rochester, and Ithaca.  The Finger Lakes Trail (FLT) consists of 1,000 miles of footpath stretching across the southern part of New York, starting at Allegheny State Park and extending to the to the Catskill Preserve area.
The Finger Lakes Trail branches off in several places, and takes you to interesting destinations like Niagara Falls, Letchworth State Park, Bristol Hills, and Finger Lakes National Forest (the only national forest in New York state). The FLT provides for 450 miles of the longer North Country National Scenic Trail, and connects to the Bruce Trail, Great Eastern Trail, Genesee Greenway Trail, and the Long Path. Thru-hikers can camp along the trail, typically at primitive, designated campsites.  So if you want to pack your small tent and some camp chow, you can make this a multi-day affair.
For folks who are looking for day hikes or multi-day backpacking, the FLT is a great destination. You will want good maps and navigation, as the length of the trail and its many spurs and connections can make it easy to get off course — but the navigation options are part of the fun of this type of area.
In summary, if you find yourself in or near New York and enjoy hiking, you are in luck. Grab your hiking boots, a map, a good hiking hat, outerwear, some water, and a backpack, and hit the trails. You have so many to choose from.