When you envision camping, you probably envision a tent. A tent is one of the most basic elements of "roughing it" and sleeping outside, and a 4-person tent just might be the most versatile, all-around size of tent to own.
One thing that you need when you go camping is a good tent that will protect you from the elements, and provide you with a comfortable place to rest that is free of bugs. There are a few popular sizes of tents — usually measured by the person.  Solo, 2-person tents, 4-person, and 6-person are models that nearly every tent maker makes. These labels assume that you are really cramming people in to the tent, so a 4-person tent is packed if you have 4 people trying to sleep in it.
We looked at the market of 4-person tents, based on our decades of real-world experience, as well as market research.  The following tents will all provide you with a comfortable place to sleep, and they are equal in durability, resilience, and comfort.  They are not bargain basement tents, because you need to spend a little money to get a quality tent.  But you won't regret it when you are caught in a rainstorm, miles from the nearest shelter.
These tents, when it comes down to it, are all pretty similar.  The only real differences in these tents are in the slight design differences, and personal preferences.
Best 4 Person Tents for 2022
LL Bean adventure dome 4-Person Tent
The Adventure Dome 4 person tent manufactured by L.L. Bean is a great tent for families, or for a group of friends. It has a roomy sleeping area and a screened in area. You can sit and visit without being bug food, and if you have children they can play in the screened in area where they will be safe from bug bites.
The sleeping area measures 8 x 8 feet and gives you 64 square feet. The peak height is 64 inches, a little shorter than we would like to see. There is a door that enters the sleeping area from the screened in area and there is a door that enters the sleeping area from the back. You do not have to worry about disturbing anyone when you are entering or exiting the tent.
Setup is easy using the flexible aluminum pole system that LL Bean has used for years.  We first used tents with this engineering back in the 1990s, and while Bean has improved upon it, we find it to be a simple and reliable tent setup system, and on that packs away well when hiking or canoeing with the broken-down tent.
It is easy to erect and lightweight. It has only four aluminum poles to put up to erect the tent. The entire tent only weighs about 12 lbs, making it one of the lighter tents we looked at.  It is made of rip-stop polyester sailcloth with rip-stop polyester roof and fly. The flooring is made from 40 denier Oxford nylon, while the screening is a 20 denier nylon mesh.
NEMO Wagontop 4P Tent
We are loving NEMO tents right now.
The #1 thing I love about the Nemo Wagontop?  I can stand up straight in it.  This is a great tent for people who get tired of crouching down when moving inside the tent.
The Wagontop 4 is a nice tent for people in a variety of elements. The pole structure used on this tent makes the tent uniquely shaped, but provides you with the most room possible.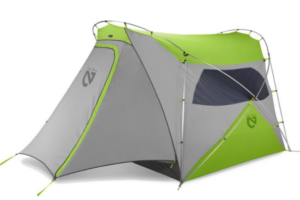 The walls are vertical so the interior space is increased, and gives you floor dimensions of 100" x 100". You get 69 square feet in the sleeping area and an additional 27 square feet from the front vestibule.
Along with that cavernous floor area you get a peak height of 6'5" so there is plenty of room to stand up and move around inside this tent. It has one door opening, and a front vestibule that can be disassembled in 60 seconds or less when the weather is nice, and just as quickly put back when rain threatens.
This tent has 2 aluminum poles and you do not have to worry about putting a rain-fly in place, and taking a rain-fly back off so that you can get plenty of ventilation inside.
Nemo makes camping gear that we have used and we trust. They actually make one of our go-to camping pillows, too.
When packed into the convenient duffel bag this tent weighs only 19 lbs. 9 oz. It is made from durable 75-denier polyester fabric with a floor made from 150-denier polyester.
REI Co-op Kingdom 4 Tent
REI makes it own line of tents, and over the years they have become reliable and impressive.
This tent has floor dimensions of 8'4" x 8'4", and that gives you 69.4 square feet of floor space. Add that to the vertical walls, and the 75" peak height, and you have a roomy tent that you can stand up in.
The tent has 2 entrance doors. The door on the front of the tent has a vestibule and the other door has a weather proof awning. The vestibule is designed where it can also be turned into an awning with a couple of tent poles and some guy lines.
The aluminum poles have been color coded to make it easier to distinguish where they go when you are setting up the tent. There is plenty of bug proof mesh on the doors and the tent so you have the ultimate ventilation.
The entire tent only weighs 18.8 lbs. so it is easy to transport, and the handy backpack style carry bag makes it easy to take this tent to remote locations.
The floor is made from 150-denier coated polyester Oxford, and the rainfly is crafted from 75-denier coated polyester taffeta.
Marmot Tungsten 4-Person Tent
Wow, this tent is lightweight!
Marmot, like Patagonia, was a company borne out of a bunch of hardcore adventure junkies. The result is gear that is made for real-world conditions first, and marketing second.  They have done a great job building their brand.
The Tungsten 4 person tent by Marmot is an easy to pitch design with color coded clips, poles, and fly. The free standing design has 2 D shaped doors and both doors have a vestibule. The manufacturer even thought to install jingle free zipper pulls so you will not awaken everyone in the ten when you enter or leave.
This tent measures 52" x 82" x 93" and provides you with 53 square foot of floor space. It is made from polyester taffeta that helps it to maintain strength and still be very light. This entire tent weighs in at only 8lbs. 11 oz.
The seam taped floor and seam taped fly provide more durability from the tent. It has interior pockets to hold small items, and it includes the footprint.
The North Face Northstar 4 Tent
This 4 person dome tent has a geodesic dome design that makes it durable, strong, and gives you enough space to stand up with a maximum peak height of 68".  North Face is a great maker of tents, and the Northstar is our favorite of the bunch.
The entrance vestibule is large and provides ample room for you to enter without letting rain or inclement weather to enter. There are ample vents positioned around the tent so you have plenty of ventilation, and
the 119" x 101.5" floor space gives you 63.6 square feet of room to maneuver in.
This tent comes with a duffel style bag that is easy to pack, and easy to carry. It only has four poles so it is also easy to assemble and disassemble.
Most importantly, it is highly-functional in rugged conditions, so this might be the choice if your camping could be throwing a few curve balls at you.  The Northstar is highly-waterproof and can stand up to a lot of wind. That durability is created by a canopy fabric that consists of 68-denier rip stop polyester, and floor fabric that consists of 150-denier polyester that has a 3000mm coating of polyurethane.
4-Person Tent FAQs:
Does a 4-person tent really sleep 4 people?
A 4 person tent does provide enough room for 4 people to sleep in them, but you will find that the sleeping quarters will be close. It is best to share a 4 person tent with 4 people you are close friends with. When we use a 4-person tent, we consider it to be perfect for 2 people, usable for 3, and at max capacity for 4.  If you have 4 people camping regularly who each want a little space, consider a 6-person tent.  The good news is that all of the tents we recommend above also offer a 6-person model.
How heavy is a 4-person tent?
The weight of the tent will depend on the style of tent, and the materials used during the manufacturer of the tent. Most tents have aluminum poles to help keep the weight as low as possible. The average weight for a 4 person tent is between 9 and 23 pounds. Some of the heavier tents do come with backpack style carry bags to make them easier to carry to remote locations. The weight you need really depends on the type of camping you plan to do — but in generally, we say get the lightest tent you can afford (typically, the lighter, the more expensive because it requires more advanced materials).
How much does a 4-person tent cost?
The cost of a 4 person tent varies according to manufacturer and materials. There are very inexpensive tents that can be purchased for close to $100 and there are higher quality tents that will cost closer to $500. The quality of the tent and the reliability of the manufacturer play large parts in what the tent costs you.
Are all 4-person tents waterproof?
The answer to this question should be yes, but unfortunately, the lower cost tents may not be waterproof, they may only be water resistant. Read the packaging closely to determine if the tent you are buying is waterproof and will not let water in, or if it is water resistant and will keep water out for a period of time. You can always use a spray-on waterproofer to enhance the water-repelling abilities of your tent and, more importantly, your rain fly.  Like we talked about in our review of the Coleman Sundome, there is rain and then there is heavy rain.  Most good tents do fine in rain, if setup properly.  It is the heavy rain that is the true test.
Are the 4 person tents that you reviewed insulated?
No.  The first two have a slight degree of insulation via a bit heavier fabric, but not of these qualify as insulated.  For an insulated tent, check out the roundup we did on the best insulated tents.  They are the type that you might want for fall or winter camping.
How Many Doors and Windows Should I Have in a Tent?
It depends, but most people like more options here.  As long as you get a quality tent, you should be able to have several doors and windows and not have them affect the performance.  In cheaper tents, these features become liabilities in the rain and wind.  With that said, having two doors in a 4-person tent is really nice, both in terms of access but also for ventilation.  If you truly have 4 people in a tent at night, it sure is nice to have an exit option from either end.