If you love to hike, you know that having the right gear is essential. And one of the most important pieces of gear is your shoes!  Sometimes hiking boots are the answer, and other times you want something lighter.  We're going to take a look at some of the best hiking sandals for women. These will include brands from Merrill, Keen, Chaco, and Hoka. We'll talk about the features of each sandal and help you decide which one is right for you!
What to Look for in Hiking Sandals
When you're shopping for hiking sandals, there are a few things you'll want to keep in mind.
Type of Trail
First, think about the type of terrain you'll be hiking on. If you're mostly going to be on well-groomed trails, you can get away with a less rugged sandal. However, if you're planning on doing some off-trail hiking, you'll want something with more support and traction. Properly supporting your feet is important, especially if you're carrying heavy weight on your back or shoulders.
Features Necessary for You
Next, think about the features you want in your sandal. Do you need a lot of heel or arch support? Are you looking for a sandal with strong toe protection? There are a lot of different features to choose from, so it's important to narrow down your must-haves before you start shopping. To help you pick, think about your entire hiking trip. What type of sandals will you need to ensure you can safely and comfortably complete your hike?
In general, going for a stretchy, comfortable, and breathable sandal is a good choice. It should provide proper arch support for your feet and have a durable sole. You'll want the outsole to be slip-resistant to provide good traction, even on wet or loose surfaces. Having water-resistant hiking footwear or water-proof sandals is also a good idea in case you encounter any streams or puddles along the trail or if it starts raining, but this isn't always necessary.  It is less about keeping your feet dry — they are sandals after all — you just don't want your footwear to be soaked for hours after you get your feet a little wet.
Best Hiking Sandals for Women
Now that we've gone over the general things to look for in hiking sandals, let's take a closer look at some of the best options on the market!
Merrel lAlpine Web Hiking Sandals
The Alpine sandal is a highly-functional hiking sandal that's perfect for women who want a little bit of everything. You can get the sandals in black or a combination of orange, yellow, purple, and teal. Sizes are available from 5 up to 11.
The Merrell Alpines have a contoured footbed for comfort, an EVA midsole for cushioning, and adjustable upper webbing for a secure fit. The Vibram outsole provides great traction on wet or loose surfaces. You should be able to bring these sandals to the beach or while water rafting, biking, and, of course, hiking. They're incredibly versatile, easy to clean, and they stick to your feet no matter what activity you're participating in.
You'll find these sandals to be one of the comfiest and best-fitting options available. After breaking them in, the sandals will properly stretch to fit your feet perfectly.
Find the Merrell Alpine here at REI.
Keen Astoria West Hiking Sandals
For those who want closed-toe water sandals, the Keen Astoria Wests are a great option. These shoes provide full coverage of your feet without making them feel hot or sweaty. They're designed with a contoured fit that supports women's biomechanics for long use. You can choose from seven stylish designs. There's everything from desert sage to navy to coral. Sizes are available from 5 up to 12.
Being closed-toes sandals, the Astoria Wests will provide more protection than some of the other options on this list. The upper webbing is made of recycled plastic, but it's very comfortable against your skin as well as breathable. The EVA midsole is light and offers excellent cushioning to maximize comfort.
One thing you'll immediately notice when wearing the shoes is the heel lift that cups your heel in a forward position. This intentionally provides you with more support which leads to better stability, making these sandals perfect for any activity. You'll also notice that the lining quickly dries if it gets wet, so you can bring them along during a wet hike. Cleaning them is easy; simply throw the sandals in the washing machine on a gentle cycle and then leave them out to air dry.
Chaco ZX/2 Classic Hiking Sandals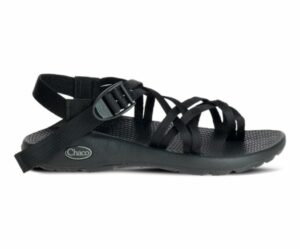 Chaco is a well-known and respected brand within the hiking and outdoor community. The ZX/2 Classic sandals are one of their most popular options for women. You can get the sandals in weave moss, cubit black, eitherway navy, and more. The 6 styles are absolutely unique and beautiful, so be sure to check them out. Sizes are available from 5 up to 12.
The sandals come with adjustable straps so you can use to customize the fit to your feet. It also uses a toe-loop to provide you with extra forefoot control. The upper webbing is made of polyester that's nice against the skin, and they wrap around your feet and through the midsole for a more tailored and secure fit. One key feature of the sandals is the footbed. It is podiatrist-certified that is proven to provide maximum comfort with outstanding durability.
The ChacoGrip outsole is made of rubber and provides non-marking traction that will stick to any surface. These sandals are perfect for long hikes, days spent at the beach, and everything in between. Going for a night out or swimming? No problem. Hours in the city or in a rocky cave? These sandals will serve you well. If you're feeling any discomfort, keep on playing around with the straps and loosen them until you find the perfect fit. It shouldn't take too long to find the right adjustment.
Find the Chaco Sandals here at REI.
Hoka Hopara Hiking Sandals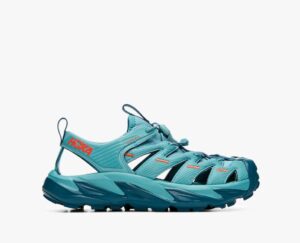 The last hiking sandals on our list come from Hoka. These Hopara sandals are another closed-toe pick that is specially designed for hiking, even mountain hiking. They provide full coverage around your feet but still offer breathability with the mesh construction. The sandals are available in five colors including lunar rock, elderberry, and coastal shade. Sizes are available from 5 up to 11.
The sandals have a rubber EVA midsole that's soft, yet firm, providing you with excellent support and comfort for long days on your feet. The outsole's also made of sticky rubber to provide incredible traction and grip. Hoka added tiny 4mm lugs to increase the gripping power of these shoes. It works perfectly on wet, dry, and uneven surfaces, so you can wear them during your most adventurous hikes.
In terms of comfort, the upper mesh is made of synthetic and neoprene which feels comfortable against the skin. The material's also naturally flexible to provide a more secure fit, which is important for any sandal. Those with wider feet shouldn't have a problem with these sandals, but you may want to upsize to the next available size if you find them too small. The straps are easily adjustable on the go, so you can quickly loosen or tighten them as needed. Overall, you might find these sandals to be a little bulky, but you can rest assured knowing your feet will be well-protected.
Consider Hiking Shoes
Even though we just reviewed the best hiking sandals, you might still want to consider bringing hiking shoes as a backup option. They can be great if you need extra support or stability on the trail or if it's a bit wetter or rougher than you expected. However, they can be less comfortable in hot weather and can make your feet sweat more.
We did an entire piece on North Face hiking shoes, which we are big fans of.  We also like the Merrell Moab, below.
Merrell Women's Moab 2 Mid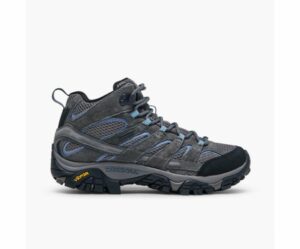 The hiking shoes we're recommending is the Merrell Women's Moab 2 Mid. It's an incredibly popular hiking shoe that's sold over 28 million pairs since its release. The shoe is the perfect choice for types of hikes, whether you're hitting the trails or taking a walk around town. They're very comfortable and supportive, with a durable outsole that can handle rocky and uneven terrain. Moab 2 only weighs one pound and 16 ounces, and you can choose between a medium-width build or a wider one. Sizes range from 5 up to 12.
One of the shoe's best features is the waterproof design. The membrane seals keep water out while allowing moisture to escape. The Moab also has a great ventilation build, and these all work together to efficiently keep your feet cool and dry, even in the hottest weather. So, you don't have to worry much about stepping into puddles or streams along the trail. The Moab also has a contoured footbed with an arch support system that's comfortable to walk in all day long.
Overall, this is an excellent backup shoe in addition to your sandals as it provides superior traction for any wet and dry terrain. Those who plan on walking across creeks will truly value the strong grip they come with. They're breathable, stylish, and unbelievably comfortable to wear. It won't take much time for you to break into the shoes, either.