The White Mountain National Forest (WMNF) is the most visited and second-largest national forest in the United States. If you haven't already, you'll want to visit this beautiful place at least once in your life. There's a great history behind it, amazing hikes to explore, and gorgeous scenery to take in.
Where to stay in the White Mountain National Forest
The WMNF has a wide range of accommodations, including hotels, cottages, condos, resorts, and motels. Even if you're camping, there are plenty of campsites to choose from. Simply search for a type of accommodation, such as a hotel or motel near the forest. You can use resources such as Visitwhitemountains.com to look for places to stay.
Be sure to do sufficient research before committing to a home base which includes looking at reviews and recommendations. After long days of exploring the forest, you'll want a nice place to sleep.
How to Enter the Area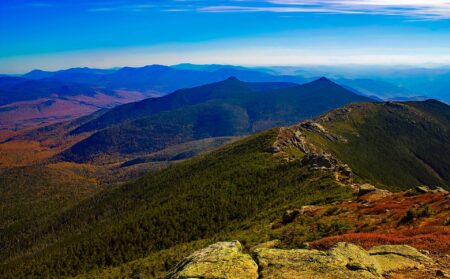 You can enter all of the forest's lands and trails for free as they're open all year-round. You're able to explore any part of the forest (except for certain developed sites) whenever you'd like, with the exception being certain developed areas and trails. Before choosing a site, be sure to keep an eye out for animal warnings, especially if you're going to be out after dark. Bears and moose are common in the area.
To enter certain developed sites of the forest, you need to purchase a recreation pass. The passes are fairly cheap. An annual pass costs $30, an annual household pass costs $40, and a daily pass costs $5. You can get these passes at the self-serve pay stations spread across the entry sites. Display the pass at the front of your car, and you're ready to go!
Be sure to do your research before visiting, as there are countless routes available. Many different trails vary in difficulty and length, including the very popular Presidential Range. Some of the more challenging trails even require a permit or an accompaniment by a ranger. Be sure to contact the ranger station to arrange for these permits and learn more about the trails.
Some Hikes to Choose From
Although every hike in the forest will be a good one, there are some that stand out from others. If you're looking for hikes for the family or an outdoor enthusiast looking to explore new territory, here are some trails to consider:
The Gulfside Trail
This easy, 1.3 mile one way trail in the Mount Washington State Park is perfect for those who want to spend their day exploring the White Mountain National Forest without any strenuous hikes. The Gulfside Trail gives visitors a chance to come across many different types of plants, trees, and wildlife along the way, including deer. It connects with several other trails if you want to do a loop, including the Jewell Trail and Crawford Path, totalling 9.3 miles.
Franconia Ridge Trail
This is a strenuous, 8.4 mile trail near Lincoln that's perfect for experienced hikers. Because the Franconia Ridge trail traverses some of the most beautiful sections of the forest, this trail is worth every ounce of effort. It's a loop and gives visitors the chance to see this vast wilderness's high and low elevations. There are also many excellent spots to stop along the way for a picnic.
Lower Ammonoosuc River Falls Trail
Visitors can see the best of what New Hampshire's White Mountain National Forest has to offer on the Lower Ammonoosuc River Falls Trail in Carroll. This 2.4 mile trail gives visitors a chance to see the beauty of cascades, waterfalls, and forests that the area has to offer. This easy trail is perfect for travellers who enjoy nature but don't want an arduous hike. The falls will be in a cove of rocks that's a popular spot for swimming and fishing.
Mount Chocorua
Some people choose to climb Mount Chocorua of the Sandwich Range not for the view from the top but because of what they can see on their way up. The Bristlecone Pine Forest, the Presidential Range, and the Jackson Lookout are all along this 10.1 mile loop trail. Mount Chocorua is a stop on the Appalachian Trail and is one of the most popular hikes in the White Mountain National Forest. The views from the summit are spectacular, and this is often a good spot for viewing wildlife.
Champney Falls Trail
If you're looking for a little more of an adventure, try the Champney Falls Trail in Albany. This hike is a 3.1 mile round trip, but it takes hikers through the beautiful Lye Brook Wilderness Area and passes Champney Falls. This is one of the best hikes for seeing wildlife, with trails along the way where deer, moose, and bears are often seen. The trail is easy enough for beginners, but it's worth mentioning that the hike is not stroller or wheelchair accessible.
Black Cap Trail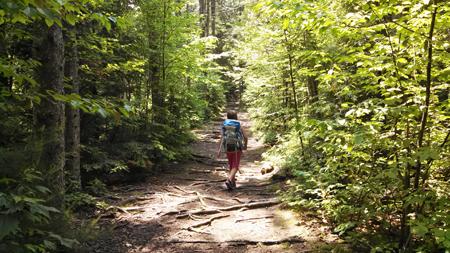 The Black Cap Trail located in Conway is a relatively easy hike with about half of the trail being flat and the other half having rolling hills. There are some stunning views of lakes and mountains along the way! The trail is a short 2.3 mile round-trip, but you're sure to see a good number of smaller animals, including birds, chipmunks, and squirrels. Overall, it's a great hike for kids and dogs.
Welch-Dickey Loop Trail
Another great hike for beginners to experienced hikers, the Welch-Dickey Loop is a flat trail over 4 miles long. The walk in the Thornton area takes hikers through vernal pools, a forest of maples and beech trees, and past the Welch Mill. It's is accessible for strollers and wheelchairs, so it's a great choice for families.
Mount Moosilauke and South Peak Loop
Mount Moosilauke, near North Woodstock, is the highest peak in the White Mountain National Forest and is one of New England's most visited hiking destinations. The trail is a tough 8.2 mile hike up to the summit, but you'll be rewarded with views of four states and Vermont's Green Mountains. You can also take in plenty of wildlife on your way to the top if you're lucky, including many different birds (it is a great hike for birders) and deer.  This trail is a difficult hike for beginners, but it can be worth the challenge.
Mount Whiteface and Passaconaway Loop Trail
This is another steep and challenging 11.3 mile hike up to the top of Mount Whiteface. You'll need plenty of water and electrolytes before starting this one, and plan to bring a few rounds of hiking snacks as you will be out on the trail for a few hours with this hike. This trail will definitely be hard work, but the view from the top is incredible. You'll get a full 360-degree view of all four states and Vermont's Green Mountains on clear days and plenty of sights of wildflowers. Parts of it are very rocky, but there are many places to stop and hang out.
Arethusa Falls and Frankenstein Cliff Loop
This is a scenic 4.9 mile hike in the White Mountains near Harts Location. After you pass by some abandoned railroad tracks, you'll come to Arethusa Falls. This waterfall has two tiers that cascade down over large boulders before ending its journey into a deep pool below it. At the falls, you'll find a swimming hole that people love to go into.
The Presidential Traverse
For those who want to hike for an extended period of time and see the best of what New Hampshire offers, this is your trail. The Presidential Traverse spans over 20 miles throughout four different mountain ranges, including the Franconia Ridge Trail, Pemigewasset Loop, Kinsman Range via Wildcat Mountain or Old Bridle Path, and the Twinway of the Presidential Range. The Presidential Traverse is the most rugged and difficult of all the trails in White Mountain National Forest, with many challenging rock scrambles and steep climbs. You'll want to hike carefully with this one.
What to Expect When Visiting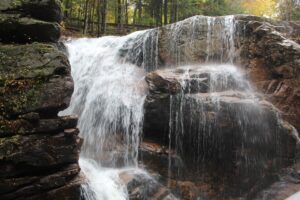 The weather when visiting the White Mountain National Forest can drastically change depending on when you go. The summer months bring more rain and fog, whereas the winter months are typically cold with snow. An excellent time to visit is in the fall when the leaves change and temperatures are not yet frigid (this is the same advice we give on when to visit Maine). If your trip involves going up a mountain, winds can be dangerous and weather can change drastically very quickly, so always plan ahead. Pay heed to any warnings.
You should always prepare for the weather and dress accordingly. For the summer months, bring sunscreen and a hat for protection from sun exposure or rain showers.
In the colder months, wear warm clothing such as gloves, hats, jackets, and scarves.
We recommend that you wear sturdy hiking boots or shoes to protect your feet from rocks, sticks, and other debris when walking the trails.  The White Mountains can be home to some serious winter weather, so this is an area where you want to pull out all the stops.  Everything from a great jacket, to cold-weather gloves and a hat, and even accessories like snow pants and a neck gaiter would not be considered overkill in these parts.  It can get cold and windy, but in some ways that is part of the allure.
Other Facts About the White Mountain National Forest
If you're interested learning more about the history of the forest and the area overall, here are some cool facts to know:
The forest is named after the White Mountain range. It's home to some of the oldest mountains on Earth, including Mount Washington in the Presidential Range. You can also find the Saco River and Lake Winnipesaukee here.
National Geographic named it one of America's 20 "must-see" places for its beautiful scenery and wilderness appeal. In addition to hiking trails, you can enjoy miles upon miles of biking trails as well as wonderful snowmobiling or cross country skiing destinations.
The White Mountain National Forest is located in the northern part of New Hampshire and shares a border with Vermont, Maine, and Massachusetts. It offers some fishing opportunities in various lakes or rivers nearby, including Lake Umbagog which has trout that are over 30 years old! The forest also includes Mount Washington State Park — one of the oldest parks east of the Mississippi River.
It's home to many different varieties of wildlife such as moose, deer, black bears, beavers, porcupines, coyotes, and snowshoe hares, just to name a few. It's possible to find them on trails or by driving through the forest and looking out for their tracks.
Which trail will you be heading to first on your next visit to White Mountains National Forest? Let us know below!