Whether you are shredding the powder, trekking in snowshoes, or just going on a winter walk, it is always important to have the proper gear to keep yourself warm. Unfortunately, one winter piece of gear that doesn't get the attention that others do are neck gaiters.
While they are called neck gaiters for a reason, they actually do more than keep your neck warm during frigid days. They are also great for covering your face and nose.
We think neck gaiters might be one of the most underrated pieces of equipment out there.  They can make such a huge difference between feeling comfortable or persistently chilly, and they take up next-to-no-space in your pocket or pack.
There are several types of neck gaiters out there. Some are used primarily for harsh weather, while others are thin, making them more breathable for warmer days. In this article, we are going to discuss the best neck gaiters for winter conditions. So read on as we cover our top three winter neck gaiters and their features.
SmartWool Merino 250 Neck Gaiter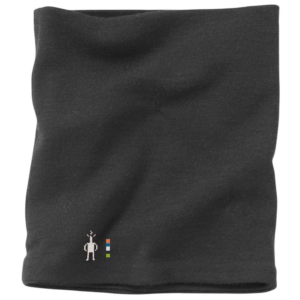 The first winter neck gaiter on our list is the SmartWool Merino 250 for several reasons. First off, merino wool is the superhero of fabrics. It can withstand a significant amount of moisture, and even when it is wet, it feels dry on the inside. This is excellent for skiers and snowboards, who find themselves getting sprayed with deep powder on the mountain.
Merino wool is extremely durable and surprisingly breathable compared to any other fiber. Fun fact: one fiber of merino wool can be stretched and twisted over 30,000 times without ripping or becoming damaged.
Not only is merino wool guaranteed to give you the insulation you need for below-freezing temperatures, it also keeps you cool during warmer weather. This is nice for adventurers who need a neck gaiter for the winter and one for cool nights in the mountains during the summer season.
The SmartWool gaiter can be washed on the warm cycle and is recommended to be air-dried. However, if you do need a quicker dry, then a low heat tumble dry is acceptable.  Smartwool makes some of our favorite gear, from socks to long underwear, and it does great in cold conditions.
The "Turtles Neck" Original Turtle Fur Fleece Neck Gaiter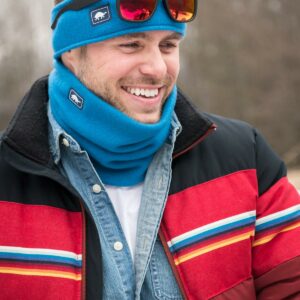 Thick, comfortable, and made for the harshest conditions is what the Turtle Fur Fleece neck gaiter is known for. This neck gaiter is made with 100% acrylic, which is different from most neck gaiters as they are made from wool or polyester. Nonetheless, the turtle's neck offers extreme warmth and moisture-wicking properties.
If you have sensitive skin or are allergic to wool properties, then this is a good choice. It can be machine washed and dried without the worry of ruining the color of the neck gaiter, too. There have been consumer complaints that the fibers come loose after a few wash cycles. If this worries you, then we recommend air drying the neck gaiter.
While it is breathable, it is a hotter neck gaiter during warmer days because of the material. The acrylic fabric is meant for frigid temperatures, so it probably isn't the best choice if you also want to use it for cycling or mountain camping in the summer.
If you are a person who hits the ski mountain no matter how cold it is, this is the neck gaiter that will keep you warm. Turtle Fur has been making quality winter gear for quite some time, and their products only seem to get better.
WoolX Neck Gaiter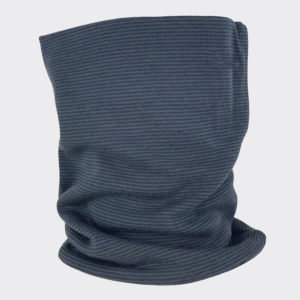 The last neck gaiter on our list is the stylish yet warm WoolX neck gaiter. This neck gaiter is versatile and can be used as a face mask, headband, scarf, or ear-warmers.
The WoolX is made with a double layer of merino wool for ultimate warmth and moisture-wicking. The nice thing about this neck gaiter is its anti-itch properties, which is a common complaint when using wool fabrics.
Unlike other 100% wool neck gaiters, the WoolX can be machine washed and dried without it shrinking. This is nice for people who need a quick dry or don't want to go through the hassle of hand cleaning their neck gaiter after every use.
This may not be the warmest neck gaiter on the market, but it is an excellent choice for consumers who want a neck gaiter that can be used for multiple purposes and activities.
What To Look For When Shopping For A Neck Gaiter
Multiple Use
You need to consider if you want a neck gaiter for one season or multiple. It is helpful to have one that can be worn in various weather conditions. Having a neck gaiter comfortable in cold or hot conditions is more versatile and you'll save money on buying multiple.
Materials
Choosing what material to go with when buying a neck gaiter can be an important decision. If you have any skin reaction to fabrics, finding one that fits your needs is a must.
It is also a good idea to keep in mind what you will be using the neck gaiter for. If it is mainly going to be used for frigid cold conditions and will be vulnerable to moisture, then fabrics like merino wool are the way to go. For warmer weather, fabrics like spandex or polyester will ensure that they will keep you warm enough but not too hot where it is uncomfortable.
Breathability
This may come as no surprise, but breathing is an important feature when choosing the right neck gaiter. It is extremely important to plan during high cardio activities such as cycling, hiking, or skiing. The last thing you want is to choose between being warm and breathing because you need a neck gaiter that can do both. Look for a neck gaiter that will keep you warm but has moisture-wicking properties to ensure maximum breathability. Breathability is a key factor with any warm winter gear, from your gloves to your snowpants and everything in between.
Size and Fit
You will find that most neck gaiters come in one size fits all. However, that doesn't mean that some aren't longer than others or loose, or may be too tight for your neck and face. Therefore, it is recommended to check the dimensions of the neck gaiter before making a final buying decision.
Neck Gaiter FAQ (Frequently Asked Questions)
How often should I wash neck gaiters?
This ultimately depends on how much the neck gaiter is used. Most neck gaiters have odor-resistant properties, but that doesn't mean they should be washed frequently. A good rule of thumb is to wash your neck gaiter after every other use.
Can neck gaiters be used as a mask?
At the end of the day, neck gaiters are to be used to cover your neck and face. With that being said, they can be used as a mask, but keep in mind that they aren't medical masks. Some facilities do not allow you to wear them in lieu of a cloth, paper, or medical mask as there is some debate to their effectiveness to keep illnesses at bay.
What are neck gaiters meant for?
The neck gaiter's primary purpose is to keep your neck and face protected from cold weather and UV rays. They are also great for warding off insects, yard clippings, wind, and dust. There are also neck gaiters that are more versatile and can also be used as headbands or hair ties.
Are neck gaiters machine washable?
While some neck gaiters can be machine washed, a lot of them require to be hand washed and dried. Check the washing instructions on the neck gaiters tag for further instructions on how to clean yours.
Who needs a neck gaiter?
Neck gaiters are great for anyone doing an outdoor activity or chore. For winter sports like skiing, snowboarding, cross-country skiing, or snowshoeing, a neck gaiter will keep your face and neck warm and dry. For warmer activities like landscaping, motorcycling, camping, fishing, and hunting, they will protect your skin from the sun, insects, and wind.