Are you on a journey to visit some of America's National Parks? If you haven't gone yet, Yellowstone should be the next best destination on your list. Yellowstone National Park is the 8th largest National Park in the United States, covering 3,471 square miles. It's located in the Northwestern corner of the state of Wyoming, with a parts of the park in Idaho and Montana.
Yellowstone welcomes millions of visitors every year from all over the world. The park had roughly 3.8 million visitors in 2020, making it the second most visited National Park within that year. Visitors take a trip to Yellowstone to observe its unique scenery, wildlife, and geothermal features more than 5,000 feet above sea level.
History of the Yellowstone National Park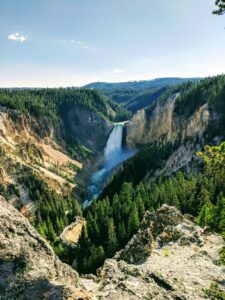 To truly appreciate what the park offers, it's important to learn a little about its history. The history of the region called Yellowstone dates way back to more than 11,000 years ago. Archaeological research proves that Native Americans lived within that region long before the history of the United States. Fast forward to 1871, during the American expansion of the West: several people went on a 40-day journey to survey the region, which then became Yellowstone. Two of those men were Thomas Moran, an artist, and William Henry Jackson, a photographer. Their artwork and photographs of the beautiful scenery and geothermal wonders caught the attention of Congress on their return.
Congress then decided that such a beautiful landscape should be acquired and protected at all costs. Alongside President Ulysses Grant, Congress took control over the region and oversaw its management. On March 1, 1872, the Yellowstone National Park was opened, becoming the first National Park in the United States and perhaps the world. Since its launch, Yellowstone has been under the management of the U.S. Department of the Interior, which then transferred control to the U.S. Army 14 years later. The park is currently and has been under the management of the National Park Service since 1917.
Today, Yellowstone is an incredible swath of unspoiled country, with everything from rugged mountains to lake to valleys and even some prairie-like areas.
Getting into Yellowstone National Park
There are five entrances into the National Park, which were named based on their locations. These include:
North Entrance – Accessible from Livingston, Montana
Northeast Entrance – Accessible from the Red Lodge, Montana area
East Entrance – Accessible from the Cody, Wyoming area
South Entrance – Accessible from the Jackson, Wyoming and Tetons area
West Entrance – Accessible from the West Yellowstone and Big Sky, Montana region
Each of these entry points has character all their own.  You could build a vacation around the Jackson, Big Sky, or Livingston areas, for example, with forays into the park as a key feature.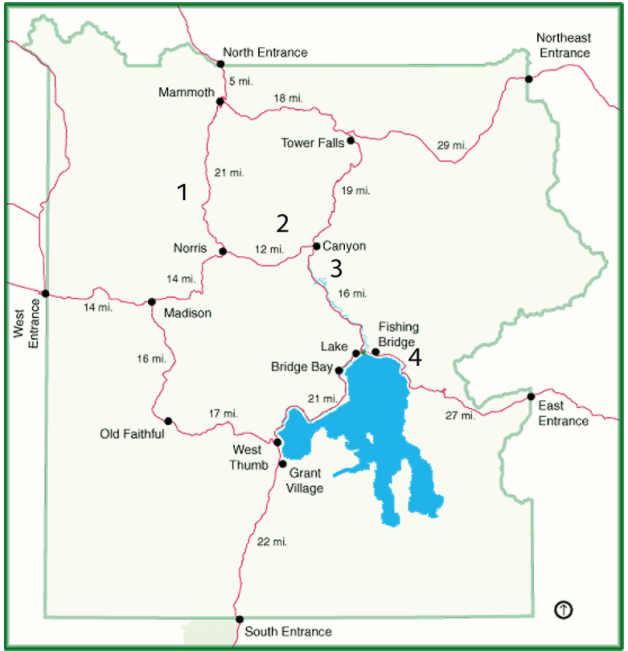 The North, Northeast, and West entrances are located in Montana, while the East and South entrances are located in Wyoming.
While planning a trip to Yellowstone National Park, you'll need to keep in mind some vital information regarding entry into the site. The North Entrance is the only entrance open all year round. The other entrances are closed sometime during autumn and remain closed during the winter. They open during spring, starting with the West Entrance, then the other three a few weeks later. Roads will often be closed during these seasons as well. The dates vary, so it's important to do research before planning your visit.
Because of the expansiveness of the area and the distance between entry points, this can be a nice area for camping, car camping, or using your roof top tent. Just be sure you have permission to stay where you are staying.
Considering all of this, the best time to visit Yellowstone is during the summer, when all entrances and roads are open for travel. Of course, this depends on your schedule.
Sights of the Yellowstone National Park
There are plenty of main attractions of Yellowstone National Park that keep visitors coming year after year.
Mammoth Hot Springs
A few miles from the North Entrance leads you to the famous Mammoth Hot Springs. The Mammoth is practically a hillside consisting of many hot springs spouting more than a ton of hot liquid each day. Thousands of years of running water have created step-like terraces that lead the water into a flat or gently sloping surface. The water sometimes leads into tiny ponds before flowing into the gigantic Yellowstone Lake. The terraces are covered with a limestone mineral called travertine which is deposited to the surface by the spring water. Fun fact, travertine collected at this site was once used in the manufacture of tiles.
The spectacular beauty of the travertine covered terraces is an eye-catcher displaying a fantastic blend of white, yellow, orange, and brown. You'll feast your eyes upon the hot, steaming water running down the mountainside's colorful terraces, which was once a mine for minerals.
The Boiling River near Mammoth is an amazing place to take a swim, too. When visiting Yellowstone, do not swim in areas where it is not permitted. Some of the water can be extremely hot and dangerous. There are also no lifeguards present at any of the locations. Always follow posted rules and signs at the Boiling River and other swimming locations.
One nice feature of Mammoth campground is that it is open year-round, one of the few Yellowstone camping areas where winter camping is permitted.
Beartooth Highway
The Northeast Entrance of Yellowstone is the most dramatic and scenic route of the National Park along the Beartooth Highway. The highway passes through the mountainous terrain of the Rocky Mountains more than 11,000 feet above sea level. You'll get to witness the spectacular ecosystem of the Alpine Tundra. No trees exist in this cold and dry region, and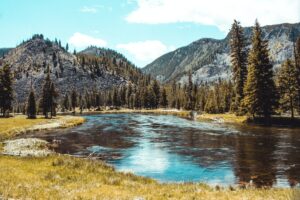 mountain caps are covered with a sheet of snow and ice. The bird's eye view of the surrounding hills and valleys gives you the feeling as if you're on top of the world.
Make sure to have a camera and binoculars handy when you're passing along the Lamar Valley. This valley is usually overrun with wildlife, including black bears, grizzly bears, bison, elks, and wolves. Remember to keep your distance from these animals. There is no better way to end the drive than at Beartooth Lake. It's the largest of many lakes within the Beartooth Mountain Range. It's crowded with kayakers, canoe enthusiasts, fishers, and hikers.
Yellowstone Lake
The East Entrance of the Park brings you to the largest mountain lake found at more than 7,000 feet above sea level — the Yellowstone Lake. This freshwater lake is 20 miles long, 14 miles across, and covers 136 square miles. It's pretty deep, with a maximum depth of nearly 400 feet.
There's always a calm feeling when you're staring at the still waters of freshwater lakes. Water sports and fishing are extremely popular here, so it's definitely worth a visit if that's up your alley!
Old Faithful and Geyser Basin
A few miles from the West Entrance takes you directly to the busiest area of Yellowstone National Park: the Geyser Basin. It's a wonderful experience to witness the eruption of a geyser with your own eyes. People will patiently wait for the moment when the geyser erupts, observing the explosion of water and steam rising into the air.
The Old Faithful is the most popular of the many geysers found within the basin. It is the most frequent and predictable geyser, so it'll always ensure you a display of natural wonders at work. A nearby station tracks and predicts Old Faithful's next eruption so that you'll have enough time to get yourself and camera ready for a spectacular show.
Grand Prismatic Spring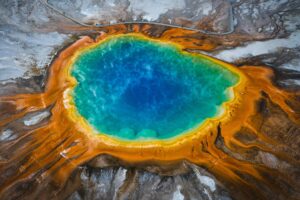 Another incredible sight in the Geyser Basin is the enormous Grand Prismatic Spring. It's the third largest hot spring in the world with a diameter of 370 feet. More than 400 gallons of water flows out of the Prismatic Spring per minute from a depth of more than 150 feet.
The Prismatic Spring is a magnificent wonder with its rainbow color effect. The deep blue waters in the center blend into green then yellow towards the edge of the spring, with orange and red outside its perimeter. Different species of heat-loving bacteria are responsible for the display of the rainbow colors — they show a different color based on the temperature of the water!
Hikes in Yellowstone National Park
If you're in the mood for hiking, Yellowstone National Park offers more than enough! The Absaroka, Gallatin, and Beartooth mountain ranges do not disappoint. It's a beautiful wilderness waiting for you to explore, with more than 1,300 miles of trail for any energetic hiker willing to tackle. So put on your hiking shoes, pack your bags, and get ready to traverse one of the many trails around the park.
Before visiting: Remember that Yellowstone is a wilderness where danger can happen at any moment. Always read the safety information provided, signs, and other warnings. Listen carefully to the rangers. Be aware of animals (this is Grizzly country) and environmental risks at all times.
These are just some of the areas that offer trails and views for the visiting hiker.
Canyon Hikes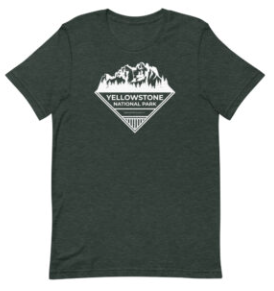 Climb up the top of mountain peaks, passing along the rim of canyons to enjoy a spectacular view of the Yellowstone wilderness. You'll pass along lakes to observe some of Yellowstone's wildlife and wildflowers. There are a number of trail near the canyon including the Cascade Lake Trail, Mount Washburn Trail, and Grebe Lake Trail.
Lake Hikes
Hikes in the lake area provide some of the most stunning sights the area has to offer. Avalanche Peak Trail brings you to some of the park's tallest peaks. Elephant Back Mountain Trail gives you a panoramic view of Yellowstone Lake. And the Mud Volcano Trail will have you traversing hot, muddy water in a truly unique landscape. For a natural bridge hike, check out the aptly named "Natural Bridge Trail."
Mammoth Area Hikes
If you love animals, you'll definitely enjoy the hikes the Mammoth area has to offer. Whether it's walking through aspens, meadows, forests, grassy hills, ponds, lakes, or waterfalls, you get to observe various wildlife. These include beavers, moose, mountain goats, muskrats, bighorn sheep, and water birds. Some of the trails in this area area
Beaver Ponds Trail
Blacktail Deer Creek and Yellowstone River Trail
Lava Creek Trail
Bunsen Peak Trail
Old Faithful Area Hikes
Old Faithful Area has mountain hikes for a gorgeous view of the Grand Prismatic Spring and the Geyser Basin. If you're not up for those, you can hike to one of the lakes or waterfalls, cross rivers, pass by the hot springs, and more.
Tower and Northeast Area Hikes
Travel through meadows, creeks, plateaus, and lakes and even take a hike along the Yellowstone River. You'll observe an abundance of wildlife, including waterfowl, wildflowers, beavers, and black bears. A few popular options include the Garnet Hill Trail, Hellroaring Trail, and Lost Lake Trail.
West Thumb and Grant Area Hikes
These trails give you the opportunity to potentially spot elks, eagles, osprey, moose, and more. You may spot the land that was burnt in 1988, view crystal-clear waters, gorgeous lakes, meadows, forests, and more. The West Thumb Geyser Basin Trail offers colorful hot springs and dormant geysers along Yellowstone Lake.
Escaping the Crowd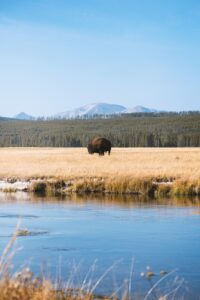 There's no doubt that Yellowstone can be a popular place for travelers. If you want to get away from the crowd, there are areas for you to visit that are less popular but just as gorgeous or interesting.
Yellowstone Park has museums displaying the history and wonders of the park. These can often be less visited and they often offer tours. At the end of the tour, spend the night at the National Park Lodge, a great place to enjoy some quiet time with your friends and family.
Is Old Faithful too crowded? Then visit the Shoshone Geyser Basin instead. It's an off-road area, so you'll be doing some hiking to a less congested or sometimes empty geyser area. If there are too many people around Yellowstone Lake, then head to the West Thumb area of the lake to observe the Fishing Cone. It's a seemingly bottomless Abyss Pool and a geyser. Artist Paint Pots is a getaway spot and a fun area for kids to watch slowly belching mud pots that resemble pastels.
You can also take a ride and view the park from one of Yellowstone Park's restored original yellow buses that were used from 1930 to 1950. In addition to all of this, you should consider hiking the Mount Washburn Trail, swim in Boiling River or Firehole Canyon, or spend time watching wildlife in Lamar Valley. There's so much to do if you want to step away from the crowds.
Camping at Yellowstone
Camping can be fun at Yellowstone, but you will need to stick to designated campgrounds.  Unlike some Forest Service areas, Yellowstone is a National Park that wants you to camp only in designated areas.  With that said, many of those designated camping areas are hike-in backcountry campsites (almost 300 campsites to be exact).  You will need to book in advance to be sure people don't try to double-up on the same campsite, but with a permit you can camp under the stars and away from people.  This is a great option for someone carrying some cooking gear, a smaller 2-person tent, and other basics on their back while they hike the various Yellowstone terrain.
Bring bear spray.  While the odds are that you will not have any encounters, Yellowstone is in grizzly country and bear spray is by far the most effective way to diffuse a tense situation with a bear.
If you prefer to camp in a larger campground, Yellowstone has 12 of them.  This will keep you closer to your vehicle and the creature comforts of civilization, while also allowing you to enjoy incredible Yellowstone.
Winter Activities at Yellowstone
Yellowstone Park becomes a winter wonderland when a blanket of snow covers the region. The park will present you with a new set of adventures to take advantage of the snow and ice.
Bringing the right winter wear will be key.  Conditions in Yellowstone can turn harsh, so you will want warm clothes.  Dress as if you were going skiing, with a good jacket, hat, footwear, gloves, and even some snow pants for good measure.
For example, you can take a horse-drawn sleigh ride through 24,700 acres of a National Elk Refuge in Jackson Hole south of Yellowstone Park. There you will see thousands of elks up close and personal as more than 7,000 elks migrate to the refuge during the winter. If you're an elk lover, then this is the adventure for you. For those on the wild and risky side of adventuring, you can sign up for a guided snowshoe tour through Lamar Valley to observe one of the powerful predators of Yellowstone — the wolf.
With the land covered in a blanket of snow, spotting these mammals is incredibly easier, but not guaranteed. Just remember to keep your distance! Afterward, you can take a guided snowcoach through Yellowstone Park or take a tram ride to a mountain top overlooking the white mountains and valleys. If you enjoy sports, why not explore Yellowstone in winter sports style? Roads and trails covered in snow become excellent trails for snowshoeing, skiing, and snowboarding. You could even ride through the snow on a snowmobile or in a dogsled.
Keep in mind that some of the entrances to Yellowstone are closed in winter, so the way you plan your trip will be fundamentally different than in the summer months.
Yellowstone National Park has so much to offer visitors. There's no end to the things you can do and see — which will you be doing first?