Is it time to buy a new pair of snow pants? Whether you ski, snowboard, snowshoe, or all of the above, it's important to know what to look for in a good pair of snow pants. Here's a rundown of what your snow pants should have, what makes women's snow pants different from men's, and some of the best all-purpose options out there.
What Do You Look For in Women's Snow Pants?
Aside from how it personally fits you, there are a few different things you should look for in women's snow pants. That includes:
Warmth
Of course, warmth needs to be a top consideration in your snow pants. You don't want to hit the slopes and find out they barely have any insulation. It will make for a bad trip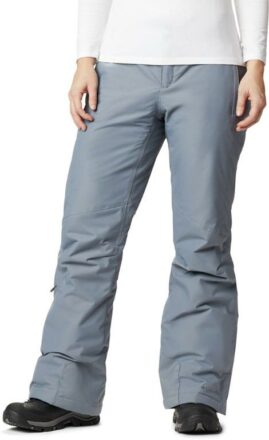 indeed. Remember though: pants usually have less insulation than jackets. This is because movement will help keep your lower body warmer. So you'll need to assess the weather where you ski or snowboard to ensure you have the right level of insulation for your needs.
For much colder temperatures, you may want to opt for snow pants that come with built-in insulation. They're usually fleece or synthetic. If you don't get cold easily, the temperatures won't be too bad, or you want to add layers, uninsulated snow pants could provide the answer. The shell on these provides a little extra warmth and comfort.
If you plan to wear long underwear under the snow pants, then be sure that you size them so you have enough room to be comfortable.
Style
There are three styles when it comes to style in women's snow pants. Deciding which works for you is essential. They are:
Pants
Pants are just what they sound like! They are designed like regular ol' pants, except built for the snow and your comfort. They'll have a zip fly or an elastic waist. While they are definitely comfortable and vent easily, the biggest downside may occur when you fall. It's super easy for that snow to get inside.
One-Piece
One-piece snow pants are great for keeping snow out and warmth in. You also don't need to worry about jacket and pants – it's all there for you. But taking it off can be a pain, whether you need to add layers or go to the bathroom.
Bibs
Bibs can bring the comfort of pants and the extra protection against the snow in one package. Snow won't creep as easily inside thanks to their design. They also provide a little extra warmth to your upper body.
Waterproofing
Snow pants that don't repel moisture are no good.  You might as well not even own them.
The right style isn't quite enough to keep your legs protected from the snow and wet. You'll also need to keep waterproofing in mind, which is a membrane in the pants' fabrics. Most snow pants, whether for skiing or snowboarding, will have a waterproof rating ranging from 5,000 to 20,000mm. The higher you go, the more water-resistant the snow pants are.
Where you live and play in the snow can dictate the type of waterproofing you need. In the Northwest, for example, you'll need a higher waterproofing to combat the wet weather. In Colorado, more moderate waterproofing can do the trick since it's dryer.
It's important to note though that in most cases (it's not a hard and fast rule), the higher the waterproofing, the less breathability you'll have.  With that said, the more you spend, the more breathability you typically experience.
Note that the type of snow you find yourself in will make a difference in the waterproofing you need.  Light, fun snow might have a water-to-snow ratio of 1:12, meaning that every 12 inches of snow will hold about 1 inch of water.  Heavy wet snow, on the other hand, might have a water-to-snow ratio of 1:5, meaning that it would have more than twice as much moisture in it.  If you are skiing in the Northeast or Midwest, you are more likely to experience days of heavy, wet snow.
When the snowpants get older, you can always touch-up the waterproofing with some waterproofing spray, but eventually they just lose the ability to keep moisture out and that is when you need to replace them.
Snowpant Features You Want or Need
Every pair of snow pants is different, and you'll have to think about what features you want in yours. Some you may want to keep an eye out for include
Pockets
Women reading this are probably aware by now that most women's clothing just doesn't come with efficient pockets. This, in many cases, continues onto snow pants. You'll have to keep an eye out for bigger pockets if you actually want to store things in them.
Gaiters
These will help keep snow out of your boots. Choices include hooks, laces, buckles, or hook-and-loop.  If you have gaiters, make sure to use them!  We see lots of people not making use of their gaiters properly, which is pointless.
Vents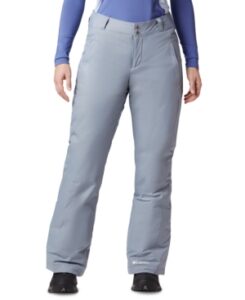 Zippered vents allow you to get more air circulation into your pants when it's a little warmer than usual out. They could be along the front, outer seam, or inner thigh inseam and will generally have a mesh lining that keeps snow out.
Jacket-Pants Connection
If you don't want to get a one-piece, but want a pair of snow pants and jacket that matches and keeps the snow out, you may want to look at brands that offer both with connections. It'll do a bit of extra work to keep the cold out, too.
Cuff Reinforcement
Just like gaiters, reinforced cuffs will help keep your arms and hands free of snow.
Belt or Suspenders?
Some women prefer a snow pant with suspenders, do you now they will stay up in all conditions.  Bib snow pants typically come with suspenders.  Others with regular-height pants prefer a belt on their snowpants (and most pants come with belt loops built-in).  If you go with the belted type, just be sure it is a belt meant for activity, that has flexibility and stretch.  This is not the place to use your leather belt.
How do Women's Snow Pants Differ From Men's?
While in some cases you can get away with wearing a men's pair of snow pants instead of a women's, you may have a hard time finding one that fits you well.
One of the biggest and most noticeable differences between the two have to do with the hip sizes. Women have larger hips so they need more room in that part of the pants. Some women who opt for a man's pair could find they having bagginess elsewhere in the pants or one-piece.
It's important to keep an eye out, too – some manufacturer's will say, "Women's Snow Pants," yet it is the exact same design as the men's. This can result in an ill-fitting outfit that makes heading out into the snow more difficult.
Best Women's Snow Pants
Now that you know what to look for in women's snow pants, we'll give you a few different options that are popular and highly rated.
Columbia Bugaboo Omni-Heat Insulated Snow Pants
Columbia's Bugaboo Omni-Heat Insulated Snow Pants are an excellent option if you want to go for a pair of pants over a bib or one-piece. They're designed to fit well, come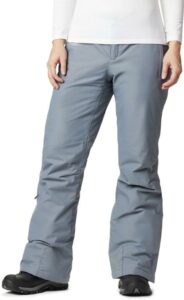 with thermal-reflective lining, and synthetic insulation. The Omni-Tech also works to keep you dry and comfortable while providing ventilation.
Some of the features include:
Zip-up pockets
Internal leg gaiters
Reinforced hem
Snap gusset
Adjustable waist
They're available in a wide variety of colors: Malbec, Bold Orange, Black, White, Dark Nocturnal, and Grey Ash. Ranging in size from XS to XXL, they are available in regular or shorter legs.
Columbia knows what they are doing with outdoor gear, both for cold and warm weather.  They actually making some of our favorite summer fishing hats, too.
Currently, the Bugaboo Omni-Heat Insulated Snow Pants are $110. Some earlier versions were recently discontinued so keep an eye out for which you're buying!
Arc'teryx Sentinel AR Snow Pants
We LOVE Arc'teryx, if you have the budget for it.  The Sentinels are another great option when it comes to women's snow pants. Many have exclaimed just how well they fit, that they're perfect for movement, and keep wet completely out. Others have commented on their excellent durability.

In addition to great snowpants, Arcteryx makes some of our favorite shells and winter gloves, too.
These all-purpose snow pants are great for almost any winter adventure. They feature N70p GORE-Tex 3L fabric, which brings waterproofing and breathability to the attire, and have 100D Cordura PowderCuffs to keep snow out.
They also have:
Flannel backer to provide insulation
Larger pockets
Water-resistant side zippers for better ventilation
Slide n' Loc for connections to compatible Arc'teryx jackets
The Sentinel AR Snow Pants only come in Enigma or Dark Inertia and are available in sizes ranging from XS – XL.
Flylow Foxy Bib
If you'd prefer a bib-style snow pants for your treks, one that deserves a look is the Foxy Bib from Flylow. Performance-oriented and with stretchy, 3-layer Stormshell Intuitive fabric, the bib is waterproof and breathable and has plenty of features to make your adventure a bit easier. Some have complained about the durability, but said the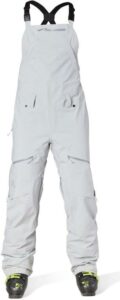 other pros of these snow pants outweigh the cons.
A few things to note that come with the Foxy Bib:
Kangaroo chest pouch
Plenty of pockets
20,000k (20,000mm) waterproof breathable membrane
Gaiters and cuff reinforcements
Inner thigh vents
Barn door zipper
The Flylow Foxy Bib is available in XS to XL and in Beet, Sapphire, Taffy, Shark, and Black.
Arc'teryx Incendia One-Piece
Thinking that a one-piece could be what you're looking for in snow pants? Then the Arc'teryx Incendia could be what you need. Buyers have commented on how it has kept them dry and comfortable in cold weather, but also that it is stylish and fits extremely well. One of the complaints has been the lack of zippers on the lower pant legs, making it difficult to pull ski boots over the pants' elastic.

Advertised as best for snowsports, snowboarding, and downhill skiing, the Incendia One-Piece uses NP100d 3-layer GORE-TEX nylon with tricot. Other features to note include:
Helmet-compatible hood
Ventilation system, including at the thighs
4 pockets
100-denier Cordura fabric PowderCuffs to keep snow outweighKeprotec insteps
The Incendia One-Piece from Arc'teryx is only available in black and comes in M, L, and XL.
When looking for snow pants this winter season, it's important to give thought to what makes you the most comfortable and makes your time in the wet more enjoyable. Knowing what features you want, your budget, and the type of pants you prefer will make your search much easier. But you may find one of these four fit exactly what you're looking for!