Looking for a camping adventure that is unlike any other? We bet you haven't given Lake Willoughby a try.
Lake Willoughby is located in the heart of the Green Mountains, about an hour north of White Mountain National Forest.  We think it offers some of the most spectacular camping opportunities in all of New England. Let's take a closer look at what it's like to camp here, the various camping options, and what amenities are available. We'll also talk about some of the best things to do and see in the area!
Camping Near Lake Willoughby
Will-O-Wood Campground
One of the most popular Lake Willoughby campgrounds is is Will-O-Wood Campground, located at the northern end of the lake. This campground is most popular for families, as there is plenty of space for tent camping, RVs, and trailers.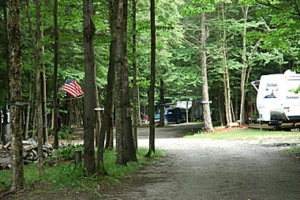 It can get pretty noisy near the camper and RV sites, both due to more people but also RV generators, so if you prefer something quieter, the tent areas will be a better option. There are plenty of fun activities designed for the entire family, such as a playground, basketball court, swimming pool, volleyball nets, and more!
There's a recreation hall where you'll find a number of activities and events to choose from, from pool tables, ping-pong tables, traditional video games for the kids, and table games for those who love old-fashioned chess or checkers matches. There are also organized activities throughout the summer, from fishing derbies to movies under the stars. Golfers will love the nearby courses, as they offer superb views of Lake Willoughby. Of course, the hikes and bike rides along the lake and through the nearby hills are a must-do!
The restrooms are clean, and you can always end the night or start your day with a hot shower. Not to mention a handy laundromat is available, so you don't have to worry about packing too much clothing. Will-O-Wood Campground provides you with everything you need as there's a grocery store in the area, along with RV supplies and stores to gather everything you need to set up a perfect camping night. There's a calendar of events available, so you can plan your stay accordingly. You can enjoy all of this while being right next to the lake, with its breathtaking views of the surrounding mountains.
White Caps Campground
If you're looking for a bit more seclusion, head over to White Caps Campground on the southern end of Lake Willoughby. This campground offers a more primitive experience, but you're still able to book a full RV hook-up, tent, or trailer site.  It can also be a good option if you prefer traveling with a roof top tent.

The campground is run by a small family, but they still offer a large number of amenities that will make your stay enjoyable. Everyone that visits this campground finds the owners to be extremely friendly and helpful. You're always welcome to speak with them if you have any questions or needs. So, when you get the chance, make sure you introduce yourself and get to know the family running this campground.
White Caps can get pretty active and noisy throughout the day, but you'll find that it is pretty quiet during the night. The weekends can get active with bikers and RVs, but it's still a great place to relax. There are trails nearby where you can hike or bike, and the lake offers many opportunities for swimming, fishing, and other water activities. You'll find everything from watercraft rentals, a general store with a cafe that serves delicious meals and coffee, to a laundromat. There are also washrooms and hot showers available near the center of the campground.
White Caps also offers a variety of activities and entertainment, including lots of paddling options.  You are going to have paddleboard, kayaking, and canoe rentals. You can set sail around the lake and discover hidden coves, or take a leisurely hike along the shoreline. There's an endless supply of firewood available for campfires, and you can use the outdoor grills to cook up a delicious meal. If you're willing to drive out a little, you'll find some nearby restaurants within a 10-minute drive.
In terms of lodging, there are several cabins available for rent, which sleep up to four people. Their tents can sleep up to four people as well, and their RV hook-up options come with water and electricity, so you can bring all of your favorite camping gadgets. You may find some campsites to be fairly close to each other, but some sites may provide more privacy than others.
Belview Campground
For those who want the most peaceful vacation in a campground that's quieter, Belview Campground is a great choice. It's located on the west side of Lake Willoughby, just above Crystal Lake. This campground is mostly for tent camping, but you can still set your base with an RV. As this is a quieter campground, it's specially designed for adults who want a serene experience where they can sit back and relax. You can enjoy a nice cup of warm coffee in the morning while you listen to the birds sing and the loons calling during the night.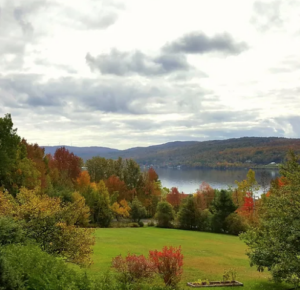 If your idea of camping is heading out in solitude, pitching a 2-person tent, making some camp dinner, and just having a quiet night, Belview might be the right call.
The campground is designed to be a relaxation spot, so you need to be respectful to those around you–no loud music, no running around after dark, and keeping a peaceful camping atmosphere in mind at all times. You always have the option of visiting one of the other campgrounds throughout the day if you're looking for a bit more activity. However, Belview Campground still has some great trail access for hiking and biking, and Crystal Lake allows for swimming and other water activities. You'll still have fantastic views of the lake and mountains, and you can alternate between Crystal Lake and Lake Willoughby! There's also Pageant Park which is a nearby beach that's only a couple of minutes away from the campground.
For accommodation, the tent sites all come with a picnic table, campfire ring, and Wi-Fi, so you can stay connected to your friends or family during your time here. The sites are limited to four people, but there are RV sites, seasonal RV sites, and rental units available. The cabins are pretty stocked up as they come with electricity, a mini-fridge, and a propane grill. There's no bathroom inside, but you can always go to the bathhouse. It offers hot showers, a dishwashing sink, and plenty of restrooms.