Are you on the search for a backpack? Believe it or not, there are actually differences between women's and men's backpacks, so it's important to know exactly what to look for before you buy. In this article, we'll help you tell the difference between the two, go over what you should consider in your own bag, and give you three examples of amazing backpacks designed for women.
How Do Backpacks Differ for Men and Women?
The biggest difference in backpacks designed for men and women has to do with women's smaller frames. The bags here tend to keep that in mind, so they'll have torso dimensions that are a bit more narrow and smaller compared to men's. Straps, including hipbelts will also usually be made with women's larger hips in mind.
These slight changes in design make women's backpacks actually a great choice for young hikers as well as smaller men. Women may also want to consider opting for smaller versions of some men's bags.
Much like with everything from jackets to hiking boots, men and women can easily use each other's gear. in many respects, they are unisex.
No matter which you go with though, it's a good idea to try it on and make sure it fits you. You don't want to get on the trail and have to fidget with the straps every 5 minutes just to be comfortable!
What Should You Look for in a Women's Backpack?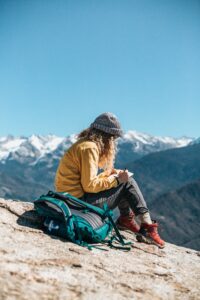 Whether you opt for a women's backpack or a smaller men's, there are a few factors you need to keep in mind for your search. These four considerations will get you on the right track to finding the best backpack for you.
Capacity
How long are your hikes generally? Do you go for a day? A weekend? A week or longer?
The length of your hike will determine just how big of a bag you need.
Day trip

Recommended bag size >29 liters
This is a good bag if you want to travel light.
Great for the outdoors, but also touring such as walking in European cities

Weekend trip

Recommended bag size: 30 to 50 liters
These bags are nice, because as your hiking skills increase they can carry quite a bit of gear
Weekend trip bags tend to be the perfect size for carry-on luggage, too!

Longer hike (3 – 5 days)

Recommended bag size: 50 to 80 liters
These are some of the most commonly chosen backpacks by hikers.

Extended hike (over 5 days) or Winter hike

Recommended bag size: 70 liters+
These larger bags can be capable of holding sleeping bags, tents, and more.
Fit
Of course, you want your backpack to fit properly! It's more than just "the straps feel comfortable." Some factors you need to consider include
Torso
When a backpack has a range of sizes, one aspect they're referring to "torso length." This is especially important if you're searching for a women's backpack, as the torso length will vary from men's to women's.
And it's not all about height, either. You could be the average height for a woman, and have a different sized torso length. Consider the backpack company's sizing guide as well as your own torso measurements to find the right fit. Some even offer adjustable torso sizes.
Waist
Although it's called a "back"pack, a majority of the weight of your bag is actually held by your hips. That means you also need to consider waist size in your search. Adjustable hipbelts fit a majority of people, but if you have a narrow waist, for example, you may have to also opt for an interchangeable hipbelt to be sure it fits you.
Other Straps
There are two other straps that may come with your backpack, including load-lifter straps and sternum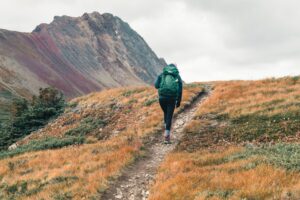 straps. Load-lifter straps can make the bag more comfortable and help shift the weight of the bag off your lower back. Sternum straps are those straps that go across your chest and give you better balance. These should fit comfortably if you need them for your hikes.
Frame
There are three different types of frame when it comes to women's backpacks.
Internal Frame Backpacks

These backpacks sit right up against your back, helping you to keep your gravity centered.
They will shift very little when moved (as long as they were adjusted properly).
Great for uneven terrain.

External Frame Backpacks

External frame backpacks come with a structure that will help you carry an irregular load.
They tend to have good ventilation and other features like extra pockets.
Best for well maintained and well graded trails.

Frameless backpacks

This option is lighter than the other two and come with fewer straps.
However, they can become uncomfortable if you're packing too much.
It's generally recommended if you pack light and want to move quickly.
These are often synonymous with the ruckpack style of pack.
Features
You'll also want to give thought to the various features that come with your backpack. These will vary from brand to brand, model to model, and size to size. Here are just a few examples of different features the bags you look at could come with and influence your decision.
Pockets

You'll want to think about the size of each, type, what you could put there, and how easily accessible the pockets are.
Some bags will come with pockets specifically designed for certain objects you'll need on your hike.

Ventilation

Give consideration to where you'll be hiking, the weather, and how much ventilation you'll need for your back.

Bag Access

How can you access the bag? Is it easy to use or cumbersome?

Padding — the amount of padding makes a big difference on how comfortable the pack is to carry.  More isn't always better — the more padding, the warmer and heavier the pack will feel.
Space for hydration reservoir, like an Owala water bottle.
Sleeping bag space
Tool loops
Waterproofing — a good waterproof backpack can be a lifesaver in certain situations.
Note, if you are looking for a backpack for carrying a toddler or smaller child, you need to look at other models altogether.  The Deuter Kid Comfort is probably our favorite on the market.
What Are Some Great Backpacks for Women?
You know what to look for in a backpack now. If you're not sure where to start on your search though, these three examples are great diving off points. You may even find one of the three fits your needs perfectly!
Osprey Sirrus 36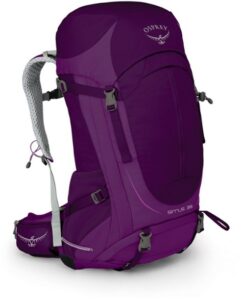 For light backpacking, day hiking, and weekend trips, the Sirrus 36 from Osprey can do the trick. A top and front loading bag, it comes in two different sizes
• Extra Small/Small
◦ 34 liters
◦ 3.072 pounds
• Small/Medium
◦ 36 liters
◦ 3.197 pounds
It is available in three different colors as well: Summit blue, black, and Ruska purple. A few features include ventilated tensioned mesh backpanel, raincover, compression straps, "Stow-on-the-Go" trekking pole attachment, internal hydration reservoir sleeve, cords to attach tents or sleeping bags, external pockets, and more.
The Osprey Sirrus 36 is currently available on Osprey's website for $170.
Rei Co-Op Trail 40 Pack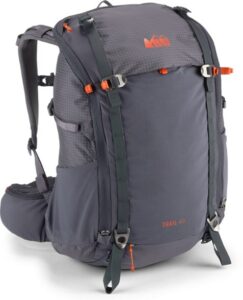 A slightly larger bag that is also great for shorter trips is the Rei Co-Op Trail 40 Pack. An internal frame, it's made of recycled material and offers a women-specific fit. There's plenty of pockets including more than 6 in the main compartment, easy access to gear, raincover, padded straps, and more. The 40 liter backpack comes in four colors (Odyssey gray, black, Evergreen, and Tapenade) and two sizes:
• Small
◦ 2 lbs. 13 oz.
◦ Torso length: 16-18 inches
• Medium
◦ 2 lbs 15 oz.
◦ Torso length: 17-19 inches
The Rei Co-Op Trail 40 Pack is available for $129.
Ultralight Adventure Equipment Circuit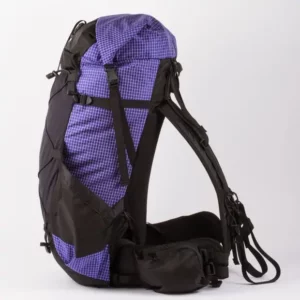 If you are in need of a larger bag for longer trips, the Ultralight Adventure Equipment Circuit deserves a look. It's lightweight (2.7 pounds), but can hold up to 68 liters and has a max load of 35 pounds. The bag comes with a supportive and comfortable yet simple design and large pockets.
The Circuit is also extremely customizeable, so you can be sure you can find a fit for you. You can choose your torso size (small to x-large) and hipbelt size (x-small to xx-large), as well as the type of shoulder strap you'd like, extra strap options, and embroidery. Color options include Black, Royal blue, Original Green, Purple, and Teal.
The ULA Circuit starts at $255, but price varies depending on your choices at checkout.
The type of women's backpack you choose definitely depends on the type of hikes and trips you go on, but these details should help you determine which is the best for your needs and wants. The bag that fits your friend may not be the best one for you!