Machu Picchu is located in Peru, and is home to an iconic historic site — an Incan citadel that's high up in the Andes Mountains, originally built in the 15th century. Machu Picchu is an excellent place for many great hikes, including those along and beyond the Inca Trail. Many of which are known to have the most beautiful and scenic hikes in Peru.
Machu Picchu is at an elevation of nearly 8,000 feet, which is not a trivial altitude.  With your Machu Picchu trip, be prepared for being active at altitude.
Does Machu-Picchu Offer Day Hikes or Thru-Hikes?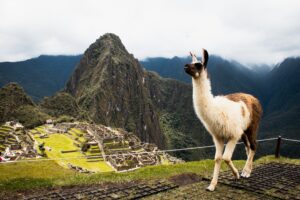 You might be wondering whether you'll be doing day hikes or thru-hikes to Machu Picchu.
Thru-hikes are long-distance hikes where you start from one end of a hike and walk in one direction to the other end. There are a few thru-hike options at Machu Picchu, usually running anywhere from 2 to 7 days. On the other end, day hikes are quite common at Machu Picchu.
Since most people will be hiking the Inca Trail, which is 26 miles long, you could realistically reach Machu Picchu within a couple of days. There are even shorter trails that can get you to Machu Picchu within a day or two. Many people usually finish the Inca Trail or other popular trails in the area in a few days, so this means you'll be doing day hikes. Of course, you're always free to explore other amazing hikes beyond the Inca Trail if your tour allows it.
What to Expect
If you plan on taking the classic Inca Trail, you need to purchase a permit in advance. When we stay in advance, we mean as soon as possible as tickets often sell out quickly. Permits go on sale in January of each year, so be sure to mark it down and set a reminder on your phone. Only 650 people are allowed to start the Inca Trail each day, while another 250 can purchase a single-day permit to hike during the last day of the trail. As you can tell, this is a very popular and busy hike, so there will be numerous camping and hiking restrictions to abide by. Make sure you follow all the directions and guidance provided in your itinerary.
When to Visit
Regarding the actual hike, the conditions of the trail and environment depend on when you go. The area has dry and rainy seasons. The rainy season lasts from December to April. The Inca Trail is actually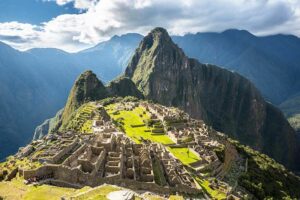 closed in February to perform maintenance. The dry season is generally from May to September. However, this is the most popular season for tourists. Even during these warmer months though, it can get a bit chilly, so bring a jacket and hat.
If you're heading to Machu Picchu during a rainy month, the trails can get muddy, with some parts being a little slippery. You need to dress appropriately and wear proper footwear. Find footwear that provides exceptional grip, regardless if you're on dry or wet surfaces.
The best time to visit Machu Picchu is at 6:00 A.M. or after 3:00 P.M. Going early in the morning is ideal because there will be little to no people there. You can also watch the sunrise, which will be a sight to remember. Going in the afternoon is also suitable as most people will have already left. It won't be crowded, and the sunset views are also great. However, you may need to get permission to stay around a bit longer to see the sunset.
If you are considering a South America trip, you can weave Machu Picchu into a trip to the Galapagos Islands and vice versa.  Getting from one to the other will take about one full day of air and train travel, and might well be worth considering if you are already making the effort of going to the South American continent.
Best Hikes/Treks to Machu Picchu
There are plenty of great hikes to Machu Picchu, with some that are much shorter than others. Keep in mind that most of these "hikes" are, in fact, treks. Treks are very similar to hikes, except they don't have nice and smooth walking trails for you to walk on. You'll usually walk on uncharted paths when walking through trek trails, which can be more challenging than regular hike trails.
Inca Trail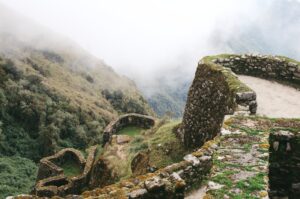 As mentioned previously, the Inca Trail is the most common hike people take to Machu Picchu. It's a 26-mile trekking route that the Incan people would've taken if they traveled from the Sacred Valley to Machu Picchu. Along this trail, you'll get to see a variety of Inca sites that are surrounded by beautiful scenery with mountainous views. You can finish the Inca Trail in four days, although you may want to finish the trail in five to truly enjoy the hike without rushing. There are several other routes you're able to take along the trail, too. You can complete some of these routes much faster than others. There's the Lares Trek, Choquequirao Trek, Vilcabamba Trek, Inca Jungle Trek, Huchuy Qosco Trek, and Ausangate Trek.
Salkantay Trek
Salkantay Trek is labeled as one of the top 25 treks globally by National Geographic Adventure Travel Magazine. The 37-mile route is rather difficult and usually takes five days to complete. This trek is very ancient, so you'll get to experience some incredible landscapes along the way. The path is home to tall cliffs; you'll need to take extra caution when hiking. You will also get great views of the Salkantay mountains and the Andean villages from high above. Glaciers can"` sometimes be spotted surrounding the mountain. The best spots you won't want to miss along the trek include the Humantay Lagoon, Cocalmayo Hot Springs, and Llactapata Inca Ruins.
Llactapata Trek
Llactapata Trek is a moderately difficult trail that usually takes two days to complete. This trek is an excellent option if you're looking for a shorter path to Machu Picchu. The trail climbs up switchbacks and over to a ridgeline before heading through the Llactapata ruins. From here, you'll be above the Urubamba valley, where you can take breathtaking photos of Machu Picchu from a distance. The surrounding views are astonishing! You'll also pass through Santa Teresa, where you can take some time to enjoy the hot springs and give yourself a nice break.
Tips When Hiking to Machu Picchu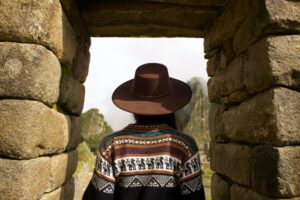 If possible, you'll want to arrive at Cusco a few days before you begin hiking. This will help you get used to the altitude, which will make your hikes much easier and more comfortable to do.
Buy or rent a pair of trekking poles to help you reduce stress on your feet, legs, knees, and back. They're also great to help protect your knees when hiking down steep hills or paths.
If you plan on hiking with a backpack, make sure to bring a bag that's under 20L. You'll need to pay to check in bags that are over 20L when you reach the gate of Machu Picchu. In addition, remember only to bring what you need and forget about the rest. You want to reduce the load on your back and shoulders as much as possible, especially on trekking routes. Also, don't forget to pack plenty of snacks, water, and sunscreen!
Bring a pair of earplugs for the night. Since there will be hundreds of hikers nearby, it can get pretty loud during the night, especially if you're camping at one of the popular campgrounds. If you're a light sleeper, earplugs will come in handy.
If you are into birding, you might want to have your binoculars along, and even head to nearby Cusco (about 3.5 hours away) for a day devoted to seeing some birds that you probably won't ever see anywhere else.
As for footwear, you will want lighter-weight footwear given the terrain as well as the typical high temps.  You normally see daily highs in the 70s (f) or 20s (c) with full sun, so this is not what we would call a cold weather hike.  It is nice to not have your feet get sweaty and hot, and the trail itself can require some agility.  Look at the North Face hiking shoes or something similar.
If carrying a camera, as it pretty common given how incredibly photogenic Machu Picchu is, consider having it on a camera sling.  That way, you can free up your hands to have on the hiking poles.
Where to Stay
There are plenty of accommodations near Machu Picchu. If you're looking to camp, you can stay at one of the many campgrounds along the Inca Trail. You're only allowed to camp at one of these designated areas, so don't go setting up your tent at random spots! The most popular campgrounds include Llactapata Camping Campground, Mandor Campground, Mirador Llactapata Machu Picchu Campground, Winay Wayna Campground, and Wayllabamba Campground.
If you don't feel like sleeping in a tent, you can stay at a nearby hotel. There are countless hotels near Machu Picchu. The most popular choices include Inkaterra Machu Picchu Pueblo Hotel, SUMAQ Machu Picchu Hotel, El MaPi By Inkaterra, Casa del Sol Machupicchu, Tierra Viva Machu Picchu, Jaya Machupicchu, and Casa Andina Standard Machu Picchu.
Will you be taking the Inca Trail to visit Machu Picchu?