Sedona, Arizona, is an incredible place with plenty to do outdoors.  Not only is it one of the homebases for the Grand Canyon, but at an elevation of nearly 5,000 feet, it offers some legitimate alpine hiking.
If you're looking for a hike that isn't too strenuous but still offers great views, the Cathedral Rock Trail is perfect. The trail is short, but challenging, making it a great option for those who want to push themselves. A popular hike, you'll probably see plenty of other hikers. The trail is known to be both scenic and serene, with gorgeous views of red sandstone formations.
What to Expect on the Cathedral Rock Trail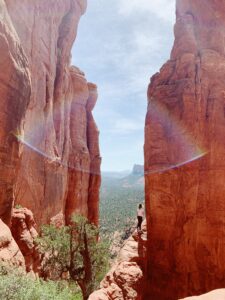 The Cathedral Rock Trail — the short loop — is a very short 1.2-mile hike to the top of Cathedral Rock. It can take just over two hours to complete, depending on how fast you're going and the number of stops you take. The trailhead is just a short drive up from Sedona at the end of Cathedral Rock Road.
The trail is a moderately difficult hike, and there are a few areas that can be tricky for people with mobility problems or are afraid of heights. Near the top, you will encounter some steep switchbacks and ladders to get up onto the final outcropping where the hikers' highpoint marker is located at the edge of Cathedral Butte (the summit). This is a crowd favorite because it provides great views down into Oak Creek Canyon below!
There's also a spur halfway up called "Horsetail Falls" which has a small waterfall flowing off from one side scattered with rocks. It's an excellent spot for taking photos if you don't want to make it all the way to the top. You'll also see wildflowers, cacti, and views of the surrounding mountains.
The trail, overall, is straightforward. You just need to follow the cairns that weave up the path. The hike is pretty rocky, which is to be expected, but the footing isn't bad at all. You just need to take your time. The Cathedral Rock Trail has a few side trails that lead off into other areas, so just be aware of your surroundings and know where you're going.
There are a few spots on the trail that will require some rock-hopping. The actual trail is well-maintained and the rocks are pretty easy to avoid if you're not feeling up for it. However, you may still find loose rocks, so be extremely careful. You should avoid straying away from the path as much as possible.
If you're hiking the Cathedral Rock Trail in summer or spring, don't forget to bring a lot of water, a lot more than usual. It can get really hot out there. Also worth noting is the elevation gain of over 740 feet, so you'll start to really feel it in your legs near the end. Without a doubt, you're going to be worn out by the end of the hike, but that's what makes it fun! This is very important to remember if you're going with kids or others who don't hike often.
It's recommended that you don't bring your dog for this trail as it may be too dangerous. The hike requires a lot of scrambling, which can be difficult for dogs. If you decide to bring yours though, they must be on a leash at all times.
What About the Cathedral Rock "Big Loop"
There is also a route called the "Big Loop" which is more like 12 miles.  Obviously, that is a much more involved hike and would take the better part of a day for many hikers. That is why we are writing about the short loop here.
The Big Loop is popular with cyclists – especially if mountain biking is your type of biking.  It throws a little of everything at a cyclist, and can be hiked as well as long as you allow yourself enough time.  On a bike, expect a little over 1,000 feet of elevation change — not that bad actually – but the max grade is over 20%, which is pretty extreme.
How Challenging is the Trail?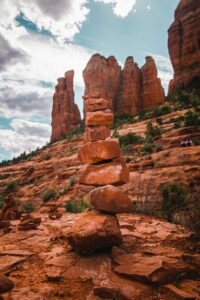 The Cathedral Rock Trail can be challenging but are very scenic. You'll be climbing up stairs, going up ladders, and traveling on uneven paths. The views are spectacular, so it's worth it. The trails are, of course, rock-like, so be careful when you're on them; they can get a little slippery and there's no guardrail on some parts. Since you'll be stepping on rocks, it's important to wear shoes that are waterproof and provide excellent grip on wet and dry surfaces.
A great way to adventure through the routes is with a tour. There are many tours that will take you to the top of Cathedral Rock and then down into Oak Creek Canyon, where there's a nice spot for a picnic. Some tours may require a minimum group size, so check with the tour company first.
Even though the routes can be challenging, they're definitely worth the effort.  Just be sure you are taking on sections of the hike that are suitable given your condition and skills.  You will also want to have the right hiking gear given the conditions of the day.
Once you're closer to the top of the trail, you can see a gorgeous view of the red rocks and white cliffs. Even if you're an experienced hiker, it's likely that you'll still be amazed by the views. They truly are unique and memorable. You'll also get to say that you experienced Cathedral Rock, which is known to be one of the best hiking trails in Sedona!
No matter how challenging the routes are, you can always take your time and hike at your own pace. And if you're feeling a little tired, there are some benches that will give you the opportunity to take a break.
If you're going to be out there in the summer, we recommend taking a lot of breaks and drinking lots of water so you don't get dehydrated. You need to give yourself extra rest during the summer because the heat can be extreme, and keep in mind there are not many places to find shade! You should also remember to bring a hat, apply lots of sunscreen, and wear sunglasses to protect yourself from the sun. Always take the necessary safety precautions to make your challenging hike more enjoyable and less risky.
While there are rattlesnakes in Sedona, as there are throughout much of the West, you probably won't see any.  A good rule of thumb, though, is to never put your hands or feet in a spot where you cannot see.  Normally rattlesnakes are trying to stay away from humans and prefer to hide out of sight.
How Long Does the Cathedral Rock Trail Take to Hike?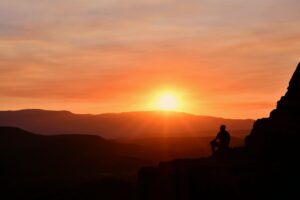 Since the hike is only a short 1.2-mile hike, you can reach the top in two hours. Of course, others may complete the hike faster, and others longer. Hiking isn't a race, so feel free to take as much time as you need.
If you're not an experienced hiker, the Cathedral Rock Trail may take significantly longer than other hikes because there's a good amount of climbing to do. There's a portion of the trail where you need to scramble up a gully that's about 20+ meters long. It's similar to rock climbing, but a lot easier. It's not as steep, and there are foot holes and crevices to secure your feet. This can be a little scary at first, especially if you've never done it before. You just need to take your time and take each step slowly.
Remember that you'll need to hike back down the trail afterward, and this includes going down the gully. You may find that it's easier to hike back down than up. But regardless, take your time and be careful.
Overall, we find that it should take at least two hours to complete the hike as you should be taking time to enjoy the views and appreciate your surroundings. The views near the top of the hike are unbelievable, so it's worth taking extra time to enjoy the journey and destination.
Best Place to Start Hiking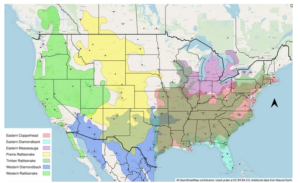 The best place to start hiking the Cathedral Rock Trail is at the bottom of the hill. The trail begins on the street next to Cathedral Rock Road. Walk up the street to Cathedral Rock Road and then follow it for a quarter of a mile. You will see the trailhead sign on your left, and the trail will be on your right.
We recommend hiking in the morning, as afternoon temperatures are often too hot for this strenuous hike and you would have to spend more time at the top of the trail. No matter the time of day, water and sunscreen are musts.
Where to Stay Near the Cathedral Rock Trail
There are many hotels, AirBnBs and VRBOs, and resorts to stay in near the Cathedral Rock trail. Some of the most popular hotels and resorts include the Red Agave Resort, Poco Diablo Resort, Desert Quail Inn, GreenTree Inn, Hilton Sedona Resort, Sedona Summit Resort, and The Views Inn Sedona. There are countless others to choose from.
If you're looking for something more luxurious and with great amenities such as hot tubs and jacuzzis, look through nearby AirBnBs and resorts. Many are even close to other creeks and trails which can help you see even more of the beauty Sedona has to offer!