The Herman Gulch Trail is a beautiful hiking trail in Colorado that takes you through the dramatic, steep mountainside. Hikers are rewarded with scenic views of the valley below and the spectacular mountain peaks all around them. It's hard to believe that this hike can be completed in just one day!
Where is the Herman Gulch Trail?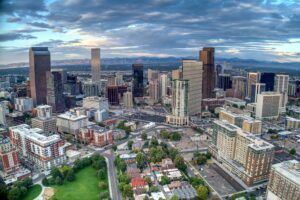 The Herman Gulch Trail is located just outside of Denver, Colorado, easily accessible from the city. It can be accessed from the Herman Gulch Campground or the Guanella Pass Trailhead. The Herman Gulch Campground is located off of Interstate 70, just west of the town of Georgetown. The Guanella Pass Trailhead is located off of Guanella Pass Road (CR 325), which you access from Highway 285.
When choosing where to hike, the Herman Gulch Trail has a lot of advantages due to is reliable terrain and proximity to the city.
The Herman Gulch Trail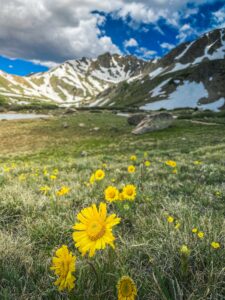 Although there are several nearby hikes around the Herman Gulch Trail, you'll want to experience Herman first. The trail is a 7.2 miles long out and back, which means you'll start and end at the same location following the same trail. Easily completed in a single day, the elevation gain is moderate, 1,774 feet, making the trail a great option for hikers of all abilities.
Along the trail, you'll see a variety of wildlife and plant life, depending on the season. You'll likely spot mule deer, elk, and an array of wildflowers. A few sections of the trail are steep and rocky, but it's still a great hike for beginners. You just need to take your time and watch your footing.
The first two miles of the hike are in the woods, but the last mile is in an open field. You'll get a great view of Grays Peak, Torreys Peak, and Longs Peaks, which are three fourteeners (mountain peaks of at least 14,000 ft). To see them, you'll take a sharp right turn as you hike toward the end of the trail.
The views are spectacular. The greatest viewpoints are definitely along the last mile of the hike, but you'll also enjoy incredible sights of the valley below from the trail. Once you've reached the end of your hike, take a trip to Herman Lake. It's the perfect spot to cool off and relax.
It's recommended for you to wear spikes during the winter and even into April and early May as a safety precaution.  A little snow in the Front Range can stick around for a long time on the trail. You'll find that many parts of the trail are muddy and covered with snow, which can make the trail even more difficult.
Of course, if you go during the hotter seasons, you won't need them.  June thru September might be our favorite time to go, when you can ditch the snow spikes and do just fine with hiking boots or a good pair of hiking shoes.  This is not a place where you want to wear tennis shoes or your casual loafers.  Know that it is a long and challenging enough trail, though, so you will exert yourself in heat.  Just bring a good water bottle to keep yourself hydrated and take precautions against the sun.
Is the Herman Gulch Trail Crowded?
The Herman Gulch Trail is a popular hike due to its convenient location and beautiful scenery. Denver is a metro area with 3 million people, so yes, there will likely be other hikers near you.  You will likely see others along the way, especially if you go during the weekend. If you're looking for a more peaceful hike, it's best to go hiking on a weekday. Herman Gulch and Herman Lake are not exactly secrets – they are well-known spots for people who live around the city.
Another way to avoid the crowds is by going during the early morning hours. The sun won't be as strong, so it can be more enjoyable, too. Leave early enough and you may even get some gorgeous views of the sunrise.
Because there can be lots of trail usage, it is extra-important that everyone keeps the trail in good shape.  Stay on the trail, especially after a heavy rain, so you don't damage anything.  And be sure to clean up after your pets and yourself.  Bring a biodegradable waste bag if needed and carry everything out.
Nearby Trails to Consider
If you've already hiked the Herman Gulch Trail or want to do more than one hike during your visit, you may want to consider some nearby trails. If you're interested in more of a challenge, head over to Mount Bierstadt. It's one of the most popular fourteeners in Colorado. You can also try climbing Grays Peak or Torreys Peak. They're both located near the Herman Gulch Trail and are two of the most popular climbs in Colorado.
Keep in mind that these are much more challenging than Herman Gulch, so you should be prepared before attempting them. If you're a beginner, you may want to find an easier hike, such as Hassell Lake or Wichita State Plane Wreck. These are great hikes for beginners as they're not too lengthy and have moderate elevation gain.
If you want a trail with expansive views of the Rocky Mountains, you should check out Mount Falcon Park Trail or Barr Lake State Park Trails. They both offer stunning views of the Front Range!
Bringing your family along for the hike? Take a stroll through the Chatfield State Park. It's the perfect place for a picnic and some wholesome time with the family. The park has a network of trails that are great for shorter trips.
There are plenty of adventurous trails, but no matter what you choose, be sure to take your time and enjoy the scenery.
Camping Options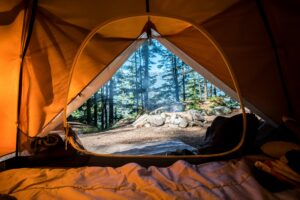 If you'd like, you can choose to camp near the Herman Gulch Trail. The only campgrounds available are located off of Interstate 70. Unfortunately, there are no camping opportunities along the trail itself, but you can camp at the Herman Gulch Campground. The surrounding views are stunning, and you'll have easy access to the trail in the morning.
Consider camping in the offseason — mid-to-late fall can be a great time to explore the area, and you will have fewer people around. Just be sure to bring a warm tent and some warmer clothes — nights can get very chilly.
If you're looking for a more luxurious camping experience, the Guanella Pass Campground is located right near the trailhead. The campground offers vault toilets, but no water is available – you'll need to bring your own. For a more backcountry camping experience, there are plenty of sites to choose from near the Guanella Pass Trailhead. Just be sure to pack in and out everything, including trash.
Activities Along or Near the Herman Gulch Trail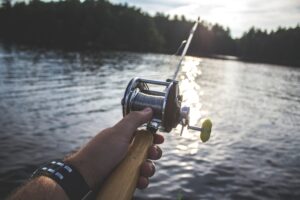 Aside from hiking, there are several other fun activities to enjoy along and near the Herman Gulch Trail. If you're looking for a great place to mountain bike, try out Guanella Pass Road, which is right near the trailhead.
If you want a more relaxing activity, stop by Herman Lake. It's right off the trail and is located in a beautiful, serene setting. There are plenty of camping options to choose from at Herman Lake, too – you can even choose to camp on the shore. The lake is also one of the most popular fishing spots in the area. If you're lucky, you'll catch northern pike, walleye, white crappies, yellow bullheads, and yellow perches. However, the most common fish you'll find are largemouth bass, spotted bass, and bluegill.
You can also try your luck in the surrounding mountains. You'll find plenty of amazing places to fish in Clear Creek County, but most of the fishing is catch-and-release. Just make sure to check the regulations before you go, as they can change often.
Another relaxing activity you can do in the area is birdwatching. There are over 200 species of bird that live in the Colorado Rockies, and you'll find many of them close to the Herman Gulch Trail.  Birding is typically best from June thru September, when most species are back in the area, and the terrain is easy to access.