The right gear means high performance in any environment. But when it comes to survival, you're definitely going to need the right kit to be able to handle anything that comes this way.
We tested out a bunch of survival gear on the market today, all gear that we have been using for years.  While we might not be survivalists in the sense of preparing for armageddon, we believe that there are times when you need to be prepared for anything — wilderness camping, backcountry skiing, or exploring remote regions.  The need to survival could arise when you least expect it.
Here are a few things to add to your shopping list.
ColdAvenger Pro Soft Shell Face Mask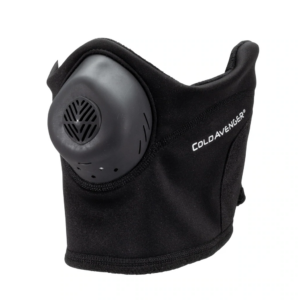 Not only does this softshell face mask keep you crazy-warm and insulated from harsh winds, but the built-in ventilator humidifies the cold, dry air – meaning you only have to take it off to drink or eat. This is a valuable feature because wearing masks for long periods can be uncomfortable and difficult.
With this face mask, you can breathe naturally.
The ColdAvenger is designed to wick away moisture when your face gets hot, and the mask won't fog up so you can always see clearly. It also has a hidden nose-wire and uses a hook and loop closure so that you can customize the fit to your head, making it a one-size-fits-all. It has a built-in neck gaiter that provides some neck protection, too.
Overall, you're able to stay outside in the harshest of environments while keeping your face well-protected. In addition, as the name suggests, you'll look like a survivor, which is almost as important as all that cold-weather protection.
Magcomsen Fleece Multipurpose Parka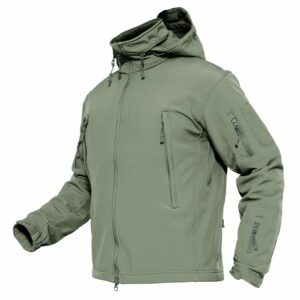 When it comes to jackets, you'll want to focus on keeping yourself warm since you can always remove layers if it gets too hot. You're going to love this multipurpose parka! The hood is windproof so it won't fly off, and the exterior is waterproof. The interior is fleece-lined, designed to keep you warm in cold environments. So, whether there's pouring rain, heavy wind, or blustering snow, you'll stay dry and toasty.  It is a windbreaker, raincoat, and parka, all in one.
The jacket also comes with several pockets, perfect for storing all your gear. You can easily access your phone, food supplies, or anything else you might need without taking off your backpack.
The best part is that the jacket is versatile and can be worn in a lot of different environments, meaning you don't have to buy different jackets for each season. The hood's detachable, so you can remove it whenever the weather calls for it.
Gerber Crucial F.A.S.T Multi-Tool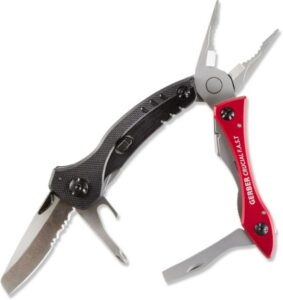 It's always better to carry multi-purpose tools instead of multiple tools. Multi-purpose tools equal less weight and more space in your bags. You may also never know when you'll need one of the many things your multi-purpose tool can do. It could potentially increase your chances of survival if you're stranded without anything else. That's why you should equip yourself with the Gerber Crucial F.A.S.T. (forward action spring technology).
It's a multi-tool that's designed to help you with a wide variety of tasks, from tightening screws to cutting through materials. It works as a bottle opener, Phillips screwdriver, wire cutter, fingernail filer, pliers (needle-nose and regular), and as a standard screwdriver. And with a flick of your thumb, you can access the serrated stainless steel blade.
Mountain Hardwear Sprite 1 Tent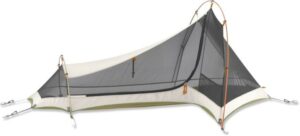 A tent is an essential piece of gear that you should be able to bring with you. This shelter will help protect you from stray and potentially dangerous animals and insects that can be a bother at night. Mountain Hardwear Sprite 1 is a three-season tent, good for spring, summer, and fall. It won't be able to handle the cold weather that comes with winter, however.
This one-person domicile is light enough to haul for hours, roomy enough to stave off claustrophobia, and easy to pitch and take down. This is especially important if you plan on relocating your tent often as you'll save on energy and time. There's enough headroom for you to sit up to change clothes, providing you with adequate privacy.
The best part is that it's made with durable ripstop nylon, which not only keeps the tent sturdy but also light enough to carry around. The Atlast 7001 poles are anodized, which means they're resistant to corrosion and dents. It also has a waterproof and breathable coating to keep you and your gear dry, as well as mesh panels for ventilation. The Sprite is the perfect tent for the solo survivalist.
Petzl MYO RXP Headlamp

Finding a reliable light source that does everything you need can be difficult. The Petzl MYO RXP is a computer-programmable headlamp with various light settings. From maximum brightness to a stealthy dim light, the lumen outputs range from 13-141, and you can program 10 of them.
There's a flickering strobe mode that can be used as a signal for help and even a temporary light boost that's 205 lumens which throws light up light as far as 295 feet. These can definitely be lifesavers when you're looking to grab somebody's attention.
The headlamp is also rechargeable, so you don't have to worry about running out of batteries in the middle of nowhere. It runs on AA batteries that provide enough for up to 53 hours on higher settings and 86 hours on lower settings. The headlamp is also water-resistant, but it can only hold up against a few splashes. Do not submerge the headlamp in water! The RXP has an elastic headband that provides a comfortable and stable fit, suited for most heads.
Lowa Mountain Expert GTX Evo Mountaineering Boots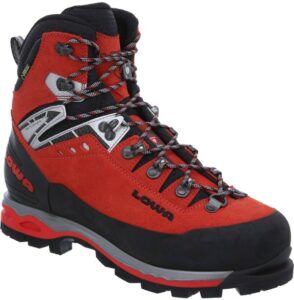 Your feet are your foundation, and you should never underestimate their importance. A good pair of hiking boots can make the difference between life and death. If you want to move from hiking boots to something more rugged, the Lowa Mountain Expert GTX Evo is a leather boot that's exceptionally breathable, waterproof, and stable. It offers comfort and traction, perfect for the solo survivor or outdoor enthusiast.
The Gore-Tex lining makes it waterproof, so you don't have to worry about getting your feet wet. It uses PrimaLoft polyester insulation to keep your feet warm. The boots are over-the-ankle and lace-up, so your feet and ankles will be perfectly protected.
As the name suggests, the boots are specially designed for mountaineering, but you can use them daily. Even though the boots look heavy, they're actually lightweight! Each boot only weighs about 1.5 lbs, so that's 3 lbs for the pair. The polyurethane midsole provides cushioning for the foot's arch and heel, while the Vibram outsole provides a steady grip on any terrain. They're durable and comfortable, and will last long for survival.
MSR XGK EX Stove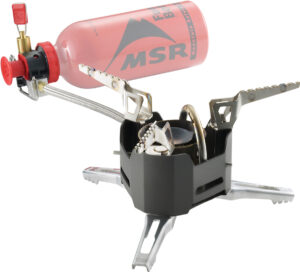 The last on our survival list is the MSR XGK EK Stove. It's perfect for the solo survivor and is even backpack-friendly. It's not the lightest stove on the market, but it's worth its weight in gold when you need it most. This must-have stove burns almost any kind of fuel, making it a go-to item even if fuel is in short supply.
The XGK fires like an afterburner at high elevations and boils a liter of water in 2.8 minutes using kerosene fuel. So, if you want to cook up a meal right away, you can. The design's compact as the stove fits in a 1.5 liter MSR pot. It's made of stainless steel and has a brass construction, making it durable enough to last for many years. The XGK is the perfect stove for the survivor who wants one that can do it all.