If it's time to schedule a hike, you may be spoiled for choice where you live! Or you could live a distance away from the trails and need to come up with a solid plan for your trip. No matter which boat you're in though, you need to choose which hike and trail is right for you. These questions will help you determine the best options for your goals.
What Type of Challenge Are You Looking For in a Hike?
Every trail will come with a different challenge rating or difficulty rating – and it's essential to pay attention. A lot of factors go into deciding this rating by the trail system from elevation to steepness, whether the path is narrow or wide, if there are steep drop offs, and other potential dangers. And each trail system has a different setup when it comes to explaining these difficulties. Some will use colors or shapes, while others use a combination. Each hiker should do their research into a trail system and not assume that Green Triangle means the same difficulty at one trail in New York as another in New Hampshire.
When asking this question, you also need to be honest about your own fitness and health levels. If you're new to hiking, you may want a challenge, but you shouldn't dive straight into the most difficult trails a system has to offer. You could get in over your head. On the other hand, if you're an experienced hiker, you might be looking for something that's a bit more of a challenge and you don't want to end up on a trail that isn't engaging to you.
Fitness isn't the only challenge-related hiking factor.  Sometimes you will get on some rocky, wet, uneven, or even unstable terrain.  We have had hikes where we are walking through water and over dry boulders on the same hike!  For these, just be sure you are wearing the right hiking shoes or boots.  They can make all the difference.
You should be honest about what you can handle, how much you exercise, and how far you're capable of walking before you decide. There is always time to tackle those more challenging hikes once you have a bit more experience under your belt!  If you simply want to head out for an hour or two with nothing but your clothing, footwear, and maybe a hiking water bottle, be sure you don't bite off more than you can chew.
How Long Do You Want to Hike?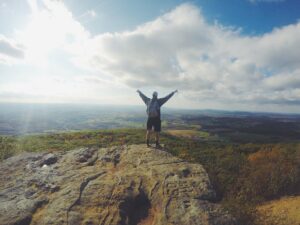 The second question you should ask yourself when it comes to choosing where to hike is "how long do you want to be out?" Do you want to go for an hour, all day, a few days, longer? Trails can vary greatly in length, and difficulty also plays a role in how long it will take you to complete a hike.
Exactly how far you can hike in a day is dependent upon a lot of things, but it is important to choose a trail that fits your ambition and fitness level.
Day trails can range in length from 1 to over 10 miles, but then you have options like the Appalachian Trail, which, if you decided to go the whole distance, is 2,190 miles. Longer trails also tend to have "modified versions." The entire loop can be 20 miles, but you may be able to opt for a shorter trail on that loop that's only 5.
Tip: For those day hikes, you want to make sure you're looking at round trip distances. You don't want to get 4 miles into a 5 mile hike and discover it's actually 10 due to the return trip!
The average human can walk 3 to 4 miles per hour on a flat surface – this changes a bit when you're hiking through the woods. For day trips, you could also be slowed down if you're bringing kids or an older relative with you. Hiking uphill or downhill also has a role to play. While mileage can tell you exactly how long it is, it may not tell you how long it will take you to finish. How much time are you looking to invest in this particular hike?
What Do You Want to See?
And, of course, an important question to ask is what do you want to look at during your hike! Do you want the chance to see wildlife? Wildflowers? Waterfalls? Mining sites? Ghost towns? The local town from high up? Mountains? Rivers? Lakes? Something else?
Each trail will offer something different in the way of scenery and even things to do. Some trails will offer a lake you can swim in while others will offer stunning views of the surrounding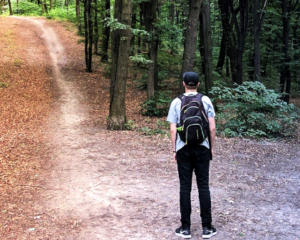 landscapes. Research will help you determine what you'll see on your hike – but remember, the time of year can also have an impact on what you see! Those waterfalls in the winter, for example, could be frozen solid if you go far enough north. And those wildflowers likely won't be out in the middle of February. Some trails can also be deemed unsafe during certain seasons due to the wildlife, even if you want to see some animals during your hike.
The destination absolutely matters when choosing your hike, but so does the journey. So what would you like to see on your trek?
Who is Going on the Hike With You?
Are you going alone or with a group?
As mentioned previously, the people you travel with could have an impact on how long a trail takes you, but it can be a great adventure for your family or friends. However, the people you bring with you should play a role in the type of trail you choose. You're only going to be as fast as your slowest member, so it's something you need to think about. For those with young children, easy, wide trails can be the best bet. However, if you have a group of friends who are experienced hikers, you're probably looking for a more challenging trip.
Speaking of kids, if you have a baby, toddler, or even a younger child, consider a kids carrier backpack even if the child will do much of the walking on their own.  It can be nice respite when the child gets fatigued, or when the family wants to pick up the pace.  The Deuter Kids Comfort is a good one.
In addition to making sure everyone is capable of completing a trail safely, you want to make sure everyone in your group is happy with the trail chosen. People will have diverse wants and interests.
Some trail systems also offer options to travel as a group with an experienced guide. These are paid options and not available on every trail. It's important to note that you will likely be grouped up with people you don't know, especially if you decide to join solo. This can be a great opportunity to meet new people, but it's not for everyone.
What Kind of Gear Do You Have?
Sometimes your hike will be determined by the type of gear you have.  If you only have hiking sandals and casual clothing, then maybe you should stick to paths that are going to smoother and more predictable.  If you don't have crampons or other cold weather gear, best to avoid any hikes that might have you walking on ice or snow.  If you have no supplies to purify water or cook meals, then you might be doing day hikes only.
Whatever you do, don't out-hike your gear. Stay within your limits, and only push the envelope when you are outfitted to do so.
Do You Want to Travel?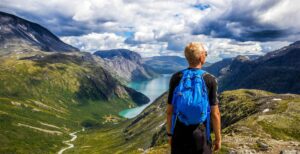 Another consideration to make is where in the world do you want to go? Do you want to go to a nearby trail that's a short drive away or would you prefer to travel across the country to a famous trail? This can be one of the easier questions to answer, but it is one to consider as it plays into how long you'll be away from home.
Day trips generally will take place near your home, but for those hikes that you'll take while on vacation or far away from home, you need to do your research. What do locals or other hikers say about the trail? Is it safe? Does it fit into the rest of your potential travel plans?
How Much Stuff Do You Want to Carry Along?
A key aspect of choosing where to hike is answering the question of how much gear you want to haul along with you.  If you just want to do a little getaway and carry a waterbottle and some sunscreen, then you are probably best heading to a nearby trail where you can travel light.  If you are prepared to haul a bunch of gear — even some overnight gear for possible thru-hiking, your options open up broadly.  If you need more space, we recommend the Yakima Carbonite Skybox.  It is a good rooftop carrier that gives you lots of additional hauling capacity.
What Does the Weather Look Like?
Weather can have a big impact on hiker safety as well as the difficulty of a trail. Understanding what the weather looks like in the area of a hike is a must before heading out. Some trails may not be safe after heavy rain, for example, while others are actually inaccessible during the winter. You don't want to make the trip and then find out the trail is closed! The time of year can definitely have an impact on the trail and your ability to tackle it.
Note that many trails in northern climates convert to either cross country ski trails or snowshoeing trails in the winter.  This can be a great way to explore and see some new scenery, different than what you may notice on the same trail during summer.  We did an entire piece on the best snowshoes if you need some help selecting.
Many trail systems will have a guide for how safe or difficult a trail is in different weather conditions. They generally include ratings of good, fair, and poor, but different systems may have different information or guidelines.
Research can help you determine when you should head out to your chosen trail. However, the weather is, of course, unpredictable, so you may get rained out just due to bad luck. It's important to not go on a trail if the hike is closed or unsafe for your expertise due to weather. Gear is also a consideration here – do you have the gear that can handle wet weather? Or snow? If not, you'll want to choose a different route or time of year.
Choosing where to hike isn't always a simple decision. There's a lot of factors that should play a role in your choice including the length of the hike, difficulty rating, who you have with you, the weather, the time of year, where the trail is located, and scenery. Research is going to be your best friend when you're making this decision, especially when you're looking for new trails and places to explore.