When going hiking, it is vital to have snacks that have that combination of being easy to haul and packed full of energy. It's always a plus if it tastes good as well. Gorp is one of those must-pack snacks that checks all the boxes. Although Gorp is said to originally stand for "Good old raisins and peanuts," the combinations you can make of this nutrient dense snack are endless. Today I'm going to share with you how to make one of my favorite Gorp combinations that are both flavorful, nutrient dense, and simple to prepare.
It is a great hiking fuel to keep in your daypack. You don't want to let yourself get hungry when tackling tough terrain.
It is healthy too, giving you a good mix of complex carbs, electrolytes, and just enough sugars to keep you going in the heat.
Tropical Delight Gorp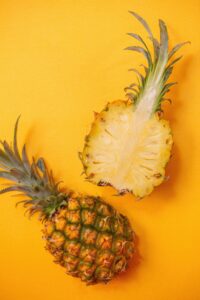 Ingredients:
1 cup of raw macadamia nuts
1 cup raw almonds
½ cup pumpkin seeds unsalted
½ cup hemp seeds
1 cup dried pineapple, unsweetened
1 cup shredded unsweetened toasted coconut shreds
1 cup white chocolate chips
Salt to taste (I use pink Himalayan salt)
Instructions:
Step 1: Preheat oven to 350-degrees Fahrenheit
Step 2: Take the macadamia nuts and almonds and place them on a cookie sheet. Put them in the oven for 10 minutes, stirring them halfway through.*
Step 3: Salt nuts to taste directly out of the oven and let cool.
Step 4: Once nuts are room temperature, mix all the ingredients together in a large bowl and then store in an airtight container in a cool dry place.
(*Note: This step can be skipped if you buy roasted salted nuts. However, buying raw nuts and toasting and salting them yourself helps control the amount of sodium that is in the mix.)
Bonus For Cluster Lovers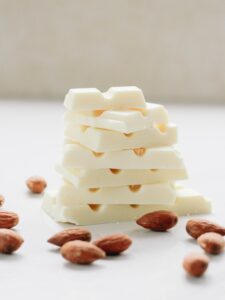 If you are someone that enjoys clusters in your gorp add a quarter cup of honey to a bowl with all the nuts, seeds, salt, and toasted coconut shreds and stir until well combined. Then spread ingredients evenly on a lined nonstick cookie sheet and bake in the oven for 15-20 minutes, or until the mixture is golden brown. (You will need to check on it periodically to make sure it is not burning.) Let the mixture cool completely and you will be left with small clumps of toasted delight. Place the cooled clusters in a bowl with the rest of the ingredients and mix well. Then store in an airtight container.
This recipe stores well and can last upwards of two to three months in an airtight container in a cool dry place, or up to six months in the refrigerator. What I enjoy about this combination of ingredients is the flavor profile of nuttiness from the toasted almonds and macadamia nuts, mixed with the sweet and slightly tart notes of the pineapple and toasted coconut shreds. These flavors marry well with the small morsels of white chocolate and create a well-balanced tropical delight.
Frequently Asked Questions:
Why are these ingredients selected?
When constructing this recipe's ingredients, I took into consideration the powerful health benefits each ingredient provides. The macadamia nut is rich in vitamin A and B, iron, protein, healthy fats, and antioxidants. Hempseeds are known for improving joint health and heart health as well as providing healthy omega-3 and omega-6 fats. Pumpkin seeds provide a great source of zinc and magnesium which is a vitamin that is vital in immune system health and muscle health.  The right trail mix can be one of the best hiking snacks you can have, because of its nutrients-to-weight ratio.
When considering what fruits to add, I chose pineapple because it is a high source of vitamin C, and coconut because it is rich in fiber and great for digestion. Aside from the health benefits these individual ingredients provide, they also help you stay fuller longer, while giving the body what it needs. They are classic flavors that compliment one another and provide a diverse flavor filled snack.
What is a good ratio of nuts, fruits, and extras in gorp?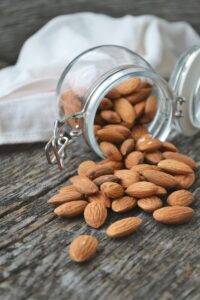 When looking for a well-balanced gorp recipe, I follow this golden ratio of nuts, fruits, and extras. To make sure you are creating a mixture that will give you what you need energy wise, I recommend 50% nuts and seeds, 40% dried fruits, and the remaining 10% any treat you like. Any gorp that contains too much of the extras and not enough of the vitamin, fat, and protein rich items such as the nuts and fruits, is not going to give you the sustainable energy you need.
How much is a serving size?
A recommended serving size is one quarter cup. I tend to eat one half cup at a time because it's just that good.
What are the nutrition facts of this gorp?
In one quarter cup of this gorp there are 166 calories, 11 grams of carbs, 7 grams of sugar, 5 grams of monounsaturated fats, and 4 grams of protein. Aside from the macro nutrients listed above you are getting vitamins A, B, and C, magnesium, zinc, omega 3, and omega-6 fats, and a load of other essential vitamins, minerals, and fibers.
How to store this gorp?
It is recommended that you store this gorp in an airtight container in a cool dry place or in an airtight container in the refrigerator. If storing in a cool dry place, the mixture will last you two to three months. If it is stored in the refrigerator it will last up to six months. The mixture stores the same way regardless of if you mix the ingredients as they are or follow the bonus cluster method.
Is this gorp recipe healthy?
The short answer is yes. Unlike most commercial snacks that can be filled with empty carbohydrates, added sugars, bad fats, and unnatural additives, this snack combines whole food ingredients that give the body what it needs when being active. Like all snacks this gorp should be enjoyed in moderation. What makes this gorp healthy is the good fats, vitamins, and minerals you get from the nuts and seeds, vitamins, and natural sugars you get from the fruits, and the bonus sweetness you get from the white chocolate morsels. Overall, this snack was created to be well-balanced and satiating.