Camping in the winter is often a daunting prospect, and for good reason! Sleeping in cold conditions can be dangerous or even fatal without proper preparation. Snow, too, can make it difficult to get up and moving on cold winter mornings. For these reasons, it is of critical importance to be properly equipped with a tent that is made to withstand (or even excel in) winter conditions!
What We Look for in Winter / Insulated Tents
Insulation
We all know that a tent to be used in winter should be warm, but it is important to inspect the actual makeup of the tent in order to guarantee this. Make sure that the tent has strong, weather-hardy canopy fabric that will hold up against cold winds and pressed snow.
The best material to be on the lookout for when purchasing a winter tent is ripstop nylon, which is the premier material for all-weather tents. Additionally, the thickness of this material is measured in something called "denier". When shopping for winter tents in particular, you should look for canopy measuring no less than 50 denier thick, which is the toughness and safety standard for all-weather tents. This thickness not only guarantees that the tent will hold up to the conditions but also will provide more of a barrier to harsh temperatures. The floors of the tent also should be composed of minimum 30 denier ripstop nylon in order to protect against cold and/or rough ground, and it is always recommended to buy some sort of tarp or footprint that is placed beneath the tent to add an additional layer of padding and thermal protection.
These tents tend to be on the smaller side — like a 2-person tent size or perhaps 3-person — which helps keep the heat inside.
Strength
The strength of a tent is extremely important for camping anywhere that is windy and/or capable of heavy precipitation! The two primary components of a tent, the canopy and poles, will determine how strong your tent is. Specifications for the canopy were mentioned in the paragraph above, highlighting which material and thickness is best. 
Poles are equally important. As for what one should look for in poles, there are two key components that really make or break a tent's winter capability. The first is material, and the material should always be aluminum. Any cheaper metal or "heavy-duty" plastic simply is unreliable and even unsafe for winter conditions. The second component is thickness of the poles, which should be no less than 9 millimeters (best is around 9.5 millimeters). Additionally, if the pole design is listed, DAC Featherlight NSL poles are the tried-and-true standard poles for most all-weather tents. One bonus component to consider with regards to strength is tent stakes. Tents sometimes come with stakes that are flimsy or awkward to handle, so it is never a bad idea to go out and buy a set of highly-rated stakes.
Alright, the key specs have been covered. However, there is one more thing we should point out before getting to tent recommendations, and that is actually building upon warmth in the tent. Let this be made totally clear: the vast majority of your warmth in a tent is created by your clothing, a high-quality sleeping bag, blankets, and a space heater if you so desire. Tents, though very important, are still only a shell! It is left to you to create an environment that is safe and comfortable to live in. Now that this is all out of the way, let us introduce you to three of the best tents suited for any winter trip:
Our Highest-Rated Winter or Insulated Tents
We keep our eye on the winter tent market, looking for those tents that can stand up to the elements and offer superior insulation in cold conditions.  Here are the ones that we rate highest based on our assessment.
GEERTOP's All-Weather tent
GEERTOP's all-weather tent is a great affordable tent for any small group of campers looking to go out in winter conditions. With a simple setup and light weight of only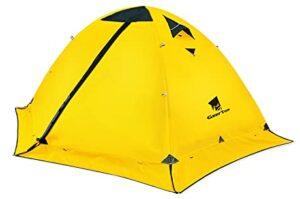 7 pounds, it is a great option for any trip. This tent in particular is made to fit two people, but there are larger versions available for parties of a greater size. The tent's dome design also has made it capable of holding up through heavy snowfall, making it an extremely viable option for anywhere prone to sudden or nighttime snowstorms. GEERTOP also developed a checkered design for the tarp that makes it exceptionally wind and tear-resistant, offering increased protection from the bogey tree branch. Certainly an all-around good tent worth considering that is very easy on the wallet.
Pros:
Does well in cold weather
Impressively waterproof
Inexpensive
Cons:
The Thor 3P Tent by Marmot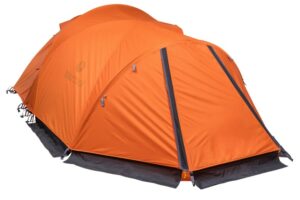 Marmot is a renowned brand when it comes to most any outdoor activity, and winter happens to be where they specialize. It is no surprise, then, that their Thor 3P tent is top-of-the-line when it comes to winter camping.  They also happen to make one of the best 4 person tents on the market. 
Composed of 50 denier ripstop nylon and hardened aluminum poles, this tent is capable of withstanding the toughest winter storms and heaviest mountain snowfall. The tent's signature Thor design makes it virtually impervious to strong winds and structurally sound in the face of ice and snow buildup. The wide-spread rain fly also provides protection against snow or water coming in at an angle, and allows one some space to leave any equipment outside without worrying about it being lost in any freshly-fallen snow.
Pros:
Cons:
Mountain Hardware's Trango Tent
Mountain Hardware was designed by mountaineers for mountaineers, and they most certainly delivered to all winter-lovers with this superb tent cut out for even the most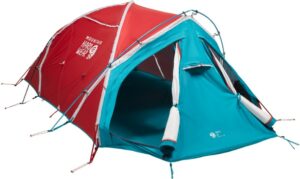 violent of cold and snowy conditions. The poles of this tent are specially sleeved to hold up against excessive snow weight, and the material itself has been outfitted with reflective color-coding so that all crucial components are easily visible if covered by snow or ice. Additionally, this tent has a gear component integrated into it so that one can keep any desired food or clothing safely within the tent. This is especially nice for coats and snow pants that are not worn while sleeping. This tent of course is also composed entirely of 50 denier ripstop nylon, so it is intrinsically ready for anything winter may throw at it. 
The Trango builds on the discontinued ACI 3, so if you were looking for that tent, this is basically (but not exactly) the new version.
That's it for tents! The main point we want you to take away from all of this is that the number one thing to make sure of when it comes to looking at tents is safety, and these three tents meet our criteria for said safety. 
Pros:
Very durable and strong
Warm in cold conditions
Cons:
Condensation can develop due to how well-sealed it is
What Else You Need for Winter Camping
A good tent is not the only gear you need for winter camping.  In fact, given the elements, winter camping requires more equipment and careful planning than summer camping.  A common theme is warmth — everything you buy for your cold-weather camping should be focused on keeping you warm.
Consider your outerwear, which should be a combination of layers and the ability to keep you not only comfortable but safe and dry.  We like a thermal layer underneath multiple fleece or wool layers (depending on the temp) covered by a shell that is both windproof and waterproof.
If you will be camping in snow, having snowshoes might be extremely useful.  Snowshoes help keep you from sinking in to deep snow, which is critical when you have 30 pounds of gear on your back.
Gloves, hats, good boots, and great socks are all imperatives when winter camping.
Don't skimp on your camping meals.  Freeze dried camping meals are key (you will need a camping stove to eat them) because it is harder to find natural foods like berries or fish in the winter.  If you bring freeze dried camping meals, you will also need a good camping stove.  These meals are made simply by pouring very hot water into the foil pouch and mixing.
Finally, it is a good idea to always have navigation and communication with you.  You want to be "off the grid" when in the outdoors, but if you find yourself in a bind, it is good to know where to go and how to get in touch with someone.  There are almost always fewer people around in the winter to help you out if you get in to trouble.