Alaska should be on the bucket list of every outdoor adventurer.  While Denali tends to get lots of the tourism press, Tongass National Forest is an underrated gem in close proximity to Juneau, Alaska's beautiful and remote capital city.
Tongass National Forest is the largest national forest in the United States and covers over 16.7 million acres in Southeast Alaska. The forest surrounds the iconic Inside Passage home to brown bears, spawning salmon, bald eagles,  Alexander Archipelago wolves, and the majestic humpback whales. 
If you are wondering, there is a lot more than just wildlife in the forest. Tongass also encompasses waterfalls, massive glaciers, towing mountain peaks, fjords, and the islands of Alexander Archipelago.  
Tongass National Forest serves an excellent purpose for wildlife and our climate. This article discusses the spectacular forest, including its history, where to hike, what to do,  and where to stay when visiting. 
Tongass National Forest
Referred to the Inside Passage or the gateway to Alaska as it is the first opportunity to enter the state from Canada. Not only is the national forest known for being one of the densest areas inhibited by bald eagles and brown bears, but it also plays a big part in climate change.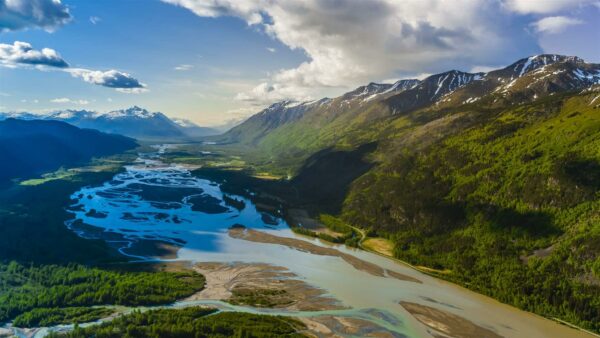 Tongass alone stores more than 1.5 billion metric tons of CO2-eq and stores tens of millions of it each year. To put it in laymen's terms, the forests store 8% of the carbon stored in forests in all of the United States. 8% may not seem like a big deal because it is a huge deal! 
In 1902, President Theodore Roosevelt established the Alexander Archipelago Forest Reserve. Five years later, Roosevelt created the Tongass Forest National Forest. The creation of the two ultimately leading Roosevelt to join them a year later. 
Presidential Proclamations until 1925 continued to expand the forest covering almost all of Southeast Alaska. The forest was named after the Southeastern people of Tlingit, near the site of Ketchikan.
Due to its massive acreage, Tongass has the more wilderness areas than any other national forest (coincidentally, the 2nd largest is also in Alaska — Chugach.)  Initially, the area's primary source of revenue was dominated by the timber industry. However, over time it transitions to non-timber sources of income such as tourism, salmon sales, carbon sequestration, and scientific use. Tongass National Forest tourism alone provides over 10,000 jobs, and 10% of them being fishing-related activities. 
Tongass isn't only home to spectacular mountains, glaciers, and wildlife; it is also home to three Native Nations. The Tlingit, Tsimshian, and Haida nations are home to 31 native communities in the forest, with the state capital of Juneau being the largest, with 31,000 people. 
As with most parts of Alaska, Tongass is definitely a wild place. If you plan to explore, be sure you have your hiking essentials prepared. If you plan to spend overnights in the wild, bring some basic survival gear just in case.
As you can probably tell so far, Tongass has a lot of history and is home to various walks of life. However, what we haven't discussed so far are the fantastic hiking trails the park has! 
Read on as we talk about the top five hikes in Tongass National Forest. In addition, we will discuss other indoor and outdoor actives to and nearby places to camp. 
Top 5 Hikes in Tongass National Park
If you are into beautiful hiking trails in the mountains, Tongass National Forest is the place to go. Outdoor enthusiasts can enjoy over 450 miles of hiking trails within the forest. 
When hiking here, it is recommended to bring waterproof boots, warm clothes, and rain gear as Tongass is a rainforest, after all. With that being said, let's take a look at the top must-do hikes in Tongass National Park! 
West Glacier Trail
First on the list is a moderate in difficulty hike that is 4 miles in and out. West Glacier Trail is located near Juneau, Alaska, and is heavily trafficked due to its astonishing glaciers and mountain peaks.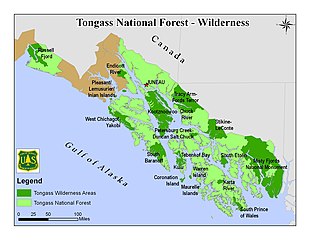 The first part of this hike is fairly flat and easygoing. However, the second half is steep and steep, meaning that there are chains in place to help you scale the trail. 
Once atop the mountain trail, you will be greeted with an impeccable view of the glaciers at an elevation of 2,000 feet. The main trail does not go toe to toe with the glacier. However, there is an unmarked trail near the 1942 marker. Take this trail at your own risk! 
The unmarked trail will add a significant amount of time to your day hike, ranging anywhere from 6-8 hours. Hikers who have done West Glacier Trial advise that it adds enough time that you may need to stay overnight if you didn't start the hike early in the day. 
The trail can get wet due to the consistent rainfall the area leaves, so watch your step coming down. Nonetheless, the forest service did an excellent job applying handrails throughout the hike. 
West Glacier Trail is a spectacular day hike to explore. Even if you can't make it the whole way to the lake, it is worth at least seeing the expansive view of the glaciers at the top. 
Ice Cave Trail
Ice Cave Trail is another epic hike in Juneau, Alaska. It is a total of 6 miles in and out, and it is also a heavily trafficked trail. But with a name like Ice Cave, we aren't surprised it gets so much attention. 
Not only is the name cool, but the views aren't too shabby themselves. The trailhead leads to a mountain that is fed with a powerful waterfall. In addition, follow the markings on the trail to get to the cave off of the lakeside. 
While Ice Cave has a lot to offer, it is rated as difficult. The trail consists of slippery rocks and sheer dropoffs. The rocky trailhead also consists of a lot of situations where scrambling is necessary to proceed. 
Hikers can expect a day trip of about five hours going to the lake and back. Keep in mind that if it has rained the day prior that there is a good chance, there will be flooding on the trailhead! 
Nugget Falls Trail
The trailhead might not have as cool of a name as the one mentioned above, but it is in the top five hikes in Tongass National Forest for a reason. Nugget Falls Trail is absolutely incredible and is a joy of a hike for all ages. 
This is a great hike to take the kids to because of its well-maintained trail and easy difficulty level. The hike is only 2 miles in and out and features a lake that has a wide waterfall flowing into it. 
It is recommended to take part in this hike from April through September. Not only can you take the whole family, but your four-legged friends are welcome too. 
Nugget Falls is a quick and easy hike that follows the lake all the way to the lakeshore. You will be surprised how close you can actually get to the massive waterfall at the mouth of the lake. 
Expect about 50 minutes to get to the lake at a consistent pace. Pack a lunch, hang out for a bit, or come late in the evening when there are few on the trail and enjoy the robust falls. 
Deer Mountain Trail
Deer Mountain Trail is another dog-friendly trail, but it is far from easy. While it may be rated as difficult, those who attempt the hike will be welcomed with views of the native town Ketchikan and the surrounding islands. 
Hikers have noted that while the hike may be difficult, it is well maintained. With proper safety gear, hiking shoes, and a little athletic ability, this is a doable hike for most. 
The trail is 6.7 miles in and out and features a lake. Hiking Deer Mountain is dependent on how much snow there is. Some note-having to turnaround once getting to mile three due to wetness and snowpack. 
Rainbird Trail
All the way at the Southern tip of the Forest is Ketchikan, set on its perch overlooking other islands.  If you are looking for a quicker and more moderate hike near Ketchikan, then the Rainbird Trail is worth checking out. Rainbird Trail is a heavily trafficked trail that is approximately 2.1 miles in and out. 
The trail is well maintained with a low elevation gain of only 541 feet, making it a quick hike at any time during the day. It is also a good place for a trail run if that is your thing. We like to travel with our Altra Lone Peak shoes ready just in case we find a path like this that is conducive to a short, incline run. However, this trail is not recommended for children due to its steep drop-offs, no rail guards, and large rock steps. 
The trail is a short walk (or a very short drive) from Ketchikan.
Other Things To Do In Tongass National Park
While hiking is amazing in Tongass, there are several other things to do in the vast forest. Read on as we take a look at the other top things to do in Tongass National Park.
Soak in the Hot Springs
Soaking in the hot springs in Tongass isn't as accessible as other outdoor activities, but it is worth the trip. The coastal hot springs are located in enclaves and are said to give therapeutic benefits.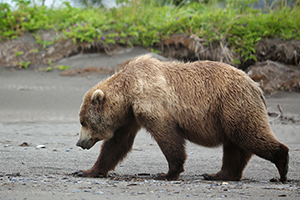 One of the most well-known hot springs is the White Sulpher Springs. To get to the hot springs, you have to take a short boat trip from the coast of Chichagof Island. Another hot spring to visit off of Chichagof Island is Tenakee Hot Springs, about 50 miles southwest of Juneau. 
Go On A Tour
Tongass is huge, and there are several different tours that you can indulge in while visiting. Tongass offers great paddling, particularly kayaking, since it is situated on such a diverse and interesting coastline.  For the same reason, the fishing can be quite good if you have a way of navigating on the water and are able to bring a rod and tackle box.
Tongass also offers outstanding sightseeing, ziplining, helicopter mountain rides, or bear viewing, Tongass has it all in terms of getting an Alaskan and Pacific NW experience.
Before booking a tour, it is worth checking out the Tongass Historical Museum in Ketchikan. While there, you can learn more about the geography of the national forest and Native Alaskan Heritage. 
See the Bears
Most visitors might think of seeing bears within a zoo or bear sanctuary, but it's a different story in Alaska. Alaska is home black, grizzly, and brown bears.  The latter two can be quite dangerous, so always keep your distance and do not ever treat them like props in your instagram photo.  They can kill, and there are bear fatalities in North America each year.  They are not props for your Instagram photos!!!!  Bring bear spray anytime you are in bear country.
Tongass especially is one of the best places to view the imposing brown bear. Locals and visitors alike will inevitably see brown and black bears meandering around the national forest, sometimes even in the local towns! 
Keep in mind, while it may seem like they are harmless and comfortable with humans, it is not a good idea to interact with bears. They are still wild and dangerous, so common sense is a must-have while visiting Tongass National Park or any national park for that matter. 
Where To Stay and Camp 
If you have made it this far, you have realized that Tongass National Forest is huge. So whether you are looking for a bed and breakfast, cabin, or campground, you will have an array of choices. 
Camping is a popular choice in the forest, and there are over 166 campgrounds to choose from. If you are visiting during the summer, it is recommended to try and reserve a campsite because they go quickly.  While it can be tempting to pitch a camping tent in the backcountry, you need to know what you are doing.  The dispersed camping sites are incredible and plentiful, but should only be used by people who are experienced campers with the right camping gear, from your Exped sleeping pad to a good camp kitchen setup.
Campgrounds offer good privacy at Tongass, so they can be a great option as well.  There are some RV options too, but I prefer not having such as huge vehicle in these remote parts.
Visitors who want to check out the local towns and villages then go to places like Ketchikan, Metlakatla, and Thorne Bay are worth seeing. Then, stay in a neighboring cabin or one of the local hotels. 
Whatever and wherever you choose to visit in Tongass National Park, you won't be disappointed.