Trail running is a great way to get some fresh air and enjoy the outdoors. However, it also can be more physically demanding than pounding on asphalt, with greater risks of injury.
That's why your choice of shoes is oh-so-crucial. Good trail running shoes provide protection and stability on both even and uneven terrain. They are specifically designed for greater traction, support, and impact absorption on trails, giving you superior performance on rougher surfaces. They also often feature water-resistant materials, so no matter how wet or muddy the trail gets, your feet stay dry and comfortable.
Investing in quality trail running shoes will make your outdoor adventures more enjoyable. But trail running shoes are different than hiking shoes — you need to invest in gear that is specific to the sport.
When it comes to them though, Altra Lone Peak and Hoka Speedgoat are two of the most well-known product lines in the game. Both launched in 2009 (Altra in Utah and Hoka in France), these two companies have amassed devoted, loyal followings.
However, that's where the similarities taper off! Altra focuses on little to zero-drop shoes where the heel and forefoot are an equal distance to the ground, promoting your natural gait. On the other hand, Hoka went the "maximalist" way with thick midsoles and high-stack profiles.
To find out which shoe is the one for you, we'll deconstruct both brands and compare the most important aspects when it comes to running shoes: durability, support on trail, comfort, and price. For this comparison, be using their most popular and best trail running shoes, the Altra Lone Peak and Hoka Speedgoat.  Much like we have done with our pieces on hiking boots and backpacks, our goal is to help you make an educated decision by the end of this article.
Durability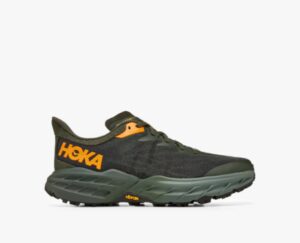 When you buy running shoes, you want them to last. Not only because you would want to get more bang for your buck, but your shoes splitting or coming apart when you're deep in the forest in the middle of the run isn't very much fun, even if you have duct tape. Not a very convenient situation to be in at all!
In terms of durability, the majority of runners we consulted with prefer Hoka Speedgoat over Altra Lone Peak. This is particularly true for some of Altra's older versions where users have often complained about the outsoles breaking off after a couple of hundred miles. Runners using the Speedgoat have reported zero wear and tear after 50 to 100 miles, while the Lone Peak users say that the soft rubber doesn't stand up so well after that kind of distance.
It's worth mentioning that Altra Lone Peak has been trying to achieve better durability with its shoes in the newer versions. But overall, Hoka Speedgoats still lasts longer, especially for regular trail running.
Support on Trail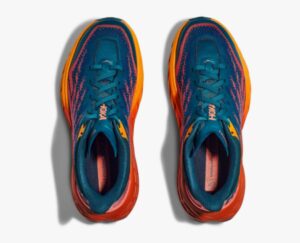 Hoka Speedgoat has excellent traction, in particular their newer versions like Speedgoats 4 and 5. Previously, due to their thickly-cushioned design, the shoes may lose a bit of traction, but their latest models have lost some of their cushion weight and gained traction instead.
They offer superior support and propulsion, and the added Vibram Megagrip outsoles with Traction Lug create more grip than ever. It also has a meta rocker that will guarantee your feet do not land flat but instead curved to alleviate pressure from your feet which will lessen injuries in the long run.
Hoka Speedgoat is now one of the most favorite shoes for people who are planning to run challenging, technical terrains over long distances or in ultra marathons.
On the other hand, Altra Lone Peak has less cushion than Hoka Speedgoat because they have a zero-foot drop design to promote natural strike and toe splay. Roomy shoes and a more spacious toe box can often cause the shoes to be relatively unstable on rocky or rooty terrain.
A zero-foot drop shoe design like you find in the Altra shoes may not be for everyone, especially those who are used to regular trail shoes who might find this one a little too loose for faster running speed and longer terrains. But more and more runners are adopting a flat-shoe preference, and if that is you, you will like the Altras.
Having the right support is critical to being able to reliability complete your trail runs (oh, and don't forget to hydrate).
Comfort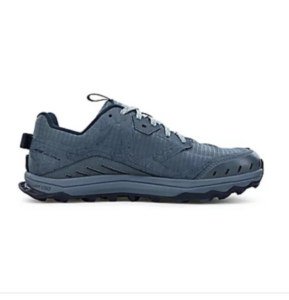 There's no denying that Altra Lone Peak's design was made to provide one of the most comfortable trail running shoes you've ever tried. They're the most ergonomic shoes out there and are recommended for those who suffer frequently from blisters and joint pains from ill-fitting shoes. This is due to their zero-drop design, where there is no difference in height between the heel and the toe. The feet are lying flat on the surface of the shoe and you can experience running as if you're barefoot.
Although Altra's zero foot drop can be comfortable for some, those who have not used these types of shoes before may want to ease into it.
Hoka Speedgoat's heavily cushioned design also offers comfort and the underfoot protection means less impact. With their new designs, Hoka is now making the shoes much more comfortable and close-fitting by losing their bulky feel. But for those who are running shorter distances and looking for a slimmer design with a responsive fit, you might want to look for other shoes.
Overall, Altra Lone Peak can provide the most comfort for short-distance running while Hoka Speedgoat might be more suitable for longer runs.
Price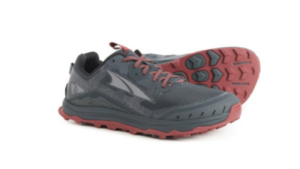 In terms of pricing, both lie in the mid-range compared to other trail running shoes and cost about the same price. Older models of both cost about $100 to $120 while the latest models like the Hoka Speedgoat 5 and the Altra Lone Peak 7 cost about $150. Comparing the two can help you decide which you want to spend your hard earned money on! Think of it as an investment.
Those were our comparisons for the Altra Lone Peak and Hoka Speedgoat, two impressive types of trail running shoes with distinct strengths and weaknesses. They will suit runners with different needs, preferences, and running styles. Whichever you go with, make sure to find the right fit for you or you might find yourself uncomfortably — even if its the best shoe overall for you!
Which Trail Running Shoe is Best?
Maybe the question should be which one is best for you.
If you like some cushion, you want to go with the Hoka Speedgoat.  They give you some support, without giving you too much (too much is not a good thing on an uneven trail).  Find the Hoka Speedgoat here.
But if you like a minimalist shoe and are trying to go more flat, then you want the Altra Lone Peak.  It is as simple as that.  Find the Altra Lone Peak here.