Fishing requires more than just your rod and reel. Most fishing enthusiasts know that an organized tackle box makes their fishing experience less stressful, safer, easier, and more productive. A good tackle box is a go-to hub for all things fishing, and can ideally reduce the clutter of your fishing trip, as well as your vehicle and garage or storage area.
In short, the best tackle box gives you exactly what you need, with easy access, right when you need it.
The term tackle box is used to describe everything from a small flat box with a snap down lid to a huge storage container divided into drawers, sections, and compartments. There are even tackle boxes out there that are not boxes at all, but rather soft-sides cases and backpacks. The tackle box that will be perfect for you will depend on the type of fishing you are doing, and the amount of accessories and tackle you want to carry with you. Most avid anglers have several tackle boxes, in various sizes, so they are prepared for any fishing adventure.
It is very possible to get by with just one good tackle box, though, as long as it is a good match for the type of fishing you plan to do.
Best Large Tackle Box
A large tackle box is a staple of most fishing enthusiasts. It is the mothership for all of your tackle, gear, and fishing supplies, kind of like a tool chest in a workshop.  You might keep everything from a fillet knife to extra spools of line in it, in addition to all of your tackle.  Look for maximum storage space, a configuration that allows you to easy find things amid a sea of lures, and a strong build.
If you are really organized, look for something that allows you to take a piece of it with you on smaller excursions, kind of like a satellite exploring away from the mothership. Many larger tackle box have trays that are removable, and can easily snap shut.  Then, you can put them into a tackle bag and head off on your way.
Plano Guide Series 7771
Plano shows up a few times on this list, and the reputation is well-deserved. The Plano name is synonymous with tackle boxes, and has been since 1952 when they molded the first plastic tackle box.  The 7771 Guide Series is 21 x 12 x 12, giving you plenty of space for lots of lures and tackle. We like that it has 3 stows, which become part of the box when inserted, but can be grabbed quickly if you just want to bring a few jigs with you on a smaller outing.
This tackle box has plastic latches that close firmly. For ocean fishermen, the plastic latches will not corrode from exposure to the salt air. We have never had the box open unintentionally while in using, telling us that the latches are molded with quality.
One of the best features of the Plano Guide Series 7771 is the fact that it is customizable. You can order different boxes and drawers so you get to customize this unit to suit your individual needs.  This is a big plus if the type of fishing you do requires a stock of oddly-shaped supplies.
Plano offers a limited lifetime warranty on this tackle box.  Find it here on Amazon.
Elkton Outdoors Rolling Tackle Box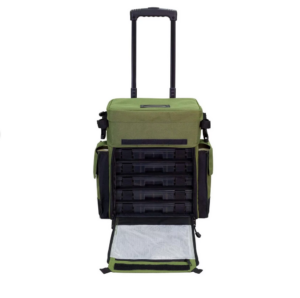 If you want to make your large tackle box easier than ever to carry, the Elkton Outdoors Rolling Tackle Box is a good choice. With a roller and shoulder strap, you can choose how you want to carry it to the water and bring it easily with the rest of your luggage when you go on longer trips. It measures 15.7″ x W 9.6″ x H 18.7″.
The tackle box comes with 5 3600-size removable trays, 4 rod holders, 18 compartments, and 3 zippered pockets to fit all your fishing gear. The Elton Outdoors option can hold up to 26.5 pounds worth of gear. And with durable, waterproof material, you can be sure it stands up to tough conditions.
While the Elkton Outdoors Rolling Tackle Box does have plenty of benefits for new and experienced fishers, it can be a bit on the expensive size. It may be absolutely worth it though if you need a larger box and an easier time carrying all your gear!
Find It Here on Amazon
Best Smaller Tackle Box
Smaller tackle boxes are underrated.  A smaller tackle box is kind of like your satellite when you don't want to lug a huge box around.  For more occasional fishermen, it may be the only tackle box you need, assuming your fishing tends to be for inland lake or stream fish, and you aren't doing anything like downrigging.
A smaller tackle box is also great for people who just want to take a kid fishing on occasion. You don't need anything extravagant if your goal is simply to catch some panfish from the shoreline — you just need to be able to carry some basic hooks, jigs, bobbers, and perhaps a hook remover in case you hook that fish a little deeper than you had hoped.
Look for clever storage design, durability, and good portability.  Make sure that the handle is solid and the latch snaps shut securely. Those are often the two pieces that fail.
Flambeau Outdoor Classic 3-tray Tackle Box
Flambeau is a trusted name in fishing gear, and storage equipment is their strong point. At 16 x 9 x 8.25 inches, it has a much smaller profile than the boxes listed in the above section. It has a cantilever tray that extends to provide access to the multiple compartments.
This box has a Draw Tite latch that will keep the lid securely closed. We like the simple design and the ability to hear a secure "snap" to know it is locked shut. It has a groove design positioned between the lid and the base that allows the lid to sit in the groove and makes the box more water resistant.
There is a storage compartment on top of the lid of the box where you can store you most frequently used items. With 32 tray compartments, there is plenty of space to put the gear for a typical day or two out, when a large box isn't neccessary.  Find it here on Amazon.
Plano 2 Sided Tackle Box

Plano makes a bunch of smaller boxes. They're similar to one another, but each comes with different dimensions. One that we like the best is the all-purpose, multi-functional 2 sided tackle box. It is a reliable and compact, great for a satellite box or for someone who is just looking to have a day-box.
The Plano Tackle Box features the see-through top that so many Planos have, which is great for folks who want to quickly scan their supplies without digging through the box.  At 11.25 inches in length and 3″ in height, this box is on the smaller size, but you will be surprised how much it can hold.  As long as you are not someone with a bunch of large fishing tools, or someone who requires larger lures for the fish you are going after, this will hold much of what you need.
The 10 dividers inside the box are adjustable and removable. You can create up to 26 compartments, so you can make room for whatever you might need to bring along with you.  The satchel-design is nice for carrying around because it is not as boxy. And you can't go wrong with the durability of Plano. Find it here on Amazon.
Best Backpacking Tackle Box
A backpacking tackle box, used for everything from paddling excursions to backpacking trips, is important if you plan to be in the backcountry. Look for durability and the ability to fit lots of gear into a small package. An ideal setup might be to get a small pack that could fit inside your main large tackle box when not in use. If you are using the tackle box for fishing via canoe or kayak, you will want one that is highly waterproof, since there is always the chance of capsizing or getting soaked during a hard paddle. Our experience is that it is very hard to keep the floor of a canoe or kayak dry.
Wild River Multi Tackle Large Backpack
This is not a huge tackle backpack like the Wild River Tackle Tek Nomad, but it does have ample storage compartments — it can hold as many as six compartment trays in just the lower compartment of the bag. It does not come with the trays, giving you the opportunity to outfit it to the exact configuration you want.
This is one of our favorite tackle bags for kayak fishing.
This soft sided bag has adjustable padded straps that make carrying heavy loads more comfortable. It also has self retracting tool lanyards, a protective rain cover and an LED light system to help you in low light situations. The zipper system is well-made with strong seams, but if you are planning to use this around salt water, you may want to coat the zippers so they don't corrode.
The padded shoulder straps are really nice when you need to walk or hike to your fishing spot.  We especially like use a backpack-style for fly fishing, since you often walk to your spot along a rocky river bank.  You are already in fly fishing waders so you might be a little clumsy; having one extra thing in your hands can be nice.
This bag can be used as a multi-purpose backpack that can carry tackle, water, food, and other supplies. If you plan to carry jackets or a 6-pack in it, you might want to upgrade to the Tek Nomad. But for most days out on the water, we highly recommend this one.  Here on Amazon.
Flambeau Outdoors 1002 Tuff Tainer Tackle Box

The Flambeau Outdoors 1002 Tuff Tainer is a good, small box that can be tucked into a canoe pack or backpack, and provides several small compartments on one level for your lures. It has 2 removable dividers so it can be made to have up to 6 compartments and measures only 4.625″ L x 3.375″ W x 1.25″ D. It is very light and made with Zerust, an exclusive Flambeau VCI polymer technology that makes it durable and long lasting. Translucent, you can see directly into each compartment without opening it. The box also has a positive locking latch.
The plastic is strong and can hold up to some pressure inside your pack. If you prefer to not have another piece of gear to worry about on your canoe portage, and prefer to have everything stowed in your large packs, this might be the winner. Find it here on Amazon.
Best Ice Fishing Tackle Box
Ice fishing calls for another type of box in many cases. We often find that we don't need as much gear for ice fishing — you can remove the bottom bouncers, casting lures, and other noise. This lets you lighten your load a bit on the ice. Due to the potential extreme cold, look for strong materials that won't crack in the frigid temps.  Ice fishing often involves more walking, so portability and having something that can easily be strapped on to sled is a key as well.
Clam Ice Armor Jig Box
Clam is a trusted name in ice fishing, and when it comes to carrying your lures, we think they make the best ice fishing tackle box around. You will save time and frustration when you carry one of these boxes along on your trip as long as you plan well and can fit everything you need in the small pack. It's a double sided box with clear covers so you can quickly identify what jigs are in the side you are viewing. Although it is called a jig box by Clam, it has enough compartments to carry supplies for an afternoon outing on the ice. It comes in three sizes, with the smallest measuring 5 x 3 x 1 inches and the largest measuring 6 x 4 x 2 inches.
Not large enough to take care of a serious fisherman who wants to fish for lots of different things, it is ideal for someone who knows what they are going to fish for and won't be out too long. We even hear of fly fishermen using them because of the convenient size.
It can hold 250 jigs so you will never be without the jig you need when you need it. Also, it's made of waterproof materials so your contents will stay dry.
An interesting combo would be to use this Ice Armor box for shorter situations focused on a single type of fish, and then throw it into a larger soft-sided Wolf Tackle Bag for those longer days when you are hosting a few people or just want the versatility to go after anything.  Find it here on Amazon.
Best "Ready to Fish" Tackle Box
A good ready-to-fish tackle box can be a real lifesaver for the occasional fishing enthusiast. If you are someone who does not want to have a garage full of gear or are just getting started fishing, this can be a great way to begin. Let's say your child is begging you to take them fishing (if so, be thankful!!).  Just order a good "ready to fish" tackle box and then you probably will have what you need for a basic morning of casting from the shore.
Plano Let's Fish Tackle Box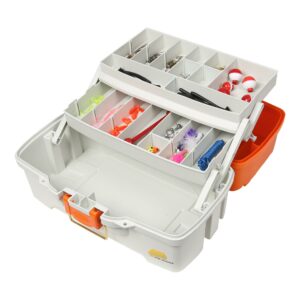 If you are looking for the best ready-to-fish tackle box, the Plano Let's Fish Tackle Box offers between 22-34 storage compartments. It comes in a 2 and 3 tray design, but the 3 tray design, Ready-Set-Fish, is becoming harder to come by. the 2-tray design, Let's Fish, measures 15.25"L x 9.5"W x 6.75"H.
Our experience with boxes of this size is that the latch is usually the first thing to go, so don't skimp on it. The Planos are known for making a quality latch that will stay reliable.
Beneath the trays is an ample storage compartment to hold larger items like extra line, needle nose pliers, and more. A nice feature of the Let's Fish is that is sold with a 150-piece starter set of tackle already inside. You will typically get tools like a hook remover and stringer, along with many hooks, some swivels and line, and a few floats and weights. Everything you need for a simple day of fishing (unless you are going for muskies or salmon). If you'd like the stocked box, be sure to double check before ordering. Some of these models do not come stocked.  Find it here on Amazon.
Our Criteria for Tackle Boxes
Saying something is the "best" really means that the item is the "best" according to the criteria you use when judging the product. When it come to tackle boxes, we have the following list of features we believe a great option is required to have.
Durability
You need your tackle box to hold up to wear and tear, or else the investment will be a poor one. The old saying of garbage-in, garbage-out is true. Buy a quality box, spend a little more, and you will end up actually spending less over time.
For hard-sided boxes, there are three parts that will usually fail first: The handle, the hinges, and the latch.  Make sure all three are flawless the day you get the box.  If you are going with a soft-sided bag or pack, be sure that the material is tough and waterproof, and that the zippers look like they are built with some heft and quality.
High Quality Materials
The quality of the materials used will determine how happy you are with the tackle box you choose. When looking at hard sided boxes we look for plastic that is not too thin, because the thinner plastic breaks easily. When comparing soft sided bags we look for quality stitching, especially on the seam that attaches the carry strap to the bag.
Storage Space
This is probably the first thing that many people look for. Plenty of storage is a necessity for any tackle box. You want maximum storage compartments for the size of box you have chosen, and you want a variety in the configuration of the storage. The space needed for a steel leader is different than that needed for a small fly.
Features, Bells, and Whistles
We never recommend buying your tackle box based on bells and whistles, but there are a few that are nice-to-have. Having a built-in ruler, even if it is imprinted on a stow, is nice in places where length slot limits exist. We like a built-in, waterproof holder for your fishing license. And some boxes come fully-stocked with tackle – which is not good if you have a preference on your lures, but is great if you are just getting started.
Water Resistance
Water resistant materials help to protect your tackle box contents. We know that it is virtually impossible to find a tackle box that is 100% waterproof or watersealed, but when you choose a soft sided bag you want to get one made of water resistant materials. As for molded plastic boxes, just be sure that any metal and hardware is rust-proof, like on the hinges or latches.
Worm Proof Tray Technology
This is optional, but for live bait and treated worm fishermen, this keeps your lures from becoming too soft and sticking together. It is overkill if you are only an artificial lure fishing enthusiast, but a great feature if you regularly use live bait.
Latches
Latches need to close firmly. We mentioned this above, but it bears repeating.  Nothing is worse than having your box pop open unexpectedly, and having to spend the next 20 minutes picking up lures, flies, and hooks. Our experience is that latches are the first thing to go, so start with the latch and be sure it works flawlessly. Settle for nothing less. We actually like boxes that have multiple latches, but you typically only get that at the larger sizes.
Tackle Box or Tackle Bag?
Soft-sided tackle bags have become more and more popular lately. The old-fashioned, hard-sided tackle box is still the most popular, but we know lots of avid fishermen who switched to a soft-sided bag and have not gone back. It really comes down to personal preference, but we suggest you give both a look.
In our opinion, a hard tackle box keeps lures and gear more neatly organized, and tends to be more waterproof in the boat. We also like that a tackle box is more intuitive if multiple people will be using it. You can see things more clearly. If you are bringing the tackle for a group of 2-3 people, a box might be the easiest to use. We also like that a tackle box stores easily and flatly in a storage room or garage, and can be neatly placed on a shelf with easy access just like a tool box.
The tackle bag comes in handy when the name of the game is portability. They are generally easier to lug around, so if you are walking into a fishing spot that requires a mile hike first, you just might find that a tackle bag is the best choice. They are also great for kayak fishing.
Tackle boxes are just kind of bulky, unless you get a tiny one that can fit inside your other gear. We also find that many solo fishing enthusiasts prefer the tackle bag, because it often allows them to go to the boat or fishing spot in one trip, rather than having to lug multiple containers and boxes around.