If you are looking for a place to get you outdoors and off the beaten path, Montana should be at the top of your list. It is filled with an immense amount of wildlife, roaring rivers, deep lakes, and breathtaking mountain peaks. For someone looking for an adventure off the grid, Montana is the place to be.
Montana's name originates from the Latin word meaning "Mountainous Region," or, as the Native American's called it, "land of the shining mountains." Montana stands by its name and boasts at least 100 mountain ranges across the state.
One of those incredible mountain ranges that should be visited is the Absaroka Mountain range. Read on as we discuss more about the Absaroka Mountain range, how to get there, where to camp, hikes to take, and how to prepare for the changing weather.
Absaroka Mountain Range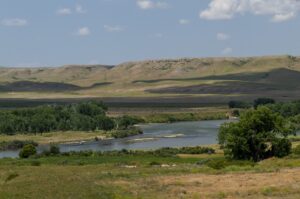 The Absaroka Mountain Range is a segment of the northern part of the Rocky Mountains and stretches across northwestern Wyoming and southern Montana. It was given its name from the Absaroka, which in turn means "Children of the black-beaked bird."
Four mountain ranges run parallel to each other, just North of Yellowstone National Park.  From East to West, they are the Bighorn, Absaroka, Gallatin, and Madison ranges.  All offer spectacular sights, hiking, fly fishing, and touring.  Further off to the West are the Bitterroot mountains, also great for touring.
The Absaroka Range is 150 miles long and 50 miles wide and is home to eight mountain peaks exceeding 12,000 feet, including the tallest summit, Francs Peak, at 13,140 feet at its highest point.
Igneous rocks were caused by a volcanic eruption covering approximately 8,900 sq. miles in southwestern Montana and northwestern Wyoming, including roughly one-third of Yellowstone National Park. These volcanic rocks came about during the Eocene Epoch of the Paleogene Period dating back 53 million years ago.
The eroded remnants from the volcanic eruption can are found in the area. The dissection of these long-extinct volcanoes by erosion allows geologists to see volcanic structures that are impossible to see inactive volcanoes. These extrusive volcanic rocks have formed over 46 Absaroka mountain peaks.
The mountain range is drained by the Yellowstone River, which connects to the Bighorn River, known for its amazing trout fishing. The range also embraces the Shoshone, Gallatin, and Custer National Forests, not to mention the historic Yellowstone National Park.
The Absaroka Mountain range is known for its colorful vegetation and wildflowers. Tall perennials such as the cow parsnip, lupine, monkshood, and western coneflower, paint the range throughout the summer months.
It wouldn't be a Montana mountain range if there weren't an immense amount of wildlife to see, but keep in mind these animals are wild and should always be respected. Animals such as elk, mountain goats, bighorn sheep, moose, trophy mule deer, black bears, wolves, and the almighty grizzly bear live in the Absaroka Range. Grizzly bears, in particular, live in the lower elevations of the range and at times can be abundant, so use proper bear-aware precautions at all times.
For hunters and fishermen, this range is a paradise. Anglers can enjoy rivers and streams filled with healthy brook trout, brown trout, rainbow trout, and colorful cutthroat trout. Hunters can take a fair chase for mule deer, the elusive elk, and, if you are lucky to draw a tag, moose or black bears. When hunting and fishing, be aware of the state line to ensure that you don't accidentally step into the wrong state putting yourself in an illegal situation.
Where To Enter The Absaroka Mountain Range
There are several ways to enter the Absaroka Mountain Range. If you are in the north, a person can enter from Livingston, MT, and enter Paradise Valley. Paradise is absolutely breathtaking and is worth touring through if you get the chance.
If you are near Billings, MT, and want to take a small-town detour to the mountain range, you can make your way through Columbus, MT, and go through the small town of Absarokee, MT, which, you might have guessed, is named after the mountain range itself. From there, adventurers can choose to either go to East or West Rosebud. Both will take you to different parts of the Absaroka Mountain Range and offer streams, lakes, and hiking trails.
Staying in Montana and heading south, people looking to enter the range can also enter through the small mountain town of Red Lodge. Then, take the scenic Beartooth Highway drive and enjoy the incredible view. This highway will lead you through several mountain lakes and campgrounds, eventually bringing you to the eastern part of Yellowstone Park.
From the state of Wyoming, there are also several ways to enter the mountain range. From the Eastern side, Cody, WY, is an easy way to enter the range. From Cody, head west on North Fork Highway, which will take you through the range and ends at Yellowstone Lake and the eastern part of Yellowstone Park.
On the opposite end, if you are traveling through Yellowstone Park and would like to tour through the Absaroka Mountains, there are a few options. The common routes are going east through North Fork Highway or northeast on North Entrance Road.
When looking for ways to get to the range, bringing a good map that lays out the area in detail is recommended. This will help you plan a safe route through the range because there isn't great cell service, including none after leaving many cities and towns.
Places To Stay Nearby
There are several cities and towns to stay in before heading into the mountain range for a day trip or a weekend of camping.
Livingston, MT
If you are in the north in Montana, then staying in Livingston is a good choice. Livingston is known for its high winds, so don't be surprised if you get a high wind warning as you enter on the I-90 Highway. While there, stop at the local breweries or have a nice steak dinner at the Rib and Chop House. Livingston is the closest city if you plan to enter the range through Paradise Valley and is an excellent place to get resources before making your trip.
Columbus, MT
If you have chosen the route through East or West Rosebud, and need a place to stay before entering the range, then Columbus, MT is your best bet. Columbus isn't a huge city with a population of 2,000, but it has more than enough local spots to get you by.
If you get the chance in the morning, grab a BFL breakfast burrito, which is the size of your head. BFL is a local food truck that you can't miss as you go through the main highway. If you are looking for a dinner spot, the 307 Bar and Grill is next door to BFL and has good food and local Montana brews. In addition, Columbus has a Super 8 Hotel to stay, or you can park your camper at Itch-Ke-Pe Park by the Yellowstone River.
Red Lodge, MT
Travelers who want to take the Beartooth Highway route can stay in the town of Red Lodge. Like Columbus, Red Lodge has plenty of places to eat and stay. Stop at the candy store, and eat at the Red Boxcar before you leave for the highway. There are also several campgrounds at the bottom of the highway if you have your camper with you.
Cody, WY
For travelers coming into the range from the southeastern Wyoming side, Cody, Wyoming, is an excellent place to stay. In addition, Buffalo Bill State Park is on the way to the mountain range and is another scenic place that offers camping, fishing, and hiking trails.
Yellowstone Park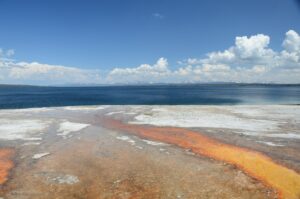 Lastly, on the western side of the range is home to Yellowstone Park, which, if you are there has so many things to do that it is almost impossible to see and do it all. Several little towns have old-fashioned hotels that are fun for the whole family. There are also quite a few campgrounds that you should have no problem finding a place to stay before you venture through the mountain range.
Keep in mind there may be COVID-19 precautions in the park, and double-check if you need reservations for any campgrounds before entering.
Camping In The Absaroka Mountain Range
There is an endless amount of camping in the Absaroka Mountain Range, whether for one night or a week. Campers won't have an issue finding formal campgrounds around the whole range to set up camp and then do day hikes into the mountains. Additionally, there is a lot of opportunity for informal camping, not at designated camping areas. Keep in mind that this kind of backcountry camping is done at your own risk.
Camping around the mountain range should be done respectfully. Follow the rule of thumb: if you pack it in, then pack it out. Keep your food in a safe bear box or hanging from a high tree. Additionally, check with the local fire restrictions to ensure that it is not extreme fire danger. It doesn't take much to ignite a forest fire during July and August. If you are allowed to have a fire, be sure to extinguish all embers before returning for the night.  If fires are not allowed at the time you are there, you can usually still bring a cooking stove as long as you keep the flame very contained.
With that being said, the Absaroka Mountain Range is an amazing place to camp, and wherever you go, you will be greeted with epic views and wildlife. If you need a quick reference to campgrounds in your area, you can always check out websites like campendium.com, showing a geographic view of all of the formal campgrounds around the mountain range.
Hiking The Absaroka Mountain Range – Top Hikes
You can't go to the Absaroka Range without doing some hikes! There are over 700 miles of hiking trails throughout the range, so if you can't decide which one to take, read on as we discuss the top hiking trails to adventure.
Don't forget to leave no trace when hiking through the Absaroka-Beartooth wilderness. Humans have a huge impact on nature, and if everyone does their part, then the natural state of the wilderness can be preserved for generations of hikers and campers to come.
This is bear country.  The odds are that you will not see one, but always be prepared with bear spray just in case.
Mystic Lake
We can't talk about the top hikes in the Absaroka Mountain Range without mentioning Mystic Lake. Located off of the west boulder drainage, and it has a distance of 6 miles round-trip. However, the Mystic Lake is a moderate hike and can be done by most. In the beginning, you will make your way through the dense forest, and by the end, you will be standing at the top of a rock field overlooking the majestic lake.
The fishing and camping are excellent at Mystic Lake, boasting a plethora of rainbow trout. The key to fishing the lake is to use a worm and a bobber. That might sound childish, but if you want to catch dinner, find where the glacier streams flow into the lake and cast your line there. The trout hang out at these intakes, waiting for their food to come to them.
If you are looking for more hiking and fishing opportunities, follow the trailhead to the back of the lake. As you continue, you will find three more lakes Island Lake, Huckleberry Lake, and Princess Lake, which all offer great camping and fishing.
On your way in or out of Mystic Lake, there is a good chance that you might stumble upon Bighorn Sheep, so be sure to keep your eyes peeled!
Beartooth Lake Triangle
This beautiful hiking loop can be done in either direction in a total of 7.8 miles round trip. Along the way, you will pass six scenic lakes that are surrounded by mountain peaks and wildflowers. The first lake, Beartooth Lake, is just off of the highway and offers a campground and boat launch. If you want to get away from the crowd and fish lakes that are less trafficked, then making the full loop or just venturing partway in is a good way to go.
Gardner Lake
Suppose you are traveling on Highway 212 and want a quick hike to stretch your legs. You should head down to Gardner Lake. The total distance is only 1.5 miles round trip, making for a good hike with young children.
Nonetheless, Gardner Lake is situated 10,000 ft. above sea level, so don't be surprised if you are out of breath on the short hike. The lake is at the bottom of a bowl, and you will also be able to see Tibbs Butte and Littlerock Creek.
Becker Lake
As you travel through the Beartooth Pass and reach the small village town of Cooke City, you will find the Becker Lake trailhead. Don't be fooled by the length. This 9-mile round trip hike is a flat hike that leads to the absolutely breathtaking lake. It's a great hike for seniors and children and perfect to stop and have a picnic.
Echo Lake
If you are looking for solitude, then Echo Lake is worth checking out. Echo Lake is a long trip off the beaten path with a total round trip journey of 22 miles. With that being said, Echo Lake is not for the faint of heart, and backpackers should make sure that they do not do this hike alone. Proper gear for the long trip is a must.
Echo Lake has a prominent hiking trail, established campgrounds, and great fishing for anglers.
Thompson Lake
Thompson Lake is located south of Livingston, MT, and is a moderate hike totaling 5 miles. The lake is home to cutthroat trout for anglers, and the dense forests are great for camping because of their protection from the wind.
However, bears are commonly seen in this area, so if you would rather not have an encounter, it is wise to take the necessary precautions when hiking to Thompson Lake. Where bells on your pack, talk loudly, and always be in groups when hiking. Always have bear spray on your no matter what.
Sioux Charley
Located near Nye, MT, Sioux Charley is a popular lake hike, and for a good reason. It isn't the most challenging hike. It gains only 600 feet, which is a good hike for the whole family.
Sioux Charley is located at a low elevation of only 5,651 feet. Most mountain lakes in the Absaroka Mountain Range are frozen over until late June to mid-July, so if you are looking to get in the outdoors the minute school is out, then Sioux Charley is a good choice.
Glacier Lake
Another spectacular lake hike by Red Lodge, MT is Glacier Lake. This lake is moderate in the total distance (5 miles round trip), but it consists of steep switchbacks all the way to the lake. If you are up for it, you will be greeted with a beautiful lake that offers excellent fishing. Be aware that Glacier Lake can get a little windy, so if you are looking to camp or fish, take refuge near the trees.
Prepare for the Weather
No matter what mountain you are hiking, you should always hope for the best weather but prepare for the worst. Mountain weather can be very unpredictable. Even if you see the weather forecast looks great in the local town, the weather at the top of a mountain lake can turn for the worst quickly.
It is always recommended to do your hikes early in the morning because high elevation mountains like the Absaroka Range are known for getting rolling thunderstorms in the later afternoon. That is the last thing you want to get stuck in on a mountain trail. Heavy rains will make trails very slippery, and it is easy to get into a life-threatening situation.
Always tell someone where you and your group exactly are going when hiking in the mountains. Also, be sure to tell them when they should expect you to return. If you are not back by the time you said, they should contact the local authorities to be safe.