The Rocky Mountains is a mountain range that has made its name for its dynamic peaks and widespread presence. However, while it's prominent, it has several sub-ranges, such as the Bitterroot Mountains, that should be acknowledged.
So what are the Bitterroot Mountains? Where are they? How do you get there?
Well, to begin with, the Bitterroot Mountains, named after the Montana state flower, not only engulfs you with its beauty but also offer several hikes, potential wildlife sightings, and lakes that should be on your bucket list when you are entering the Big Sky state.
Before you pack your bag and head to the valley for an epic outdoors trip, read on to discover what the mountain range has to offer and what to expect.
Bitterroot Mountains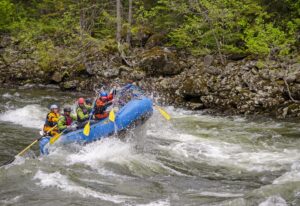 Located in the panhandle of Idaho and western Montana, the Bitterroot Mountains encompass an area of 4,862 square miles. Also known as the Northern and Central Bitterroot range, these mountains are bordered by Lolo Creek, Clark Fork, and Salmon River, the Bitterroot Valley, Selway River, Lochsa River, and Bitterroot River. The Bitterroot Valley was originally claimed by the Pend d'Oreille and Salish. It would be later acquired by the United States and explored by Lewis and Clark during their expedition in the early 1800's.
In the beginning, the Bitterroot Valley was seen as a desolate place because of its lack of irrigation. Nonetheless, the area was secured as a place to barter and trade furs and goods in the first established town of Stevensville.
Now the Bitterroot National Forest consists of 1.6 million acres that provides outdoor enthusiasts a plethora of lakes, hiking trails, fishing, and hunting grounds. The Bitterroot Mountains are home to several mountain peaks that tower over 9,000 feet in height.
Along with extraordinary mountain peaks lives Bighorn Sheep, elk, deer, bears, and even the big American cat, the mountain lion. The raw power of nature in these mountains almost seems addicting, keeping you coming back repeatedly.
Starting just outside the mountain town of Missoula on Highway 93, the Bitterroot Mountains are not only a playground for the wildlife that lives there, but also a joy for anyone who wants to explore.  They lie West of the Madison, Gallatin, and Absaroka Mountains, all worthy of spending a week in their own right.
Whether you are looking to hike, bike, hunt, fish, or just enjoy a mountain hike, this is a place that you can not only enjoy for fun but a place you can call home.
The famed Lemhi Pass lies in the Bitterroot range, and is one of the only ways to get through the area on foot for hundreds of miles.
How To Enter The Bitterroot Mountains
The Bitterroot Mountains have two different entry points, which can be entered from the Idaho side of Salmon, Idaho through the pass or from Missoula and Highway 93. Whichever you choose, you will be greeted with an immense amount of forestry followed by a wide range of agriculture along the highway. Heading south of the small town of Darby starts a slow mountain climb to the Lost Trail Hot Springs, which are open year-round.
The climb to Lost Trail inclines 6,995 feet to the hidden gem ski mountain Powder Mountain, formally known as Lost Trail Powder Mountain. This mountain provides excellent deep snow skiing and is a great place to mountain bike, hike, and camp.
Whichever route you choose, you will not be disappointed by its scenic views and countless outdoor activities.
Where To Stay Near Bitterroot Mountains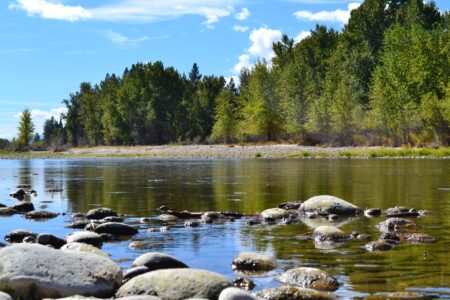 If you need somewhere to stay prior to embarking on the Bitterroot trails, then rest assured that there are plenty of places to stay the night.
The city of Missoula, the home of the Montana Grizzlies, is an excellent place to stay and enjoy a day or a night on the town. (Missoula is not to be confused with Montana's other college town, Bozeman, which has its own great hikes too).  The Clark Fork River runs through the middle of the city, where locals and tourists can enjoy floating, fishing, or watching the local river surfers shred some waves.
While in Missoula, visitors can enjoy one of the fourteen local breweries and enjoy their delicious food. If you get a chance, stop at Tamarack Brewing, where they have meals that almost always feed two. You'll also want to ask for their keg nachos, which are served in the bottom of a beer keg, and stacked into a tower of chips, queso, and toppings. When you are done getting your fill, head over to Brennan's Wave and watch the surfers hit the man-made surf wave.
If you are hauling a camper or fifth-wheel and need a place to park, then head towards the town of Lolo, MT, where there are several campgrounds to pull in for a night. Additionally, grab your fishing pole and take your chances with the abundance of trout in the waters.
Where To Camp In The Bitterroot Forest
The Bitterroot Valley is a place where a person can not only enjoy friendly local spots, breweries, and activities, but it is also one of the best places in Montana to camp. As you drive along Highway 93, you will see sign after sign of campgrounds and fishing accesses that welcome the short or long-term camper.
Lake Como Campground
Lake Como Campground is nestled deep in the pine trees next to Lake Como. This campground provides shade and shelter between campsites. There are a total of three campgrounds at this lake including the Three Frogs Campground and the Three Sisters. A reservation isn't necessary for these campgrounds, but it is recommended to get there early before they are filled up.
Don't forget to bring your swimsuit, because during the summer months, going to the sandy beach is a perfect place to launch a kayak, stand up paddleboard, or even an intertube. If you are feeling froggy, go ahead and launch your boat, apply sunscreen, and enjoy the day!
Crazy Creek Campground
Are you in need of a mental health day? It might sound contradicting, but head to Crazy Creek Campground. This is the place to forget about the day to day life and relax.
This campground sits next to Warm Springs Creek and Crazy Creek, which is known for catching footlong cutthroat. This is not only a great campground for the whole family; it offers waterfalls and beautiful day hikes.
Indian Trees Campground
Indian Trees is a quiet place with epic views of the Bitterroot Mountains. There are plenty of trails perfect for day hikes on foot, horseback, or mountain bike.
Like Crazy Creek, Indian Trees boasts great fishing for cutthroat in Camp Creek. As you tour around the area, keep your eye out for wildlife such as moose, elk, and deer.
If you want to take dip, Lost Trail Hot Springs is less than half a mile away. The hot springs contain no sulfur and are odorless, making it an enjoyable stop after hiking.
Woods Cabin Campground
Near Lake Como is Woods Cabin Campground, and it is worth visiting. Enjoy the beautiful view of the mountains with the jaw-dropping waterfall that encompasses it. This isn't the biggest campground in the area, but this is a good campground to stay at if you want some privacy.
Twogood Campground
Let's just say that this campground isn't too good for anyone. Open year-round, Twogood Campground welcomes travelers no matter the season. If you are up for a winter stay, renting a cabin at this campground is worth the experience. A winter stay in a cabin is a prime time to enjoy winter activities such as snowshoeing, cross-country skiing, and trip to Lost Trial Powder Mountain.
During the summer, you can explore the numerous hiking trails through the Bitterroot Forest. Don't forget your pole or fly rod because Warm Springs Creek is an optimal choice for anglers.
Paradise Campground
If you are looking for a mountain oasis, then Paradise Campground should be on your list. The nice thing about this campground is that it accommodates the RV stayer or the minimalist backpacker. It has well-established campsites that have RV hookups and drinking water. The lake is absolutely outstanding and is a perfect place to fish, swim, or just to separate from everyday life.
Slate Creek Campground
Montana is known for its fluffy clouds, blue skies, and picturesque views, but Slate Creek puts all of the state's best features in one. Not only does it offer the best of the best of Montana, but it is a hop, skip, and a jump away from Painted Rock Lake.
Painted Rock Reservoir is called that for a reason. It looks as if the cliffside was painted by Michaelangelo himself, boasting magical colors that reflect off of the water. The lake has gleamed its name from the green, yellow, and orange colors that cover the graphite cliffs along the West Fork.
Charles Waters Campground
Charles Waters is a good place to stay if you are worried about getting a campsite on the weekend. With 27 campsites, there is a good chance that you will find a spot. The cool thing about this campsite is the open meadow that is a great place for your four-legged friends to roam. Bring your baseball glove, frisbee, or football and enjoy the open area. Hiking and biking trails are nearby if you want to explore.
Hiking The Bitterroot Mountains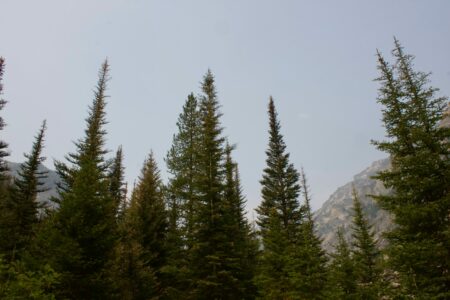 The Bitterroot Mountains is no doubt a place where you can get away and enjoy the great outdoors. With that being said, just staying at a campground in the area isn't going to be enough to enjoy what it has to offer truly. A person needs to get off the beaten path, explore on foot, and hike to unknown destinations. Read on as we talk about the best hikes in the Bitterroot Valley.
St. Mary Peak
St. Mary Peak is the tallest peak in the Stevensville skyline, and its hike isn't for the faint of heart. Climbing its 9,351-foot summit is intimidating but rewarding when you reach its lookout. Even though it is a 7.5-mile round trip hike, it is a popular place for the Bitterroot locals and visitors to explore. The view at the top displays the Bitterroot Valley cropland and western larch. If you are looking for a view that will remain in your memory for a lifetime, this is the hike to take.
Bear Creek Overlook
This is a lengthy switchback hike that lasts two miles. Two miles might not seem like a lot, but it can seem longer than it actually is when you are constantly climbing. Nonetheless, this is a rewarding hike with views that you won't forget. Once at the top, peer down to the canyon, where it seems like the views are endless.
As you stand at the top, it almost seems like Sky Pilot peak is within touching distance. However, be cautious on this hike because it is miraculous; the 900-foot drop to the side is not to be tested.
Lake Como
As we discussed above, Lake Como is a great place to hang out, play in the water, and dip your toes in the sand. But don't be fooled because this lake offers some amazing hiking trails.
With that being said, during the mid-summer months Lake Como is engulfed by boaters and taking a hike around the lake is a perfect way to get away from the crowd.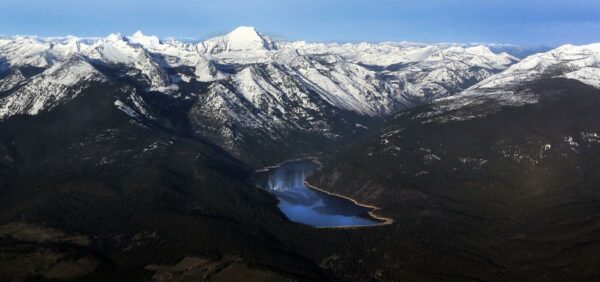 The hike is an eight-mile loop through the ponderosa pine. It can be done during the summer, but it can also be a great hike during the late spring when the lake is still half-frozen and snow fills the trees.
Jerry Johnson Hotsprings
Whether it's summer, spring, fall, or cold winter, Jerry Johns Hotsprings is an easy but amazing hike that will take you to a natural hot spring that will relax your body. This is a heavily trafficked 2.6-mile trail, so get there early before the hot spring pools are filled up.
These are natural hot springs, so depending on the inflow, the hot spring pools are different per season. At times you will be sitting under a steaming waterfall next to the freezing cold river, and other times, you will be sitting in a warm pool the size of a bathtub.
Jerry Johnson's is an experience you can't miss because of its natural habitat. Bring a packed lunch, a couple of brews, and friends, and enjoy the day sitting in the heart of the Bitterroot Valley.
When you are done for the day, stop at the Lolo Brewery, and grab lunch. At the turnoff, there are toilets for an easy changing station.
Blodgett Canyon Overlook Trail
Near Hamilton, MT, is Blodgett Canyon trail that is a heavily trafficked 2.8-mile round trip hike. Don't let the heavily trafficked part scare you away because this is a lookout that is more than satisfying on the eyes.
After only a mile, hikers will be graced with a view of the Blodgett canyon that extends for as far as the eyes can see. The dramatic graphite walls provide a dynamic view that will stamp a mark on your memory for years to come.
The hike is a simple in and out, making it a great hike for all ages. During the hike, many lookouts and a bench a third of the way up are perfect for a break to take in the views. The key to this hike is going early to beat the crowds. Whether it's sunrise or sunset, this lookout won't leave you disappointed.
Fly Fishing the Bitterroot
Hiking and camping aren't the only things to do around the Bitterroot Mountains.  The Bitterroot River winds along the mountains and is a well-known fly fishing river, as there are many of in Montana.  The Bitterroot River is a large and wide enough river to float, or you can throw on some waders and find hundreds of locations to step in and cast for trout.
The best fishing tends to be in spring, when a Skwala Stonefly hatch makes the fishing fast and furious.  But the fishing can be good year-round.  If you are in to fly fishing, bring your fly fishing gear and save a morning or two for some trout casting.
How To Prepare For The Mountain Weather
Whether you are trekking through the Bitterroot Mountains, Absaroka Range, or Lewis and Clark Mountain Range, any hiker needs to be prepared for the quick change weather changes that occur in the mountains.
Hike early, bring appropriate gear, and always let someone know exactly where you are going and when you expect to be back. Mountain storms are common in the late afternoon and can roll in quickly. These storms are not to be tested and can put someone in a dangerous situation.
If you plan to stay the night, bring clothing meant for rain and snow, like rain shells and and even snow pants, even if it is the middle of July when the last thing you expect is cold weather. Checking your local forecasts can seem reassuring, but the weather forecasts can be obscure in the mountains. Always hope for the best weather, but plan for the worst. It is always better safe than sorry when you are in a remote place like these mountain ranges.