Did you know that the Northville Placid Trail in Keene, NY l is 138 miles long? That's one heck of a climb! It takes a bit of research and preparation before heading to this trail, so here are some tips, facts, and tricks that will help you get excited for your upcoming adventure.
We get lots of questions about hiking in Upstate New York, given the fact that it is within a weekend drive of millions of people.  We love the Lake Placid area, which is just 5 miles from Keene as the crow flies, but more like 15-20 minutes given the fact that all the roads in this area are winding.  The Northville Placid trail is one of our favorite hikes in the area.
When to Hike the Northville Placid Trail
The Northville Placid Trail is open year-round, but the best hiking seasons are spring, summer, and fall. Spring has a more lush landscape, and fall has a less crowded trail. During summer is when the trail's most busy, followed by the fall.
The trailhead can be found in Keene, NY and you can get there easily by car. You can also be dropped off or take a shuttle from the trail.
Since the trail is about 138 miles long, depending on how fast you go and the number of breaks you take, it can you several days to over a week to hike the entire trail. As long as you've made proper arrangements, you can realistically start hiking whenever you want.
Where to Stay During Your Hike
There are plenty of accommodations along the way, and you'll be able to find a bed as long as it's not peak season when these places are booked up. Some places you can stay include
Nearby Lake Placid offers some of our favorite hotels and historic lodges anywhere.  We especially love:

High Peaks Resort

Mirror Lake Inn, Lake Placid

Lake Placid Lodge
Whiteface Resort
Mirror Lake Inn (our top choice if you have the budget)

 Non-Lake Placid Hotels

The Hedges – A great choice if you want rustic
Long View Lodge

Hostels
 Campgrounds

Northampton Beach Campsite
Sacandaga Campground
Point Comfort Campsite
Cedar River Campsite
Lake Durant State Campground (ideal for tent camping)
Lake Eaton Campground
Camp Solitude (also offers rustic cabins)

Motels

Oxbow Lake Motel
Motel Long Lake & Cottages Motel
Town House Lodge.
If you're staying in a private cabin, just be aware that they only have electricity from dusk until about midnight each day.
Options for Various Hikes
Since the Northville Placid Trail is so large, there are various hikes you can take. These include hiking to Mount Marcy, Avalanche Pass, Adirondack High Peak, or taking on one of the many self-guided tours.
Mount Marcy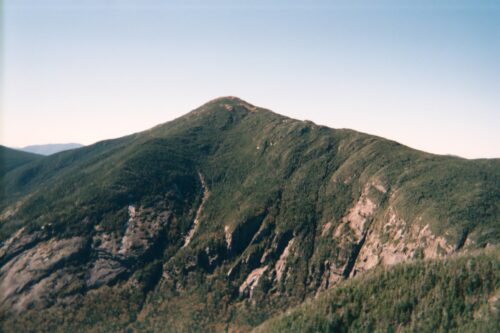 Mount Marcy via the Van Hoevenberg Trail is a challenging, but rewarding hike. It's 16.7 miles long and has an elevation gain of 3,540 ft. The summit of Mount Marcy is the highest point in New York State and a hike to the top  offers 360-degree views, with some of the most breathtaking views of Mount Marcy and Avalanche Lake. An average time to the summit is around eight hours.
The hike up to the summit of Mount Marcy is arguably one of the most popular hikes in New York State.
Avalanche Pass and Avalanche Lake Trail
The Avalanche Pass is another very popular hike. Although shorter than Mount Marcy at 12 miles, the trail itself is a little more challenging, with steep sections of elevation and narrow ledges that are often wet or icy in winter. The view from Avalanche Pass is especially rewarding.
The pass, which sees frequent avalanches in winter, offers some of the most dramatic views on the entire trail. It's a terrific place for lunch or to take in the view, but it can be difficult to find a flat surface to sit or eat. With a total elevation of just over six thousand feet, the pass is less than two miles from Mount Marcy's summit, the highest point in New York.
Adirondack High Peaks Loop
Adirondack High Peak Loop is another hike to consider, especially if you're a cyclist. It's a 25.4 mile long looped hiking and cycling trail that starts and ends in North Elba. It's a more difficult hiking trail with a total elevation gain of about 6,800 feet. You can hike the loop in either a clockwise or counterclockwise direction.
The views from the top of these peaks are incredible and make this a must-do hike if you're in the area. The loop is best tackled in the fall, as there is a possibility of snow on some or all sections throughout the year. If you're doing this hike on bike, make sure to bring biking shoes for the sections that are on dirt roads.
Adirondack Park
Adirondack Park is the largest park in New York State, so there's plenty more to explore if you're not up for a 25+ mile hike in the High Peaks Loop. The park consists of six million acres of land, and it's open 24 hours every day. There are countless activities to do at this huge park, including hunting, fishing, swimming, boating, and skiing.
There are pristine shorelines, rivers, lakes, and ponds to explore with crystal clear water. There are many different campsites to choose from, and the mountain views are unbelievable. Adirondack Park is a place where you can really get away from it all and spend time with the people you love.
Other Activities to Do on the Northville Placid Trail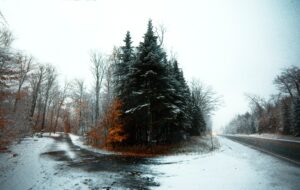 Aside from hiking, there are other great activities to do along the Northville Placid Trail. These include swimming in the Saranac River, white-water rafting on the Ausable River, biking, and fishing.
Fishing
The Lake Placid area has some of the best trout fly fishing in the East, or in the USA for that matter.  It is famous for it, actually. The best time to fish at the lake is in the evening or at night when it's quieter and less populated, and if you happen to be there in the fall you might be treated with some exceptional fishing.  Remember not to catch trout if the water temp is above 70, because it can really harm them.
Biking
If you want to go biking, you can pretty much do any type of biking you want in this area.  If you didn't bring your own, you can rent some bikes from the Northville Placid Trail Center and go on a bike expedition exploring other trails in the area. This is a great way to explore and experience the area before you hike. In addition, there are multiple places to stop and eat along the trail if you're looking for a break from hiking or just want a good meal.
Good Food
The first restaurant on the trail is Adirondack Grill, which offers burgers and other American food that's perfect for lunch or dinner. The next restaurant on the trail is called Northern Lights Grill and Bar, a more upscale place to eat with an incredible menu that includes seafood and steaks.
Keene Valley
A highlight of the Northville Placid Trail is Keene Valley, a town on the northern side of New York's Adirondacks. The town is located in Adirondack Park, so there are multiple restaurants, shops, and attractions to explore if you're looking for something new along your hike.
And More
You can even go horse riding, take a boat tour up the Raquette River, or go tubing down it! There are many beautiful alpine lakes along the way that make for a perfect spot to stop for lunch and explore. The waterfalls are a must-see while hiking and you may even be lucky enough to spot some kayakers in the water.
If all of this sounds too adventurous, stop by The Big Moose Inn or one of the many bed and breakfasts in town for a nice, relaxing day away from the trail. There are so many ways to experience this beautiful part of New York State. The Northville Placid Trail is just one option among an abundance of options that you will find here.
To finish your day, grab a beer and some pub grub at The Trading Post Pub or enjoy a relaxing dinner next to a fire at the Adirondack Lodge while you take in all of your day's adventures.