Canoeing is the premier form of transportation in any sort of wilderness area with water. Whether you're heading out for a few hours or spending a majority of your trip in a canoe, it is very important to find a life jacket that will be an appropriate accompaniment for your journey.  We have tried dozens of life jackets over the past few years, and think we found the best canoe life jackets for you.
What Makes Canoe Life Jackets Different?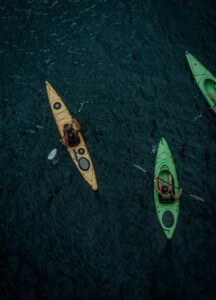 What many do not realize is that there are actually different types of life jackets for different types of activities. Water sports, fishing, swimming, and canoeing all have their own specially designed life jackets. Let's first take a look at what separates canoeing life jackets from all other life jackets:
Shape
Life jackets that are made for canoeing typically do not cover as much of one's body as ones for water sports or swimming do, as the life jacket has to provide ample space for the user to move and function while paddling. Canoeing life jackets also should have higher backs than others do, as it is important for the user to be able to comfortably sit back against the seat.  Unlike the larger, simpler life jackets made for tubing, for example, a canoe lifejacket has a much more minimalist construction.
Material
Canoeing life jackets will generally be made with a stronger, more durable material than other life jackets. 300 or 400-denier polyester or nylon is common, and it is an extremely strong fabric that will hold together under stress.  This allows them to better hold their shape and structure, and makes it so the user will be more comfortable sitting for long periods of time (your back won't be as sore!). Additionally, canoeing life jackets should have some sort of mesh material in the back, which will give them much more breathability for hot or long days.
Storage
Second only to fishing life jackets, canoeing life jackets will often feature many more pockets compared to other types. They, of course, can be just what you need to keep your maps, devices, and food on you. Sometimes, these pockets will also be outfitted with plastic linings so that they are waterproofed.
Why Should You Buy a Life Jacket Specifically for Canoeing?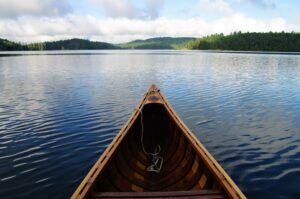 Of course, there may still be a question in your mind: "Why buy a life jacket specifically for canoeing?" After all, any life jacket will do the trick right? Especially if you don't need the extra pocket space. This is a very reasonable thought process, but there are benefits.
Here are a few key considerations on why you'll want to get that life jacket designed specifically for canoeing rather than the first one you see.
Comfort
Anybody who goes canoeing, no matter for how long, is going to want to be comfortable throughout their adventure. Without the wrong life jacket, you could be itchy during your trip or be achy by the end. Canoeing life jackets have been researched and developed so that they specifically meet all of the needs presented by canoeists, and they will keep you comfortable.
This is where you don't want to skimp.  Invest in a good canoe-specific lifejacket, and you will forget it is even on after a few minutes.  All of the canoeing tips we provide around here presume that you are comfortable and have full range-of-motion in the canoe.
Quality
Many run-of-the-mill water sports and swimming life jackets are not necessarily cheaply made or of poor quality, but most of the time they will not last you very long. As the fabric wears down, they can become even more uncomfortable. Canoeing life jackets, on the other hand, are made to be strong and to last so that they can become an essential part of your outdoors kit. They also tend to have a higher quality overall.
It might go without saying that we highly recommend buying a canoe-specific lifejacket if you plan to be paddling.  Other types of generic lifejackets will be too restrictive, bulky, or warm for navigating with a canoe.
Breathability
It doesn't matter if you are canoeing or kayaking, you are probably going to work hard. It is a workout and you likely will get warm and sweat.  This is where you want your life jacket to be breathable.
The life jackets made for watersports like tubing or boating don't have the same level of breathability, which makes them poor choices when you are going to be canoeing for an extended period of time.
Best Canoe Life Jackets
By now, you should have a general idea of the uniqueness and value of canoeing life jackets. This being so, it is time to check out three of our top picks in the market of canoeing life jackets:
Stohlquist Ebb Life Vest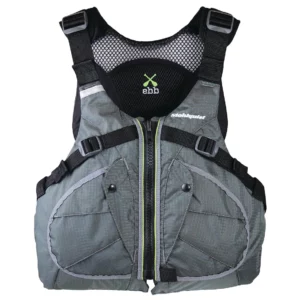 Crafted with a frame of ripstop nylon, Stohlquist's Ebb Life Vest has been built to last while delivering quality performance every step of the way. This life jacket sports a variety of useful features, starting with Stohlquist's signature WRAPTURE back design. WRAPTURE is a torso piece created by Stohlquist to ergonomically compliment every move made by a canoer while at the same time keeping them cool and comfortable.
A soft-mesh cover is also outfitted for the waist and shoulder area in order to ensure much-needed breathability. Its range-of-motion means you can paddle freely – making it good for stand up paddleboarding too. And this life jacket is outfitted with two large storage pockets on the front, allowing for worry-free packing of any items. This is one of Stohlquist's most popular life vests, and for good reason.
NRS Chinook PFD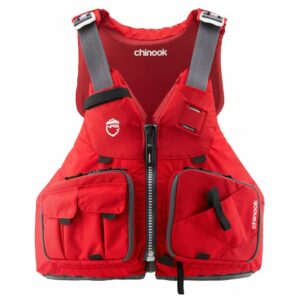 The NRS Chinook PFD is truly a one-stop-shop for all things canoeing. Built with 6 different points of adjustment, you will be able to find a perfect fit without any sweat. What really sets this life jacket apart from the others, though, is the unique way its back was designed. Featuring a plush breathable mesh on the inside, it features a very high-set support structure in order to accommodate canoes that are equipped with newer and taller seats.
This life jacket also comes with a total of four storage pockets, with two large pockets on the front and two smaller pockets on the sides. And if you want to fish? It has a rod holder as well! Though the back is high, Chinook's NRS is actually very compact in size and will undoubtedly be a great accompaniment to any journey you may take.
Astral E-Ronny PFD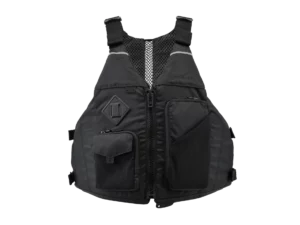 An expert-made life jacket for casual canoers, this is perfect for anybody looking for a high-quality life jacket that may only see use a few times throughout the year. Though it is still extremely comfortable with a thin-vented back and capable with zippered front pockets, this life jacket stands out in that its entire shell is made from recycled materials. This means that while you go out in this vest to enjoy nature, you are respecting it as well.
The Astral excels in terms of sizing — it's build really can handle a big variety of range at each size, meaning that it will be a good one to have on hand if multiple people are sharing it (although we always recommend that everyone eventually has one of their own).  The front pocket layout is also convenient and works great for people who are fishing.
Final Word: Wear Your Lifejacket!
Just a final public service announcement — wear the lifejacket!  There is no point in going out and investing in a good lifejacket, only to toss it on the floor of your canoe and not wear it.  Canoes can be tippy, and conditions can change in an instant.  Sometimes, simply shifting your weight incorrectly can cause a capsize.  Be sure you wear your lifejacket any time you are canoeing.  That is what it is for, and it does you no good if it is not secured on your body as intended.