Looking for a kayak that will perform well on both lakes and rivers?  Eddyline has been a reliable kayak brand since the early 1970s, and is still family-owned.  Quality is paramount to Eddyline.
Because Eddyline has been refined over years and year, these kayaks are designed to give you the best possible experience on the water.  We are officially Eddyline fans after testing several of htier models. We'll take a look at some of their models and explain how they differ from each other. We'll also go over what makes them great choices for various situations.
Eddyline Fishing Kayak: Caribbean 14 Angler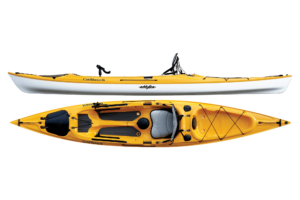 The latest and most expensive kayak from the Eddyline fishing product line is the Caribbean 14 Angler, which is 14 feet long, 2.4 feet wide, and weighs 50 lbs. It can carry a maximum of 350 lbs, which is great for paddlers who want to bring along plenty of extra gear. There's a total of three hatches with some bungees for you to store your gear safely. The kayak also comes with a fishing rod holder for when you want to relax and enjoy the catch of the day.
When you start heading off in the Caribbean 14, you'll notice how easy it is to paddle. You can sit comfortably in the sit-on-top seat (SOT) and plant your feet firmly in the non-slip footwells for a smooth ride. You can even lean back against the padded backrest for more comfort. The Caribbean 14 tracks well in both calm and choppy waters, making it a great choice for paddlers who want to explore various waterways.
This Eddyline option provides top-of-the-line stability that doesn't make you feel like you're about to topple over at any time. You're able to get some tremendous speed going, which is nice if you want to fish a long distance away. And even though the kayak's fast, it's still easy to maneuver thanks to the its sharp turning capabilities. Thanks to its the lightweight design, the Carribbean 14 beats other kayaks that are too heavy to lift and difficult to move.
If you add a good kayak fish finder on to the Caribbean 14, you pretty much have the ultimate kayak fishing rig. I can't make the fish bite for you, but you will be giving yourself pretty darn good odds.
You're going to have a much better time fishing with the Carribbean 14. It's definitely a premium choice for those who can afford it but worth the investment in terms of its tracking and paddling performance. The only real downside to this kayak, besides the expensive price tag, is the fact that you might not get the same exercise as you would with a less expensive option. Paddling becomes so easy that it's practically effortless. However, if you don't want to put in a lot of work and would like to just fish, this is the kayak for you.
Eddyline Sit-on-Top Kayak: Caribbean 14 FS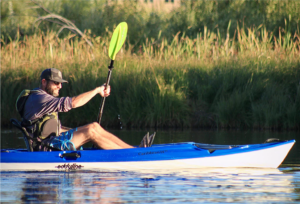 A sit-on-top kayak is a nice choice for those who want to enjoy a more leisurely experience on the water. You're able to sit on top of the kayak, hence the name, which gives you a better view of your surroundings and makes you feel like you're really gliding across the water. The Agnler also features a SOT, but if you aren't looking for to fish necessarily, Eddyline's best sit-on-top kayak is the Caribbean 14 FS, which is a brand new release over the previous Caribbean 12, Caribbean 12 FS, and Caribbean 14.
The 14S is similar to the Caribbean 14 Angler we just reviewed. It also measures 14 feet long, 2.4 feet wide, weighs 50 lbs, and has a maximum capacity of 350 lbs. There's a secured internal tankwell and an external one to store and secure your belongings. You should have more than enough storage space to carry all your gear. There are dual gunnel tracks if you wish to mount any of your equipment, too, as well has paddle handles that snap into place.
The kayak has a removable frame seat that provides you with great support and comfort. It has nice padding that feels similar to sitting in a cushioned camping chair, so you can paddle comfortably on the water for countless hours. Speaking about paddling, the Caribbean 14 FS is also incredibly light and tracks well in calm and wavy waters. Without the rudder, the kayak is already stable and tracks well. But if you put the rudder down, you'll be paddle even faster and make sharper turns with ease.
Furthermore, there are adjustable foot braces that will allow you to find the perfect position for your feet. The Caribbean 14 FS doesn't have a fishing rod holder, so you'll want to opt for the Angler model if you're looking for a kayak that's specifically designed for fishing.
Eddyline Recreational Kayak: Equinox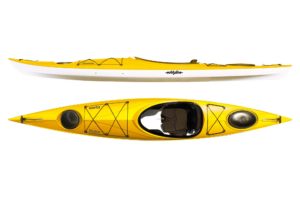 Eddyline has six different recreational kayaks for you to choose from, but their best model is the Equinox. The kayak measures 14 feet long, 2.1 inches wide, and weighs 45 lbs, which is a little lighter than the other models we've reviewed. It has a slightly higher weight capacity than the other options as it's able to hold up to 360 lbs. Since it is a recreational kayak, you'll find it to be one of the best options for flowing rivers, lakes, ponds, and inshore bays.
The Equinox is a true performer on the water as it's able to track exceptionally well and is very stable. If you're a beginner, you're going to love padding in this one as it's easy to maneuver, even in rough waters. The ride will be smooth and you won't feel any bumps or jolts as you paddle, as long as the water isn't too crazy. The kayak makes you feel in control with every stroke. The thigh braces and hip pads give you more support and comfort so you can paddle for hours without feeling much fatigue.
The design which is shorter and a bit wider in proportion makes the Equinox excellent on choppy water.  We tested it on a windy day, and on a larger body of water which gets strong waves, and felt secure even when the water was a bit mean.  Still, you will definitely want to wear a paddling life jacket at all times, even with it being more stable.
The seat is adjustable and is a one-size-fits-all, and has a well-padded backrest. In terms of storage, there are only two hatches with the Equinox, but you likely not to be bringing too much gear with you if you're on a recreational kayak anyway.
Overall, the Eddyline Equinox is one of the best recreational kayaks for all levels of kayaking. You'll be able to avoid obstacles, shred through the water, and comfortably explore all the beautiful lakes and rivers around you. You may not be able to go quite as fast as a sea kayak, but you'll definitely be able to paddle easier and with more stability.
Eddyline's All-Purpose Sea Kayak:  Sky 10
Also in the recreational category, the Sky 10 is a lightweight, stable, and maneuverable kayak that gets the "all-purpose" label because it can really be used anywhere.  It is easy to paddle and navigate, making it great for calm water or beginners.  While it is decidedly not in the kids kayak category, it is a great option for younger paddlers who are in safe, known water and under adult supervision.
We like it because it tends to be stable on the water, and is great for people who want to explore shoreline or bays without going miles and miles.  If you plan to put on some serious mileage, you may want to opt for a touring kayak.
Also, being only 32 pounds and 10 feet long (as the name implies) it is a highly-portable kayak, able to be hauled inside many vehicles and relatively easily carried down to a beach from a garage or kayak storage rack.
Eddyline Touring Kayak: Whisper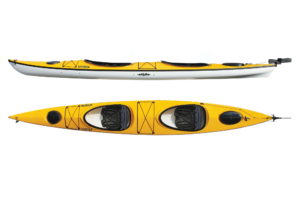 The Whisper is the most expensive option of all the touring kayaks from Eddyline. However, it's designed to fit two people! This is the kayak to go for if you're looking to head far into the sea, ocean, or lake with a familiar face. The Whisper is slighter shorter as it's only 18 feet long and has a width of 2.3 feet. The kayak is on the heavier side, weighing 73 lbs. But because it's designed for two people, the weight capacity is a whopping 600 lbs!
The Whisper is known to slice through the water with ease and has superb tracking, especially on calmer water. Being a touring kayak, you and your partner will be able to paddle for long hours effortlessly as you explore various waterways. You won't have any problem handling unstable and rougher waters, and coastal cruising will be a breeze. You'll find that you can rocket through the water with minimal effort, and maintaining your speed will be a piece of cake.
In terms of comfort, both you and your partner will appreciate the supportive and comfortable padded seats. The backrests are adjustable, and you can get backbands as an upgrade if you'd like. The fit and finish of the Whisper is amazing as all the hatches are sealed shut and there's minimal chance of water leaking in. The kayak also has a decent amount of storage space as it has two large hatches and a bulkhead. This should be enough for you to pack what you need for your kayaking adventures. If you're looking for a stable and lightning-fast kayak for two, then the Whisper is your best bet.
Which Eddyline Kayak Model for Which Situation?
Struggling to decide between the different lines of Eddyline kayaks. Here's a quick guide:
Caribbean 14 Angler will be the best for fishing as it is a fishing kayak. You'll be able to quickly get from your car to the water and start fishing without much hassle.
Caribbean 14 FS is ideal for those who want to feel like they're on a stand-up paddleboard. Although it's not the same, it's a great alternative to enjoy the sensation of feeling higher up on the water, as opposed to sitting inside the kayak.
Equinox works for all skill levels. It's perfect for those who want a stable and comfortable recreational kayak to paddle on rivers, lakes, ponds, and inshore bays with minimal effort. If you just want to get out there and enjoy the water, then this is the kayak for you.
Whisper is the touring kayak for those who want to explore a multitude of waterways with a partner. You'll be able to paddle for hours on end and reach high speeds with ease.  Because it is long and narrow, the Whisper might not be best for choppy water or inexperienced kayakers.