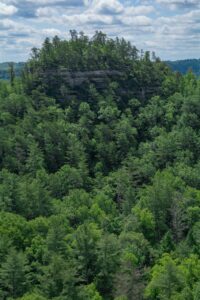 The Red River Gorge is a unique national scenic area, a geological formation, and a favorite outdoor recreation destination. It is located in the Daniel Boone National Forest, near the small town of Slade within Powell County, Kentucky. The 46-mile byway along the Red River includes scenic overlooks, hiking trails, rock cliffs, climbing routes, and natural arches.
It is a wild geologic region, one that you might not expect to find in Kentucky.
The centerpiece of the Red River Gorge is its 29,000-acre park status area. This intricate system of cliffs and rock shelters is among the world's best-known karst landscapes. The Red River cuts through 200-million year-old limestone and flows through the park to create spectacular gorges, rock shelters, and natural stone arches.
The US Forest Service recognizes this geological anomaly as a National Natural Landmark and a National Archaeological District. Red River Gorge is also designated as a United Nations Educational, Scientific, and Cultural Organization (UNESCO) International Biosphere Reserve.
Fun Activities at Red River Gorge
Red River Gorge has a host of recreational opportunities. Whether you're interested in hiking, rock climbing, mountain biking, or scenic sightseeing, the gorge has plenty of adventures to offer. Most visitors to the canyon come to enjoy hiking and rock climbing.
Below is a brief list highlighting some of the most popular activities:
Hiking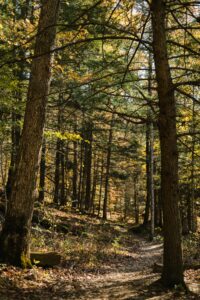 The Red River Gorge offers a range of trails for different experience levels. Casual hikers can enjoy scenic nature walks, while more adventurous visitors might seek out strenuous backpacking trips.  Either way, bring your hiking boots because there is lots of terrain to explore. Below are some of the most popular hiking destinations in the Red River Gorge.
Indian Staircase and Indian Arch
The 3.5-mile roundtrip hike to Indian Staircase starts at Bison Way Trailhead. This strenuous trail leads hikers up the side of a cliff to a massive natural staircase, which descends through an arch in the rock wall. However, it comes with a warning. The Indian Staircase is strenuous and dangerous. Hikers should use extreme caution when descending, as falls can result in serious injuries.  This is not a place to bring people who are of unsure footing, or young kids who may not stick with you.
Whittleton Arch
Whittleton Arch is smaller than the popular destination at the Indian Staircase, but it's well worth a visit. The Whittleton Arch trail is only 2.5 miles and leads to a hidden rock formation, featuring a beautiful waterfall and stunning views of the gorge. This is an easy hike, but it features a few wet spots and steep steps.
Rock Climbing
Some regard the Red River Gorge as one of earth's most incredible rock climbing destinations. The sheer number of routes makes the Red River Gorge one of the most popular climbing destinations in the United States. The area offers trad, top-rope, and sport climbs set on cliffs, natural arches, and expansive caves. Some of the cliff faces feature 200-foot vertical ascents and long overhanging stalactites.
Some rock climbing areas that are must-dos in the Red River Gorge:
Muir Valley
Mention rock climbing and Muir Valley likely comes to mind. This area is known as the Red River's "granddaddy of sport climbing destinations." Although privately owned, Muir Valley will grant climbers free access year-round. The area draws climbers from all over the world who come to enjoy long climbs on steep buttresses. Climbers of every skill level will find hundreds of routes in Muir Valley, including beginner-friendly "Top Rope" trails.
Motherlode
The Motherlode boasts the highest concentration of climbs in the Red River. Get a sense of awe with the towering limestone cliffs and a nearly endless number of climbing routes. With its 1062 ft. elevation and year-round close access, the Motherlode is a top destination for climbers. The area features a unique blend of traditional climbing with sport-climbing lines, which promise to challenge even the most experienced climber.
Underground Kayaking and Boat Tours
While many people visit the Red River Gorge for its hiking trails and rock climbing opportunities, some adventure seekers come to explore another aspect of this outdoor playground. Underground kayaking takes paddlers deep through the earth's surface into an extensive network of caves in the Red River Gorge.
Not only that, but a few companies also offer Red River Gorge boat tours. For an additional fee, you can join a guided kayak tour and have a chance to spot various aquatic wildlife along the river. Be sure to wear something you don't mind getting wet. Some warm underneath layers might be a good idea, as the caves can get a bit cold.
Be sure to wear a good kayak lifejacket, as you should any time you canoe or kayak.  The water level and its speed change through the year, and you never know if you might hit it at a time when capsizing is possible.
Zipline
For those who prefer to stay up above the ground, an opportunity to enjoy the most thrilling zipline experience awaits. A few companies offer zipline tours through the trees and over the gorge. Riders have a chance to soar over the craggy rock formations and scenic rivers below. With race speeds above 55 MPH at 300ft-1900ft over the canyon, riders get a chance to see spectacular views while zipping through the air.
Zipline canopy tours typically last between 2-5 hours and include a safety briefing, equipment check, and a short hike to the starting point. The tours range in the distance, with some traveling 12 miles long and others only 2. A few zipline tour companies also offer a chance to upgrade to additional activities such as rafting or horseback riding.
Camping
All of these Red River Gorge adventures are best enjoyed with a comfortable place to sleep. The area has campgrounds for every type of camper, including RV camping, car camping, roof top tenting, and backpacking opportunities. Some offer showers and firewood at an additional cost. The Red River Gorge is a popular destination for those who want to adventure, and the campgrounds make it easy.
The best time to camp in this area is summer and fall.  Autumn can be absolutely gorgeous, right up until Thanksgiving.  Springtime is also very nice, but is also when you are going to encounter the most rain.  If you are OK trading a little sun for some great spring flowers, it could be an off-peak time to go.
A few of the best camping sites in Red River Gorge include:
Red Byrd Arch Area
The Red Byrd Arch Area offers a peaceful campsite along the Red River. About a 15-minute walk from the parking lot, you can find a camp away from crowds. The area has five designated sites offering fabulous views of the gorge and river. You don't necessarily have to reach the Red Byrd Arch as a destination; the campsite is beautiful in its own right.  This is not car or RV camping — the short hike to get there will rule that out.  This is a good place for a simple 4-person tent and a camping stove, and you can have a nice, quiet, rustic evening in nature.
Koomer Ridge Campground
If you are looking for a car camping site, the Koomer Ridge Campground has large open fields, clean facilities, and close access to trails. The gorge itself is only a few miles away at most. This private campground features a tranquil forest setting that feels far away from the noise of city life. Campers have to pay a nightly fee, but the area is worth it.
Fishing
Are you tired of climbing and kayaking? Take some time to relax and catch your dinner. Red River Gorge is known for its excellent fishing opportunities. Float down the river in a kayak with a spin rod and reel and your tackle bag, and try to attract crappies, bass, or catfish.  We love to fish for smallmouth bass to practice catch-and-release techniques or fish for catfish to take back to camp. Either way, be sure you have a fishing license if you plan to fish here (or anywhere, really).
Fly fishing is also popular in the gorge, and some fly fishing companies offer guided trips through the area.  Or, you can haul your own fly fishing waders and rod and begin casting wherever looks good.  If you fly fish, expect to be casting for Rainbow and Brown Trout, two of the most sought-after species by fly fishermen everywhere.
Be aware that there are restrictions on what types of bait you can use here; check with the Kentucky Department of Fish and Wildlife for more information about local rules and regulations.
Where to Stay When Visiting Red River Gorge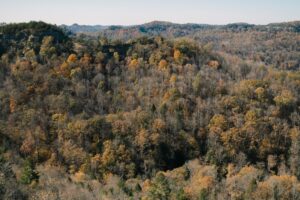 The Red River Gorge area is known for its many small towns and stunning natural beauty. Visitors to the gorge often enjoy the services of one of many campgrounds or lodges available in the area. If you want to be close to the attractions, a nearby town is a wise choice.
The best option, if you are looking for plenty of selection, is to stay in nearby Lexington, KY.  Downtown Lexington is about an hour drive to the Red River Gorge area, and about a 45 minute drive if you choose to stay in the East or Southeast suburbs. You can find hotels and lodging ranging from affordable to luxurious in the area. The Bluegrass region of Kentucky is a beautiful area that offers plenty to see and do. You will appreciate the convenience of staying in Lexington as you explore the Red River Gorge.
Some other underrated areas to consider are the nearby towns of Morehead, Stanton, and Mount Sterling. They're are also easily accessible from Lexington. You can find everything from Airbnb, campsites, cabins, resorts, and more in the area. All are close to attractions on the Northside of Red River Gorge or the Southside of the gorge, so you will have plenty of options.