The Sierra Stove is a lightweight backpacking stove that can boil water in four minutes. It has a number of cool features that make it a convenient and fun addition to any backpacker's kit. Weighing only one pound (the set weights two pounds), it still manages to pack a punch with its 100% stainless steel construction! Let's take a closer look at what it's like to use the Sierra Stove.
Our First Impression of the Sierra Stove
We took the Sierra Stove out on an overnight trip.  It involved packing all of our gear in a backpack (there are many different types of camping, but we were truly roughing it!) and everything we were bringing had to be carried-in.  That meant that the lighter and smaller, the better.
The Sierra Stove fit the bill in terms of packability.  It folds in to a very small package that is durable when crammed in a big backpack.  Setup is a breeze, and before you know it you have a stove ready to boil water or warm-up dinner.
Heating time, once turned-on, was very good.  The flames starts throwing off heat immediate — the "now we're cooking with gas" saying is true!  It took less than 5 minutes to boil water, and making our meal was done in just 10 minutes or so.
The stove has a smallish surface area — which is what you give up for the lightweight portability — so if you are warming up multiple items you will need to do it one-at-a-time.  And if you have a very large skillet, you might need a little more time to be sure all sides get the heat.
Main Features of the Sierra Stove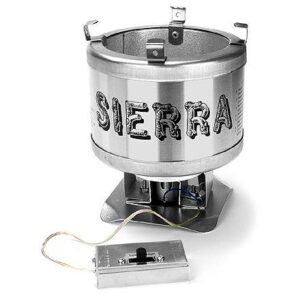 One of the most notable features that comes with the Sierra Stove is its ability to burn any kind of small twig, including newspaper, cardboard, dried animal dung. It can also burn bark, pine cones, and other wood that you'll find around your campsite or in the forest. Anything that's combustible will burn, so it's incredibly practical on that part.
The Sierra can also boil a quart of water in just four minutes, making it one of the quickest stoves on the market. You'll find that most stoves burn the same amount of water between 5-8 minutes. So, you can get access to clean boiling water rather quickly.
The stove is incredibly easy to use and can be used in both cold conditions and in heavy heat. This is because the Sierra uses an adjustable speed fan to add more intense heat to the fire if needed, allowing it to burn more efficiently. Of course, the opposite is true too. You could decrease the speed of the fan to create just enough heat for a slow burn. The fan requires a single AA battery, but that'll last you for about six hours which should be plenty. Make sure to bring a couple of AA batteries with you if you plan on staying put for a while!
The entire stove set comes with quite a few items that are perfect for the average boy scout to start experimenting with campfires. The set includes a polished stainless steel kettle that comes with a frying pan cover, a cross grate that's designed to burn long sticks, a pair of tongs, a sample of zip fires, and a carrying sack made of nylon. This is everything you need to get a fire going and keep it going, on the go! It's convenient, fun, and perfect for the beginner camper looking to get some cooking and lighting experience.
To be clear, this stove burns wood.  No additional gas required.  While a gas-powered stove is nice in wet conditions, this wood burning stove is much easier to carry. The gas canister often takes up more space and adds more weight than the actual stove on those other models.  Plus, when you combine its durability from stainless steel and the fact there is no gas canister, you don't mind throwing in the rooftop carrier or full backpack with any worries.
The Experience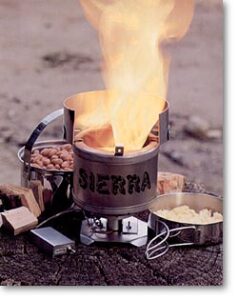 The Sierra Stove is a great choice for backpackers, campers, and others who want an easy-to-use, lightweight stove that can get the job done quickly even in the outdoors. As we mentioned, it's convenient and easy to use in any weather condition. You can pull it out at any point during your hike and cook up a hot meal, fast. This is perfect if you're planning to bring along something like instant noodles.
Being able to make a meal while out in the wilderness is definitely one of the essential hiking skills every outdoors person should have, and this stove makes short work of preparing a warm meal.
The stove also works well with other gear that you might already have or be interested in. It's designed to work with the Sierra cup and cone set, so if you already have one of those (or want one), then your stove will match perfectly. Since the stove has an adjustable fan, you can experiment with it to control the heat and the intensity of the flame. This makes it a great learning opportunity for those who want to try out new cooking techniques – without causing a fire and burning everything around them.
After using the Sierra for a while, you'll appreciate how much of a convenience it is for your hike, especially because you can set it up within a minute. It's much easier than hauling or carrying around a heavy stove set that can be a nuisance to pack and set up. Sometimes, you just want something you can use quickly, and the Sierra fits the bill. The stove also gives off a really nice homey feel, adding to the experience of cooking outside. You'll find it satisfying to be cooking from a stove that looks like it was made by your handy uncle. Not everything needs to be fancy and expensive, at least when it comes to cooking outside.
Don't forget that the entire set is a budget-friendly option, costing much less than most backpacking stoves out there. Of course, the Sierra isn't the best stove on the market, but it's still reliable and does the job well. It's hard to beat the price for everything that you're getting, especially the convenience!
What to use the Sierra Stove on
The Sierra Stove can be used on anything that requires a warm-up or a full boil in the wild.  It can be used for both camping and hiking – as some day hiking trips are long enough to want a hot meal or a warm-up on coffee.
We like to use the Sierra Stove to heat up a hot meal, often oatmeal in the morning and a freeze-dried camping meal in the evening. You basically use the stove to boil water, and then you add the hot water to the foil pouch for the freeze-dried meal.  Some are astonishingly good.
You should never drink water from a lake or stream without boiling it first, or filtering it. If you have the stove along, then it is easy to give the water a boil and either drink it or refill your water bottle.
Finally, the stove is great to make an afternoon cup of coffee when you need a little more steam to get you to the finish line of a long canoe trip or hike.
How the Sierra Could Improve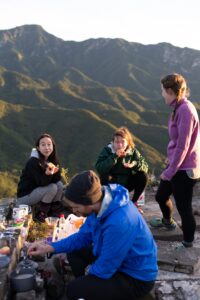 Without a doubt, you'll find that it burns similar to a Bunsen burner, and it indeed burns well. However, the Sierra may not be and feel as sturdy as you'd like. It feels a little flimsy, but the overall construction isn't too bad. The stand at the bottom in particular could use the most work as it doesn't balance as well as it needs to. This is especially true since it is a stove, and you wouldn't want it tipping over. You need to be extra careful when handling the stove. This includes whenever you place something on top of it.
For the most stability, place the Sierra stove on a flat and hard surface rather than something as uneven as a rock. And when you go to place a pot on top, set it down slowly. There's also no dedicated method for lighting the stove, so it's best to use something like a BBQ lighter. It'll be much easier lighting the Sierra with something like a BBQ lighter rather than a regular lighter as you could burn your hand.