You undoubtedly have noticed that waders go hand in hand in fly fishing. In fact, many would argue that waders are the most important piece of gear for fly fishing, second only to a rod! It is very important to find a pair that will suit you and your needs perfectly. Waders are not a light purchase – once you acquire a set for yourself, they will likely stay in your possession for years, if not decades. Before we get into the nitty-gritty of acquisition, however, let's take a look at some main points of thought on waders:
Why Use Fly Fishing Waders?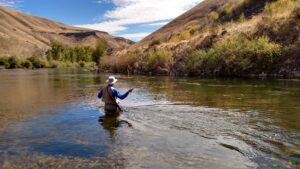 Unless you plan on doing all of your fly fishing on the shore (which, despite what some may say, is not an objectively bad or wrong thing to do), waders are necessary. There is of course a short time in the middle of the fly fishing season – in the warmth of summer – when you may be able to wade into the river with shorts and sandals on, but even then the water will most likely be uncomfortably cold. Because of this, much of your attention that should be directed at fishing will instead be focused on how eager you are to rescue your own legs from the water.
There three primary benefits of fishing with waders: waterproofing, footing, and insulation. Good waders are made of durable, waterproof material that will minimize the amount of contact your skin comes into with water, keeping you safe from possible injury or infection. They also should offer comfortable thermal insulation, keeping you content and safe in the beautiful outdoors.  Finally, the whole wader system assumed you have boots (see next section) that provide good footing and traction when in the water — which is very important when you are fishing on slippery rocks or a fast river bottom.
Booted vs. Bootless Waders
There are two types of waders: those with boots attached, and those without. It should be noted that although bootless waders do not have wading boots attached, they do have footies that go over the foot — and then your foot goes in to a separate boot that looks like a hiking boot but is intended to be submerged in the stream. Both bootless and booted waders offer their own individual benefits.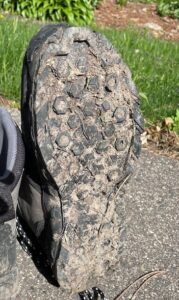 On one hand, booted waders save you some money and thought by having the boots and waders all-in-one. On the other hand, they are very difficult to repair if the seal between the boots and actual waders is damaged.  You often need to discard the entire setup and start fresh, if you have a booted wader that develops a bad tear or begins to wear out and have many leaks.  With a bootless wader, you always have the option of just getting new boots if they are worn out, or new waders if they are worn out.
One perk the bootless waders offer is the opportunity to find nice boots that can be more specialized to you as a fisherman for fisherwoman. Generally speaking, we think the grippiness of some of the standalone fly fishing boots you can buy is superior to the booted versions.  Having good traction is very important, because you will be stepping on rocks, and they will be slippery.
So, if it is not too confusing, we recommend bootless waders because we like the option of being able to buy and care for fly fishing boots that are separate pieces than the waders themselves.
Should my feet get wet in waders?
NO! Though we said previously that it is sometimes possible for your feet to get wet when using bootless waders, your feet should never regularly be getting wet when fly fishing. If you are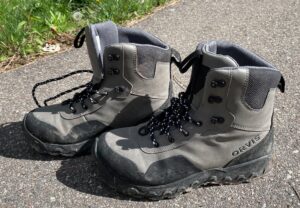 using bootless waders (which many experienced fly fishers prefer), there is always the question of how to ensure a watertight seal. In order to achieve this, all you really need to watch out for is buying boots and waders from appropriate brands.
In general, you will be safe mixing and matching as long as your boots and waders come from reputable companies — meaning you don't need to buy your boots from the same maker as your wader. Plus, there is a good chance your wader will wear out before your boot does.
What Should You Look For in Flyfishing Waders?
Any quality pair of waders, though simple in form, should have a few key features:
Extensive Adjustability

Whether you are looking at full waders or just wading pants, any shoulder and/or waist straps should be able to be easily and securely adjusted to fit your frame.

Insulation

Most pairs of waders are insulated, but it is always good to check because those that are not insulated require more clothing and caution before use.

Storage

You always want to have at least one storage pocket on your waders, preferably right on the front of your chest. Deep side pockets are a nice touch as well.

Sizing

When in doubt, get a size larger.  What happens is you try the waders on in a store, and they feel great when you are standing straight up.  Then, when you get in a river, you start stretching out to step over a rock, or bending down to adjust your line, and they get really snug.  It is better to have a little excess space so you can move around.  Think about what you will be doing in the waders — you will be moving around, reaching for fish, and even hiking through brush.  It is nice not to be constricted.

Optional Gravel Guards

Gravel guards are tube-like fittings for your waders and boots that prevent sand and gravel from getting into your boots. These are sometimes built into waders, but can be bought separately.

Optional Warm Pocket

Some waders have a waist-level pocket that is either fleece-lined or specifically designed for hand warming. This can be very nice if you are fishing during the colder part of the season.
Which Waders Should You Buy?
We recommend buying only new waders from either the Orvis or Simms brand. Though there may be some other promising brands out there, both Orvis and Simms have spent decades building up good reputations in the fishing world, and you absolutely cannot go wrong with a purchase from either of them. With that being said, here are two of our favorite wader sets from each brand (all products are available for men and women):
Orvis PRO Waders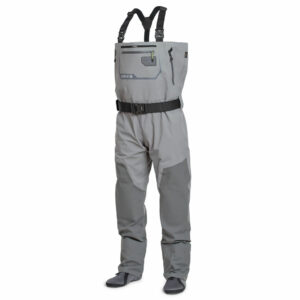 Orvis describes these bootless waders as being made "out of passion," and that statement shows. Crafted perfectly for unfailing and continuous use, these are built with a five-layer shell that protects the fisher completely against water and cold.  We like that they have built-in gravel guards, as well as ergonomic neoprene footies. We are fans of the footies specifically allows for much easier and longer wearing of your fly fishing boots, which is a quality any fly fisher can appreciate.
Orvis Clearwater Bootfoots
An excellent product from Orvis, these waders offer the perk of having boots attached while also being quite budget-friendly. Additionally included as features are multiple storage pockets, a warmth pocket, and waist adjustability allowing for changing the height of the waders on warmer days. After using them several times, we think they are an excellent option for any fly fisher who is still tentatively looking to test the waters, and want to be absolutely assured to be of good quality.
Simms Guide Classic Wader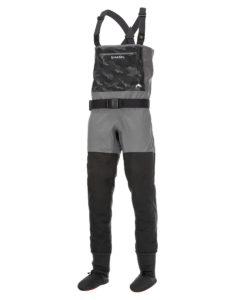 We love Simms waders!  A terrific and durable bootless pair of waders, this is an excellent option from Simms. They offer reinforced legs to help one keep their stance in strong-flowing water or uneven ground, as well as always-appreciated built-in gravel guards. We love the pocket placement, some with zippers and some without.  When we use Simms waders, the placement of any quick-storage areas just feels very intuitive.  They also have good reinforcement in our high-wear areas, like around the ankles and on the knees.  These are one of the company's most popular pairs of waders for good reason, and they have a solid recommendation from us.
Simms Vibram Sole G3 Guide Waders
This pair of waders is the best booted option Simms has to offer, and it is very clear why that is so. Equipped with stud-bottomed boots, these allow for superior grip while standing and walking on the riverbottom.  We liked the multiple storage pockets as well as a 4-layer GORE-TEX outer shell. For any fly fisher who would prefer for their waders to be truly all-in-one, these are a go-to.
The G3 (and the G4) waders are top-of-the-line but very, very good. They also come in a bootless model.
Flyfishing Wading Boots Recommendations
If you are leaning more towards bootless waders, you most likely are wondering about a few boot options. Lucky for you, we were thinking about that too! Here are two wading boot recommendations, one from Orvis and one from Simms, that are sure to satisfy:
Orvis PRO Wading Boot
Honestly, we think these boots are a masterpiece. Not overly expensive by any means but made with enough quality to be used anywhere forever, these boots offer the perfect combination of comfort and function. Specialized materials used in collaboration with Michelin allow for perfect structure and grippage while traversing slippery environments, and a firm yet soft high-formed sole and heel allow for superb support while protecting the whole foot. These boots will probably outlast the waders by a lot.  This is a highly popular boot made by Orvis.
Simms Freestone Wading Boots
A high-quality affordable wading boot option by Simms, this is an excellent option for any fly fisher.  We really like the rubber soles directly purposed for maximum grip in riverbeds and lined with water-and-thermal-resistant neoprene, these comfortable wading boots are sure to keep you satisfied for years to come.
How We Test the Fly Fishing Waders and Boots
We love fly fishing.  Asking one of us to go in the river and try out a pair of waders and boots usually results in an argument to see who gets to do it.
We like to test the waders and boots both on dry land – just to see the flexibility and breathability — and then in the water.  For our water testing, we are almost always in a stream or river that gets us about waist high in water, and is rocky on the bottom.  If the waders don't do well on rocks, or if there are any weak spots or leaks, we will notice it.
After using the waders for a day or two, we also get a good sense of the creature comforts.  Are the pockets where you would instinctively reach for them?  Is anything missing when it comes to actually fishing in the waders?
If you want us to review more waders, we will not complain.
Fly Fishing Wader FAQs
Can You Fly Fish Without Waders?
Yes, you can certainly fish without waders. The best and most accessible way to do this is to simple fish from the shore.  However, you will need to find a spot with relatively few trees and bushes, or your back cast will most likely get caught in branches making for a frustrating day of fishing.  Also, you will want the river, stream, or lake you are fishing in to be narrow enough so you can access key pools and structure from the shore.
You can always wade in to the water with bare legs (you will want some kind of footwear to prevent getting hurt by sharp rocks).  In many parts of the country, though, this can get uncomfortable quickly.  Trout streams usually have a very cold water temp – that is what makes them good trout streams.  Trout do not live in warm water.
While you can fish without them, consider waders some of the more basic gear you will need for fly fishing.
Can You Patch Fly Fishing Waders?
Yes, they can be patched if they spring a leak, which tends to happen.  You will want to get a kit to patch the waders, and it will probably take a little time to find the leak. It is best done inside in a controlled place, so you don't have all the variables of being outside.  It is hard to do on the ground or on your truck's tailgate as you are fishing.
Waders springing a leak are probably the #1 reason people discard them and buy new ones.  Expect the lifespan of fishing waders to be a couple years of hard fishing, probably less than you might assume.
Should You Buy Used Fly Fishing Waders?
You will see lots of used fly fishing waders available online, on local marketplaces, and at used outdoor gear shops.  While it is certainly possible to find a pair of used fly fishing waders that will work out fine, our personal experience is that it is not worth the risk.  Waders have a lifespan, and often if they have been traded-in, it is because they are beginning to leak, or the seams are not what they once were.  Our recommendation is to save up, buy new waders, and then take good care of them.
How Long Do Fly Fishing Waders Last?
Expect to get 3 to 5 seasons out of a pair of fly fishing waders.  Most people start to see some deterioration in the wader performance sometime after 50 to 75 uses, which for many who might fish 10 times a year means 5 years.  For die-hards who are going out 50 days a year, the duration might be closer to 2 years.  Of course, how well you care for the waders makes a difference.  Store and haul the waders in a safe place away from rip hazards, and always turn the waders inside-out after use to let them dry from both sides.
Good brands like Simms and Orvis will usually let you send them back for repairs if they have developed minor leaks.  But there is a point where the wader is done.
It is important to note that boots last much longer.  We often go through 1 pair of boots for every 2 to 3 pairs of fly fishing waders.