If you're ever in South Carolina, you should plan a visit to the Francis Marion National Forest, north of Charleston. It's one of the most popular destinations for mountain biking, hiking, camping, and many other activities. It's also a great place to take your kids on a weekend camping trip. There's so much to do and see at this gigantic park that you'll never run out of fun things to do!
Notable Facts and History of the Francis Marion National Forest
The Francis Marion National Forest is a large forest in South Carolina and covers nearly 260,000 acres. It's located in the eastern part of South Carolina and is a favorite spot for visitors to explore. Those who come here have access to an amazing array of natural beauty, wildlife, and historical sites. The recreation area by the United States Forest Service dates back to 1936.
This forest has not been logged and is one of the most biologically diverse natural areas in North America, home to hundreds of various animals. The forest is named after General Francis Marion, who fought in the Battle of Cowpens during the Revolutionary War. Francis Marion was nicknamed "The Swamp Fox" because of his ability to elude capture on numerous occasions. Francis Marion's life story was passed on by word-of-mouth until it appeared (in heavily embellished form) in "The Life of General Francis Marion," published anonymously in 1787.
The Francis Marion National Forest is open to the public for outdoor recreation such as camping, fishing, hiking, and several other activities. It contains the headwaters of three major rivers: The Black, Edisto, and Santee Rivers. The forest plays a key role in protecting endangered species like the Eastern Indigo snake, Red-Cockaded woodpecker, and The Piedmont Atlantic sturgeon.
Best Hikes in the Francis Marion National Forest
As you might've guessed, the Francis Marion National Forest is home to some of the best hikes in the country. It's comprised of nearly 260,000 of acres, so there are plenty of great hikes to explore! Here are a few popular choices that you might be interested in:
Palmetto Trail: Awendaw Passage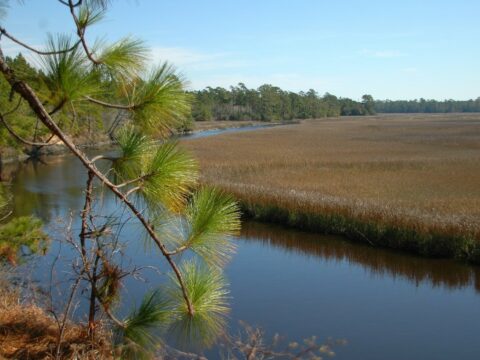 The Palmetto Trail: Awendaw Passage is an easy 8-mile trail through the Francis Marion National Forest. This hike will take you past Francis Marion's historic battleground and to a beautiful boardwalk that overlooks some of the forest's waterways. There are numerous activities to take part in along this trail, including fishing, exploring the battlefield, and stopping by the local distillery for some tastings.
You can bring your dog to accompany you on this hike, but they must be on a leash at all times. The Palmetto trail has some gorgeous views and is a great escape from the city. You'll get to see a variety of plants, everything from pines and ferns to palms and oaks. After a rainy day, the trail can get wet and muddy, so be sure to wear your rain or hiking boots.
I'on Swamp Interpretive Trail
The I'on Swamp Interpretive Trail is a short 2-mile hike just off SC 261 south of I-95. For this hike, you'll need to make sure you wear appropriate footwear — a good pair of hiking shoes or boots. As the name suggests, you will be hiking through a swamp trail, so it can get very wet and muddy! There may also be bugs nearby, so be sure to use some bug spray. While you'll likely encounter several people along the trail, it is generally quite peaceful and relaxing. It's a great hike to explore with your friends and family.
Along the I'on Swamp trail, you'll see a variety of wildflowers, including several patches of violets and white bell flowers. You may also see numerous tree stumps, which have been swallowed up by the swamp. The area is also a protected fire swamp, which means it is very difficult to start fires in this area. Dogs are allowed on the trail but must be kept on leashes.
Jerico Horse Trail
The Jerico Horse trail is a relatively long 18-mile loop. The trail is in great condition with no deterioration. The loop trail begins at the iron bridge and continues to the west of North-South Road (SC 10). There may be gnats and ticks in the summer months, so be sure to bring insect repellent.. It can also get wet and muddy, so you need to wear proper footwear. There are two forks in the trail along the way, with one fork leading to a large embankment and the other leading to a pond. The trail takes you directly to Lake Bobo and Lake Thorofare, where the water is very clear, and you can spot several species of fish.
Jerico Horse Trail is home to many beautiful wildflowers, such as the yellow jessamine, dogwood, passionflower, butterfly weed, wild hydrangea, and many more. There are also many varieties of woody plants like oak, hickory, redbud, sage, and even pines. The scenery along the way varies from marshy to hilly and is open with a diverse variety of plant life. The trail is a horse trail, meaning you're allowed to hike the trail on horseback, but of course, people on foot or bicycle are also welcome. Feel free to bring your dog with you, too!
Carolina Bay Trail
The Carolina Bay trail is an 11-mile hike that's along the Palmetto Trail Swamp Fox Passage. The trail is an easy hike, with wide wooden bridges and no incline steep enough to be considered strenuous. The trail's flat, so it's great for anyone who wants a simple but scenic adventure. The trail has a wooden bridge that crosses over the "Carolina Bay," which is really just an old creek bed. When you step out onto this overlook, it will look like a bayou with water on both sides of the trail.
In fact, it was a creek that was dammed up from heavy rains and eventually stopped flowing altogether. The bayou is home to a variety of fish, reptiles, and amphibians. Look closely into the water around the walkway for large snapping turtles! You may run into snakes along the trail, so hiking with children and pets isn't recommended. The trail is pretty dry, but there are some muddy areas where insects are common.
South Tibwin Loop Trail
The South Tibwin Loop trail is a short 2.3-mile hike that can easily be done within a few hours. There are no facilities on the trail so you need to be self-sufficient and bring plenty of water with you. The area is known for its abundant wildlife (depending on the time of year) and great birdwatching opportunities. It also has a wide variety of plant species and wildflowers. You can bring your children with you, but be careful as ticks like to hang out in the area.
Safety on the Trails
Make sure you check yourself, children, and pets for ticks after your trip! Bring bug spray with you to help avoid ticks and other biting insects. You may come across alligators and snakes, so proceed with caution. Snakes tend to stay away from humans and like to hide away from the main trail. Always steer clear of snakes and alligators, and keep an eye out.
Fun Activities to Do in the Francis Marion National Forest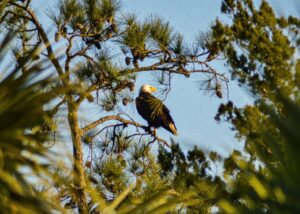 There are plenty of fun activities to do while visiting the Francis Marion National Forest. There are beautiful lakes and streams available at your disposal, so pack a fishing pole or two! You can go fishing in the morning and camp by one of the many lakes for the night. You'll be able to enjoy a cool swim in crystal clear water and natural pools before cooking your catch over a campfire.
During the evening, go for a short hike and have plenty of bug spray on hand to keep mosquitoes away. If you don't want to hike on foot, you can bike instead. There are countless biking trails in the forest, so pedal your way through the beautiful landscape. To end the day, you can set up a campsite in the forest and roast up some marshmallows.
Another fun activity to do in the Francis Marion National Forest is to go bird watching. You can even bring binoculars and a guide if you'd like. There are countless bird species around the forest, and you may even spot some that are rare to the state of South Carolina.
You can have a picnic in the forest as well. Pack a lunch and enjoy some outdoor eating! After your picnic, spend some time wildlife watching. You can spot deer, squirrels, snakes, and many other animals in the forest. You never know what you'll find, and that's part of the fun!
You can even go paddling or boating on the many rivers and lakes in the forest, which can be a great way to break the heat if you are visiting in the hot part of the South Carolina summer. If you don't have any boating or paddling equipment, you may have to rent one out from a local company. Canoeing or kayaking on these spectacular bodies of water is something you don't want to miss out on!
Where to Stay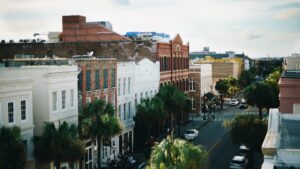 If you want to stay in the forest, you can also stay at any of the surrounding campgrounds. These include the Elmwood Recreation Area, Hellhole Bay Wilderness Campground, Buck Hall Recreation Area and Campground, and Honey Hill Recreation Area.  This region is also conducive to roof top tent camping.
If hiking is your thing, you can also book one of the many camp spots in and near the forest. Many of the spots are hike-in, so be sure you have your hiking essentials along.
Another alternative is renting out a hotel or lodge. There are several popular hotels near the Francis Marion National Forest, including the Hampton Inn Charleston, Comfort Suites At Isle of Palms Connector, Hyatt Place Mount Pleasant Towne Centre, Cambria Hotel Mount Pleasant, and Hyatt House Charleston.
For lodging, you can search for nearby lodges that will provide you with an awesome glamping experience. These lodges usually come with Wi-Fi, air conditioning, televisions, fully-stacked kitchens, fireplaces, and more! Depending on what you're looking for, take some time to find a lodge that has everything you want for your glamping trip.
When to Visit Francis Marion Forest
The great thing about South Carolina is that you can visit most areas year-round. The Francis Marion National Forest is accessible 12 months a year.
January and February are going to have more brisk temperatures, with highs typically stick in the 50s.  This can be a quiet time to visit.
Perhaps the best time to visit, in our book, is spring.  Temps are a comfy 50s through 70s in March, April, and May, with a few 80s showing up.  But the spring bloom in the Southeast is really great to experience.
Summer can get hot, but that can be overcome by keeping yourself cool and carrying a water bottle.  Expect June, July, and August to be hot and humid, and for lows not to cool off very much at night — a factor if you are camping.  Also, summer usually has its fill of rain days, so prepare for that.
Fall is another beautiful time to visit.  The temps are a little more conducive to activity, but you won't have the smells and sights of the bloom like you do in spring.