If you own or are thinking of owning a kayak, chances are that you would like to take it somewhere! The way that you will most often be capable of doing this is by using a kayak trailer. Here we look at the market and the 3 best kayak trailers.
What Types of Kayak Trailers Are There?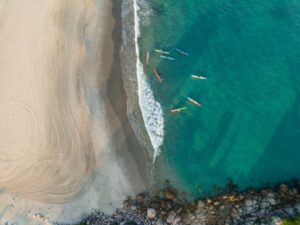 Let's quickly get acquainted with the three primary types of those trailers:
Kayak trailer via hitch

Most often, kayak trailers will be attached to your car via a hitch on the back. These trailers are the most common and often quite universal in terms of installation.

Kayak mounts

A few kayak trailers (in this case called "mounts") are actually able to attach to the top of your vehicle, provided that the vehicle comes pre-equipped with rooftop racks.  They work a little like a rooftop cargo carrier. These mounts typically consist of four to six individual pieces that are secured to the racks and then are able to hold down one or two kayaks.

Hand-pulled kayak trailer

There is one type of kayak trailer that can be pulled by hand! In most cases, such hand-pulled trailers are only used to transport kayaks a maximum distance of 1 mile.
Due to the commonality of hitches on cars, though, we will mainly be focusing on kayak trailers that attach via hitches.
What Should You Look for in a Kayak Trailer?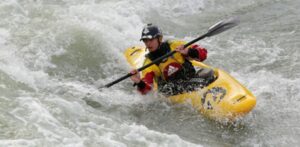 Once you have decided on the type of trailer you would like to purchase, it is important to know what features and details to look out for when checking out different products. The list that we are about to provide is based on specifications for hitch-pulled trailers, but it can be applied to any sort of kayak trailer or mount:
Weight

The heavier a kayak trailer is, the more difficult it will be to maneuver with your vehicle! The lighter the trailer, the less gas you'll be buying, too.

Material

Galvanized steel is the tried-and-true standard for trailer frames, and there really is never a reason to deviate from it. A kayak trailer made from galvanized steel will demonstrate excellent durability while possessing the strength to keep your kayak(s) safely secured throughout your journey.

Padded carriers

What we mean by this is that you should be looking for kayak trailers that feature a padded and snug-fitting receptacle for your kayaks. Some trailers are built with "padding not included" or "one size fits all" carriers that can often lead to damage or even loss of a kayak! This being so, it is always a good idea to make sure that the carrier is well-padded and shaped in a way that will safely and securely hold your kayak.  A padded carrier that is highly-adjustable also has the potential to haul other paddling vessels (possibly) like paddleboards or canoes.  Our favorite type of carrier is a padded V-shaped.

Rooftop carriers are also an option.

Suspension

Chances are that if you are taking your kayak to some sort of lake or river shore, the road to it will not be 100% paved. That is why a trailer's description should always list that it is outfitted with some sort of springs or suspension.

Marine-grade design

Due to the fact that you will most likely be backing your trailer at least partially into the water rather than picking your kayak up and carrying it into the lake, it never hurts to double-check that your trailer is marine-grade and will not be damaged by repeated exposure to water. Specifically, the two key marine-focused aspects you should look for are the trailer lights and frame makeup.

Adjustability

This refers to a trailer's straps and its carrier. Looking at a trailer's straps, it is always a good idea to err on the safe side and make sure that you have large-sized straps (large both lengthwise and widthwise) so that there will never be any question of the security of your kayak.  However, you want to also be able to have the straps clamp way down in the case of carrying a kids kayak.  On the note of the carrier, try and make a habit of checking the specifications to see if the actual support pads of the carrier (the pieces that are directly touching and holding your kayak) are adjustable and/or tiltable. Having adjustable carriers (and tiltable pads) not only makes it easier to customize your trailer to your individual kayak, but also can keep your kayak safer by being able to compensate for any movement during the journey.
Best Kayak Trailers
Now that you know everything practical that there is to know about kayak trailers, we think it is time to set you up with what we firmly believe to be three of the best trailers and mounts on the market!
EcoLight Single Kayak Trailer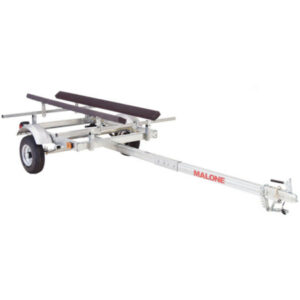 Malone's EcoLight Single Kayak trailer is simultaneously top-of-the-line and bang-for-your-buck when it comes to kayak trailers. Featuring a state-of-the-art galvanized steel design and a set bunk, this kayak trailer is excellent from when you load the kayak on to when it's launched into the water. Standing 28 inches off of the ground and designed specifically for the launching process, this trailer allows for extremely easy launching of any personal or fishing-grade kayak. The EcoLight Single is also guaranteed to safely support 400 lbs at speeds up to 65 miles per hour, with a five-year warranty to boot. To top it off, this hitch-connected trailer is outfitted with all of the newest guards and suspensions, ensuring that you will get many years of safe and dependable use.
EcoLight 2 Kayak Trailer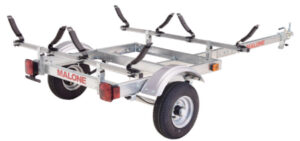 The bigger brother of Malone's EcoLight 1, this trailer features all the strength and prowess of the former with the new addition of two V-shaped racks that make it perfectly suited to safely transport two personal or fishing-grade canoes any distance. Weight, speed, and hitching specifications are the same as the EcoLight 1.
SweetRoll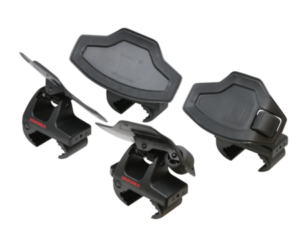 The SweetRoll by Yakima is the premier (and one of the most affordable) when it comes to car-roof kayak mounts. Designed for easy installation, this mount features built-in rollers on the pads that allow for quick and easy loading/unloading of any kayak. The spring-loaded paddles are padded and molded to safely and securely hold any kayak that weighs up to 80 lbs. The mount itself comes with a limited lifetime warranty to further ensure your peace of mind. The SweetRoll specifically requires a 24-inch spread of rooftop racks.