The Yakima Roof Carrier is a perfect way to haul your gear on top of your vehicle. In our review, we'll break down the most important features, benefits, and drawbacks of this carrier to give you a real feel of using it. For this review, we'll be focusing on the Skybox 16.
How We Did Our Hands-On Yakima Skybox Road Trip Test
We decided to give the Yakima Skybox a first-hand user test, after seeing countless Yakima roof top cargo boxes on the road over the years.  Our test was a 2,000 mile cross-country roadtrip spanning 3 states (there and back), and it was done in winter conditions.  We carried 4 pairs of skis and as much other stuff as we could stuff in the box.  We experienced pretty strong winds during part of the trip, which we were happy about since we wanted to assess the Yakima Skybox when faced with a stiff headwind and cross wind.  In our test drive, we mounted the Skybox on a Subaru Outback.  The Outback comes with factory roof top cross bars, so we did not need to use add-on cross bars.
Our Experience with the Yakima Skybox Carbonite
So what did we think of the Skybox after driving 2,000 miles, much of it at 75 to 80mph?  We are big fans.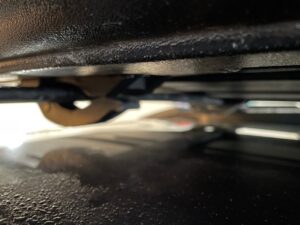 Installation
The installation process took a while, but we allowed enough time and were able to pay attention to the details.  Note that with all rooftop cargo boxes, handling them and putting them on your vehicle is really a two person job — at least at first. These are not easy to carry around, even if you are strong.  Their awkward shape and lack of handles makes it much easier for two.  That goes for all carriers, not just this one.
Clamping the unit on to our cross bars we easy once it was set, although you want to be sure you have a firm positioning on the cross bar or you could falsely think you have it tight. It is essential that you have a ladder for this job (preferably not one that leans against your vehicle).  You are not going to do a good job if attempting to crank it down at an awkward angle.
Sometimes we clamped it perfectly on centered on the car, but after a while we starting clamping it closer to the side.  Doing more of a side mount did not seem to affect the ride at all, and made it easier to access when using it.
Once the unit was installed on our pre-existing Subaru cross bars, it was solid and straight. We did a couple local test drives to be sure nothing was rattling or askew, and it stayed set securely.  We also tested our sightlines and our back hatch to be sure the box was not interfering with anything.  It was all good.
Loading and Unloading
For loading the unit, we also used a step ladder.  We loaded skis as the main item, but then filled the box up with soft items such as jackets and pillows.  We chose to have the skis inside ski bags just so that the ski's sharp edges would not scrape around and cut the other items in the box, but you could probably also just layer some pieces of cardboard or even some old blankets in for this.
One thing about the Yakima Skybox – it only opens and closes with the key.  We made sure we had the key on a big, easy-to-spot chain. You want to spend a minute being sure you get a good, secure "click" on both sides when the box closes.  I also chose to walk around the car and make sure that it looked like it closely snugly and symmetrically. Sure enough, the lid had closed a bit askew, so I opened it, got some of the jackets moved away from the latches, and on the second try got a much more assuring "click" and the box had definitely closed straight and sealed well.
Driving
Once driving, it literally only took a few minutes and we forgot the box was even on the car.  No rattling, not wind noise.  Perhaps a little more "pull" in heavy crosswinds, but that might have been in our minds too.   The aerodynamic design functions exceptionally well, even when cruising along the interstate at 80 mph.  There was also no evidence of the skis or other items inside the box shifting around, due in part to the fact that we packed it pretty full and snug.
When we got to our destination and opened things up (again with a ladder for ease), the load was secure, had not shifted at all, and everything was exactly where we had loaded it. The load was also completely dry — which was important since we had been driving through some rain showers as well as snow melting on the road.
Note that we had roof cross bars factory installed on our Subaru, but your vehicle might not have them.  If not, you can buy add-on roof cross bars that mount around your vehicle's doors and are only left on when you are using the box. You want to not skimp — get good cross bars. Much like with a roof top tent, you want to be sure you have bars that can handle the weight, especially if you plan to load it up.
Note the Height Difference!
A final note on using the Yakima Skybox:  You need to be sure you are cognizant of the additional height on your vehicle!  We did not have any major issues, but had one close call in a garage where we cleared the top of the opening by probably 3/4 of an inch.  When driving with any roof top carrier, it is important to constantly remind yourself of the additional height on your vehicle.  Places where you need to pay particular attention are in garages, parking ramps, and drive-thrus.
What we Like About the Yakima Skybox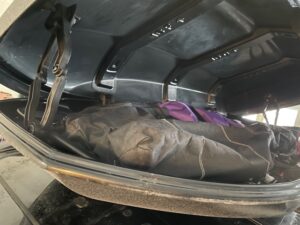 We highly recommend using the Skybox Carbonite if the space in your car is always being taken up or if you do a lot of traveling. Even if you find the box to be heavy, you just need to get it installed before you start driving. There's plenty of storage space to keep your belongings dry and secure. Just make sure you close everything properly and lock it up to avoid leaking and potential damage. With the amount of storage space you're given, it's equivalent to bringing an additional three to four carry-on suitcases! That should be more than enough for your average road trip, even if your group decides to pack a lot.
The integrated cargo net in some of the models is a lifesaver. It keeps your belongings from flying all over the place and makes it easy to access them when you need them. The build is also incredibly sturdy, which is exactly what you need to prevent wear and tear. You'll find that the box looks brand new even after driving for thousands of miles. It's also waterproof, so you don't have to worry about water getting in. You can leave the Skybox out all night and set your mind at ease.
Looking at the design of the Skybox, you'll notice that it has a sleek and modern look. It doesn't stand out like a sore thumb on your car and will match most vehicle designs. The textured finish is also a nice touch, as it prevents your gear from slipping around. It's also great for keeping moisture out. All in all, brilliant design, modern look, and high practicality.
Skybox 16 Main Features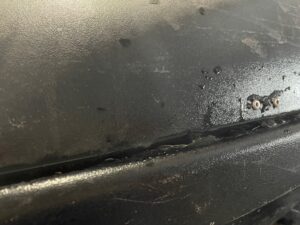 The Yakima Roof Carrier is a great and smart way to add storage to your vehicle. The Skybox 16 is the perfect size for small and medium-sized items. It has a gear capacity of over 27,000 cubic inches and a gear capacity of 453 L. The Skybox weighs 47 lbs, so you'll likely need a hand to lift it on top of your car and with the installation.
The Skybox 16 is made of durable ABS plastic and has a textured finish to keep your gear from sliding around. Its frame is made from steel and it has a locking lid to keep your gear secure. The 16 comes with an integrated cargo net to keep your gear from flying around while you drive. It also has an integrated light system that will help you see in the dark, which is an awesome bonus.
The Skybox 16 has a large, easy-to-open lid that makes loading and unloading fast, even with bulky items like snowboards and skiis. You should be able to fit 8 snowboards or 6 pairs of skis comfortably inside, which should be enough for your friends and family. Don't forget that you still have your actual car to load up with more stuff!
There are two locking options for the Skybox 16. The first is an integrated key lock to keep it shut and secure. There's also the cable lock that latches the Skybox to your car for extra security. You can open the box from either side which is very convenient, and there's even a quick-release mounting system that fits with other Yakima crossbars. These include round, square, factory, and aerodynamic Yakima crossbars.
Skybox 21 Main Features
If you're a fan of the Skybox 16, you might also be interested in the Skybox 21.  The numbers, by the way, all refer to the cubic feet that the box can hold. So a Skybox 16 is 16 cubic feet, and so on.
The 21 has a larger capacity than the 16 with a gear capacity of over 36,000 cubic inches and a gear capacity of 595 L. However, it's a bit bigger in size being 7'8" in length, 36 inches wide, and 18 inches tall. Whereas the Skybox 16 measures 6'9" in length, 36 inches wide, and 15 inches tall. The Skybox 21 weighs 15 pounds more, so it'll require some more manpower.
For us, the main benefit of the larger Skybox is that it is longer – especially for those carrying long skis or other gear than cannot easily be collapsed shorter.  The best thing to do is carefully measure the longest thing you expect to regularly carry in the cargo box, and have that number handy as you are buying.
Yakima vs Thule Roof Top Cargo Boxes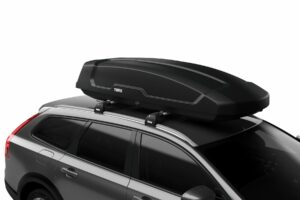 As with so much other gear, it seems that Yakima's main competitor is from Thule. Both are great companies that put lots of thought and quality into their products.  Yakima and Thule are two of the most popular roof carriers on the market, but they both have their own unique features.
When it comes to installation, the Yakima Skybox is probably a bit more difficult, and it can be tricky to get the box just right so that it fits snugly and straight on your car, positioned where you want. However, the end result is worth it as Yakima carriers are known to be incredibly sturdy and long-lasting.
The Yakima's generally have more space — about 2-3 more cubic feet — at each comparable size than the Thule products.
Thule options, such as the Force XT, are perhaps a little easier to install, but they can be far more expensive than Yakima models. They have a similar sleek and modern design as Skyboxs but can offer a few more creature comforts, such as a knob for easier opening and straps to keep your skis or other gear in place. Some Thule carriers have more security features than Yakima models. They're just as easy to load and are compatible with a wider range of vehicles. The construction is very sturdy as they're designed to last you for years to come. If you want to up your game, Thule roof carriers are also a great investment.
With that said, we would most definitely buy the Yakima box again.
Skybox Drawbacks
One of the drawbacks is that the Skybox Carbonite takes some effort to install — but there is not rooftop cargo box that is simple to install. We found installing and removing the Skybox to be a bit of a chore, so it may suit you more if you decide to simply set it on top of your car and forget it–use it for additional storage. However, if you plan on taking off the Skybox frequently, you may find the installation process to be time-consuming, especially when it comes to the lever.
Installation is best a two-person job, and one that is done with a sturdy ladder and on a solid, safe surface.
The standard Skybox does not come with compartments or columns inside, so you will want to protect anything that could move around while driving.  We like to carry our skis in a ski bag so they don't wear on each other, and when carrying a fly fishing rod or fly fishing waders, we have everything in its own case so they don't bounce around and damage each other.
The Skybox 16 is also a bit pricey compared to some of the other cheaper cargo carriers on the market (except for the Thule). It retails for about $700, almost the same price as the Skybox Carbonite 21. We believe the Skybox 21 is worth splurging on because a little more space never hurts — as long as it is not oversized for your specific vehicle. Keep in mind that the Skybox 21 weighs 15 more pounds than the Skybox 16, so it is rather heavy and will require additional help to install it. Some users also found the Skybox 16 to leak, but that shouldn't be a problem if you take proper care of it and close the box properly.
Find the Skybox Carbonite 16 Here