Nine out of ten times, you will see kayaks being transported via trailers on the rear end of a vehicle. However, if you are reading this right now, you most likely have either seen or thought of an alternative- kayak carts! Kayak carts are an excellent, space-saving, vehicle-free, reliable method to transport a kayak or two across any reasonable distance and terrain.
What are Kayak Carts?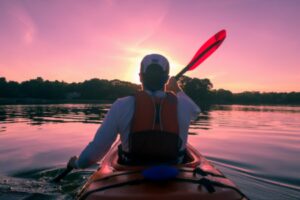 Kayak carts are v-shaped carriages that typically provide two support points for kayaks to be rested on and then strapped in. Typically, carts will be outfitted with airless tires and a design that has the kayaks themselves be the push point, rather than handles being outfitted on the cart itself. Carts are typically manufactured with materials just heavy enough to provide stability during transportation, which means that by transporting the kayaks by hand, you will not be taking on much extra weight.
Kayak carts are also capable of traversing most terrains, but it is generally good to judge where you take one based on your own personal ability.  Unlike a kayak trailer, a cart is more maneuverable especially in tighter spaces. This is to say that if there is a wet muddy decline that is super steep and muddled with rocks, it may be wise to find an alternative route for your precious kayaks!
What Should You Look For in a Kayak Cart?
Before going out and purchasing a kayak cart, there are a few factors to keep in mind that are all keys to success:
Material
Though options such as carbon fiber or impact-resistant plastic may seem adequate for kayak carts, steel or aluminum is almost unanimously the way to go. We are including one product in the recommendations that is primarily made of a reinforced composite material, but that one has been vigorously tested and reviewed by multiple trusted outdoor recreation organizations! This is to say that though any steel or aluminum-frame carts will virtually always be a good pick, other options can still be viable if they are shown to be thoroughly vetted and approved. What makes steel and aluminum such good options for your cart is that they both are extremely sturdy for various conditions, and they also will last for a long time without breaking down or rusting out.  You can even use them for kayak storage because they can take the elements so well.
Load Specifications
The average kayak will weigh around 50 to 60 pounds, with the complete range of weights stretching from 20 to 80 pounds depending on whether the kayak is a tandem, made for fishing, or seaworthy. This being so, most kayak carts (including those which we will recommend) have a load capacity of around 150 lbs, which allows you the ability to stack two kayaks on the cart if you so choose.
Wheels
There are two main aspects of wheels to keep in mind when it comes to kayak carts. The first is tires; though there are a few models of kayak carts that have traditional air-filled tires, it is always best to go with models that are equipped with airless tires. These tires often offer decent suspension for different terrains, and they particularly shine in their durability. Because they are airless, the tires can take any matter of stone or nail and still function to the best of their ability for years to come. The second aspect is that of clearance; any good kayak cart will have its clearance listed in the description. A good rule of thumb on this note is to make sure that either the clearance or wheels are listed to be at least one foot high.
What Are the Best Kayak Carts Available?
Now that we have established what to look for when beginning the purchasing process for a kayak cart, we have three terrific recommendations for you that are not only the best kayak carts on the market right now, but some of the best that money can buy period. Take a look:
Suspenz Smart Airless DLX Cart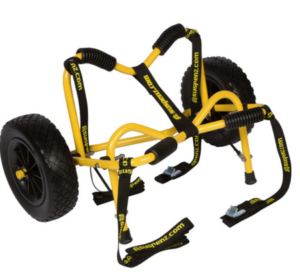 A lightweight, simply-designed option from Suspenz, this kayak cart carries all of the state-of-the art features that your kayak deserves without taking a massive bite out of your wallet. The combination of a powder-coated aluminum frame and airless tires means that this cart will last you through any terrain you throw at it for years and years. Additionally, Suspenz outfitted this new cart with double the straps, which not only increases the cart's capacity for kayak loads but also offers crucial extra support. It can be useful for all types of paddling equipment.
Suspenz All-Terrain Super Duty Trolley Carrier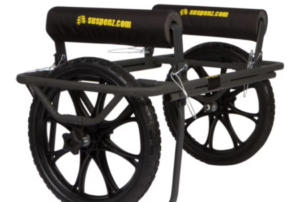 Another home-run by Suspenz, this magnum opus of a cart design blows virtually every other model and company out of the water. If you are looking for the best of the best in terms of durability and performance, look no further than this cart! Outfitted with oversized rugged-designed airless tires, this cart is more than equipped to tackle any type of environment (with the exception of beach sand). The Super-Duty Trolley Carrier also comes equipped with a specially-orated selection of different bunker pars, which are hull-supports designed to masterfully support any different type of kayak (or canoe). Additionally, this cart (like the other by Suspenz listed above) is improved upon even further with the inclusion of double the amount of regular straps, ensuring maximum safety. The final way in which this cart stands out from all of the others is its increased wheel clearance, enabling it to have even more of an edge over extreme trails and topography.
Railblaza C-Tug Kayak Cart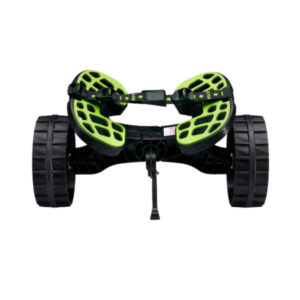 The newest in transportative technology, Railblaza's C-Tug Kayak Cart is the pinnacle of modern smooth-and-sleek transportation design. Manufactured with expert-tested and approved composite materials as well as steel-reinforced axles, you can be sure that this kayak cart will never rust while simultaneously holding up strong against any situation and/or load that it may face. Additionally, this kayak cart does not only include massively-important puncture-free (airless) tires, but also comes outfitted with an easily-deployable lightweight kickstand for any time you may need to leave the cart out in an uneven environment. Where Railblaza has really made this cart shine, however, is in the elegance of its own setup and breaking down. Requiring no tools to put together, the minimal-step process of setup ensures that you can take and use the cart anywhere and anytime. What's more is that this individual cart has a tested-and-proved 20-second breakdown time, which means that you won't need to worry about wasting any time while on the go!