You'll definitely want to add the Galapagos Islands to your traveling bucket list if you haven't already! The 21 islands are of the Galapagos Province of Equador and take up 3,040 square miles.. The sights are jaw dropping. Many people wonder how you can visit the Galapagos Islands though, so let's talk about some common ways and the best activities to do there.
Requirements to Travel to Galapagos Islands
There are a few requirements to enter the country of Equador, the home of the Galapagos. The rules are updated to reflect our COVID world and are always subject to change. All tourists must provide a few documents, items, and information to enter the province of Galapagos, including:
A return airline ticket.
A reservation that matches your return airline ticket dates, whether it be in a hotel or cruise tour. If no reservation is present, you must provide a letter of invitation as a guest from a resident. The invitation must include a maximum of 60 days permanent or temporary resident in the Galapagos Islands.
A Transit Control card acquired from the governing council counters and issued by the Galapagos Governing Council.
Proof of a completed COVID-19 vaccination

They also except negative results from COVID-19 PCR tests within 72 hours or proof of recovery from COVID-19 in the last month.
You may be required to quarantine for 10 days upon arriving.

Health status declaration form
Medical travel insurance
Entrance fee to the National Park
You will also need a passport, assuming you are not from Equador.  This shouldn't be a surprise, it is the case with all international travel.
Traveling to Galapagos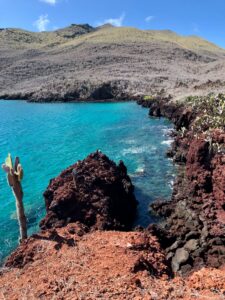 The only way to get to the Galapagos Islands is by air, but you're unable to fly directly to the Galapagos as part direct international flights don't exist. It's likely these flights will never exist. You must first fly from mainland Ecuador and then to the Galapagos Islands. There is no cruise from the mainland, road, or ferry available to visitors.
When you travel to Galapagos, your booking should include your entire flight to mainland Ecuador and then to the Galapagos Islands. International flights will arrive in wither Quito or Guayaquil. Here, you can get a hotel on the mainland, as all of the flights to the Islands are in the morning. It's even recommended that you give yourself two days between flights to ensure you're not held up by delays or cancellations. Flying into the Galapagos will bring you either the San Cristobal Airport or the Seymour Airport on Baltra Island.
Staying on the Islands
Of all the Galapagos Islands, only four have overnight hotels. These include Santa Cruz, San Cristobal, Isabela, and Floreana. Keep in mind that Floreana Island is relatively small and has a low population. It's the least visited island because of how little there is to do there compared to the other inhabited islands. You cannot stay overnight at any of the other Galapagos Islands and islets of the archipelago as humans do not inhabit them. They are simply islands for you to visit during the day, usually between 6:00 A.M. to 6:00 P.M. Therefore, you can only stay at one of the Galapagos Islands' hotels if you have booked the accommodation.
As per the requirements mentioned above, your maximum allowed stay at the destination is 60 days.  Also, be sure to be sensitive to the local eco-tourism needs.  Don't litter, take care of the reefs, and use biodegradable supplies whenever possible.
Booking a Tour
When traveling to the Galapagos Islands, most bookings usually include tours. The most common ones include Island Hopping, which gives you plenty of time to visit the inhabited islands. You'll get to experience a lot of what the area has to offer for at least a few days before heading on to the next. You can also take Adventure Tours, which also takes you around the islands. These adventures allow you to take part in numerous sports and outdoor activities, including kayaking, mountain biking, horseback riding, and snorkeling.
Land-based tours are another option, where you'll be staying for a longer duration on one island to explore everything it has to offer. This is ideal for those who don't want to pack and change hotels regularly. The alternative to taking land-based tours are cruises, where you'll set sail across the Galapagos Islands and take part in the excursions. Galapagos cruises have incredibly hospitable itineraries as they're filled with great food and fun events. Depending on the airline and tours you choose and the duration of your travel, your round-trip may range from $400 to over a few thousand dollars.
When to Visit
If you're deciding on a date to visit the Galapagos, there is no wrong time to visit! The islands are beautiful all year round, and the water temperatures are always the same. The difference worth noting is that each season varies with different things to see and do. Luckily, regardless of when you go, you always get to see fantastic wildlife that resides around and on the islands.
If you're particularly concerned about rain, know that it usually rains from July to November. The rain typically isn't too heavy and won't ruin your experience at all, so don't let it be a limiting factor. Most visitors tend to visit the islands from December to May, when there's a lot of sun and temperatures are cool. You can also visit from June to November, when temperatures are just perfect for activities like snorkeling and scuba diving. Regardless of when you decide to visit, make sure to book well in advance as the Galapagos is a popular travel destination.
What to Do at the Islands
What will you be doing when you visit the Galapagos Islands? Here are some amazing activities to take part in!
See the Wildlife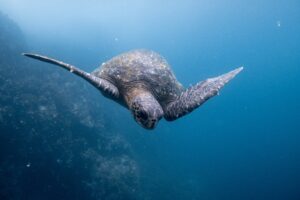 Almost every traveler's favorite thing to do at Galapagos is to see the wildlife that call the islands home. Since the Galapagos Islands are so isolated, the animals there are endemic, meaning you won't find them anywhere else in the world. The animals are so rare that the term "Galapagos" is included in several of their names.  The birdwatching is also of bucket-list levels, providing many species that would be very random to find anywhere else.  Depending on the island to visit, you may find:
Galapagos doves
Galapagos land iguana
Marine iguanas
Giant tortoise
Darwin's finches
Blue-footed boobies
Sharks
Flightless coromorants
Frigatebirds
Galapagos racer
Albatross
Sally Lightfoot crabs
Sea lions
Penguins
Sea turtles
and more!
The Islands' wildlife is so extraordinary because all the species there survived by evolving with special traits. The land is very harsh and remote, so the species that arrived at Galapagos couldn't survive by diversifying. It all came down to evolution. It's also worth noting that the animals here are generally not afraid of humans as they've been isolated from them for so long. Therefore, you must watch your step and be very cautious when stepping foot into their habitats.
Snorkeling
Now that you know why the wildlife at Galapagos is so remarkable, you'll want to do some snorkeling! Snorkeling is one of the best ways to get a closer look at the marine life. In fact, it's one of the most popular activities there! You don't have to have experience to snorkel, either. There are warm and shallow waters for beginners. With some basic training from your guide, you can get started in under an hour. If you're up for it, you might get the chance to see blacktip reef sharks that tend to swim near shallow coastal waters. Although this may seem scary at first, they're completely harmless to humans. The same goes for many other dangerous-looking animals.
And More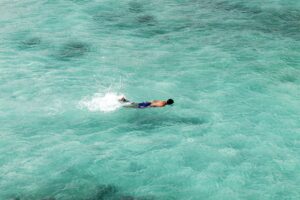 Aside from observing the wildlife at the Galapagos Islands, there are plenty of other fun activities to do. Everything from hanging out at the beautiful beaches, parks, and gardens to hiking in one of the many the trails. Some hikes even lead you across the beaches where you can spot wildlife. If you enjoy the water, you can go sea kayaking to paddle along the shoreline and into one of the many secret coves and mangrove estuaries. Surfing is also a popular pastime. After getting out of the water, you can take some time to go horseback riding or mountain biking. Ride across the trails of the Galapagos Islands to immerse yourself in the scenery that you'll only find at the Galapagos.
When will you be planning your trip to the Galapagos Islands?