The market for water bottles, tumblers, and flasks has exploded in recent years, and the quality of products has taken a big step forward.  The days of plain, plastic water bottles are going away.  Instead, high-quality, BPA-free, insulated bottles are becoming the new norm.  These are bottles that, if cared for properly, will last you for a long, long time.
Whether you are getting a bottle for hiking, a long endurance run, or just staying hydrated throughout the day, different bottles fit best for different situations.  The three brands we compare below are our go-to bottles for many of those situations.
When it comes to higher-end water bottles, we wanted to compare three of the brands that seem to have great traction and lots of buzz:  Camelbak, Yeti, and Hydro Flask.  We want to give your our opinion of which bottles work best, stand up to repeated use, and provide the best insulation performance.
CAMELBAK BOTTLES
Known just as much for their hydrating backpacks as their water bottles, the Camelbak brand is one of the more popular brands on the market today.  In business since 1988, they have stood the test of time as a maker of hydration products.  Camelbak was originally borne out of the loyal cycling community (the genesis group for many new mainstream products) when the founder, an EMT, decided to use a rigged-out IV pouch for hydration.  They perfected the concept, grew, and today are a well-known brand carried by most major retailers.
These are soft-sided bottles.  Not as durable as the next two brands we will feature, but great for running or cycling.  For a short trail run, this can be a good option if you don't mind running with a bottle in your hand.
OUR FAVORITES:
Camelbak Chute 1.5L.  A larger-volume bottle that is ideal for hiking or keeping nearby during HIIT or yoga.  A high-flow spout allows for easy pouring or drinking, and it tightens shut with just a half-turn twist. Intuitive and tough.  Find here on Amazon.
Camelbak Podium Big Chill.  Designed for cycling, to fit in the water holder on most bikes.  This insulated bottle keeps things cold for a long time, and holds a generous 25 oz of fluid.  BPA-free.  Allows for a squeeze gulp, which we think is an important feature for cyclists.  We can attest that is keeps your drink cold for an impressively LONG time.  Find here on Amazon.
Camelbak Classic Hydration Pack.  If you want to ditch the bottle and go for the hydration backpack, this is the standard (assuming you are not already wearing a backpack.) The Classic is an all-purpose, breathable backpack that can carry a healthy 2.5 liters of fluid.  The flow provides a good drink of water with every gulp.  Find here on Amazon.
HYDRO FLASK BOTTLES
Hydro Flask as a brand is not as old as Camelbak – they were founded in 2009 – but have been growing fast and cranking out some really good bottles ever since.  Hydro Flask's specialty seems to be insulating bottles that can keep cold drinks cold and warm drinks warm.  Think of them as the new-age Thermos.  Being based on Bend, OR, they are in a prime testing area for any outdoor gear.
Hydro Flask tops are wider and bigger than Yeti, and the handle strap is softer which some prefer.
OUR FAVORITES:
Hydro Flask Standard.  The Standard bottle has a hard body and incredible insulating qualities.  We like it for hiking and keeping nearby during our indoor workouts.  While we have not tested it, the company says it keeps cold fluids cold for 24 hours! Comes in a 21 ounce size.  As the name suggests, this is really the all-purpose model from the hydro-flask lineup. Durable.  Just be sure you are looking for a hardbody bottle.  Find here on Amazon.
YETI BOTTLES
Yeti took the world by storm in 2014 when REI began carrying them, but they have been around since 2006 selling their well-known coolers.  The Austin-based company also began making fluid bottles, and they are made well.  Much of the product line is stainless, built more for outdoorsy pursuits and travel.  However, for our active audience, we think there are a few excellent options worth considering.  We love that all of these bottles are made to be dishwasher safe, something that is often overlooked but highly appreciated.
The Yeti top has a smaller opening, but a hard handle strap on the lid.  Not better or worse, but all about personal preference.
OUR FAVORITES:
Yeti Rambler 18 Oz.  An excellent, hardbody bottle, this will keep fluids hot or cold for a very long time, and is highly durable.  We like this model for activities such as hiking, kayaking, and fishing.  When coupled with a good backpack, the right hiking boots, and sun, bug and rain protection, the Yeti can give you largely what you need for a long walk out in the backcountry.  The double-wall vacuum insulation is some of the better engineering we have seen in these bottles.  Find here on Amazon.
Yet Rambler 36 ounce.  One of Yeti's most popular bottles. Much like the smaller version above, the 36 ounce bottle provides excellent insulation, a reliable lid, and durable construction.  It is a little larger than most cupholders and definitely too big to carry on a bike or easily in your hand, but if you are looking to carry more fluid in your pack on a long hike, this is an excellent choice.  Think first about if you will have a chance to refill water during your day / outing.  If so, you may find the smaller model more convenient.  Find here on Amazon.
OUR RECOMMENDATION:
So which bottle is best?  It depends on your intended use, but here is our recommendation:
Best for Cycling:  Camelbak Podium Big Chill.  Perfect size for a bike water bottle holder, and keeps your fluid cold on a hot day.
Best for HIIT, Weight, or Yoga Workouts:  Hydroflask Standard w/ Sport Cap (here).  Good for a quick drink, durable.
Best for Hiking and Kayaking:   Yeti Rambler 18.  Bullet proof construction, can roll around in a canoe or fall on a rock, and will still perform.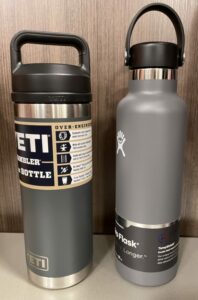 WHAT TO LOOK FOR IN HIGH-END WATER BOTTLES
There are a few things to look for in your water bottle as you are comparing.  Here are a few factors to keep in mind:
Intended Use
Perhaps the most important factor is to match the bottle with your intended use.  Cycling, for example, requires bottles that fit in the typical bottle holder on a bike.  Running and cycling generally are most conducive to a squeezable bottle that can squirt the fluid through a nozzle.  Hiking and Kayaking are often most suited to harder-cased bottles, because it just takes one slip against a hard surface to essentially crush the bottle.  If you think you will be using the bottle to keep coffee hot or water cold, be sure to go with one of the bottles with better insulating qualities.
Durability
Making sure you have a bottle or flask that is durable is key.  Everything we recommend above has been proven to be durable – they tend to have good construction, plenty of quality control in the production, and are durable for their intended use.  But be careful when looking at cheaper models from upstart makers.  They are often simply sourcing the bottles in China and trying to sell them en masse, in many cases without even testing them first.  Pay attention not only to the bottle construction but also to the quality of the lid or nozzle.  There is nothing worse than a leaky top to your expensive bottle.
Size and Capacity
One of the main choices you will make is on the size or fluid capacity of the bottle you buy.  This all depends on what you are using the bottle for, but just remember that a large bottle full of fluid can be quite heavy, and add lots of weight to your hike or run.  For all-purpose use, we like the 16 to 22 ounce range – that tends to be a bottle that can hydrate you for a long time,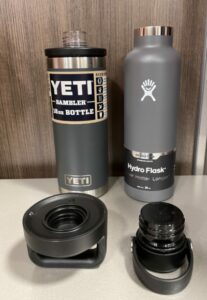 without making the vessel too heavy when full.
Price
Price is always a factor, but the good news is that there is lots of range in the models that we recommend above.  You will find bottles that cost anywhere from $15 at the low end, to over $50 at the high end.  The Camelbak backpack runs a little more, around $60 or $70.  Just be sure to spend enough on a bottle so you don't have to end up buying another one a month later, due to poor construction quality.  We are big proponents of buying quality upfront so you have less waste down the road.
Ease of Cleaning
Make sure that your bottle is low maintenance.  Most bottles are dishwasher safe, and for the ones that aren't you will just want to be sure that cleaning can be easily done.  This means not getting anything that traps liquid in small nooks that are hard to clean or rinse – and having parts that disassemble enough so you can really clean them well.
BPA Free
BPA is a material found in many hard plastics and resins.  Studies suggest that it can leach into the food or liquid it is carrying, and then enter the human body.  Once in the body, there are a number of harmful effects that it is believed to be linked to.  This seems to be more pronounced as the bottle ages.  It is best to avoid any plastic bottles the contain BPA.
What Fluid to Put In the Bottle?
This could be the topic of an entirely unique piece.  Maybe we will do it someday soon.  The short answer is that the best thing to fill your bottle with depends on what you are doing.  If you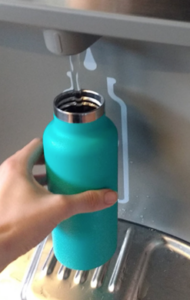 are just out for a stroll on a dusty trail in moderate temps, some ice water would be great.  If you are cycling or running and losing sweat at a rate that is much higher than normal, consider mixing some electrolytes in.  A good rule of thumb is to stay "hypnotic", or keeping the electrolyte blend in the drink lower than that of what is in your own body fluid.  This way, your body can absorb whatever you are drinking faster.  Max out at about 8% carb content in any mix you are using.
How Do You Clean a Water Bottle?
Remember to clean your water bottle frequently.  Do not just pour new water in on top of old.  Every day or so, your bottle needs to be completely emptied, rinsed, and let to fully dry.  Otherwise, bacteria can fester in the water that never truly gets eliminated.
For cleaning, we like to soak a bottle in warm or hot soapy water.  Rinse it a few times to be sure you get all of the soap out, and then let the bottle dry upside-down in a drying rack.  To the extent you can, wife the neck and the top of the bottle down with your dishwash rag or cloth.