A good ice fishing shelter can be a key piece of ice fishing gear. Imagine a day when the fish are biting, but so is the north wind. The last thing you want to do is miss a great day on the ice because you can't take the cold. A portable ice fishing house solves the problem.
Good portable ice fishing houses will be easy to maneuver, allow you to stay warm, spend more time fishing, less time shivering, and provide the right amount of room for your fishing group – or just you! The shanty also provides you with a place to relax, sit, and even take off your heavy jacket.
Best Portable Ice Fishing Shelters for 2023
Eskimo Quickfish Ice Fishing Series, 2-3 Person
The distinctive bright red Eskimos are unmistakable on the lake. Eskimo understands that the faster you get your shelter in place, the faster you get to start catching fish. That is why the Eskimo QuickFish ice shelter is designed to be erected in a minute or less.
The QuickFish is big — giving you ample space so you don't have to fish shoulder-to-shoulder with people. It is probably large enough for 4 people if you pack them in there as it provides you with a 90" x 90" area of elbow room in a structure that is 70"L x 70"W x 80"H. You get a fishable area that measures 34 feet!
Storage compartments are always useful when on the ice, so there are handy mesh pockets inside the shelter for storage.  You are in control of the ventilation inside the shelter as the windows are removable, and you have multiple access points to the unit.
With the Quickfish, you get self-tapping ice anchors that will hold the shelter firmly in place without bending when you are installing them. You also get metal poles that are sturdy so they can withstand the winds you might encounter and it's constructed from a 300 denier fabric with a high thread count. In addition, the shelter has YKK zippers in place so you do not have to worry about zippers that hang up or break because of the cold weather exposure.
And the one minute set-up (and takedown) isn't just promotional. We witnessed it go up and come down recently, and it probably took 45 seconds from an experienced user. Packing it in the case for carrying took another 45 seconds. Not bad for a unit that really does a nice job on the ice.
Unlike some of the others here, the Eskimo does not come with its own attached, built-in sled and floor. However, it's much lighter due to not having the heavy plastic floor and you can actually sling the folded-up shelter over your shoulder.
This particular shelter model is not insulated, but the fabric is designed to keep the wind out so you stay comfortable while you fish. Eskimo makes an insulated version if you want to go that route, but we find that most fishermen simply need to get out of the wind, and insulation is a bit secondary in a portable house.
Pros
Very lightweight
Highly-portable
Quick setup
Cons
May move around a bit in higher winds
Clam Nanook XL – 2 Anglers
Clam is synonymous with ice fishing. Founded by Minnesotan Dave Genz, they have always been cutting-edge when it comes to ice fishing gear. Clam deserves to have two ice fishing houses on this list We went with Nanook first as it is the most popular (you can see the Jason Mitchell down below). This tried and true shelter by Clam is a comfortable ice fishing shelter for 2 anglers.
The Nanook is completely portable and has a flip and go pole system in place. It is lightweight, very easy to setup and take down, and rugged. Tie your flasher, rods, and tackle box on, and you can pull the entire package by hand.
This option from Clam also provides you with 23 square feet of fishing space inside a protective shell with padded seats that have backrests. The seats swivel so you can easily turn to reach anything you need. It's very easy to enter and exit the shelter, and there are access doors on the front and rear.
The model that we recommend is the Thermal — a fully-insulated model that can really keep the heat in with even a small heater. On warmer winter days, the heater might need to be on for a few minutes and then you will be set for hours.
Pros
Fully insulated
Integrated seating
Cons
Find the Nanook here on Amazon.
Frabill Shelter Aegis 2110
Frabill is a fishing brand that has been popular for years, and when it comes to ice fishing shelters, they are favorites of ours because of the lightweight quality of their portable shelters.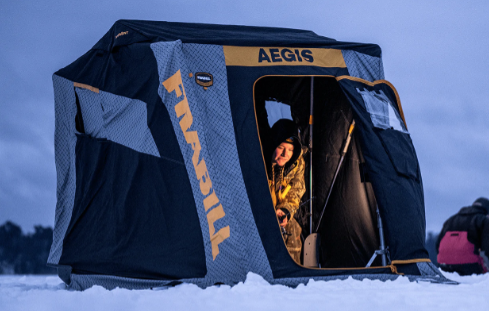 If you are serious about wanting an ice fishing shelter to protect you from the cold wind, the blowing snow, or the drizzling rain, then you want to look closely at this one. The Frabill Shelter is a 2 person ice fishing shelter that weighs only 53 pounds and provides you with 19.5 square feet of fishable space.
These are also customizable. You have a choice of three different levels of insulation — a non-insulated version, an insulated version, and a top-only insulated version —  and five different seating options. You create the ice shelter that suits you needs, and base it on budget as well.
The Aegis 2110 is light weight, measures 83"L x 58"W x 61.5"H when erected, and condenses into a transportable 58"L x 33"W x 16"H when collapsed. It comes on a durable plastic sled that is roughly 8 inches tall, and it folds down small enough so you can fit it inside many vehicles.  We love the weight — a light 60 pounds — which means that an able-bodied person can handle it by themselves.
The materials are light but strong. With proper care and careful storage, it is a house that should last you for many years.
Pros
Highly versatile
Good value
Light
Cons
A bit flimsy in high winds
Find the top-insulated Aegis here on Amazon.
Clam Jason Mitchell Thermal X Fish Trap Ice Shelter
This is the other model we love from Clam.
The set up design on Clam's Jason Mitchell Fish Trap uses a newer technology that you don't see in Clam's other models. It is a Rapid Pole Slide Extreme design that allows you to have your fishing shelter up and ready in just a few moments.
We know that ice fishing shelters are exposed to windy conditions, so you will love the fact that the poles are heavy duty 1 ¼" pieces. The materials are rugged with a 900 denier construction that you can rely on. The shell is a full thermal that reduces the instances of condensation, and reduces the light penetration. And the interior of the shelter is a lighter color than the exterior to improve your visibility.
With the Clam Jason Mitchell, you get 2 deluxe removable swivel seats. They can be moved to the front or back, and side to side. Between the seats is a center console that has beverage holders and accessory holders designed into it. There is a storage sling beneath the seats, a battery bracket to attach inside the shelter, and a Clam light stick that has 560 lumen LED light output from the 8 bulbs.
Pros
Comfortable seating
Lots of built-in storage
Heavy duty poles
Cons
Recently discontinued, so getting harder to find
What to look for in your Ice Fishing Shelter or House
Strength

You want to make sure the ice shelter you purchase can handle the pressure from wind, rain, and the other insults Mother Nature can throw at it. The shelter should be strong enough to withstand moving from place to place while it is erected, and resilient enough that it can be erected many times with no wear and tear.  You also want the fabric itself to be strong and dense, so you don't create a snag or cut if you accidentally hook your lure into it.

Easy Setup and Takedown

You should find an ice shelter that can be setup and taken down in minutes. You do not want to struggle with anything that is difficult to set up because that simply eats into the time you have allotted for fishing and can be a frustrating endeavor when you just want to get out of the cold.

Easy to pull and move around

An ice shelter should also be light and easy to move. Pop-up tent style shelters are a great option, and you want one that is light enough that you can basically skid it on the ice without having to have a truck or vehicle to move it. You basically want the stronger shelter you can get, for the lightest weight possible.
Ice Fishing Shelter and Ice Fishing Houses FAQs
How much should an ice fishing house weigh?
If you have a tent style ice fishing house they rarely weigh more than 75 pounds. A permanent structure, though, can weigh about 5,000 pounds.
Portable vs. Permanent Ice Fishing Houses – Which is Better?
Portables are easier to move, but permanent shelters are usually more comfortable. Portables are cheaper, but permanents can be locked up much more securely.  Portables allow you freedom to fish anywhere you choose, but a permanent limits you to one spot every few days. You have to move it.
Permanent ice fishing shelters often have to be off the ice by the end of February, but portables can be used as long as the ice is safe.
Should I get a ice shelter with a built-in sled?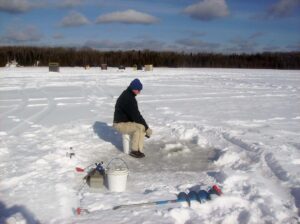 That is a personal preference question. Sleds are not always better. If you want one unit that you can pull along over the ice and tie everything to, the sled can be good. But sleds add lots of weight, and they tend to plow through fresh snow instead of go over it.  The bottomless shelter without a sled is much lighter, and nice if you just want to sling it over your shoulder, but you are not going to be able to carry anything on it.
Those who prefer to bungee all of their gear — everything from the ice fishing flasher to their tackle box — on to a sled and then focus on pulling it may prefer a sled-style house. Just be sure that you have it rigged-up with a good rope and back-load the weight so that it goes over snow more easily.
Should I use an ice fishing shelter with a floor or no floor?
This is a little like the previous question, because having a floor in a portable ice fishing house is often synonymous with having it built on to a sled.
It all depends on how functional you need the house to be from a transport standpoint.  If your plan is to hook the house up to your ATV and pull all your gear on it, you probably will end up having a shelter with a floor built-in.  We are often walking to our fishing spot, so find that it is preferable to have no floor, making the house much lighter.
An added benefit of having no built-in floor in your ice fishing house is that you can modify your hole layout however you want.
Do I need an ice fishing house?
If you want to be able to fish in any weather, then the answer is yes. On beautiful days when the wind is not blowing very hard and there is no snow or rain falling, then you can do some ice fishing without a shelter to protect you. You just need a good ice fishing rod and a way to drill a hole in the ice. Those perfect weather days do not happen very often in the dead of winter in parts of the country, though. If you want to fish in the elements, owning a portable shelter is a small price to pay for the amount of fun you will have.