Gloves just might be the most underrated part of a winter wardrobe.  When the temperature drops below freezing, it is important to have a good pair of winter gloves to keep your hands warm and protected.  Cold fingers not only begin a chain reaction of your body feeling chilled, but when your fingers are too cold, you can't use them for basic tasks like lighting a fire, unzipping a bag, or attempting to bait a hook.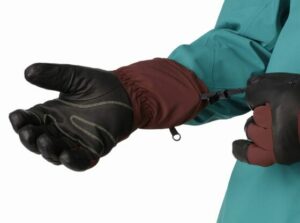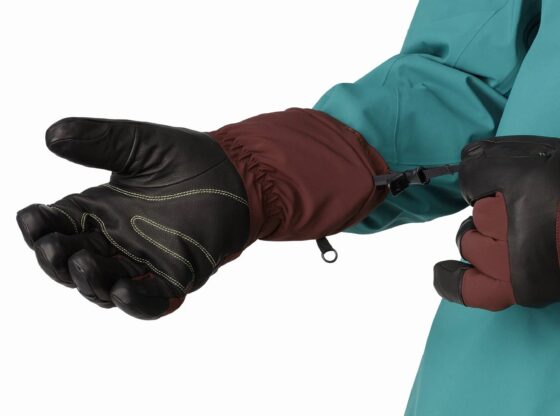 But finding the right winter gloves for you depends on the type of activities you do during the winter season. Whether you are working, skiing, snowshoeing, cycling, ice fishing, or winter camping, there is a different type of glove for every scenario.
With so many brands to choose from, it is hard to decide which gloves will work the best. Read on as we dive deeper into the best winter gloves and mittens for various activities and weather conditions.
| | | | | |
| --- | --- | --- | --- | --- |
| | | | | |
| Arc'teryx Fission SV Gloves | | | | |
| Black Diamond Recon Mitten | | Cold raiding of -20 to 10 degrees F | Overkill for warmer areas | |
| Kinco Heavy-Duty Pigskin Driver Glove | | | | |
| North Face Denali Etip Gloves | | | | |
| | | | Heat doesn't quite reach the fingertips | |
Best Winter Gloves
Winter gloves don't get as much attention as other winter gear, but having a good pair can be the difference between having a good and bad day out in the cold. Gloves have different warmth levels depending on whether they are thin, lightweight, waterproof, or heavily insulated.
Any outdoors enthusiast knows that gloves can be good for a while, and then fail instantly when they get wet or the mercury drops just a bit too much.  We want to help you avoid that kind fo situation.
Below, we have recommended five of the top gloves to choose from for any cold adventure.
Best Winter Gloves for Extreme Cold – Arcteryx Fission
These gloves kick butt. The Arc'teryx Fission SV Gloves (also available in mittens) is an excellent choice for extremely cold temperatures. The Fission SV has impressive resilience, breathability, and waterproof material in extreme conditions. It is our go-to when all we know is that it will be darn cold outside.
These are the days when you have a layer (or two) of thermal underwear, and you try to keep all exposed skin covered.
The Fission SV is Insulated with PrimaLoft Silver and Gold to ensure maximum warmth in harsh conditions. These gloves are designed with a waterproof/breathable GORE-TEX insert, OCTA Loft lining to help wick moisture, and a double layer of goat leather for enhanced durability.  If you find yourself subzero skiing, mountaineering, or shoveling your driveway, these gloves will ward off the cold weather.
But what will they cost you?
There is no doubt that these are some of the warmest winter gloves on the market because of the quality material and advanced design. The retail price for a pair on REI's website is just under $200. That price might scare away some shoppers, but if you need gloves that will last years to come, it could be worth the investment.
These gloves are unisex and come in various sizes. There have been reviews stating that the glove's sizing can be off. At times the sizes can be smaller than expected, or the fingers can be loose and bulky. It is important to try on the gloves prior to purchasing. If you can't try them on then, it is good to be aware of the return policy of the place you are purchasing them from.
Best Winter Mitten for Extreme Cold – Black Diamond Absolute (or Solano)
If you like mitten gloves and need a pair for extremely cold conditions, then look no further. The Black Diamond Absolute Mitten is well designed and impressively warm.
Designed with PrimaLoft Gold insulation, the Absolute Mitten has a cold rating of -20 to 10 degrees Fahrenheit. If you don't need that much insulation, you can always remove the liner for less freezing conditions.
The Absolute Mitten has a price tag on the high-end, but other Black Diamonds are not as expensive, such as the trusty Mercury mittens. This mitten can be overkill when it comes to any conditions that aren't arctic-like. Nonetheless, these are popular mitten for skiing and backcountry trekking.  Much like a good pair of thermal underwear, the Black Diamond gloves rely on layering from different materials to give you the incredible cold-fighting ability.
If you need a little extra boost of warmth, check out the Solano — very similar to the Absolute but with a battery-enabled heater to kick the heat up a notch.
Best Winter Work Glove – Kinco Driver
Working hands may be tough, but that doesn't mean they don't need protection during the winter season. No matter what the job is at hand, the Kinco Heavy-Duty Pigskin Driver Glove is an incredibly warm and durable work glove.
This work glove features thermal liner insulation, a rugged pigskin leather shell, and a premium knit wrist to seal in heat. While these are all fantastic features, we haven't even got to the best part about these work gloves.
They remind us a little of old-fashioned chopper mitts, only in a glove format.
Not only has Kinco been known to make durable work gloves, but their reasonable pricing makes them stand out even more. The Kinco Driver Glove can sometimes be purchased for under $50! You can't beat that kind of value.
To keep in mind, while these work gloves are waterproof, the leather can break down, letting in moisture. Grab a jar of waterproofing leather wax to protect the leather shell, and you will be good to go.
Considering that these gloves are meant for working hands, they aren't the warmest glove on the market. Kinco designed the gloves with less insulation because they knew worker's hands would sweat. So for the average person going for a walk outside in the cold, these aren't the best option.
Overall, Kinco has made a name in the work glove community, and for a good reason. Their bargain pricing and proven performance throughout various work sectors make them an excellent work glove of choice.
Best Winter Gloves For Everyday Use – North Face Denali eTip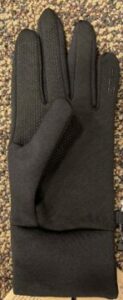 It's a good idea to have a pair of gloves for different activities. If you are on the hunt for a pair of gloves that are lightweight but warm enough for running or hiking, then the North Face Denali Etip Gloves are a great choice. These durable gloves are made with a polyester fleece material that is warm and breathable.
These gloves aren't insulated, so they aren't the best pick for extremely cold conditions. Another thing to keep in mind is that they aren't waterproof since they are made with fleece material. These aren't the gloves that you will be making snowballs with because your hands will be frozen.
The Denali Etip is touchscreen capable, so no need to take them off to navigate your cell phone. Another great thing about these gloves is that they are reasonably priced at $35 for a pair. These are exceptional everyday gloves for the causal run to the store, morning jog, or winter hike.
Given the the North Face makes so much great gear — from snow pants to jackets — we have no problem recommending them.
Best Heated Gloves – Velazzio
Heated gloves might come across as overkill, but for people whose hands seem to get colder than normal, they can be a lifesaver. Some of the best-heated gloves are Velazzio Heated Gloves because of their various heat settings, fast charging, and reasonable price of $86. They are also plenty warm when the heating featuring is turned off.
The heated gloves have three heating features, touchscreen capabilities and adjustable wrist straps. Consumers who suffer from Raynaud's Syndrome will be happy to know that their fingertips will be nice and warm with the Velazzio Heated Gloves.
The heating mainly focuses on the palms, with a bit of heat running up the fingers, but it stops short of providing heat to the fingertips.  Still, it is pretty effective for those who suffer from cold hands or poor circulation.
Overall, these are good everyday heated gloves at an excellent price.  Find it here on Amazon.
Best Ski / Snowboard / Nordic Gloves – Hestra Fall Line
We think the best ski or snowboard glove out there is the Hestra Fall Line — a great all-around glove too.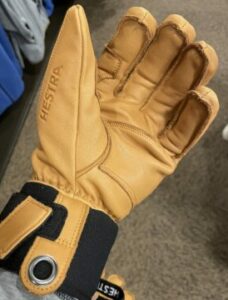 When it comes to gloves for skiing, you want something that is not only warm and waterproof, but has a great grip that will mold to your hand.  Going down a mogul run requires that you have all of your limbs available for balance, safety, and positioning.
The fall line has a nice leather build that molds perfectly to your hand after just a few uses.  It looks great, and keeps it waterproofing for a long time (although you might want to add a waterproofer in between seasons).
The wrist cuff is nice and long so you have no gaps on your arm during those close days.  Overall, we love this glove and recommend it. In fact, it is my personal go-to glove for the slopes.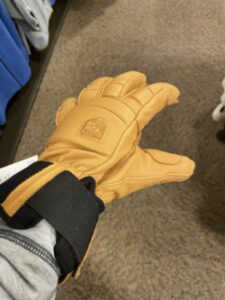 What To Look For When Buying Your Winter Gloves
Hands are one of the most exposed parts of our body, and keeping them warm in cold weather can sometimes be difficult. What can be even more difficult is figuring which gloves to buy. That's why we put together some simple tips on what to look for when purchasing gloves.
Glove Use
The first thing to do is ask yourself this question: What will I be using them for? Do you need them for colder temperatures in the mountain when you are skiing, snowmobiling, or snowshoeing? Or are they more for everyday use in mild weather? Your answer will help narrow down the type of gloves that you should look at.
For activities where you will be in temperatures below 15 degrees Fahrenheit, such as skiing, you will want to look at gloves that are insulated, waterproof, and made with durable material.
For even colder conditions, taking a look at heated gloves is also a good option. Check the temperature range of the gloves to ensure that they will meet your needs.
If you need a pair just for everyday use where you will be exercising or will be outside for short periods, you won't need heavily insulated gloves. For mild winter temperatures, finding a breathable glove but still warm enough is the way to go. Thin gloves made out of polyester or fleece are good for runners, hikers, and daily commutes.
The other usage factor to consider is how much finger dexterity you will need when wearing the glove.  A nordic skier doesn't need much.  Someone who is fishing, on the other hand, needs to be able to reach in to the tackle box and not tip everything over.  The skier can get by with a much thicker glove.  The fishing enthusiast will want something a bit more delicate.
Glove fit
Just like clothing, gloves fit everyone differently. You may wear a size medium in your old gloves, but a medium might be too small in a different brand. Go to a local outdoor store and try different pairs on.
Think of it as if you were buying a pair of shoes. You wouldn't want them too big or too tight; it's no different when buying a pair of gloves.  Gloves that are too tight will actually not insulate you well because they might cut off your circulation.  Gloves that are too loose will cause safety issues because you cannot grip things effectively, which is often a factor in winter because you are walking on ice, snow, and doing active things like skiing.
Temps
Temps are a major factor in the glove you will need to choose.  The less-severe the expected temps, the more you can get by with a lighter, more comfortable, and perhaps less-expensive glove.  But if you think you will be exposed to extreme cold, you do not want to skimp — or you may experience frostbite.  Most people start needing gloves below about 45 degrees, and below 20 or so they often need more substantial gloves.  Below zero, you don't want to take chance and will need to be sure you have a glove that does the job.
Waterproofing
Remember, too, that moisture plays in to it.  If you expect your gloves to get wet, that may reduce the ability for the gloves to keep you warm.  Look for gloves that are, at a minimum, water-resistant.  If you will be doing activities around cold water, such as ice fishing, you may want to get some specific gloves for that purpose.
Alternatives to Winter Gloves
The main alternative to a good pair of winter gloves is a pair of mittens.  In fact, one of our best winter gloves is actually a mitten – the Black Diamond above.  It is a great overall mitten.  The advantage that mittens have to gloves is that the fingers help keep each other warm.  All other things being equal — insulation, waterproofing, etc. — a pair of mittens will keep your hands warm longer than a pair of gloves.  However, gloves obviously give you much more hand and finger dexterity.
The other alternative to gloves is to keep yourself in a warmer environment, such as a good, heated ice fishing house if you are fishing in the winter, or avoiding certain outdoor activities when it is glove weather.  But given that we are all about getting outside regardless of the conditions, we don't like that answer at all, which is exactly why we suggest you gear-up and stay active regardless of the weather.