There is nothing like the feeling of being out on the ice and catching fish. If you're an avid ice fisher, you'll know that having a good ice auger is crucial to your success.  Increasingly, we recommend going with one of the best electric ice augers on the market, versus the old-fashioned gas augers.
In this review, we will touch on the advantages of using electric augers and then review three of the best ones on the market. We aren't going old school here, so we will only be reviewing electric ice augers and not hand or gas-powered options.
Advantages of Electric Ice Augers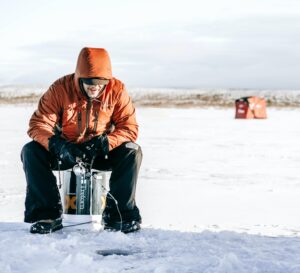 There are a number of advantages to using an electric ice auger, but the biggest one is how easy they are to use and maintain.
If you've had any experience with gas-powered or hand-powered augers, you'll understand what we mean when we say that it can take some serious elbow grease, or regular maintenance and gas-mixing, to get a hole cut in the ice. Electric augers barely require any muscle power, so all you have to do is plug it in and let the machine do its thing. This can make the difference on those days when you just don't have the energy to cut your hole. You can spend more time actually fishing instead of tiring yourself out.
Another advantage of electric ice augers is that they are much quieter in comparison. This can be a huge plus if you are drilling holes at 5am just off the shore from your neighbors' lake homes. It's also an added bonus to not have to hear such a loud machine running in your ear for several minutes at a time. In a pastime where the goal is to get outside and in nature, like with fly fishing or canoe fishing, a noisy gas engine kind of ruins the vibe.
Electric augers also have a much lower risk of smelly fluid spilling into your vehicle. Some gas augers can leave behind a puddle of gas and oil, which isn't something that you'll have to worry about with electric models. They are much cleaner than the other types. And they're much better for the environment, especially compared to gas-powered. Electric machines don't require special treatment when storing them and they also don't pollute the air with fumes or exhaust. It's a nice and eco-friendly option for ice fishing.
Finally, electric augers are much more reliable than other options. There is nothing worse than being out on the ice and having your auger die on you. This is a common problem with gas-powered augers, but it's virtually unheard of with electric ones. So, if you're looking for a machine that you can count on, then an electric ice auger is the way to go.
Best Electric Ice Augers
We talk about three different electric ice augers below.
Jiffy Rogue Electric Ice Auger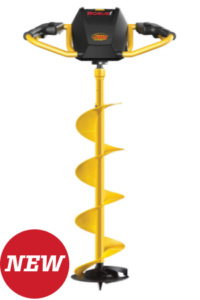 The first electric ice auger that we'll be reviewing is the Jiffy Rogue. This machine has a lot to offer and it's one of the more popular ice augers on the market. It's great for people who are new to using electric options because it has a lot of safety features that will help prevent serious accidents. The Rogue is incredibly easy to use and it's not too heavy. It weighs about 20 lbs, which is light enough to take on the go.
At the highest speed, the Jiffy has a 500 RPM shaft speed, so it'll take no time cutting ice. It's also one of the only electric ice augers to have two motor speeds, so it's ideal for fishing in both soft and hard ice. The Rogue operates quietly and has a low risk of overheating.
For the best performance, you'll want to fully charge the auger before bringing it out. The best part? It only takes an hour to charge! With the ergonomic grips and aluminum handles, you'll be able to cut through the ice quickly (it has a cutting diameter of eight inches). There's even a built-in LED dome light to help you see in the dark – perfect for those who want to fish at night.
The Jiffy comes with a two year warranty, which is a nice bonus in case you run into any problems later on. Overall, this auger is versatile and great for people who are looking for an easy-to-use and powerful machine.
ION G2 Electric Ice Auger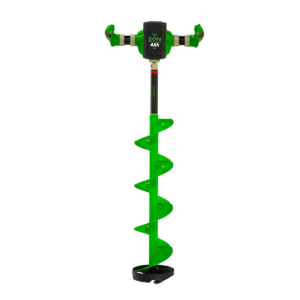 The ION G2 is another powerful electric ice auger that's perfect for those who are looking for a durable and long-lasting machine. This auger is built with quality in mind, so you know it'll last season after season. The ION weighs about 17 lbs, so it's on the lighter side and easy to carry around.
With a cutting diameter of 8-10 inches, it cuts up to 1,200 inches of ice per battery charge. It'll last you all day long! It also has a high-torque and high-efficiency motor and transmission, which will save you time and energy when cutting through ice. You'll find that you can cut through several inches of ice in under a minute, which is quite impressive. You won't need to apply much pressure as the G2 will do most of the work for you. The reverse mode does an excellent job at flushing slush right back down ice holes to prevent any ice buildup. There are three LED lights that will help you see where you're cutting in the dark, perfect for night fishers.
Unfortunately, the ION G2 is on the pricey side, but it's worth the investment if you're looking for a reliable and powerful electric ice auger that will last for years. There's also a three year warranty for both the battery and auger available.
StrikeMaster 40V Electric Ice Auger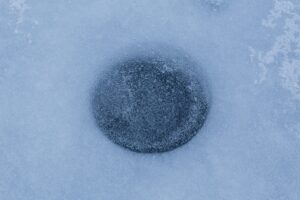 The StrikeMaster 40V is a powerful electric ice auger for those who are looking for a slightly more affordable option. It's great for anyone who wants a beast of a machine that can handle large chunks of ice quickly. It is heavier than the other options, weighing around 26 lbs. However, this one is still easy to handle and move around.
The StrikeMaster has a cutting diameter of eight inches and can cut through dozens of inches of ice in just a few minutes. The blades cut consistently and powerfully thanks to the planetary gear system. The handles are ergonomic and do an amazing job at absorbing impact while operating. They're impact-resistant, so you won't feel feel much in your hands as the machine goes to work on the ice. It's also very comfortable to grip. The batteries take two hours to fully charge, but they do last a while.
If you do ever run into any problems with your auger, reach out to StrikeMaster for help. They offer exemplary customer support.
Overall, this auger is ideal for ice fishers who want an easy-to-assemble and use electric auger that can cut through ice all day with ease.
Which electric ice auger will you be going with?